The biggest differences between our recent hands-on with FIFA 12 and the 26 games we played last time, is that we now have all the teams to choose from rather than just Arsenal and Chelsea. More importantly, we get to see a host of changes to the off-field action including an all-new transfer system that looks set to induce deadline day panic buys and far more interaction with your squad. In fact, let's allow FIFA's line producer, David Rutter, set the scene and we'll add further colour later…
Firstly, the on-pitch action. With all the clubs and international sides at our disposal we were free to explore the exquisite skills of the likes of Messi, Ronaldo and Nani, so naturally our first game was between Championship sides, Ipswich Town and Leeds United. Didn't expect that, eh? The reason we plump for such lowly teams is simple, we want to check what differences the lower rated players had from the premium stars.
It felt like previous games in the series simply made players a bit quicker and deadlier at shooting to really differentiate between the good and not-so good, but in FIFA 12, with their new Player Impact Engine, that there are subtle tweaks that mark one player out from another. Immovable Redwood-like defenders will stand firm as nippy attackers charge into them rather than clumsily trip over their own feet like before. Sure, the tackles might not be as precise as someone like Manchester United's Rio Ferdinand, but at least mistakes aren't programmed in to make lower league defenders fall over.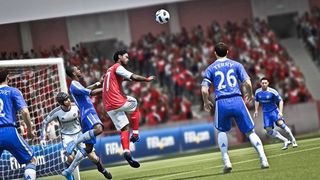 Above: Can't help but think that Arsenal's Song should be heading it goal wards rather than clearing the danger. Odd
Brilliantly in FIFA 12, the keepers are much improved. Leeds United's Kasper Schmeichel (now Leicester City, but the transfers aren't up-to-date yet in this code) who after having 18 shots rained on his goal, still managed to keep a clean sheet with a string of superb saves. A feat that involved one-handed tips over the bar, rushing blocks and mighty fist punches to safety.
So far it probably seems like you're never going to score, right? Not true. Connor Wickham – still to leave Ipswich in this code – proves that even the lower league strikers can be tricky and as effective as their Premier League peers. Granted Wickham is no Maradona, but his close control is good enough to twist the blood of back pedalling defenders. We go on a mazy run between four players, simply using his natural motion rather than the trick stick and it's enough to create a golden opportunity to score – but then Schmeichel saved it. Argh!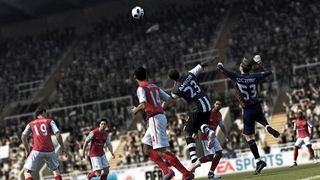 Above: Right now, the goalies don't have an invisible force-field around them, meaning you can challenge them
It certainly feels like the depth of individuality has found it's way outside of the top leagues and this is obviously a massive plus point for FIFA 12. Of course, it could all change come release time but right now most teams from the lower leagues will give the big boys a decent game.
It would be rude for us not to take part in El clasico – the big match between Spain's super heavyweights – Barcelona and Real Madrid, so that's exactly what we did. And bloody hell, we were in for a treat.
See, as well as Messi being a constant menace for a full 90 minutes and Ronaldo running in a realistic rigid pigeon fashion – just watch his neck jut forward and back – the new passing system is demonstrated in full effect. So it's now out with the ping-pong passing that ruined FIFA 11 online and in come those unique, almost telepathic, ball playing skills that Barca's Xavi is famed for. Players like this have an uncanny ability to pick out a pass that mere mortals simply can not. This is reflected in a radius of vision for each player which is better explained in this video...



What this essentially means for FIFA 12 is that players who can utilise this range of passing by the likes of Xavi or Arsenal's (Barca's depending on when you read this) Cesc Fabregas then you can dissect the opposition like a skilled surgeon, you know, rather than sprinting down the wings and crossing for identi-goals.

Click the next page for transfers, retirements and levelling up