Who's the best?
It's official. The MCU is now big enough to be considered it's own genre. Seriously, I'm going with that. The release of Captain America: Civil War has tipped the Marvel Cinematic Universe over into full blown it's-important-enough-for-it's-own-ranked-list terrority. Hence, this ranked list. Fair warning, this doesn't include every movie based on or inspired by the Marvel comic books because that would mean including this. It just covers the modern-day MCU starting with Iron Man and continuing with Civil War.
Given the amount of arguing, fighting, and genuine hair-pulling (yes, really) that occurred in the GR+ office when we decided to rank all of the MCU movies, I fully expect not a one of you to agree with the order of the list. But disagreeing is half the fun, right? So, scroll on and fume to your heart's content.
13. Iron Man 2 (2010)
Despite it being lowest on our list, Iron Man 2 is actually not a bad movie. Okay, it's not a great one either, but it's no trainwreck. This is where we see Stark's fall from grace, and his personal demons with regards to his love life and alcohol really come into play. Much frustration has been aimed at Iron Man 2's villain, Whiplash, and let's go ahead and admit it: he's a bit silly. But despite a guy with electric whips, the introduction of War Machine, and an army of evil drones, Iron Man 2 is still one of the most human stories in the MCU, establishing Stark's personality and history more than any other. Really, the movie should have been called 'Tony Stark' instead of 'Iron Man 2'.
SP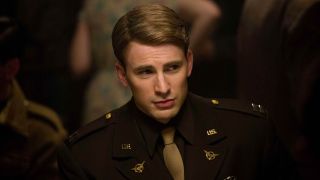 12. Captain America: The First Avenger (2011)
Everything you love about Captain America begins here. It's the perfect alternative to the businesslike action of Iron Man: a vibrant, pulpy romp, about punching Nazis and doing The Right Thing. It's not the most sophisticated movie on this list - having a baddie called the Red Skull removes any opportunity to tell a nuanced story - and if you watch it after seeing The Winter Soldier it feels expositional, almost like a Wikipedia entry. But despite this, it remains the heroic bedrock on which the Marvel cinematic universe is built. A light, lively, smartly-plotted adventure, which makes you comfortably nostalgic about an era you never experienced.
ME
11. Thor: The Dark World (2013)
Superman belongs to DC, but Thor is the next best thing. There's hardly a moment in Thor: The Dark World that Chris Hemsworth isn't wearing a big, doofy grin on his face, clearly enjoying his time as the godlike Asgardian. The action is light and fun, the romance is believable, and every second of screentime that Loki gets is a treasure. Like its predecessor, Thor: The Dark World suffers from being just a bit too superhero-y. In a cinematic universe where we have intergalactic space opera shenanigans, WW2-era war films, and size-altering heist movies, a handsome man in a cape fighting a villain who comes across as Generic Evil Guy doesn't stand out much. It's not that The Dark World is a bad film, it's just that it doesn't do much to advance or develop its characters.
SP
10. The Incredible Hulk (2008)
The Incredible Hulk isn't a terrible film. It's reasonably fun, in a 'lazy Sunday afternoon' kind of way, but it's certainly a product of the early days of the MCU, when the films hadn't quite yet found their feet. It's a decently energetic and spectacular Hulk movie – a definite reaction against Ang Lee's slower, more cerebral, 2003 version - but it lacks the spark and the snap of the later Marvel films. The Hulk himself is a suitably dynamic wrecking ball of a presence – though certainly missing the gleeful fun of the Avengers version – but while Edward Norton does a decent job as a troubled, perpetually tense, pre-acceptance Banner, he doesn't have anything like the warm, likable charisma of Mark Ruffalo's Bruce. But still, Tim Roth as a honking great spiny mutant, right?
DH
9. Thor (2011)
Hey, remember that time Sir Kenneth Branagh made a superhero movie and it was /great/? Chris Hemsworth's hammer-wielding first solo outing manages to not only introduce a likeable Thor (except when he's being a brat to Sir Anthony Hopkin's Odin which just isn't cricket) but set Loki's seriously evil character arc in motion and even feature some great genuinely laugh out loud moments. Funny, sweet and with plenty of ridiculous action sequences, Thor has far more heart than anyone ever expected. Oh, and Kat Dennings is brilliant.
LB
8. Avengers: Age of Ultron (2015)
It seems no one likes Age of Ultron. Maybe you even think this should be last on the list, but is that because it's a bad movie, or because you've just seen it all before? Pulling off another Avengers movie didn't have the same effect the second time around, but let's not forget how many things could have gone seriously wrong with this sequel. Juggling that many superheroes is no small thing. Ok, the villain is only mildly threatening (after all, he could probably be outdone by a good bucket of magnets), and the Maximoff twin's accents are... interesting, but by everyone else's standards Age of Ultron is a great movie. It's just pretty mediocre for the MCU.
LO
7. Iron Man 3 (2013)
Iron Man 3 is far from a typical Marvel film. In fact it's the film that made it very clear that, from 2013 onwards, there was no longer going to be any such thing as a typical Marvel film. Kicking off the MCU's Phase 2 – the period when Marvel would start to go wild with eclectic subject matter, tones and themes, the establishing groundwork now done – it set the bar for the most creatively rich period of the Cinematic Universe so far.
Bringing in Lethal Weapon writer Shane Black to write and direct – also the creative mind behind savagely under-watched, masterfully clever, Robert Downey Jr-starring noir deconstruction Kiss Kiss, Bang Bang – Iron Man 3 is by far the most RDJ Marvel film yet made. Part superhero movie, part whimsical angst-comedy, all meaty character drama, it's a beautifully written piece of 'proper' film-making that just happens to have a bunch of flying robot suits thrown in for good measure.
DH
6. Ant-Man (2015)
That thing we were just saying about Phase 2 really mixing things up? Welcome to the Marvel crime caper movie. Everything about Ant-Man is classic heist. The slow-burn, 'getting the team together' characterisation. The single, focused goal. The planning and practice montages. Ant-Man knows all of the genre's clichés, and it makes every one of them absolutely sing. Fundamental to that success is its drastically smaller scale. There's no incoming apocalypse here. No grand, villainous plan to change life as we know it. Barely anything that anyone outside the story would ever become aware of, in fact. Just an old grudge, a corporate asshole, and a strong focus on the character comedy pushing the whole story forward. Also, it contains the best cinematic use of one of the best songs from the best Cure album, so for that, it gets bonus points forever.
DH
5. Iron Man (2008)
It's hard to argue in favour of the first Iron Man movie being in the top 5 MCU movies of all time when we've seen such spine-tingling creations as Captain America: Winter Solider and Guardians of the Galaxy since, but bear with me. Iron Man was the first. No, that doesn't make it the best, but it does give it a certain amount kudos. After all, everything that came after owes its existence to a movie which starred a scandalous actor making a comeback and a story based on a children's comic book. Who knew it would rock the socks off Hollywood and kick-start and entire cinematic trend? We did. Obviously. If you want to know how to do an origin story right, go back to the beginning and re-watch Iron Man because, much like Marvel, it barely puts a foot wrong.
LO
4. Captain America: Civil War (2016)
Bet you think this one's too high on the list, don't you? Let's not argue about it. Remember we're on the same team. Civil War is a chance to draw breath following the relentless assault that was Age of Ultron - a necessary salve, after years of bruising summer blockbusters. It's a smaller, smarter story, about clashing ideologies and people, but it never gets bogged down with windy introspection. On top of that, there's the wonderful introduction of Spider-Man, that bit with Ant-Man, and the Vision wearing a delightful jumper. Let's just agree to never speak of collateral damage in a superhero movie again, okay?
ME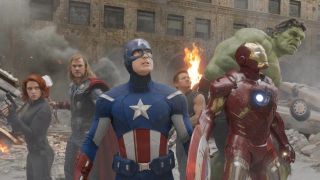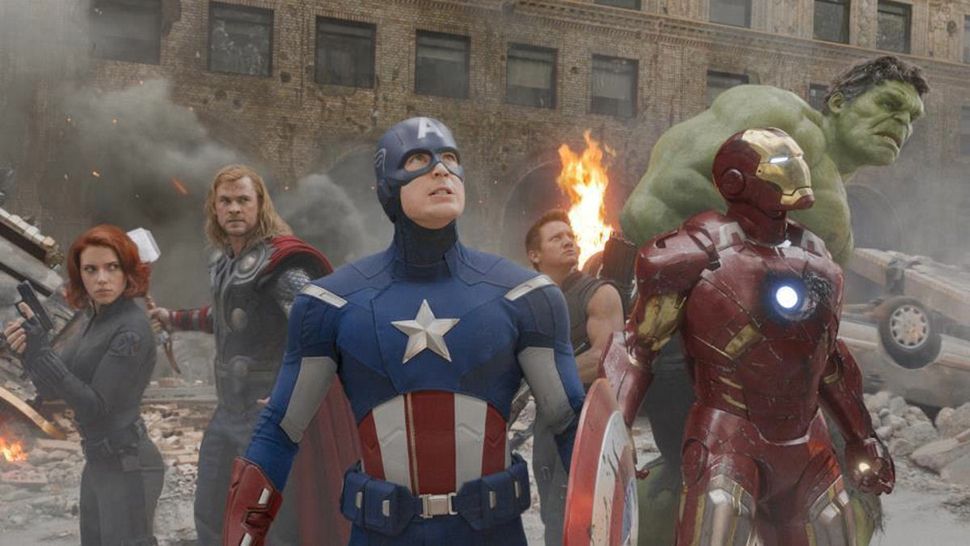 3. Marvel's The Avengers (2012)
You can't not appreciate the first Avengers movie, even if it's just for the simple fact that it was one of the first of its kind. I know it seems like ages ago now, but there was a time when everyone thought Marvel was crazy for trying to produce a movie with multiple main characters which spanned various timelines and planets. Oh, how quickly we've forgotten what an accomplishment it was that Joss Wedon even made The Avengers, never mind that he made it good. With superheroes galore, action blockbuster battles, and enough balance of storyline to actually get to know and care about each and every character, The Avengers will go down in cinematic history, not just MCU history.
LO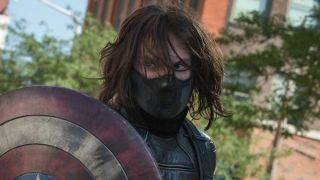 2. Captain America: The Winter Soldier (2014)
The Winter Soldier is a totally different take on the Marvel world considering its '70s cold war thriller inspiration, but is far and away better than its predecessor. It's also the movie that establishes Bucky Barnes as The Winter Soldier and, as we know, he's now a major player in the MCU. The core of the movie sees S.H.I.E.L.D. come up with the genius idea of a global satellite network which spies on the world to stop the bad guys before they even do bad things - something that, funnily enough, the boy scout Steve is far from down with. But it's okay, because it turns out S.H.I.E.L.D. is corrupt and run by HYDRA in secret. Wait, that's bad. It's one most well-balanced films in the MCU in terms of action and pace, and the Russo brothers really set both a level of quality and story groundwork for future films.
LH
1. Guardians of the Galaxy (2014)
It's a heist movie. It's basically Ocean's Eleven in space, with a talking raccoon and a walking tree as part of a crew led by a guy who, if we're being honest, is kind of a dick. And yet within this group of felonius jerks is such heart, joy, and sass that you can't help but adore every single one of them. Ok, yes, there's a 50/50 chance that Drax is going to rip your spine out and Rocket probably stole your wallet when you weren't looking, but despite their tenuous grasp of 'the law', Star-Lord and his friends are undoubtedly the Good Guys, and we're lucky to have them as our guardians. We are Groot.
SA