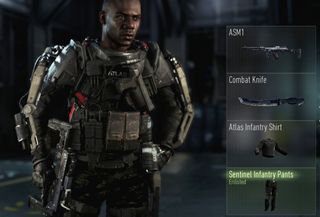 Build a better soldier
Your loadout is the most important part of the Call of Duty online experience, no doubt about it. If your selection of guns and abilities doesn't cater to your playstyle, you'll be far less effective--and you won't be having nearly as much fun as you would with a perfectly tuned loadout. That's why it's so crucial that you figure out your Pick 13 before diving into Call of Duty: Advanced Warfare multiplayer--and we've got the info to give you a leg up.
Start plotting out the Perks, Exos, and Wildcards you'll want for your loadout by checking out the full range of those currently available. If you plan ahead now, you'll be that much more ahead of the curve on launch day.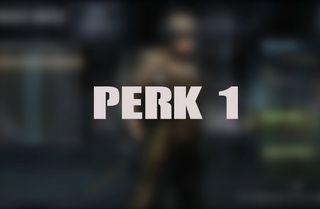 Perk 1
These are the perks you can assign to your Perk 1 slot.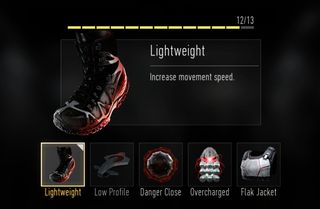 Lightweight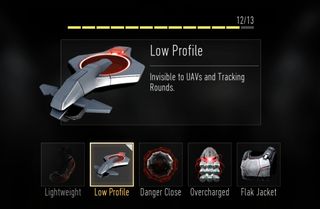 Low Profile
Invisible to UAVs and Tracking Rounds.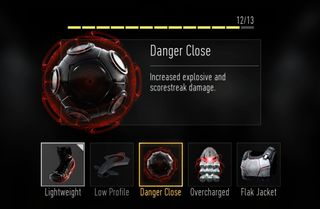 Danger Close
Increased explosive and scorestreak damage.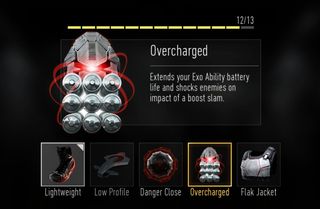 Overcharged
Extends your Exo Ability battery life and shocks enemies on impact of a boost slam.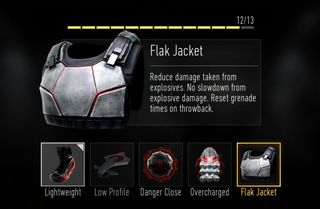 Flak Jacket
Reduce damage taken from explosives. No slowdown from explosive damage. Reset grenade times on throwback.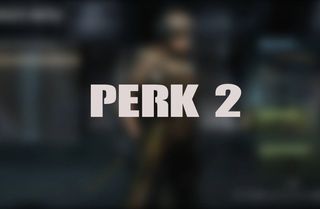 Perk 2
These are the perks you can assign to your Perk 2 slot.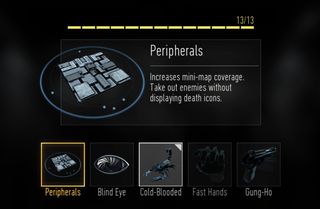 Peripherals
Increases mini-map coverage. Take out enemies without displaying death icons.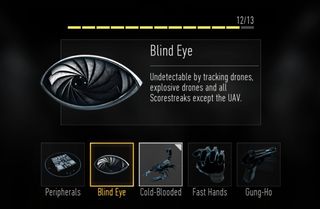 Blind Eye
Undetectable by tracking drones, explosive drones, and all Scorestreaks except the UAV.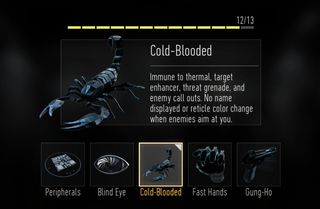 Cold-Blooded
Immune to thermal, target enhancer, threat grenade, and enemy call outs. No name displayed or reticle color change when enemies aim at you.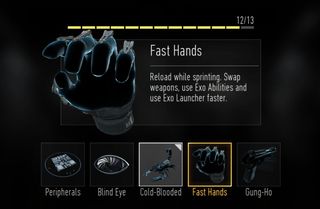 Fast Hands
Reload while sprinting. Swap weapons, use Exo Abilities and use Exo Launcher faster.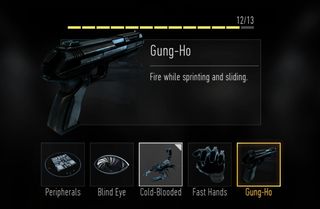 Gung-Ho
Fire while sprinting and sliding.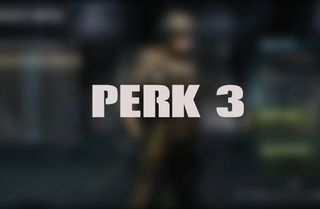 Perk 3
You know the drill. These go in your Perk 3 slot.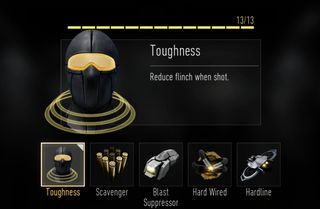 Toughness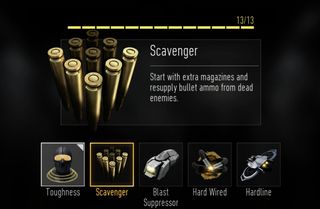 Scavenger
Start with extra magazines and resupply bullet ammo from dead enemies.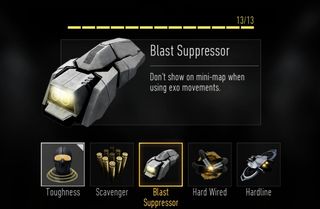 Blast Suppressor
Don't show on mini-map when using exo movements.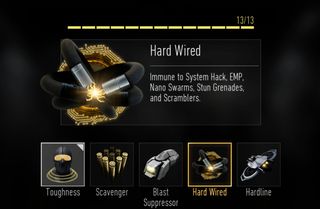 Hard Wired
Immune to System Hack, EMP, Nano Swarms, Stun Grenades, and Scramblers.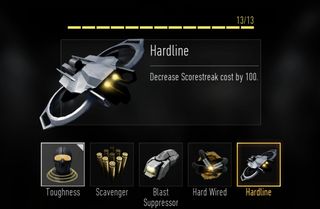 Hardline
Decrease Scorestreak cost by 100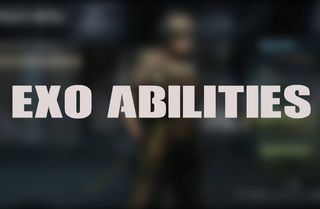 Exo Abilities
Those robot backpacks aren't just for show in multiplayer. Choose an Exo Ability for additional abilities.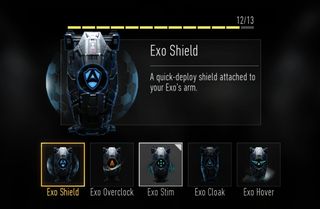 Exo Shield
A quick-deploy shield attached to your Exo's arm.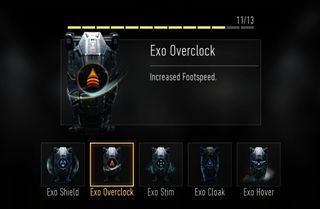 Exo Overclock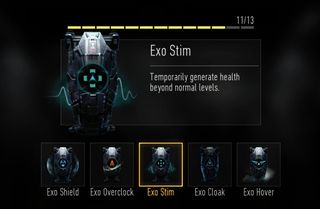 Exo Stim
Temporarily generate health beyond normal levels.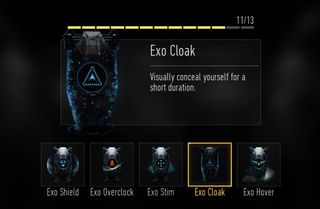 Exo Cloak
Visually conceal yourself for a short duration.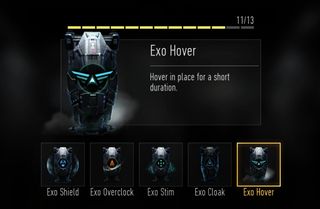 Exo Hover
Hover in place for a short duration.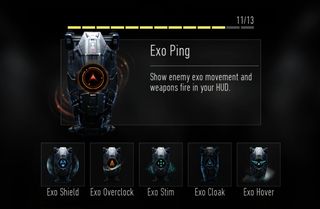 Exo Ping
Show enemy exo movement and weapons fire in your HUD.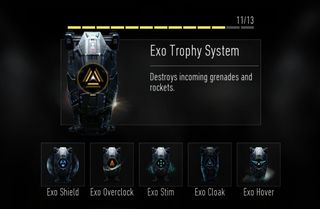 Exo Trophy System
Destroys incoming grenades and rockets.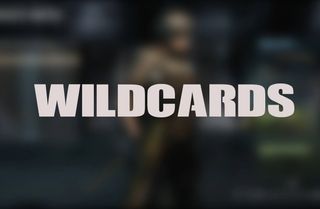 Wildcards
Want to load up on a little something extra? Take a look at these Wildcards.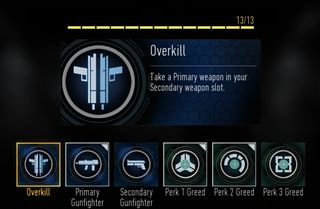 Overkill
Take a Primary weapon in your Secondary weapon slot.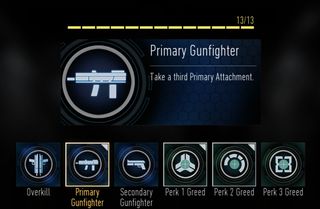 Primary Gunfighter
Take a third Primary Attachment.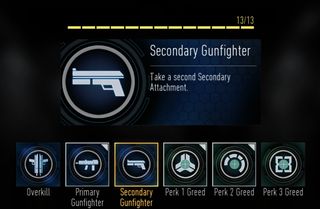 Secondary Gunfighter
Take a second Secondary Attachment.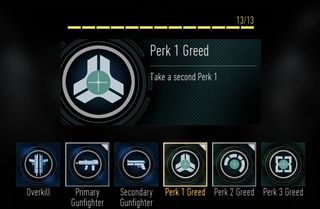 Perk 1 Greed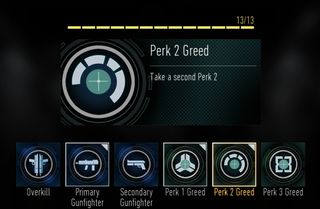 Perk 2 Greed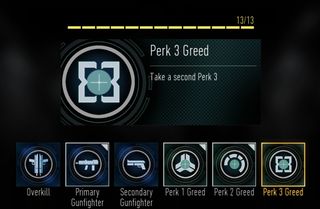 Perk 3 Greed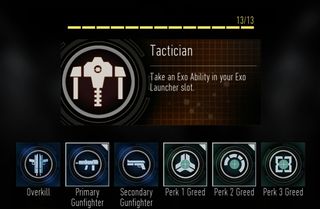 Tactician
Take an Exo Ability in your Exo Launcher slot.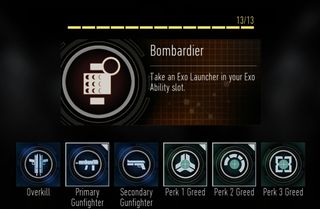 Bombardier
Take an Exo Launcher in your Exo Ability slot.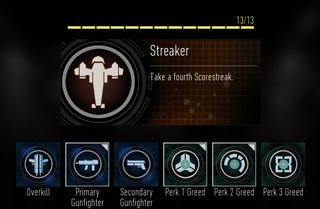 Streaker
Take a fourth Scorestreak.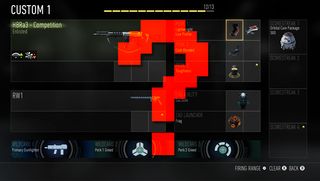 The right stuff