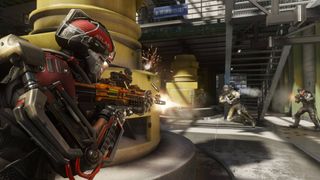 Advance your warfare
The Reckoning is upon us. By now you should know exactly what you're in for with Call of Duty: Advanced Warfare's slate of DLC - of course, that's not really a bad thing, because the heavyweight shooter series knows how to make a map pack sing with oodles of new score streaks and mid-match events to keep players guessing. Not to mention the indispensable Exo Zombies mode, which expands on CoD's fine tradition of cheesy undead survival by giving a gaggle of semi-famous actors super-powered exoskeletons.
The Season Pass is finally complete, and you can still pick it up for $49.99/34.99 - or just pick and choose which of the four packs you want for $14.99/11.59 each. Don't forget that the Season Pass also includes a few other bonuses such as the Atlas Gorge map, though. Click on for more details on Reckoning, Supremacy, Ascendance, and Havoc!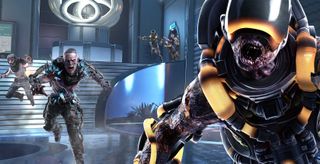 A final Reckoning
The end times (of Call of Duty: Advanced Warfare DLC) have arrived across all platforms. The fourth and final season pass expansion adds the standard assortment of four new maps to the game, each of which is ready to play in the high-flying Exo Grapple playlist - just like the Supremacy and Ascendance packs. Click on for more details on each of the four maps.
Meanwhile, Exo Zombies' campaign will conclude with Descent. The four survivors find that one of their number has joined the horde of the undead, and must use the new Trident Reflected Energy Weapon to battle him and the new "fused" exo zombie enemy type in a final struggle for survival.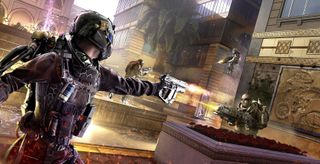 Reckoning DLC map: Overload
Pound the well-kept streets of downtown New Baghdad, taking advantage of long sight lines ideal for sniping and fragile plasma lamps ready to send your opponents flying.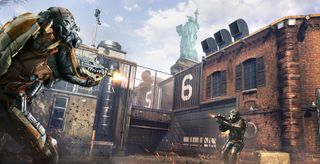 Reckoning DLC map: Quarantine
Liberty Island's seen better days, but at least the new mid-sized biological testing center has a sweet ship-fired missile salvo as a scorestreak.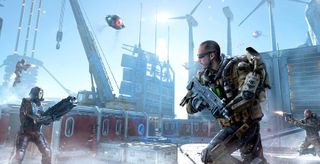 Reckoning DLC map: Fracture
As you might expect from the name, bits of the glacier shelf will start breaking off when you're midway through the fights. Make sure you're not on them when they do.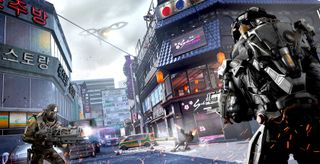 Reckoning DLC map: Swarm
The streets and storefronts of Seoul make for closeup skirmishes linked by narrow, congested corridors. Don't forget to check your corners when you're moving through the cramped interiors at the center of the map.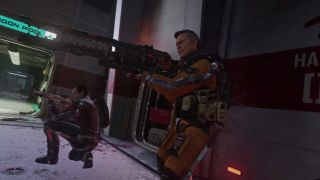 Exert your Supremacy
Supremacy is here, ready to go across all platforms. While the third DLC pack for Call of Duty: Advanced Warfare doesn't include any new game-changing guns for competitive play, it does slot in four new multiplayer maps - complete with support for the Exo Grapple ability introduced in Single Player and first brought online in Ascendance. Click on for more details about each of the new maps.
Exo Zombies also gets its semi-climactic third episode, starring Bruce Campbell as a new zombie-slaying co-op teammate. Of course, somebody's got to eat dirt to open that slot - but who will be the dearly departed?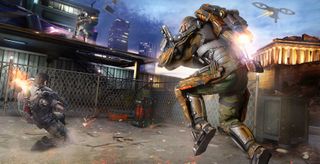 Supremacy DLC map: Skyrise
Skyrise combines a great view of the Athenian Acropolis with the classic layout and mechanics of Modern Warfare 2's close-up Highrise map.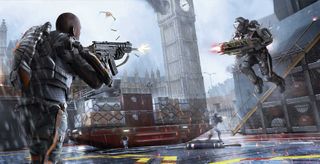 Supremacy DLC map: Parliament
Enjoy a scenic view of the Palace of Westminster as you and a bunch of exoskeleton-wearing cretins fight to control a medium-sized cargo ship floating on the Thames.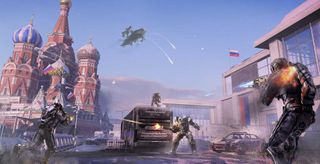 Supremacy DLC map: Kremlin
Push down three lanes across Red Square, duck into buildings for cover, and do be careful about that minefield activating in the middle of the match.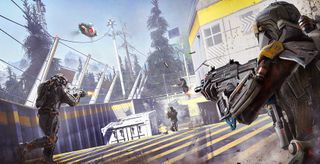 Supremacy DLC map: Compound
A secretive training facility in the Colorado wilderness provides a symmetrical layout, tight corners, and not much time to aim from its main towers.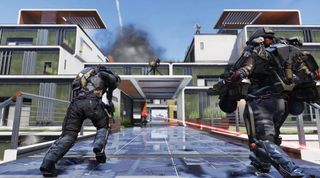 Ascendance rises
Advanced Warfare's Ascendance DLC map pack is available now on all platforms, having hit PC, PS3, and PS4 about a month after it arrived on Xbox 360 and Xbox One. If you haven't already seen, Ascendance is all about getting vertical - kind of like those old Mountain Dew commercials, but with a high-tech grappling hook instead of a sailboard. Players can use the new gadget to zoom around Perplex, Site 244, Climate, and Chop Shop, but only in the Exo Grapple playlist.
Ascendance also adds the new OHM directed energy LMG/shotgun hybrid for use in competitive matches and its customized variant. Meanwhile, the second episode of the four-player co-op Exo Zombies campaign takes John Malkovich and company to the outskirts of an Atlas facility, where they'll (hopefully) overcome new zombie hordes with a unique selection of traps and weapons. Click on for screens of all the maps and details on previous DLC.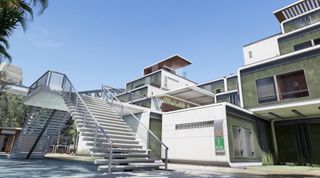 Ascendance DLC map: Perplex
Don't get lost when construction bots start moving Perplex's modular apartment units around in the middle of a match.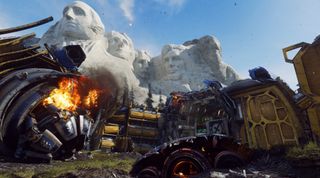 Ascendance DLC map: Site 244
In Site 244, an alien ship has crashed just shy of Mt. Rushmore, and everyone's fighting to call down its perk-and-ability-enhancing spore pods as a scorestreak.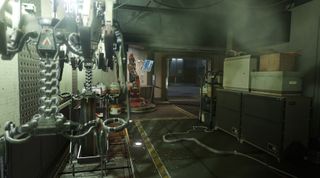 Ascendance DLC map: Chop Shop
Battle through the labs and corridors of Chop Shop's black market exo facility, and try to lock down that EMP-blasting turret with a scorestreak.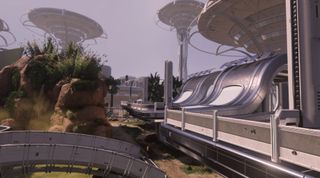 Ascendance DLC map: Climate
Climate's artificial oasis is an intimate setting for firefights through land and water, but watch out for that swelling river.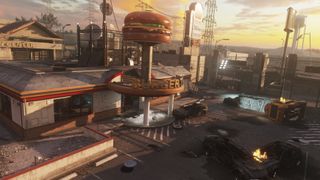 Ascendance Exo Zombies: Infected
Exo Zombies' second episode, Infected, makes a quick pit stop for some Burgertown just outside an Atlas Facility.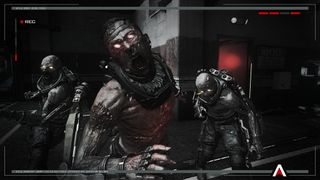 Wreak some Havoc
You want more competitive maps? Call of Duty: Advanced Warfare's Havoc DLC has more competitive maps. Four more, to be exact: Core, Urban, Drift, and Sideshow, and you can click on to see screenshots and brief synopses for each one. But what good is a bunch of new stages without some new guns to carve them up? Thankfully, Havoc also drops in the AE4 directed energy assault rifle and its customized variant, the AE4 Widowmaker.
Advanced Warfare's first DLC pack also includes the first episode of the Exo Zombies campaign, which sees four civilian employees of the Atlas corporation struggling to survive against an outbreak among the company's elite soldiers. And yes, it amps up the now-standard camp factor, complete with face-captured performances from John Malkovich, Bill Paxton, Rose McGowan, and Jon Bernthal to give Kevin Spacey a run for his PMC money.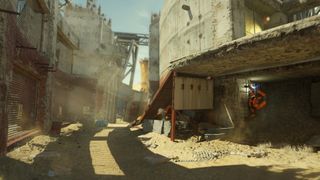 Havoc DLC map: Core
Core drops you in the ruins of a nuclear fusion plant deep in the Gobi desert. At least it's a dry heat.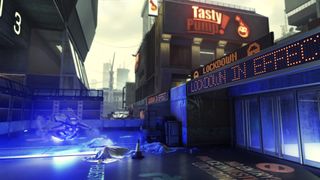 Havoc DLC map: Urban
Urban turns a futuristic Dallas living space into a super-vertical shooting gallery.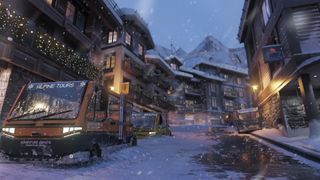 Havoc DLC map: Drift
Drift takes you on vacation to a lovely ski resort, only problem is the intermittent avalanches.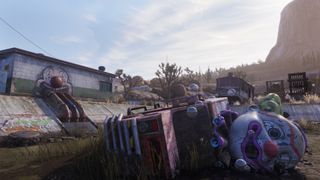 Havoc DLC map: Sideshow
Sideshow takes place at a terrifying clown-themed tourist trap - complete with rainbow cannonball scorestreak.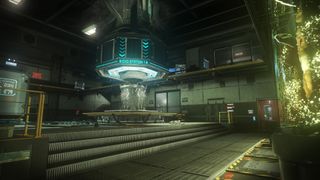 Havox Exo Zombies: Outbreak
Outbreak introduces Exo Zombies' star studded cast, letting you be John Malkovich as you mow down exoskeleton-clad zombies.