Best: 28 Days Later (2002)
Cillian Murphy wakes up in a London we all wish we lived in – one devoid of any people. Except his filmic journey doesn't involve shopping sprees on a gloriously empty Oxford Street, but rage-infected, man-munching horrors who just want to rip off his face.

That eerie shot of Murphy crossing a spookily deserted Westminster Bridge still gives us chills…


Worst: Twister (1996)
Cows, houses and tractors are all swept up in the ether as a team of storm-chasers led by Helen Hunt and Bill Paxton actually follow disaster everywhere it goes. Idiots.

As Roger Ebert put it, it's "loud, dumb, escapist entertainment". The only bit we disagree with is the entertainment bit.

Best: Airport (1970)
Genre-defining and the first of the '70s disaster movie epics, Airport proved creepily prophetic as it tells the story of a suicidal man who decides to blow up a Boeing 707 during a snowstorm.

With a budget of just $10m, the film went on to reap $100m at the box office. It looks camp as Christmas now, which just sort of adds to the fun.


Worst: Waterworld (1995)
Movie legend tells of this film's infamous budget ballooning to almost double its original size, as Kevin Costner's post-apocalyptic yarn's $100m money pot stretched to $175m.

Sadly, shovelling money at a piece of crap doesn't make it any better, as evidenced in the final product – a rambling tale in serious need of an editor. Fair action, though.
Best: The Poseidon Adventure (1972)
You don't get to be the number one movie in 1972 for nothing. Roland Neame's genre-defining classic takes the tale of Titanic and spins it on its head – uh, literally – as a tsunami capsizes an ocean liner stuffed full of people.

With a cast that includes Gene Hackman, Shelley Winters, Roddy McDowall and Ernest Borgnine, it won a (sizeable) clutch of awards and still holds up to this day.

Worst: Hard Rain (1998)
'Soggy' and 'mess' are the best words to describe this humourless disaster pic. Morgan Freeman is in the middle of the chaos, as a small town in Indiana is flooded, coinciding with a heist gone seriously wrong.

Freeman does his charismatic thing well, but Hard Rain is both dull and uninvolving. Even if the bad weather does sound great in surround sound.
Best: The Birds (1963)
The converged minds of Daphne du Maurier and Alfred Hitchcock create one of the most chilling things ever committed to celluloid, as birds inexplicably start pecking people to death in Bodega Bay. Tippi Hedren famously hated her director for pinning live birds to her clothing. Her payback? Appearing in shoddy sequel Birds 2 .

Made most people afraid of their friendly neighbourhood black bird. Now that's some doing.

Worst: The Swarm (1978)
Natural disasters were getting old by the tail end of the '70s, which explains The Swarm 's sudden lurch into horror-threaded territory as a cloud of very angry bees descend on Michael Caine, Katharine Ross and Richard Widmark.

The result is throwaway tosh, and a movie widely regarded – happily – as a total disaster. Ah, we do love a good bit of irony.


Best: Independence Day (1996)
Say what you will about Roland Emmerich's edge-of-silly alien invasion flick, but it had everyone hooked back in the mid-'90s thanks to some awe-inspiring computer effects, and set the trend for all big budget blockbusters that followed.

Essentially it's a throw-back to the disaster movie glory days of the '70s, with a simply massive cast to match that then-massive $75m budget. Altogether now: "Hello boys, I'm baaaaack!"

Worst: Blindness (2008)
Julianne Moore is the only one who's immune when people the world over inexplicably go blind. Probably because she's the best actress.

No massive explosions here, but more of a social disaster as Fernando Meirelles tries something a bit different. The premise is intriguing, but the resultant horror/drama is so po-faced it merely becomes depressing and miserable.
Best: The Towering Inferno (1974)
Two years after The Poseidon Adventure extended Airport 's disaster film mould, The Towering Inferno replicated it to explosive ends as Steve McQueen, Faye Dunaway and Fred Astaire find themselves trapped in a massive burning building.

Inferno is, like the best disaster movies, all about spectacle spliced with human drama. That helicopter boom gets us where it hurts every time.
Worst: The Core (2003)
The Earth's core isn't playing nice, so a drill team are enlisted to dig down through the planet's plates and set off explosions to sort it out.

Yes, they made an entire film based on that premise. No, it's not any good. "The Earth core's inability to turn is mirrored in the cast's inability to give the picture any spin," wrote the New York Times . We couldn't have put it better ourselves.
Best: Titanic (1997)
James Cameron's biggie, previous record holder for highest grossing movie of all time (which Cameron naturally trumped himself with Avatar ), Titanic was a break-out phenomenon in the '90s thanks to heartthrob Leo DiCaprio and the devastating final hour of wanton destruction.

The CG may look a little shaky today, and Kate Winslet's character is still a heartless bitch (come on, we can't be the only ones who think so), but this is a perfect example of opulent, extravagant filmmaking at its most ambitious.

Worst: The Day The Earth Stood Still (2008)
Ham-fisted attempt to drag the '50s classic into a modern day setting. Keanu Reeves is well-cast as the emotionless, detached Klatu (playing to his strengths there), while Jennifer Connelly is fine as a mother hoping to save the human race.

The delivery, though, is woefully inept, while the newly CGI Gort is a total letdown. Thank God it's only 100 minutes long.

Best: Earthquake (1974)
More '70s A-listers attempt to scrabble away from potential ruin, as an earthquake rips the City of Angels to shreds. The film came about mostly thanks to the massive success of Airport , and was dreamed up by producer Jennings Lang in 1971 when the San Fernando Earthquake gave Los Angeles a bit of a jolt.

Filmed around the same time as the similarly-themed Towering Inferno , Earthquake 's shoot included the total destruction of Universal Studios' backlot. Though it received a critical lashing upon release, it's now regarded fondly as part of the '70s disaster movie boom.

Worst: Daylight (1996)
Sylvester Stallone's post-Rocky/Rambo career slides further into obscurity, as he plays a former medical chief who attempts to save people trapped in the Holland Tunnel.

Only problem is nobody can understand his big-lipped babblings…

Best: Deep Impact (1998)
Though Armageddon had the bigger names and budget, Deep Impact is widely regarded as the better film. Is it because it stars Morgan Freeman (again) and future hobbit Elijah Wood?

Nah, it was more about the meteorite-centred plot, which set a 7-mile wide comet on a collision course for Earth, and would cause a mass extinction reminiscent of the dinosaurs. Notably, before Twilight this was the highest grossing film directed by a woman.


Worst: Volcano (1997)
The Bodyguard director switches one diva for another diva, as he swaps Whitney Houston for a giant, mountainous configuration of molten hot lava with a furious temper. Not many people noticed the difference.

Sadly, Mick Jackson fails to ratchet up any kind of tension as Tommy Lee Jones scratches about waiting for Men In Black to get a release date.

Best: Outbreak (1995)
An Ebola-like virus, yes, breaks out in California, while Dustin Hoffman, Morgan Freeman ( again !) and Rene Russo attempt to stop it before it's too late.

Uhuh, it's another one of those 'what if' situations, also starring that monkey off Friends . The plot may be wafer thin, but director Wolfgang Petersen keeps thinks charging along at a breakneck speed.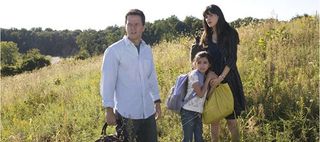 Worst: The Happening (2008)
For a film whose title suggests something actually, like, occurring, nothing really happens in The Happening . Save for an enigmatic opener in which New Yorkers inexplicably commit mass suicide.

It all comes to a hysterical climax when Mark Wahlberg and Zooey Deschanel attempt to outrun the wind. If you're slapping your forehead right now, you're not alone.

Best: War Of The Worlds (2005)
Just before Tom Cruise went into meltdown, he headed up this end-of-worlder. With Steven Spielberg returning to aliens for a third time, this time bringing the nasty, War Of The Worlds does what all disaster flicks should – bring both the drama and the emotion.

Sure it starts to lose its way around two thirds in, then defeats its invading ETs within the blink of the eye (the less said about that far-reaching happy ending the better), but it's just what we needed to remind us that the Beard and Mr Cruise have what it takes to make something meticulous and mental.

Worst: The Reaping (2007)
Disasters get biblical as a small town is, uh, plagued by the apocalyptic 10 plagues of the Good Book. Hilary Swank goes to investigate, inevitably surrendering herself to the post-Oscar curse which she has still yet to recover from.

Like The Swarm before it, Reaping fails to bring both the scares and the action. Fail.
Best: The Hindenburg (1975)
Though director Robert Wise was famously meticulous when it came to details, The Hindenburg makes some massive leaps in historical accuracy.

Such inconsistencies manage not to derail the entire movie, though, thanks to the persuasive tone of Wise's movie, and a truly fiery finale.

Worst: Poseidon (2006)
Wolfgang Petersen returns to the disaster arena, and thinks he can do better than Ronald Neame's 1972 original.

In short: he can't. He tries, though, casting pop-singer-but-actress-wannabe Fergie alongside a decent Kurst Russell and Jacinda Barrett. Yes, the CGI's there, but everything else is a tsuami-sized waste of time.

Best: San Francisco (1936)
Funny how the oldies are generally the goodies, even if the budgets and visual spectacle aren't a patch on even the DTV movies of the modern day.

That said, this Clark Gable vehicle has spectacle by the bucketload, as montage specialist Slavko Vorkapich cut together footage of a San Fran earthquake to shattering effect.

Worst: 2012 (2009)
Those Mayans, eh? Just because they got sick of making a calendar that dated far beyond anything they could ever imagine, Roland Emmerich decided to use their laziness as an excuse to stage the end of the world.

Except it's not really the end of the world, just a shift in a few continents. Basically Independence Day on acid, 2012 has a bigger cast, bigger budget and, alright, bigger aspirations than Emmerich's alien flick, but in the end it's just a bigger mess. Shame.

Best: Cloverfield (2008)
Good stuff, if you had the stomach for it. Reports of people vomiting in the cinema aside, Cloverfield picked up right where Blair Witch left off with the found-footage approach putting a fresh spin on alien invasion.

It gets a bit ragged towards the end, but that shot of the Statue of Liberty being torn asunder, not to mention a tense, near-totally-dark underground sequence keep the thrills coming.
Worst: Disaster Movie (2008)
Ah, and here's the worst of the lot – pretty much every crap disaster movie wrapped up in a shiny, Scary Movie -begging package for the popcorn generation.

But… since when was Hellboy a disaster movie? Or Indiana Jones ? Or Batman ? Or Kung Fu Panda ? Lazy, dreadful drivel, deservedly nominated for six Golden Raspberry Awards.