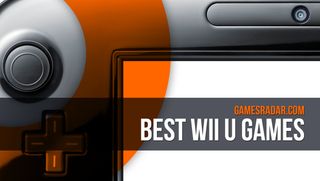 What to buy?
Alright, so maybe the Wii U doesn't have quite as many games as you might like. The good news is that library is slowly, but steadily, expanding, and there are a handful of high-quality titles at its foundation.


In order to keep you in the know, weve ranked the best games to own so far for the system, taking into account quality, use of the systems unique features, and other intangibles. This is a living list, but as of right now the best Wii U rankings begin with...
It's fairly quiet on the Wii U front at the moment, which means now is the time to hoover up some bargains.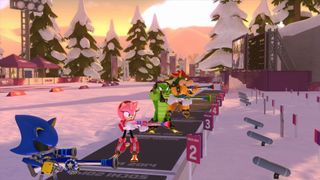 25. Mario & Sonic at the Sochi 2014 Olympic Games
Mario & Sonics fourth stint at the Olympic Games is actually their very best. A Wii U exclusive, the dream teams run at the Sochi 2014 Olympic Games actually takes good advantage of the Wii Us extensive control options, meaning the mini-games included here arent quite as simplistic as in the Wii predecessors. Check out Bobsleigh, for example, which uses the GamePads screen to give you a first-person view as you slide down the track, tilting the controller to steer.


There are, still, some disappointing omissions. Where is the fictional justification for Mario and Sonic hanging out? And going to the Olympics? These sound like nitpicks, and they are; but really, well probably be having enough fun playing the actual game until the pair hit up Rio in 2016.


View on Amazon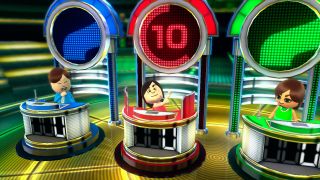 24. Wii Party U
Wii Party U is yet another mini-game collection on a Wii system, but its a well-made one. Like the first Wii Party, its Mario Party-like in structure, but a bit more free-form. You can choose to play the included mini-games in the familiar board game format, but its not really the focus here. Basically, Wii Party U is about getting in and watching your Miis do crazy stuff like ride bikes on really narrow paths.


The fact that Wii Party U is actually made by Nintendo really does show, and it makes the game worth a look on its own. But if you dont believe me, take a look at some of Wii Party Us innovative and exciting mini-games, many of which make unique use of the Wii U Gamepad. One, for example, has you using the Gamepad like a cocktail arcade cabinet, with two players each using half of the controller to play a top-down soccer game. Pretty cool.


View on Amazon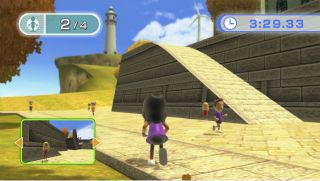 23. Wii Fit U
You can look at Wii Fit U as nothing more than a cheap cash-in on the success of the original Wii Fit. But if you take the time to see Wii Fit U for its better aspects, youll discover its a charming game that carries Nintendos trademark polish. Yes, it is absolutely a fitness program first (a good one, at that), but it has considerable gameplay merit as well, and Nintendo is probably the only company that could be reasonably expected to pull that feat off.


As this Wii U update goes, it doesnt bring all that much new content to the table, but it does allow you to import data from the original game, if you have any. And, if youre a newcomer, youll find plenty here to keep you entertained as you work towards your fitness goals. With Wii Fit U, Nintendo has yet again succeeded at an admirable goal.


View on Amazon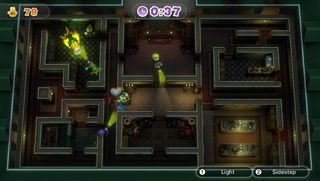 22. Nintendo Land
Much like Wii Sports, Nintendo Land was created to be an inviting tech demo for Nintendos experimental new console. But thats pretty much where the comparisons cease, because Nintendo Land is made to appeal to both the blue ocean of casual players as well as the millions of Nintendo junkies around the world. And though the 12 core minigames vary in quality, when Nintendo Land gets it right, it makes for great fun for up to five players.
Set in a virtual Nintendo theme park, each minigame is an attraction inspired by a different Nintendo franchise. The standouts of the bunch are intense versus battles like Animal Crossing: Sweet Day and Luigis Ghost Mansion, in addition to deeper co-op adventures like Metroid Blast and Pikmin Adventure. Even if some of the single-player challenges are too shallow, Nintendo Land is a great party game perfect for introducing your friends to your new console, and will keep you entertained long after they leave.
View on Amazon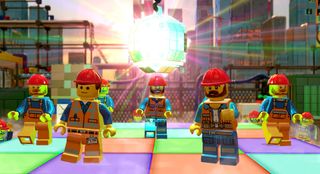 21. The Lego Movie Videogame
If you haven't already seen The Lego Movie, do yourself a favor and watch it. If end up finding it as awesome as we did, then you'll want to check out The Lego Movie Videogame, a fun adventure that follows the plot of the film. Playing as various characters from the movie, including protagonist Emmet and his love interest WildStyle, you'll smash your way through various obstacles and environments, all made entirely of Legos.


The hilarious writing from the film shows up in spades here, and some of the plot's most memorable scenes translate incredibly well into fun gameplay. So, too, does the ability to swap between characters, all of which feel quite different from one another. Plus, if you've got some friends in tow, The Lego Movie Videogame makes for a great co-op experience. You know what they say: Everything's awesome, everything's cool when you're part of a team.


View on Amazon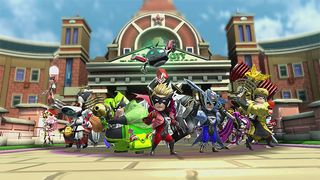 20. The Wonderful 101
Don't mistake The Wonderful 101 for some sort of group-management game like Pikmin--this is a full-on action game wrapped in a Viewtiful Joe disguise. You control a superhero in a wonderfully realized world full of sass and puns (no surprise considering The Wonderful 101 comes from Platinum Games, the team behind Bayonetta). With dozens of followers under your command, you must save the world one GamePad stroke at a time.


See, your superhero can command his followers to form giant weapons--whips, swords, etc--which is done by drawing the corresponding shape of said weapon on the GamePad's touchscreen. While this is a great use of the Wii U's unique controller, in practice it can be rather difficult to draw certain shapes on the fly while simultaneously dodging attacks onscreen. Still, The Wonderful 101 is packed with charm and humor in equal measure, and even though its gameplay doesn't always translate into fun, it's a mostly enjoyable adventure all the same.


View on Amazon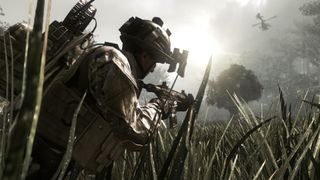 19. Call of Duty: Ghosts
Hankering for a shooter to play on your Wii U? Call of Duty: Ghosts is one of your few options, which is fine because it's a pretty damn good one. Now, it's by no means revolutionary--if you've played any of the recent CoD games, you have a good idea of what to expect--but it's a finely crafted experience that'll easily siphon hours from your life.


The admittedly lackluster campaign is offset by some fantastic multiplayer. Most of the maps now feature some minor destruction events that slightly alter their layout, and the new extinction mode, while not quite as exciting as zombies, is a great palate cleanser after a few competitive matches.


View on Amazon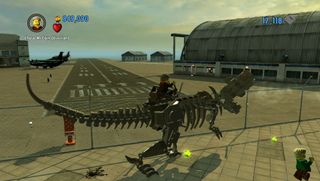 18. Lego City: Undercover
We've heard you joking, saying, "someone should make Lego Grand Theft Auto!" whenever a new Lego game was announced. You never expected anyone to do it, did you? But then, all of a sudden, Traveller's Tales actually did it--and it was super good. Lego City: Undercover includes a massive city to explore and all the charm Lego games are known for, all without the M rating open-world crime games usually get. Instead, it's a fun trip through a blocky city that anyone can enjoy, filled with things to build and people to save.
Exploring the world as Chase McCain is a ton of fun, and being able to change into eight different outfits to take on new jobs adds plenty of gameplay variety. Donning an astronaut costume will let you zoom around in a jetpack (because apparently astronauts have jetpacks), and dressing as a firefighter allows you to put out fires you find in the open world. Though you'll likely miss co-op, which was oddly omitted from Lego City, there's a good chance you'll be distracted enough by the dozens of hours of content that you'll barely notice it's missing.
View on Amazon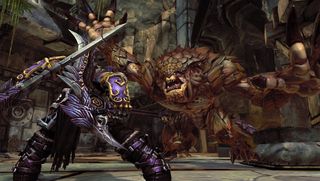 17. Darksiders II
The original Darksiders was a unique approach to the tried-and-true Zelda formula of dungeon exploration, but its sequel finally gave the Darksiders series its own identity. A massive action adventure game with tons to explore and challenging enemies to battle, Darksiders II is about the journey of Death, a Horseman of the Apocalypse, and his attempt to prove the innocence of War. Along the way he collects a ton of loot.
Hitting the Wii U a few months after 360/PS3/PC, this port remains one of the deeper adventures youll find on the console, particularly in the equipment department. The game uses the GamePad best when it comes to your loot inventory, mostly thanks to the touch screen streamlining the menus some. Other than that, the exclusive features are light, but that doesnt detract from Deaths engrossing battles against angels, demons, and everything in between.
View on Amazon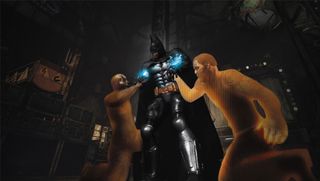 16. Batman: Arkham City Armored Edition
In case you were in a coma for the past couple years, gamers around the world were treated to one of the greatest superhero games of all time in Batman: Arkham City. A sequel to the already-ambitious Arkham Asylum, City carves out a big chunk of Gotham City for Batman to stalk, fighting crime and saving lives from the shadows. Everything we loved about the first game was expanded and improved, be it the combat, gadgets, enemies, and stealth navigation. This is a must-play game whether you love Batman or not.
What makes Batman: Arkham City Armored Edition worth it? From a value standpoint, its appreciated that the game includes all the DLC that was available on other systems, and even if many uses of the GamePad are fairly shallow, you have to give the developers credit for adding more Wii U-specific features than a majority of the launch ports. If youve missed the game until now, Armored Edition is a great way to finally experience it.
View on Amazon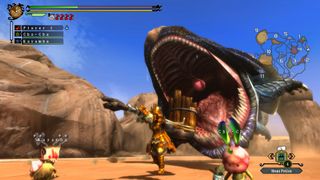 15. Monster Hunter 3 Ultimate
When it comes to Monster Hunter you either get it, or you don't. If you don't, then Monster Hunter 3 Ultimate feels like an unintuitive mess of mechanics. If you do, than you'll find yourself losing hundreds of hours slaying monsters, looting them for parts, crafting new gear, and then doing it all over again. Ultimate's Wii U version is the definitive iteration of the game, with strong visuals, great controls, and online play that'll keep you grinding for a long time.


And, honestly, if you fall into the "don't get it" class, you might as well give Ultimate a go anyway. It has all of the fun of an MMO smashed into a game you can play solo--and if you end up getting hooked, you can pick up the 3DS version as well, and transfer your character between the two to keep playing no matter where you are.


View on Amazon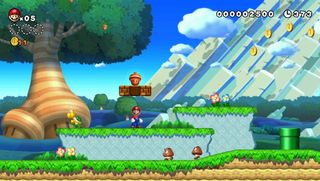 14. New Super Mario Bros. U
The Wii Us launch lineup has been one of strongest in recent memory, thanks in no small part to launching with a brand-new Mario game, which hasnt happened since 1996. This time around Nintendo created a new entry in the well-loved retro franchise New Super Mario Bros. And believe us when we say its the best 2D Mario since the SNES days.
Inviting to new players while still being challenging, New Super Mario Bros. U has tons of interesting new enemies, clever stage design, and fresh approaches to classic Mario boss battles. NSMBU also offers a surprising amount of replay value thanks to engrossing minigames and levels packed with secrets. If you only have room in your budget for one game on the Wii U, it should be this one.
View on Amazon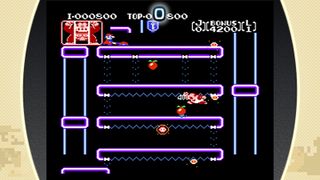 13. Ultimate NES Remix
We dare you to tell us that the NES era wasnt a pinnacle of gaming culture. Try to pretend that Mario didnt rock your sox, or that the open-ended depth of the original Legend of Zelda was a complete game changer and youll have the world calling your BS in minutes flat. Unfortunately that time (much like the rest of our childhood) has passed, but that doesnt mean we cant dive into the old classics with Ultimate NES Remix
But while all of our old favorites return for another round, this collection throws a few curveballs into the mix as well. Series mascots can bleed into separate franchises, some levels are completely transformed, and silly challenges like hyperspeed modes or autorunning only give us more ways to play the games weve beaten to death. With luck, this could catch on for other generations as well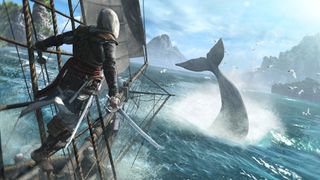 12. Assassin's Creed IV: Black Flag
Who would've guessed that Assassin's Creed IV: Black Flag would become one of the best pirate games ever made? Protagonist Edward Kenway is one of the coolest AC characters to come along since Ezio, and his do-what-I-want attitude fits in perfectly with the carefree lifestyle of his pirate pals. The beautiful setting alone is worth a trek through AC4; you'll parkour through lush Caribbean jungles, swim through shark-infested waters, and obtain your own pirate ship with which you can siege any vessels you encounter on the ocean and loot them for all they're worth.


The Wii U's GamePad also has some pretty awesome features. First, there's the obvious benefit of being able to play entirely on the GamePad itself, which is great when the TV isn't available. And, if you want to enjoy the gorgeous visuals without clutter, you can move the entire HUD to the GamePad. A pirate's life for Wii!


View on Amazon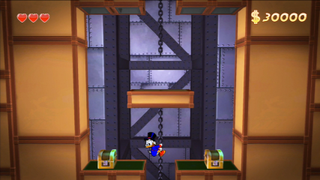 11. DuckTales Remastered
DuckTales Remsastered takes a beloved classic and updates it with beautiful, modern visuals. Sure, there are plenty of retro revivals of this sort, but DuckTales Remastered gets the porridge just right, finding the perfect balance between new and old. Its controls and overall feel are largely the same, not in need of a major overhaul. But some minor improvements have been made to the level layouts, and just enough new content has been added to make it an entirely worthwhile package.


Its made possible by developer WayForwards care and attention to detail. WayForward, no stranger to artful 2D games, showed a clear love for the original, implementing changes that die-hard fans would want. For example, the originals notoriously lackluster final level, which was actually a recycled stage from earlier in the game, has been removed and replaced with an entirely new level. So grab DuckTales Remastered and have an excellent experience with it today, regardless of your familiarity with the NES original.


View on Amazon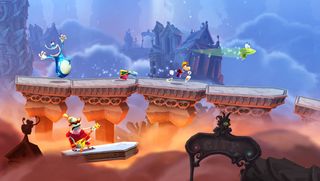 10. Rayman Legends
Few games mix whimsy and challenging fun as successfully as Rayman Legends, a wholly entertaining platformer that'll simultaneously put your skills to the test and a smile on your face. It all starts with the hand-drawn aesthetic. The cartoon-like visuals are downright gorgeous, and the characters--Rayman, his pal Globox, and the wizard Teensies--have plenty of quirky animations and personality.


Of course, that wouldn't mean much if the gameplay wasn't good, but Legends is one of the best platformers around. Each level is packed with hidden secrets and a slew of obstacles--ranging from deadly pits to equally deadly bad guys--that'll keep you on your toes. And each of its multiple worlds closes out with an incredible music stage, where every jump and action happens to the beat of a song. Don't miss out on this excellent game.


View on Amazon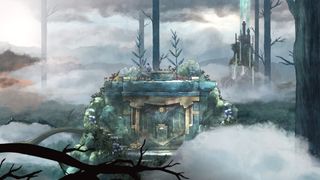 9. Child of Light
"Yeah, yeah, so Child of Light is a beautiful, wonderfully singular game that defies categorization. I get it, its priced like a budget game but has the length and expert production values of the best retail games. Please stop bothering me about how it excels in so many areas, including musical composition, art direction, and writing. I know! It has a fun, fairy tale story with diverse characters and mature themes. Ive heard it all before, go away!"


Well, fine, speaker in the above paragraph. Assuming you do exist, let me tell you that Child of Light is also a well-crafted RPG. Which--and, I hate to remind you--is not a thing that really exists elsewhere on the Wii U. Not sold yet? Its also a well-crafted puzzle-platformer, which Well, you get the idea. The point is, Child of Light doesnt have to rely on its high-minded, critics-darling artistry, because it's also a great game.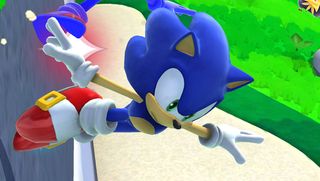 8. Sonic Lost World
How deep is your 3D Sonic-shaped wound? How many times have you gone to the new annualized Sonic release, hope in your heart, thinking it may ease your pain and bring back your fond memories of the franchise, only to have it burn you yet again? As a die-hard Sonic fan, youve had a few bright spots here and there to help you retain some faith in the character and his games, but for the most part, he left you out in the cold.


Its hard to believe, but Sonic Lost World may be the best 3D Sonic game, and it actually stands on its own as a great game, qualifier-free. It was co-published by Nintendo, and it carries the level of polish expected from a Nintendo release. Sonic Lost World looks fantastic and plays great, and, while its not on par with a Mario platformer, its more than serviceable in its own right. Trust--Sonic wont be burning you again with this one.


View on Amazon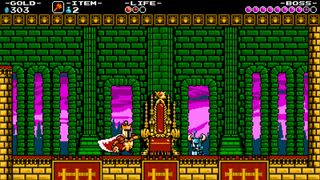 7. Shovel Knight
Shovel Knight is an indie title that harkens back to the retro stylings of Mega Man and Duck Tales, so it's fitting that its only console outing is on Wii U. This is old-school NES fun at its best, sporting a shovel to swing, platforms to hop on, and colorful opponents to overcome.


Shovel Knight features stages based on elements like fire, ice, and poison, each completely different from the last. Leap and slash your way through these, and you'll cap off each stage in a showdown with the Order of No Quarter--knights with as much personality as the levels they inhabit. If the rush of battling the fire-spitting Mole Knight or the staff-slamming King Knight isn't enough, then how about different types of armor and weapons, extra bosses, and bonus levels? This retro throwback is fun for players of all ages.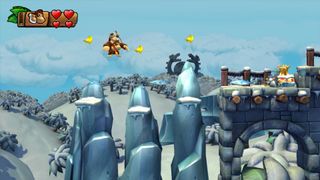 6. Donkey Kong Country: Tropical Freeze
If you've ever played the Donkey Kong Country series on Super Nintendo, you know that those games are hard. Yet despite the fact that you will die again, and again, and again, it never seems so bad because the challenge is fair, and even the trickiest platforming section feels conquerable with enough effort. That same spirit of sublime difficulty is alive and well in Donkey Kong Country: Tropical Freeze, the Wii U sequel to Retro Studios' excellent 2.5D reboot of DK's jungle-stomping franchise.


Besides the tough-but-gratifying running and jumping, Tropical Freeze has great presentation and polish. It's packed with subtle detail and vibrant visuals, and a great soundtrack makes the whole experience all the more enjoyable. Plus, the three different Kongs you can partner up with--Diddy, Daisy, and Cranky--each have a unique ability, providing some variety in the way you approach each challenging obstacle. Sure, Tropical Freeze is tough, but it's difficult in all the right ways and is a must-own title for any Wii U owner.


View on Amazon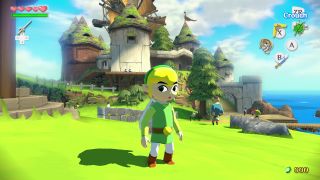 5. The Legend of Zelda: The Wind Waker HD
Gaming has come a long way since 2003, but the Zelda series has yet to truly improve upon the brilliance of Wind Waker. The gorgeous, understated art has aged gracefully, as has the action-packed gameplay and mystery-rich dungeons. Wind Waker took all the tropes of the Zelda franchise and reimagined them in a story thats both reverent of franchise mythology while still taking chances with expectations.

When Nintendo returned to the title for an HD remake, the developers did far more than upscale the visual fidelity. Wind Waker HD fixes the majority of the few real problems the game had, such as the spotty pacing near the end and the sometimes-frustrating stealth. The best Zelda game ever made just got better, and is worth turning on your Wii U for--whether you played the original or are dying to know what all the fuss is about.


View on Amazon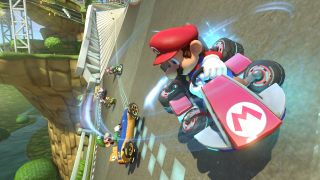 4. Mario Kart 8
Oh, it's another Mario Kart game, huh? Just like the ones you've played for hundreds of hours on almost every single system Nintendo has ever sold? Don't be so quick to judge, because Mario Kart 8 brings some huge advancements to the series, starting with the visuals. This game has to be one of the most gorgeous games in Nintendo history; the company's overdue arrival into the HD era.

But MK8 doesn't just get by on its good looks. It brings a ton of gameplay changes, like greatly expanding the number of races, adding new anti-gravity sections that do a great job at freshening up all the retro courses that return, and finally adding an item that can counter the dreaded Blue Shell. The online gets a major boost too, and works smoothly throughout while letting players upload their racing highlight videos to YouTube. Mario Kart 8 is the most current the series has ever felt, all without giving up the pure multiplayer fun at the heart of the action.


View on Amazon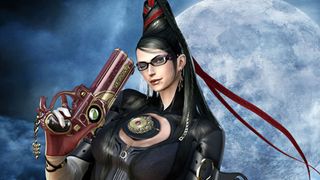 3. Bayonetta 2
Nintendos been such a clean cut, family friendly company for so long that it still boggles our minds to see Bayonetta 2 on the Wii U. Nevertheless, were more than happy to see the wild witch find a home in the house that Mario built. Its that pinch of exotic spice the platform needed; a touch of over-the-top, hyper-sexy silliness that makes us feel better about being adults that still play with the baby system
And that gameplay--fast, slick, stylish, smooth, and every other adjective that can be used to positively describe an action game. Bayonetta 2 has us hooting and hollering as we take down that tough to beat boss, then diving back in for another try and the high score. With the original included as an added bonus, well happily take any excuse to fly ourselves to the moon one more time.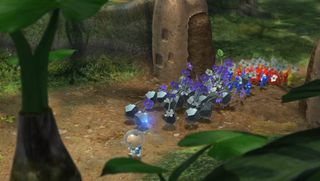 2. Pikmin 3
The Wii U's killer app has arrived, and it's not a Mario game. Yeah, we were surprised, too. Pikmin 3 is everything we wanted and more, and makes a great case for the Wii U hardware. Pikmin has been Nintendo's smartest franchise since Olimar first stumbled around an alien planet, putting strategy and planning ahead of platforming and brawling, and this game pushes the envelope even further. Patrolling the massive, beautiful world as the crew of the SS Drake is awe-inspiring, and you'll love collecting fruit and fighting strange animals around the huge world.


Better yet, it takes great advantage of the second screen by allowing for multitasking that would be damn near impossible on any other platform, enhancing the already-impressive gameplay by letting you control all three characters at the same time. It's everything you want from a next-gen game--it's pretty, it's smart, it wouldn't have been possible on older hardware, and... it's fun. It's really, really fun.


View on Amazon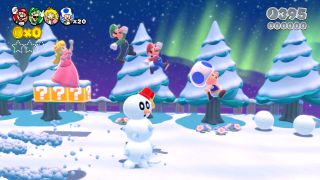 1. Super Mario 3D World
No, Super Mario 3D World isn't the next Mario Galaxy. It's a much safer bet for Nintendo, and one that's in line with the company's attempts at appeasing the core while retaining the casual crowd. But don't let that dissuade you--it's an incredible success, and while it doesn't really feel as ambitious as Mario's space-bound journeys, it might be the closest thing we'll ever get to a sequel to Mario 64.
With fantastic gameplay and some of the best level design in the franchise's history, 3D World is a landmark achievement in platforming. It's downright ingenious at times, with clever worlds that nod to the franchise's past without being too obsessed with its own legacy. And while you might come for the core gameplay, you'll find the multiplayer actually finally works as a complement instead of a detriment. Whereas previous attempts turn the precise platforming of Mario into a chaotic mess of head-bouncing, 3D World's 3D worlds mean you're actually able to play together without getting in each other's way. It's an evolution, a revolution, and a must-own.


View on Amazon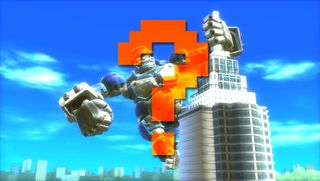 What are Wii U waiting for?
This is a work in progress, so look forward to this list getting updated with each new hit that comes to Wii U. What upcoming Wii U games do you think will join this list? And do you think we missed any great games? Let us know in the comments!
Do you also own Sony and Microsoft's next-gen consoles? Then check out our list of best PS4 games and best Xbox One games.