5. House of Cards
Region: Worldwide
Seasons available: 1-5
The show: Reinventing the British series of the same name, Beau Willimon took the overall premise - corrupt politicians in charge who we love to hate - and transplanted it to Washington, D.C. A twisting, conniving Kevin Spacey plays Majority Whip Frank Underwood whose duplicitous rise to power is gleeful to watch.
Why it's worth watching: Spacey's breaking of the fourth wall - always a guarantee of some hard-hitting snark. Mind, Robin Wright's coming into her own on the "that's a bit below the belt!" front. Season 5 has her bring out the big guns. Not literally, she's just really devious.
4. Daredevil
Region: Worldwide
Seasons available: 1-2
The show: Forget the 2003 misfire - this is the Daredevil fans have been waiting for. From Drew Goddard and Steven S. DeKnight, this Netflix original series has received universal applause for its dark take on blind lawyer-turned-do-gooder Matt Murdock, who vies to rid Hell's Kitchen of its criminal element.
Why it's worth watching: It boasts some of the most adventurous stunt choreography ever seen in a TV series. Yes, I'm on about that season 1 fight sequence in the corridor. It's simply breathtaking, and at the same time very moving.
3. Stranger Things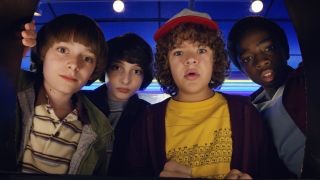 Region: Worldwide
Seasons available: 1 and 2
The show: THE binge-watch series of the last year or so, the Duffer Brothers cobbled together a patchwork of '80s references then siphoned all of that into a killer plot about government experiments on members of a small town in Indiana. Things come to a head when a young lad goes missing, causing his mother (Winona Ryder) and friends to consider the strangest possibility: that there's a parallel world to ours. And it ain't nice.
Why it's worth watching: These kids! The whole cast is terrific (I personally was very pleased to see Winona Ryder back in the thick of it), however it's these youngsters that steal the show. Scurrying around Hawkins on their bikes in the dead of night and hunkering down in basements trying to find their missing pal; they will steal your hearts. Millie Bobby Brown in particular as Eleven is simply fantastic.
2. Fargo
Region: UK
Seasons available: 1-2
The show: A spinoff/sequel of the Coen brothers movie. For its first season, FX's award-winning anthology series concocted several new story strands all interwoven to paint an eerily-similar story to the 1996 feature. That's what makes this a perfect series for drama, crime and mystery lovers; you don't need to have seen the film, as this gloriously twisted piece of television stands on its own.
Why it's worth watching: Who knew that Peter Stormare's assassin could be outdone by Billy Bob Thornton? He steals every scene he's in during the first season. Likewise for Kirsten Dunst in season two.
1. Breaking Bad
Region: Worldwide
Seasons available: 1-5
The show: One of the biggest watercooler series to arrive in the last decade, the killer premise of a chemistry teacher-turned-meth dealer spins out of control across five seasons. The teacher in question, Walter White, transforms from nice guy to antihero while hiding his illegal shenanigans from his family.
Why it's worth watching: Just when you think the stakes can't get raised any higher, Mr. White steps up his game. His quiet simmering rage is spectacular to watch thanks to a stunning turn from Bryan Cranston