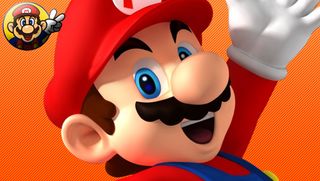 It's Mario week! Time to celebrate the greatest video game achievements of Nintendo's main man. He's gone from to 8-bit to 64-bit to however many bits the Wii has. From 2D to 3D and back again, Mario games have always retained a classic style and gentle, funny tone, while still challenging players young and old.
Ah, Mario. We're almost getting a little misty-eyed recounting all the Goomba-stomping and shell-tossing we've been through together. Alright, let's get this show on the road before the waterworks start. Click Next and pass us a tissue, please...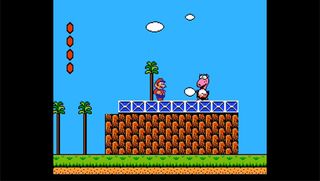 10. Super Mario Bros. 2
Super Mario Bros. 2 is something of the black sheep of the Mario family. It's often mocked as a reskinned version of another Japanese platformer, Doki Doki Panic, but did you know that game was actually designed by Shigeru Miyamoto himself? Oh, you didn't know that? Well, what you don't know about Super Mario Bros. 2 could probably fill an article.
SMB2 was a big change in gameplay and visual style for the Mario series, and one that's never really been revisited. However, it introduced enemies like Shy Guys and Birdo who've hung around ever since. It also featured much more involved boss fights than its predecessor, something beyond just jumping over Bowser and dumping him into a lava pit. Plus, it gave players multiple Mario characters to play as, and each had unique abilities that made gameplay just a wee bit different. You know what? Maybe SMB2 was a little ahead of its time.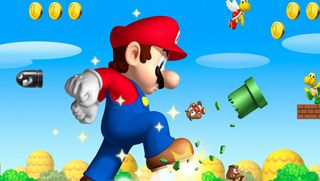 9. New Super Mario Bros.
Before the DS got that third dimension, Nintendo put the tried and true Mario formula to work on its handheld. Featuring beautiful graphics and gameplay that mixed elements of SNES-era Mario with the butt stomp and triple jump of Mario 64, gamers got one of the best plumber platformers of the modern era.
It also had fun with Mario's size, taking the mega mushroom from Mario Party 4 and letting Mario grow to Godzilla-sized proportions. Additionally, challenge mode gave the game big time replay value, and the kind of pick-up-and-play appeal that makes this handheld Mario a must have for any fan.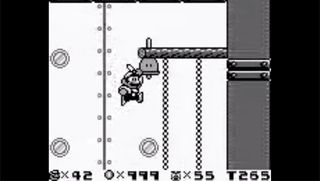 8. Super Mario Land 2: 6 Golden Coins
The first Super Mario Land is a fine game, but its also weird. Really weird. All the sound effects are strange, it has horizontal-scrolling shooter levels, and strange power-ups and enemies. It probably wont surprise you that it was developed by Gunpei Yokois R&D1 instead of Miyamotos EAD team, but when Yokois crew worked on the sequel subtitled 6 Golden Coins, they decided to take some cues from games like Mario 3, and created a game that was more familiar, yet still had a unique feel.
With its cartoony look and detailed sprites reminiscent of Mario World, a plethora of different theme worlds, and original, but understandable power-ups, Land 2 gave Mario fans what they wanted and did so brilliantly. (Wed love to see Rabbit Mario make a comeback.) SML2 brought lovable deviant Wario into all our lives, as the jerky doppelganger steals Marios castle (Mario owns a castle?), and the mustachioed one has to beat some tough monsters to collect the six Golden Coins and defeat the chunky neer-do-well. It wasnt the easiest game ever, but Mario Land 2 is still one of the best platformers in portable gaming history.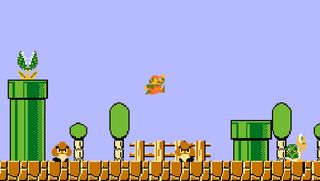 7. Super Mario Bros.
The one that started it all. Released in 1985 for the NES and the Japanese Famicom, it essentially invented the platformer, and defined Mario's basic way of interacting with the world: jumping. Jumping on enemies, jumping over pits and jumping to hit ? Blocks and break bricks. It's no wonder Nintendo almost called him Jumpman, but we're glad they took another whack at naming their soon-to-be mascot. We really dodged a Bullet Bill there!
Despite its blocky 8-bit-ness, the original Super Mario Bros. still holds up today. Responsive controls, accurate platforming and enough secrets to warrant scrounging around those decades-old levels. These days, the question is: can you finish the game without jumping down a warp pipe?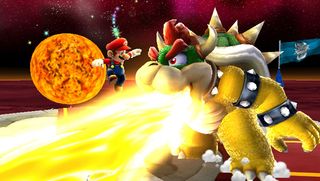 6. Super Mario Galaxy
Nintendo has a great opportunity nay, a responsibility to show how far Mario had come with each new generation of their consoles. After the ho-hum response to Super Mario Sunshine on the Gamecube, Nintendo knew it had to pull out all the stops for the Wii. Thankfully, Super Mario Galaxy captured the whimsy, grand scale, and magnificence that fans had been craving, evoking the same magic of classics like Super Mario Bros. 3 and Super Mario 64 with its constellation of themed planets and challenging, cosmic Stars to collect.
Against all odds, the use of the Wii Remote to snag colorful Star Bits or alter gravity fit in seamlessly with the tried-and-true jumping and backflipping that Mario is so well known for. The imaginative planets often felt like self-contained levels, and playing them in sequence made every stage feel like an adventure in its own right. With cleverly designed boss fights, delightful new suit power-ups (finally, we could be a Boo), and some of the best level variety since SMB3, Galaxy was one space odyssey that did not disappoint.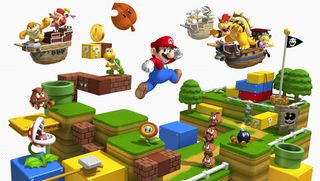 5. Super Mario 3D Land
After Mario basically invented 3D platformers on consoles (and then revolutionized the genre a couple times), it was fitting that the series next step would be to change 3D adventures on handhelds too. Featuring the reappearance of the fan favorite Tanooki suit, 3D Land brought the series back to basics, taking many cues from Super Mario 3 and reimagining them in a 3D world.
Meant to be a melding of 2D Mario standards with 3D gameplay, each colorful stage was a tightly packed journey of fun discovery. 3D Land was one of the more visually impressive 3DS games and used the stereoscopic 3D in increasingly inventive ways. Created to be more inviting to casual players turned off by other 3D Marios, 3D Land succeeded without sacrificing the killer gameplay.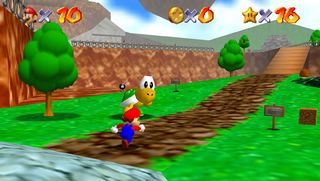 4. Super Mario 64
Nintendo basically invented the 2D platformer with the original Super Mario Bros, and reinvented it with the release of Super Mario Bros. 3. With the new generation of gaming beginning, Nintendo took a risk, and decided to pump its mascot into 3D for Super Mario 64. It was an absolute triumph. Featuring wonderfully animated visuals that still hold up to this day, Mario 64 did for 3D platforming what the original game did for 2D games.
Collecting all 120 stars throughout the paintings in Peachs castle was an absolute blast, and clever game mechanics made each area feel different. By the time youve gotten to Bowser at the end youll have seen dozens of unique levels, defeated countless enemies, and enjoyed one of the greatest platformers ever made.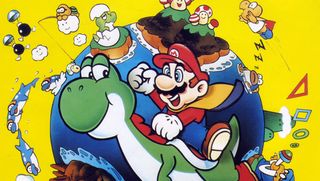 3. Super Mario World
After seemingly perfecting the Mario formula with Super Mario Bros 3, youd think the devs would rest on their laurels. Instead, the team almost immediately got to work on trying to top their genre-defining, multimillion seller and get that successor ready for the launch of Nintendos second home console. And, as hard as it is to believe, they created a game that topped its predecessor in almost every way.
Building on the rock-solid foundation of Mario 3, Super Mario Worlds energetic graphics immediately grabbed your attention with colors far more vibrant than anything seen on the Genesis, let alone the NES. The classic Mario gameplay was there, and it was augmented by new tricks and abilities, not the least of which included your new dinosaur pal Yoshi. Hard to imagine now that one of the systems all-time classics wouldnt just be a launch game, but was also packed in with the system, but thats just how crazy that era was.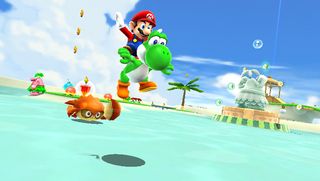 2. Super Mario Galaxy 2
Some scoffed at Nintendo for taking Mario back to his Galaxy a second time around, saying that the publisher was finally running out of steam. Perhaps the devs took that as a challenge, because Galaxy 2 ended up being the ultimate 3D Mario adventure. Super Mario Galaxy 2 took everything that had been produced since Super Mario 64, boiled it down to its most fun expression, then added a mountain of new ideas to that.
The diversity of Galaxy 2 is stunning, each star a fresh challenge. Sometimes youre hanging off a bird, others youre creating clouds in the sky, or youre exploring with your old friend Yoshi. Many times the game utilized the Wii Remote in ways that other companies would have built a whole game around, but Nintendo was happy to use it sparingly and move on to the next creative stage. Ignoring all the other great games on the system, SMG2 made the Wii a must-own system for all serious gamers, proving that a stunning amount of ingenuity can triumph over any technological shortcomings.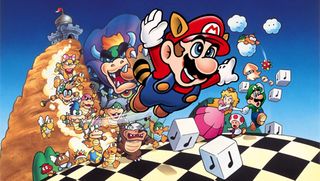 1. Super Mario Bros. 3
After creating a too derivative sequel (Lost Levels) and a strange non-Mario that became a Mario (SMB2), the dev team returned to the core concepts of Mario to redefine the series like never before, including new wrinkles like a world map and mid-bosses. Marios skills expanded considerably via Frog, Hammer and most importantly Raccoon power-ups. The distinct tale and ears gave the mustachioed plumber the power to fly and that changed how the stages were designed from the ground up. It added a verticality to the ingenious levels that deepened the franchise in a profound way.
Leaving aside how SMB3 was a pioneer for the medium, the reason its the top Mario game on this list is because it strikes the best balance between new ideas and the simple fun of being Mario. Every Mario game that followed it builds on its straightforward approach to fun, some in more meaningful ways than others, but none are as pure an expression of gameplay as SMB3. Super Mario Bros 3 is proud to let you control a little man on your TV and does it better than anyone else. Isnt that just super?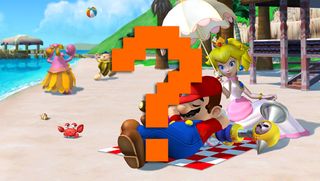 That's-a it!