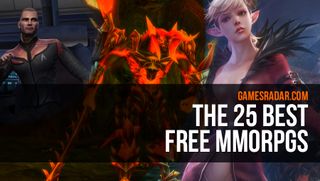 Totally, absolutely, completely free!
Free-to-play MMORPGs had a rough start, they've slowly found their footing. Now, some of the best MMOs in the genre can be played free, meaning you'll enjoy hundreds of hours of content without a single dollar down.
These games aren't small, niche experiences, either--some are absolutely massive, packing the same punch as the big, premium games without any of the cost. Only those MMOs you can play without spending a cent can make this list; subscription-less games (like Guild Wars 2) are reserved for our grand list of the best MMORPGs proper. With that, let's get thrifty...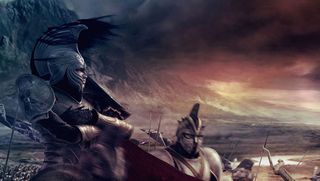 25. Archlord
Archlord doesn't waste any time announcing what makes it so different from the competition; it's right there in the title. Archlord has the usual elements of a standard MMORPG such as questing and PvE progression, but the most important goal for any player is to become the Archlord who presides over the server. Why's that so cool? Well, for one, you can call down meteor showers on your foes--and that's just one of the perks.
Most of this unfolds via a competition of sorts, as you just can't run up to the current Archlord and challenge him or her to a duel for the title at any time. You have to fight your way to the top, and by playing the rules. Much like Lineage II, you can attack and kill your fellow players on sight, although doing so lowers your reputation to the point that you can get banned from cities if you're too much of a jerk.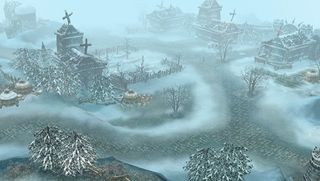 24. Cabal Online
Cabal Online is another entry in a long line of free-to-play action MMORPGs from Korea, and although it's one of the older ones, its stronger points have allowed it to maintain relevance despite the appearance of a host of competitors. The combat itself is fun, and it employs a fairly unique combo system that delivers more damage if you time your attacks correctly. It's more complex than it probably sounds, and getting the most out of Cabal takes hours of practice.
What's more exciting, however, is using those combos in duels with other players. Not only can you unlock special titles (and sometimes, special skills) by becoming one of the game's best duelists, but you can also bet on the outcome of those duels. It also benefits from a complex honor system that rewards or punishes you for engaging in straight PvP, and a decent helping of content updates keep its devoted community coming back for more.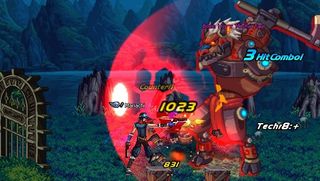 23. Dungeon Fighter Online
Dungeon Finder Online positively oozes with nostalgia, and you'll especially find a lot to love here if you're a fan of early sidescrolling beat 'em ups like Double Dragon and Streets of Rage.
In some ways, it's more fun than either of them. The dungeons themselves may have a tendency to get repetitive (much like the levels in a game like Double Dragon), but Dungeon Fighter Online keeps your interest by demanding that you achieve feats such as finishing within a certain time limit or completing it without getting hit. Toss in a wide range of classes, fast-paced combat with a purposely outdated aesthetic, and numerous PvP options, and you might find that Dungeon Fighter Online is worth fighting for.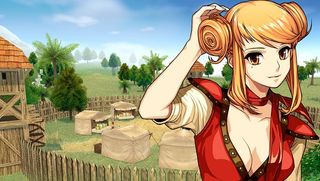 22. Mabinogi
If you're looking for a game that has plenty to do outside of fighting stuff, you really can't go wrong with Mabinogi. Even if you're not immediately a fan of the shamelessly cartoony anime aesthetic (loosely based on Welsh mythology), it's hard not to be impressed by its skill-based progression and the fun combat system.
But at its heart, Mabinogi is more concerned with rich, meaningful lives for its characters. Sick of stereotypical MMO professions like blacksmithing and alchemy? In Mabinogi, you can design clothes, compose music, and take up part time jobs with NPCs you've befriended along your leveling journey. What's more, your character can even grow old, although you can also be reborn if you decide the golden years are losing their luster.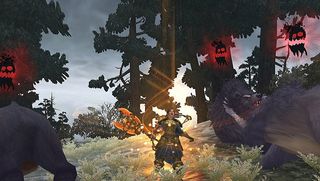 21. Allods Online
No, Allods isn't a chalky medicine used to fight stomach acid or freshen your breath; they're floating islands in space that people have flocked to after the destruction of the planet Samout. Does that sound interesting? Well, then you might want to check out this F2P game, where a faction rivalry between the Empire and the League leads to a surprisingly memorable mix of high fantasy and science fiction.
Many of the gameplay elements bear a strong resemblance to other MMORPGs, but Allods Online distinguishes itself by letting players build ships and use them in memorable space battles. The cash shop's a little expensive, unfortunately, but Allods presents an experience that's beautiful and unique enough to warrant the risk. Plus, worst case scenario: don't buy anything! Speak with your wallets, people!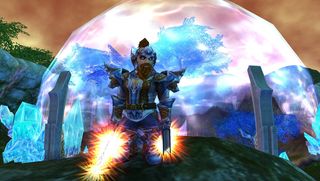 20. Runes of Magic
The term "World of Warcraft clone" is thrown around a lot in MMORPG circles, but few deserve it so much as Runes of Magic. Then again, there's a reason WoW is so popular, and RoM lets you experience a game that's similar to the MMORPG world's juggernaut without slapping down a monthly subscription fee.
That said, it's not without some significant features of its own that make make it worth a look for even dedicated WoW players. One of those features is a nifty little doohickey called the Arcane Transmutor, which lets you strip stats from weapons and armor and slap them on other items. The PvP's also significantly more hardcore, as you can sometimes loot your players kills on the battlefield. It all makes for a fun leveling experience, but watch out for the near necessity of using the cash shop at end game.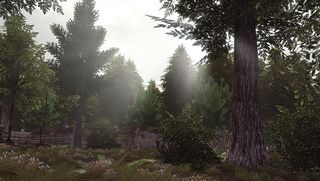 19. Fallen Earth
You know things are bad when the Grand Canyon's the last bastion of hope for humanity. That's the story this post-apocalyptic MMORPG runs with, and for the most part, it doesn't stumble over itself. It even has fun with that lore, explaining away player respawns as the product of cloning vats.
If Fallen Earth doesn't hook you with the decidedly non-standard setting, it'll get you in the way that cover elements actually let you avoid enemy sniper shots more in the vein of shooters than standard MMO combat. There's also a massive crafting system that allows for the creation of everything from weapons and armor to mounts, and with its surprisingly deep character customization system, you can battle your way through the end of the world as the exact kind of character you want to play.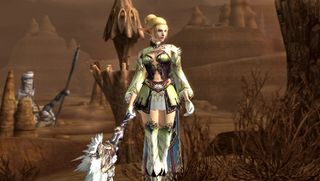 18. Lineage II
Lineage II was one of the first Korean MMORPGs to present us with the beautifully detailed (but oh, so grindy) gameplay that many of us have come to associate with the country's MMOs. Despite its age, it's managed to hold its own even against flashier newcomers--and there are a number of reasons many still swear by it.
For one, it's still beautiful, and it's sometimes shocking to realize that it came out during the same year as World of Warcraft. Lineage II's most rewarding when you take part in its secondary features, though, such as its PvP karma system and its castle sieges that only take place every weekend. Not only are they fun, but their limited availability seems to ensure that there's a higher percentage of players participating in them than if they were available all the time.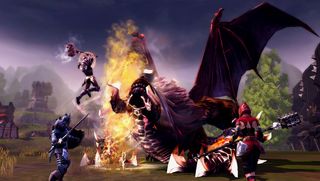 17. RaiderZ
The relatively new Korean MMORPG has a similar lack of emphasis on story and compelling quests as TERA (which we'll get to later). Instead, as with many new Korean MMOs, it places a heavy emphasis on action combat.
Dodging enemy attacks in real time can be exhilaration, and it's the little things that sometimes make RaiderZ more attractive than its contemporaries. Its progression system allows you to make a character that perfectly fits your playstyle or the way you can occasionally use an enemy's own weapon against it. Crafters will also find a lot to love here, as RaiderZ places a heavier emphasis on crafting and upgrading gear rarely than merely looting new items.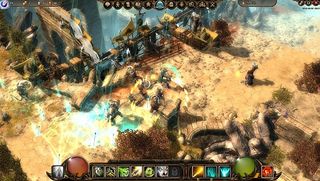 16. Drakensang Online
At the risk of hyperbole, Drakensang Online was the first MMO that taught us that browser-based games can be beautiful. It also reminded us that there's a promising future for MMOs based on Diablo's model rather than the familiar EverQuest template, and for the duration of the leveling experience, it does its job well.
You see it best in the combat, which requires you to manually target enemies to take them down and which allows for a surprisingly rewarding system of mouse-based gameplay. There's also a fun PvP component in the form capture the flag matches, duels, and deathmatch modes, and the relatively small number of players allowed in these battlegrounds allows for tactical strategies rather than mindless rushes.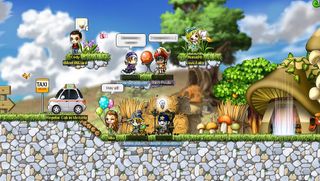 15. MapleStory
A lot of MMORPGs make bold claims about how they're different from everything else on the market, but few of them live into that claim quite as well as MapleStory. Most notably, it breaks with the familiar third person perspective in favor of a 2D platformer perspective. It features cute anime-inspired enemies enemies rather than savage monsters. And perhaps most importantly, it was one of the first MMORPGs to launch with a true free-to-play business plan.
Today, it retains one of the largest player bases of any free-to-play MMO, and even now its storyline remains engaging. If there's a problem, it's that all those years of success and the resulting inflation in the player economy have made it a risky entry for newcomers. It's not impossible, however, and with a new level cap of 250 and the introduction of new classes, it demonstrates that it's still keeping itself relevant.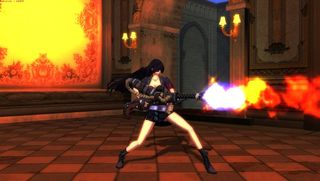 14. Rusty Hearts
Many MMORPGs toy with an anime aesthetic, but few use it so effectively as Rusty Hearts. For one, it follows an actual anime storyline that makes progression sometimes as interesting and personal as what you'll find in a single player game, although one downside of that focus is that you have to choose from one of four characters rather than creating your own.
It also makes the gameplay itself fun to watch, as the cel-shaded character models allow for an almost seamless transition from the cinematics. Its greatest appeal, however, likely lies in its combat, which plays more like an old-school arcade hack and slash and handles better with a gamepad than a keyboard. That may mean it places a massive emphasis on linear left-to-right dungeons, but it also means that it delivers an almost constant barrage of twitch-based fun.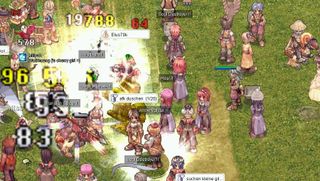 13. Ragnarok Online
Ragnarok Online's been around since 2001, and contrary to its world-ending moniker, it doesn't look like it's going to go down anytime soon.
Some of its elements might be showing their age, but there's still plenty to enjoy here, such as regular content updates and epic guild wars that occur once a week for two hours. There's also a large selection of "job" advancements to keep you busy, and once you've maxed out your character, you can be reborn with additional skills.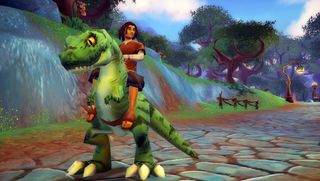 12. Free Realms
Big, epic MMOs are great, but theres a place in the genre for more casual experiences that you can play with your younger relatives. Free Realms fits that bill well, acting as the perfect free-to-play MMO to play with kids. Its casual and light-hearted without feeling watered down, making it a great entry-point for the genre.
And best of all, its absolutely adorable. Seriously, you can have a pet unicorn and ride on a dinosaur. So cute!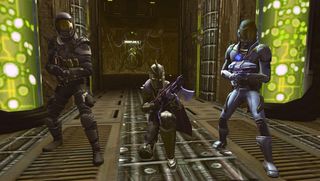 11. Star Trek Online
The name of Star Trek Online has become so synonymous with successful free-to-play models that it's sometimes hard to believe that it made the transition so late after it came out.
At the heart of this new experience lies the Foundry, which allows players to make their own content on Star Trek lore. Not only does it give Trekkies ample opportunities to bring their fan fiction to life, but it serves as a convenient method of circumventing developer Crytic's something sluggish content update. It's worked so well, in fact, that they're bringing this system of player made content to their upcoming Dungeons & Dragons-themed MMO Neverwinter.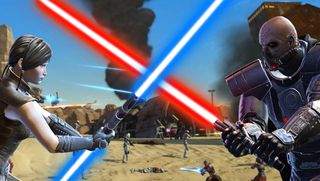 10. Star Wars: The Old Republic
BioWares MMO presents players with an incredible story-based game, with each class having a massive full-voiced narrative that lasts some 200 hours. Because of that, each class's leveling ends up feeling like its own huge RPG--it's incredible, and though it didn't reinvent the MMO like some expected, it's still super fun.
You might notice that it's a little low on our free list, though, and that's because the F2P system isn't great. Those who don't pay a monthly fee are second class citizens in The Old Republic, and while you can technically play for free, the F2P model still needs some work.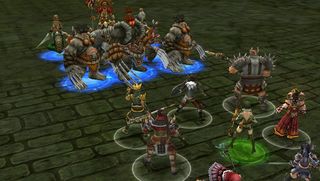 9. Atlantica Online
Atlantica Online proves that you dont need over-the-top action-based combat to compete in the MMORPG arena. Instead, it uses a turn-based system, letting players get into tactical battles with a variety of units, instead of just controlling a single character.
Its still an MMO, though, with strong crafting, great PvP, and a Guild system that rewards players for joining up with friends and taking over towns. You can even earn tax money from items bought and sold in the towns you take over, adding bonus incentive to running powerful guilds.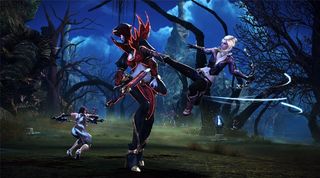 8. TERA Rising
Action-based MMORPGs aren't as uncommon as TERA's marketing made it sound when it was first released as a subscription-based game, but to its credit, few other MMOs do it so well. It's especially fun when you use that combat to battle its Monster Hunter-inspired "Big-Ass Monsters" (or BAMs, for the G rated crowd), and bringing one down with a careful combination of combos and dodges feels like a massive achievement.
The questing experience can be a little dull, but TERA Rising somewhat makes up for that shortcoming with a fairly unique social system that allows for guild versus guild rivalries and the election of players as powerful "Vanarchs" for selected zones that allow them to collect taxes and activate special shops and teleport routes. Even better, it supports an agreeable free-to-play model that's not too insistent on digging into your pockets.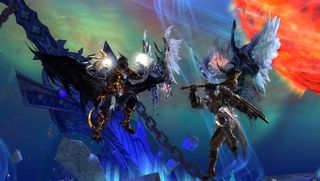 7. Aion
If there were a sparkling gold medal for Prettiest MMO, the winged, light-and-dark Aion would easily have a shot at the title, with Guild Wars 2 as its only close competition. Graphics arent everything, though--which is why its fortunate that Aion has rock-solid, traditional MMO gameplay backing up the vibrant visuals. Transitioning to a free-to-play model has done wonders for the growth of Aions playerbase, who are privy to plenty of costless updates.
Aions F2P grants the same access to revamped quests and PvP amongst players, regardless of their willingness to spend money. That means you wont feel like a second-class citizen if youre dipping into it for the first time. If you played the game at launch but lost interest, youll also be pleased with the changes to Aions core mechanics: the once-unbearable grind at early levels has been smoothed to a satisfying curve, thanks to a slew of new story quests.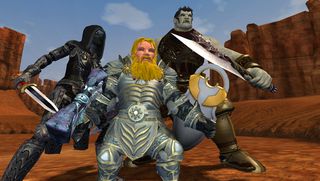 6. EverQuest II
EverQuest earned the nickname EverCrack by proving to be absurdly addictive, and its sequel is no different. While it didnt originally launch as a free game, Sony Online Entertainment slowly converted it to the free-to-play structure in late 2011, making it easier than ever to jump into Norrath. There are still paid tiers, but you're able to get a good amount of playtime in without spending a dime, and that's all that matters.
Even after all these years, exploring Norrath with friends is as fun as ever, and theres a ton to do thanks to regular content updates and the release of eight full expansions since launch. Eight!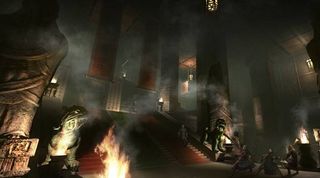 5. Age of Conan
What is the best in life if you're a fan of both the Cimmerian wanderer and MMORPGs? Getting to play all of Age of Conan's 12 classes and all of its pre-80 dungeons completely free of charge. Age of Conan may have suffered a rough release, but it's redeemed itself in the years since and established itself as one of the finest free-to-play MMOs.
Combat here, for instance, isn't just about buttons; the very way you thrust your sword makes a difference in your attack's effectiveness. Guild versus guild battles are one thing; getting to build entire guild cities is quite another. Age of Conan lobs surprise after surprise at you, such as night modes for exploring cities and dungeons that allow you to just jump in and assist other people, and with all the content Funcom's pumped into it since launch, it's now and MMO you shouldn't miss, free or otherwise.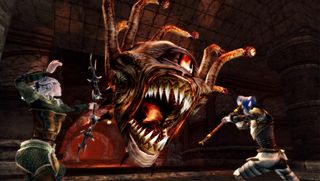 4. Dungeons and Dragons Online
Dungeons & Dragons has a long history of video game adaptations, but Dungeons & Dragons Online is the first to really nail the feeling of exploring a fantasy world with friends. The MMORPG centers around the massive, sprawling city of Stormreach, giving players the ability to delve into dozens of finely-crafted dungeons and defeat classic D&D monsters like kobolds, Beholders, and, well, dragons. Obviously.
The ability to multi-class and really customize your characters ability makes DDO stand out, and the focus on questing with friends and looting sweet gear should make any classic Dungeons & Dragons fans feel right at home.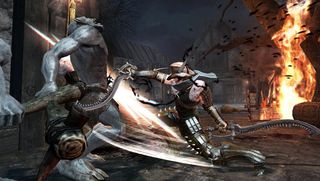 3. Vindictus
This raw, hack-and-slash brawler looks more like an action game than an RPG, because it sort of is. While Vindictus features deep customization, quests, and other elements fans have come to expect from the genre, the battle system is totally action-based, with players tumbling around the battlefield and bashing enemies in real-time.
And its a treat to look at, too. Running on Valve's Source engine (the same one that powers Half-Life 2 and Left 4 Dead 2), Vindictus features higher production values than most other MMOs, with strong voice work and wonderful graphics that invigorate the environments and characters.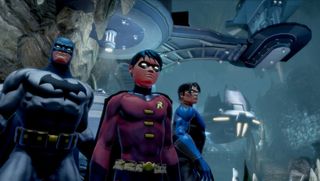 2. DC Universe Online
Whats better than fighting alongside Batman, Superman, Wonder Woman, and other classic DC heroes and villains in a massive MMORPG? Doing it for free. DC Universe Online switched to a free-to-play option fairly early in its life, and has enjoyed great success in offering players the ability to explore Gotham and Metropolis for free.
DCUO features some of the best combat in any MMO, giving players the ability to interact with their environment and engage in intense, fast-paced battles while fighting with classic characters in memorable environments.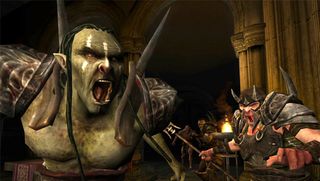 1. Lord of the Rings Online
It shouldnt be too surprising that the current best free-to-play MMORPG started its life as a premium, pay-to-play powerhouse. Turbines Lord of the Rings Online is as big and robust as games like World of Warcraft in terms of content, and packs the added punch of being held up by the fantastical lore of J. R.R. Tolkien.
Since launch, LotRO has seen plentiful patches and a number of expansions, as well as up enhancements to the Monster Play system, which allows players to jump into the skin (or fur, or scales) of Saurons minions for PvP battles.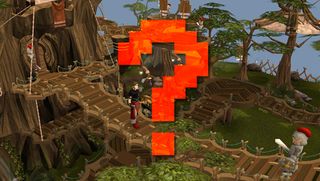 The best is yet to come
The industry is always changing, and there are new free-to-play MMOs coming out every month. We'll be sure to keep this page updated as amazing new games come and usurp the current reigning champions.
For more curated best lists, check out the 100 best games of all time and the 100 best heroes in video games.