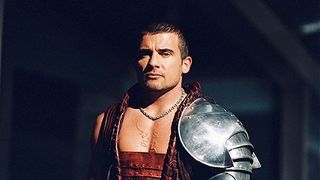 Dracula Blade Trinity (2005)
The Villain: So this is the guy. The big tomale. The baddest vampire that ever (un)lived. And he pretty much just looks like a shaven-headed beefcake.

How the mighty have fallen.

Crappest Moment: Dracula, or 'Drake', pontificates on honour as he hides from Blade behind a human child.

Wuss.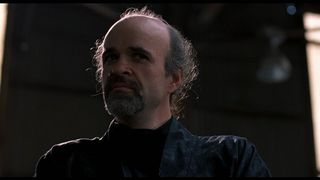 Cain RoboCop 2 (1990)
The Villain: Don't get us wrong, we've got a soft spot for this sci-fi sequel, but we're not going to kid ourselves that Cain (Tom Noonan) is actually a good villain.

Because he's really not. A Messiah-complexed cult leader, he at least lays the smackdown on RoboCop. Until RoboCop 2 comes a-callin' …

Crappest Moment: The robot's a badass, but there's no getting past that horrific CGI face .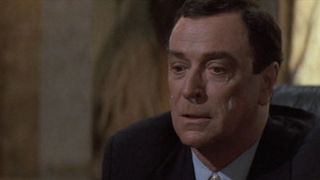 Michael Jennings On Deadly Ground (1994)
The Villain: Steven Seagal must have thought he'd hit the mother lode when landed Michael Caine as the villain in this early '90s actionfest.

But the Caine who turned up on set to play corrupt CEO Michael Jennings had obviously realised what a piece of crap he was in, and decided to phone in his performance instead.

Crappest Moment: Jennings screams and shouts.

Meanwhile, some woman comes in to moisturise his face . Okaaaaay.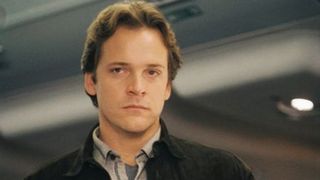 Gene Carson Flightplan (2005)
The Villain: How to kill a pretty cool plotline? Insert a dry-as-hell villain like Gene Carson (Peter Sarsgaard), whose manipulating ways just detract from what should be a tight-wound thriller about a woman battling her own sanity.

Crappest Moment: Having sussed him out, Kyle Pratt (Jodie Foster) easily overcomes Carson and handcuffs him to a rail.

He really is a terrible villain.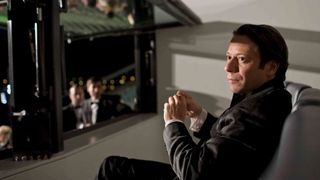 Dominic Greene Quantum Of Solace (2008)
The Villain: Fresh from being successfully rebooted in the buff form of Daniel Craig, Bond's first post-reboot adventure has him going against a, er… really rich businessman.

Which is pretty much all you need to know about Dominic Greene (Mathieu Amalric), a bad guy whose bark is definitely worse than his bite. Snore.

Crappest Moment: Greene's plan to gain control over water supplies (ooo, scary) ends badly when he's dumped in the desert by Bond with only a can of engine oil.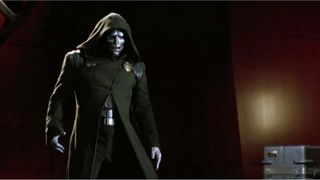 Dr Doom Fantastic Four (2005)
The Villain: A former classmate of Dr Reed Richards (Ioan Gruffudd), Dr. Victor von Doom (Julian McMahon) acquires superpowers after being exposed to a volatile space cloud.

He's smarmy, cocky, and deathly, deathly boring. Even when he's blowing things up.

Crappest Moment: Doom gets out a rocket launcher and fires directly at Johnny Storm (Chris Evans).

Sure, it makes for a decent set-piece as Storm attempts to dodge it, but it's not exactly the most subtle of evil plans, is it?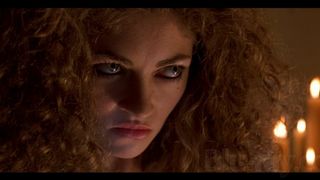 Brenda Urban Legend (1998)
The Villain: To be fair, her plan was insanely catchy – kill university students using well-known urban legends.

But when she's finally relieved of her parker coat, Brenda's revealed as a crazy-eyed gurner who just loves the sound of her own voice

Crappest Moment: Brenda somehow survives being shot and manages to clamber into the back of Natalie's (Alicia Witt) car.

She then tries to swing an axe while in the car. Worst killer ever.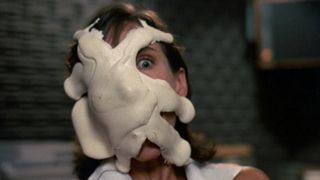 The Stuff The Stuff (1985)
The Villain: The film's concept is a fun spin on consumerism, but the villainous 'Stuff' itself is just silliness.

A natural substance that's marketed as calorie-free sweet stuff, the Stuff turns out to be a sentient, parasitic organism that hollows people out from the inside.

Crappest Moment: Charlie's face turns into a puppet and starts spewing out white Stuff …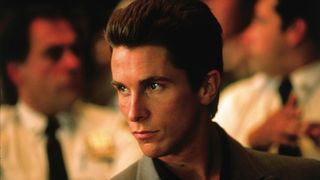 Walter Wade Jr Shaft (2000)
The Villain: We love Christian Bale. And we know exactly what he can do with his considerable talent, so it's all the more disappointing that his villain in the Shaft reboot is so lazily sketched.

The son of a real estate tycoon, Walter Wade Jr is little more than a cipher. Missed opportunity.

Crappest Moment: Before he can even get a fair trial for the murder he committed, Wade Jr is gunned down.

Yeah, he got shafted.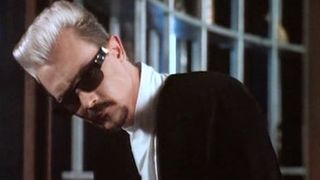 Kogo Shuko Double Dragon (1994)
The Villain: Robert Patrick's terrifying turn as the T-1000 in Terminator 2 is all-but forgotten in Double Dragon , which sees him playing an evil gang leader.

His terrifying plan? Steal an ancient Chinese amulet that will grant him superpowers. Boring.

Crappest Moment: Shuko winds up in jail. Boo hoo.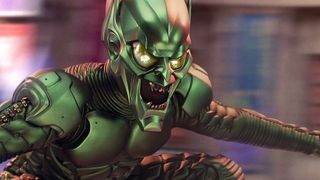 Green Goblin Spider-Man (2002)
The Villain: A cackling nuisance, the Goblin is pretty much the prototype for all villains in the Spider-verse – a good man corrupted by the power he unleashes.

As a foe for Spidey, he's totally over-cooked, merely existing as a mirror for Spider-Man – he might as well shriek at young Peter Parker: "Hey, look, this is how absolute power corrupts absolutely, kid!"

Crappest Moment: His plan to make Spidey choose between saving Mary Jane and a tram-load of kids is crap – Spidey manages to save them both while barely breaking a sweat.

Think outside the box next time, p'raps, Goblin?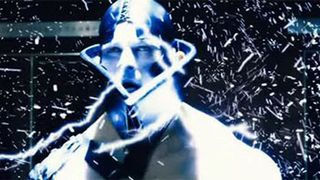 The Guardian Highlander: The Source (2007)
The Villain: Little more than an S&M bad guy with a massive sword, The Guardian is about as charismatic as a wooden spoon – and just as interesting.

Crappest Moment: He's defeated, buried in dirt, then disappears in a blast of light.

And he's still boring.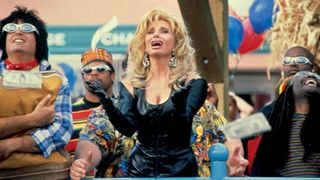 Medusa - 3 Ninjas: High Noon at Mega Mountain (1998)
The Villain: A blonde bombshell who sort of looks like your mum (if your mum was a Dolly Parton wannabe) crossed with Barb Wire.

Medusa's about as intimidating as a leather-wearing kitten. And just as dangerous.

Crappest Moment: "How precious," Medusa drawls , as she plants a bomb. "The three little bears and the big bad wolf come to rescue Goldilocks."

Ugh.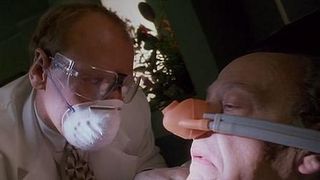 Dr Feinstone The Dentist (1996)
The Villain: When he discovers that his wife has been bedding another man, Dr Feinstone's gripped with such jealousy that he decides to get his own back – through the art of dentistry.

Because that's the best way to punish a cheating partner – by destroying your own career…

Crappest Moment: Feinstone wafts on about the passion of an opera track he has playing in his office – then gets to work on his wife's teeth…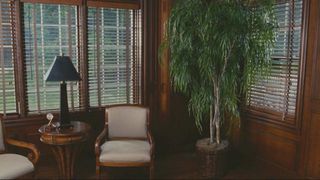 Nature The Happening (2008)
The Villain: An airborne neurotoxin that causes people to kill themselves when they're exposed to it.

Is it the plants releasing the toxin? Or the Earth itself? Or aliens? And do we actually care?

Crappest Moment: The film's most ridiculous moment comes when Elliot (Mark Wahlberg) actually attempts to outrun the wind in order to escape the toxin…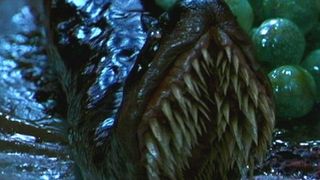 The Worm Dreamcatcher (2003)
The Villain: Telepathic worms from outerspace that take over human hosts in order to colonise the human race.

How? They latch onto your arse…

Crappest Moment: Crap, literally, as a worm is excreted into the toilet by Rick (Eric Keenleyside), who dies soon after.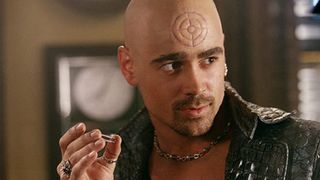 Bullseye Daredevil (2003)
The Villain: An Irish hitman, Bullseye apparently never misses a shot. Except he does.

He also has no qualms about killing women.

Crappest Moment: When Bullseye gets a taste of his own medicine – namely a bullet – he becomes a pathetic puppy dog begging for mercy.

Villains shouldn't beg. Ever.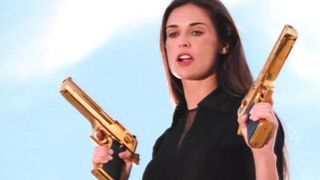 Madison Lee Charlies Angels: Full Throttle (2003)
The Villain: A former Angel whose halo has definitely slipped, Madison Lee (Demi Moore) has still got the bod, but it hides a heart as black as coal.

Flippy gymnastics aside, she's a pretty scare-free villain whose grand design to become God is more hole-ridden than a block of Swiss cheese.

Crappest Moment: Madison fires her gun at the Angels, despite knowing that the gas mains have blown in the theatre they're fighting in.

Madison goes ka-blooey…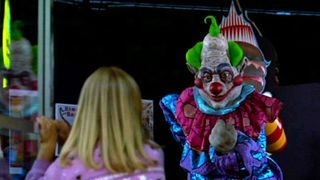 Klowns Killer Klowns From Outer Space (1988)
The Villain: Aliens descend on Earth, having somehow acquired a taste for human flesh.

The form they take? Clowns, of course, enticing their prey with the promise of a fairground ride. They then entomb their victims in cotton candy for eating later.

Crappest Moment: The Klowns' gigantic leader is destroyed – get this – when Dave (John Allen Nelson) pops his nose, causing him to explode.

Er, what?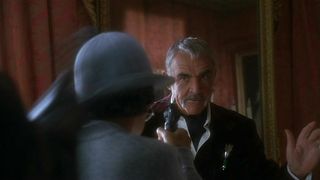 Sir August De Wynter The Avengers (1998)
The Villain: Sir August De Wynter (Sean Connery) has the most brilliant of brilliant plans – he wants to take control of the weather.

Wait, did we say brilliant? We meant to say bloody awful…

Crappest Moment: Sir August meets with his secret evil society – all of whom wear teddy bear costumes whenever they get together.

Did we just black out for a moment there?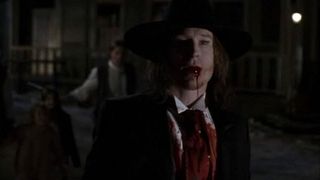 Billy The Kid - BloodRayne 2: Deliverance (2007)
The Villain: A 357-year-old Transylvanian vampire, Billy The Kid (Zack Ward) at least has ambitions – he's attempting to build his own undead army.

Shame he looks like a Wild West pimp and is as flamboyant as Elton John on an evening off.

Crappest Moment: The sheriff shoots him. In response, Billy The Kid raises his arms and screeches like a dinosaur. Then bites him.

It looks shit. It is shit.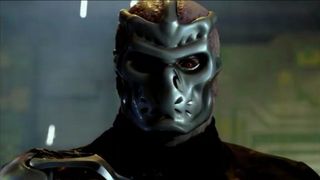 Jason Jason X (2001)
The Villain: As if Jason hadn't already become enough of a joke by this point in the franchise, this tenth (count 'em) slashfest has him getting all spacified.

Which means a new, facehugger-like mask and really dodgy threads. He looks ridiculous.

Crappest Moment: "He's been modified."

The ridiculous transformation scene that turns Jason from sack-wearing menace into RoboJock .
On a side note, isn't that musical score just the pits?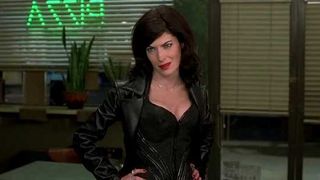 Serleena Men In Black II (2002)
The Villain: Queen of the Kylothians and a shape-shifting seductress, Serleena has the right idea when she lands on Earth and decides to take the shape of a lingerie model.

Shame her plans are dreadful – and her two-headed sidekick (Johnny Knoxville) is too goofy for words.

Crappest Moment: Any time she appears as a big sinewy plant.

This ain't Day Of The Triffids…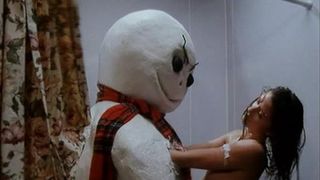 Jack Frost Jack Frost (1996)
The Villain: Ah, we all love a bit of genetic misfortune, don't we?

When a truck transporting serial killer Jack Frost collides with a genetics vehicle, his body melds with snow and turns him into a horror movie abomination – yes, a murderous snowman.

Crappest Moment: Frost rapes Shannon Elizabeth in the shower.

Horrific in more ways than one.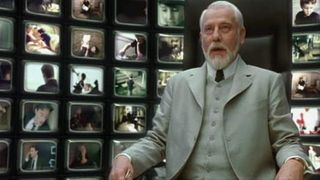 The Architect The Matrix Reloaded (2003)
The Villain: A white-haired suit who could be Father Christmas if it wasn't for that sinister glint in his eye.

The Architect (Helmut Bakaitis) is the one responsible for The Matrix, a supposedly super-intelligent being who's basically God. So why is he so goddamn dull?

Crappest Moment: When Neo (Keanu Reeves) confronts The Architect, he receives a speech like no other.

Which goes on. And on. And on. We wouldn't have held it against him if Neo blew his own brains out.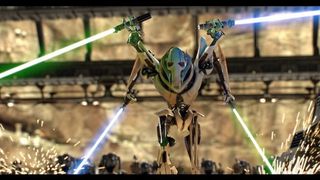 General Grievous Star Wars: Episode III Revenge Of The Sith (2005)
The Villain: He can wield four lightsabres simultaneously!

But wait… Despite that, General Grievous is also (generally) really lame. Speaking in a guttural rasp that sounds like a poor man's Darth Vader, he's a CGI atrocity with zero personality.

Crappest Moment: Having his arse handed to him by Obi-Wan (Ewan McGregor).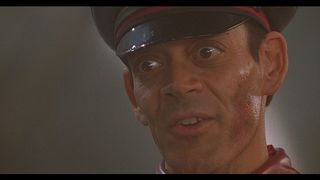 M Bison Street Fighter (1994)
The Villain: An ex-druggie who's now a corrupt General, M Bison (Raúl Juliá) at least knows enough to think big – he wants $20bn in return for the UN members he's just kidnapped.

Sadly, Juliá simply didn't have the presence to pull this off, not least because - sadly - he looks positively ill throughout the entire film.

Crappest Moment: Any. One. Of. These .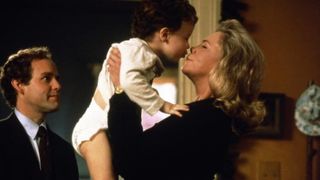 Dr Elena Kinder Baby Geniuses (1999)
The Villain: Dr Elena Kinder (Kathleen Turner) has a genius theory – that baby talk is a language all its own and worthy of deciphering.

Why? Because she plans on building a BabyCo theme park. Every scientist's dream, that.

Crappest Moment: "Youuuu IDIOTS!"

When the babies escape, Kinder loses her rag. As well as any respect we ever had for her. Not that we really ever had any…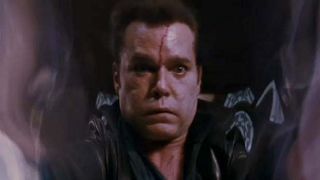 Gallian In The Name Of The King (2007)
The Villain: Nasal-flaring, leather-coat-wearing, slick-haired wizard Gallian (Ray Liotta) has taken control of the Krug, creatures that carry out his bidding by mauling and killing, well, everybody.

Just why he's wearing a black leather coat in this fantasy land is beyond us.

Crappest Moment: Gallian fights Farmer (Jason Statham), then uses books to, er, send him into a spin and then pin him in mid-air .

Wait, what?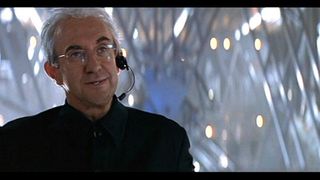 Elliot Carver Tomorrow Never Dies (1997)
The Villain: He looks like your old science teacher, but Elliot Carver (Jonathan Pryce) is actually a sinister media mogul.

His plan to boost ratings includes kick-starting World War III…

Crappest Moment: Carver's so impressed with his plan that he goes on and on about it, explaining its intricacies to Bond.

Which gives Bond time to kill him with a sea drill. Ouch.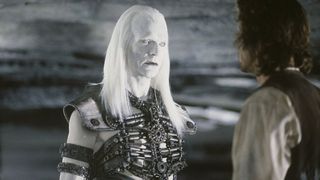 ber-Morlock The Time Machine (2002)
The Villain: A more human-looking Morlock than the others, the Über-Morlock (Jeremy Irons) is a telepathic leader who could do with getting out in the sun a little more.

Crappest Moment: Über-Morlock confronts Alexander (Guy Pearce) in his dank chamber, and rasps like a python with something stuck in its throat.

Scary? No. Hammy as heck? Oh yes…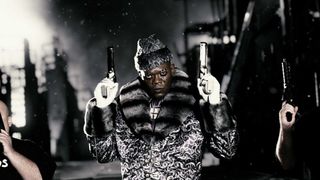 The Octopus The Spirit (2008)
The Villain: All bulging eyes and running mascara, The Octopus finds Sam Jackson – as much as we love him – on terrifyingly camp form in this Frank Miller adap.

The arch-nemesis of The Spirit (Gabriel Macht), he's a hat-wearing, water-loving goon hellbent on wiping out Central City.

Crappest Moment: "It's gonna get worse before it gets better, pretty boy!"

The Octopus takes on The Spirit. It gets worse .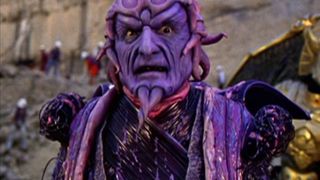 Ivan Ooze Mighty Morphin Power Rangers (1995)
The Villain: Resembling a scary purple amalgamation of Dennis Hopper and Robert De Niro, Ivan Ooze (Paul Freeman) has a clever plan to get rid of the Mighty Morphin Power Rangers – hypnotise parents into becoming his slaves.

It doesn't really make any sense, and the guy looks like he should be in some kind of alien cabaret, not attempting to take over the world.

Crappest Moment: Ivan – naturally – transforms into a giant robot.
And is still really, really lame.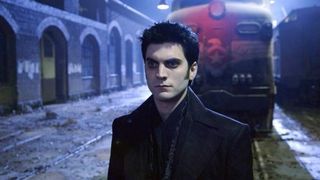 Blackheart Ghost Rider (2007)
The Villain: Looking scarily like Edward Cullen, Blackheart (Wes Bentley) is the kind of pretty-boy villain that Ghost Rider should make short work of.

He basically spends his entire time raising his eyebrows and glowering.

Crappest Moment: Being overpowered by Ghost Rider at all – this guy's meant to be the son of the Devil, for God's sake…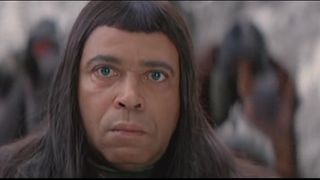 Thulsa Doom Conan The Barbarian (1982)
The Villain: Darth Vader vs Conan should have been awesome!

But James Earl Jones' turn as village-slaying warlord Thulsa Doom is embarrassing at best, disastrous at worst.

Crappest Moment: Thulsa is cut down (literally) by Conan in front of his amassed followers .

Now that's embarrassing.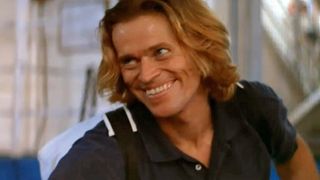 John Geiger Speed 2: Cruise Control (1997)
The Villain: A cruise-ship hacker, Geiger (Willem Dafoe) hijacks the luxury Caribbean cruiser that exploding-bus-survivor Annie (Sandra Bullock) is taking a much-needed break on.

Geiger's plan? Crash it into an oil tanker as revenge for being fired from the cruise ship…

Crappest Moment: His plan's foiled by Sandra Bullock…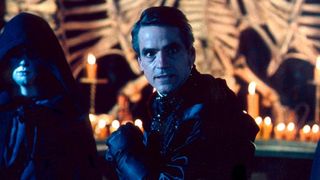 Profion Dungeons & Dragons (2000)
The Villain: An evil mage who attempts to seize control of the Gold Dragons by creating a special sceptre thingy.

Despite being played by Oscar-winner Jeremy Irons, he's one of the naffest ever fantasy villains. We blame the script.

Crappest Moment: Er, he gets eaten by a dragon.

Dwell not with monsters and all that.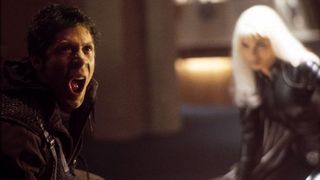 Toad X-Men (2000)
The Villain: Henchmen in this first big screen X-Men get a bit of a raw deal – Mystique aside (technically a henchwoman), both Toad (Ray Park) and Sabretooth (Tyler Mane) suffer from personality (and intimidation) transplants.

Toad comes off worse though, getting some really dodgy lines and a horrible wardrobe. Then there's that ruddy tongue…

Crappest Moment: Toad confronts Jean Grey (Famke Janssen) and performs a patronising little jig – before getting seriously slimy by spitballing her face .

Wrong.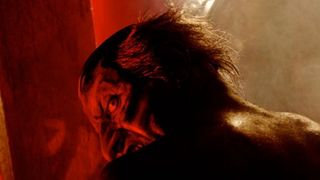 Red-Faced Demon Insidious (2010)
The Villain: When lingering in the corner of a child's darkened bedroom, a craggy shadow with an outstretched arm, he's terrifying.

Until the film's climax, when he's revealed as a tacky mash-up of Darth Maul and Freddy Krueger. Suddenly the film's about as scary as The Phantom Menace.

Crappest Moment: In The Further, dad Josh (Patrick Wilson) attempts to escape the Red-Faced Demon, who starts banging along the house's walls.

Whatever happened to subtlety?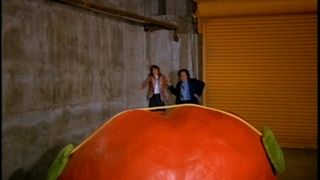 Tomatoes Attack Of The Killer Tomatoes (1979)
The Villain: The joke's a decent one that lampoons silly slashers, but did they really need to turn it into a full-length feature film?

You can't help but get bored of the killer tomatoes halfway through. After all, they're not exactly the most emotive of fruits.

Crappest Moment: Blaring loud music forces the tomatoes to retreat (a gag appropriated in Mars Attacks!).

Wish all villains were this easy to trounce.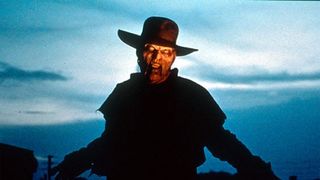 The Creeper Jeepers Creepers (2001)
The Villain: A violent truck driver turns out to be a prosthetic-faced demon.

The Creeper rises every 23rd spring to feed on human body parts to replenish its own ailing carcass.

Crappest Moment: Alright, the BEATINGU licence plate is a fun gag, but otherwise this guy – like Freddy Krueger before him – becomes a total joke.

The real kicker? Turns out The Creeper has wings…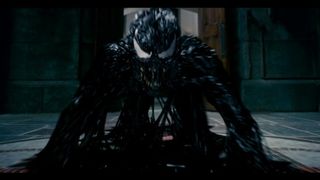 Venom Spider-Man 3 (2007)
The Villain: Director Sam Raimi famously didn't want him in the film, but the studio pulled rank and so Venom was squeezed into this already packed threequel.

Enter Topher Grace as a totally miscast Eddie Brock. In the comics, Brock's meant to be twice the size of Peter Parker. Here we get a watered down mythology mess-up that killed Raimi's Spidey series.

Crappest Moment: Venom has a little chat with Sandman in an alleyway, and the symbiot mask peels back to reveal Brock's fanged face.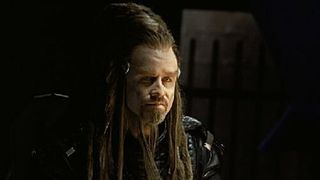 Terl Battlefield Earth (2000)
The Villain: A dreadlock-haired giant alien Psychlo, Terl (John Travolta) is a wilfully mean security chief who's desperate to get off Earth – but is stuck there after an incident with the Senator's daughter.

He gets some of the worst lines of dialogue you've ever heard, and Travolta camps it up something chronic.

Crappest Moment: One of many, but the scene in which Terl demands more green (b)ooze shows off not only the fist-in-mouth direlogue, but also Travolta's unbelievably OTT delivery of it .

It's almost so bad it's good. Almost.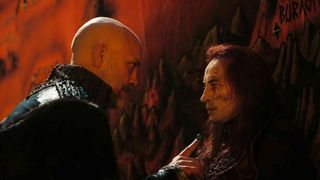 King Galbatorix Eragon (2006)
The Villain: Easily one of the dullest on this list, despite being played by the magnificent John Malkovich, King Galbatorix does basically nothing for the entire 99 minute running time.

Aside from slump in his throne and mope…

Crappest Moment: Every moment he appears on screen.

No, really.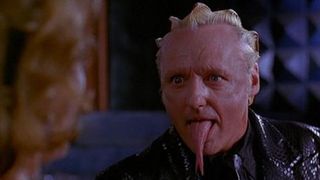 King Koopa Super Mario Bros (1993)
The Villain: In the games, King Koopa was a big, hulking lizard with a particularly girly crown on his head.

In this low-rent movie adaptation, he's played by a lizard-tongued Dennis Hopper at a serious low point in his career.

Crappest Moment: Any time he yells "Goomba!"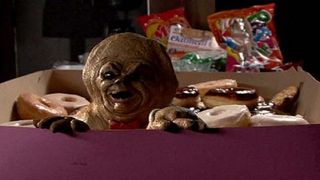 Gingerdead Man The Gingerdead Man (2005)
The Villain: Wacko serial killer Millard Findlemeyer (Gary Busey) is finally caught and strapped into the electric chair.

Only as fate would have it, ridiculous plot twists land his spirit in the crumbly form of a gingerbread man. And Findlemeyer decides it's time for another massacre…

Crappest Moment: "Eat me, you punk bitch."

Findlemeyer gets his comeuppance when he's eaten. Mmm, jammy .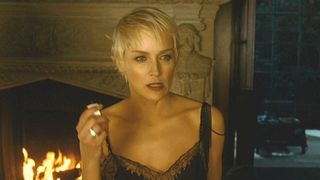 Laurel Hedare Catwoman (2004)
The Villain: The film's an absolute travesty, but the minds behind this standalone Catwoman adventure at least had the sense to hire a badass actress to play the villain.

Except even Sharon Stone can't save her wretched character, the CEO of a corrupt cosmetics company whose new product makes women's faces fall apart if they stop using it.

Crappest Moment: Going claw-to-claw with Catwoman, only to be chucked out the window…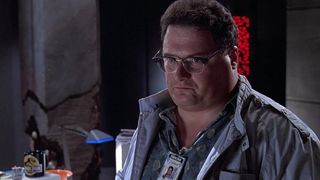 Dennis Nedry Jurassic Park (1993)
The Villain: A layabout nerd who makes us nerds all look really, really bad, Dennis Nedry is Jurassic Park's chief computer programmer.

He's also working for rival corporation BioSyn and is planning on stealing dino embryos for them…

Crappest Moment: The perfect example of Nedry's utter ignorance – he works at a dinosaur park, yet he doesn't know a Dilophosaurus when he sees one.

We're glad they ate him.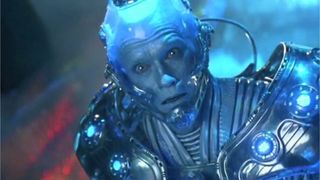 Mr Freeze Batman & Robin (1997)
The Villain: Unlike the tortured character of the comics, Joel Schumacher's version of Mr Freeze (as played by Arnold Schwarzenegger) is a total joke.

No really, all he does is jest and pun as he goes about turning Gotham into a twinkly wonderland.

Crappest Moment: "Tonight's forecast; a freeeeeze is coming."

Give over.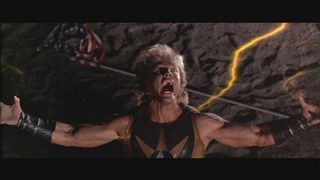 Nuclear Man Superman IV: The Quest For Peace (1987)
The Villain: Supposedly a clone of Superman, Nuclear Man's created by Lex Luther (Gene Hackman) as the Kryptonian's ultimate foe.

In reality, he's a camp dummy with a lousy costume – and an OTT lust for the ladies.

Crappest Moment: Nuclear Man gets one over on Superman by, get this, scratching him with his blingin', radioactive nails.

All together now: How low can you go?