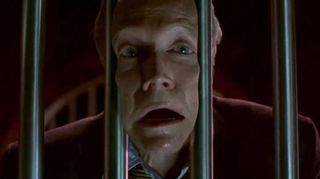 Senator Robert Kelly (X-Men)
The Politician: Senator Robert Kelly (Bruce Davison), an anti-mutant politician who leads and brews up a fearful and hostile public attitude towards mutants.
He proposes to ban mutant children from schools and supports the Mutant Registration Act.
Slimiest Moment: When Magneto (Ian McKellen) uses a machine to artificially induce a mutation in Kelly, he quite literally becomes the slimiest politician on this list.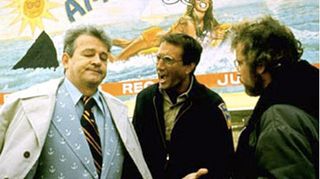 Larry Vaughan (Jaws)
The Politician: Mayor of Amity Island Larry Vaughan enjoys wearing hideous nautical-themed blazers and insisting everyone gets in the water.
He also makes a habit of covering up shark attacks and stupidly putting lives at risk by refusing to close the Island's beach as it may ruin the summer tourist season - his town's primary source of income.
Slimiest Moment: The Mayor goes on camera insisting that "a large predator that supposedly injured some bathers" has been caught and the beaches are still open for people to have a "wonderful time" without having had a thorough public necropsy of the dead tiger shark.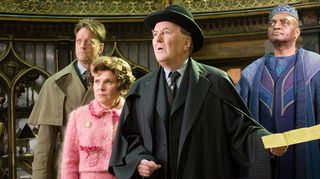 Cornelius Fudge (Harry Potter And The Order Of The Phoenix)
The Politician: Cornelius Fudge, the Minister of Magic has the huge responsibility of governing the British wizarding world.
The always bowler-hatted, bumbling Fudge is initially favoured and treasured by the wizarding community (he is essentially the Boris Johnson of the HP universe).
However his popularity begins to wain after his bad handling of several events, primarily the return of he-who-must-not-be-named.
Slimiest Moment: A threatened Fudge goes into denial and launches a smear campaign against hero boy wizard Harry and his mentor Dumbledore when they claim that Voldemort has returned.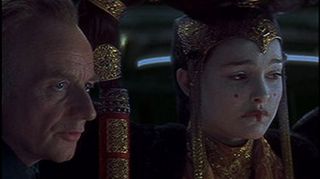 Senator Palpatine (Star Wars Episode I: The Phantom Menace)
The Politician: Senator Palpatine (Ian McDiarmid) is a cunning politician who rises up on the power scale to due to his deceptiveness and his talent for manipulating people and situations.
Oh, and also his alter ego Darth Sidious, a.k.a The Emperor of the Galactic Empire and most evil man in the galaxy helps.
Slimiest Moment: Palpatine kicks off his rise up the political ladder by ordering an invasion of Naboo as alter ego Sidious.
Then as Senator, he persuades the planet's Queen (Natalie Portman) to make a motion of no confidence in his rival the Supreme Chancellor Valorum, so he can ascend into his position.
It's all a bit much really.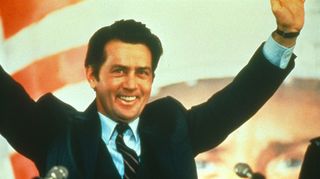 Greg Stillson (The Dead Zone)
The Politician: Charming, hands on Senatorial Candidiate, Greg Stillson (Martin Sheen) is set to become the future president of America and will eventually bring about a nuclear holocaust when he's in power.
Don't worry though, psychic schoolteacher Johnny Smith (Christopher Walken) is on the case.
Slimiest Moment: Stillson commits political suicide and hits rock bottom in terms of public opinion when while he is under gun fire, he holds up a baby as a human shield.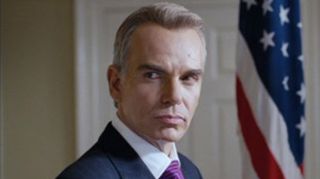 The President (Love Actually)
The Politician: Billy Bob Thornton is the silver-haired, overly smooth U.S president who pops across the pond for a quick maintenance check on the very 'special relationship' between America and Britain.
His hobbies include leaching on women and attempting to make Britain feel small. Boo.
Slimiest Moment: The President cements his villain status when he inches his hand up the thigh of the Prime Minister's tea and biscuit girl and nation's sweetheart material Natalie (Martine McCutcheon).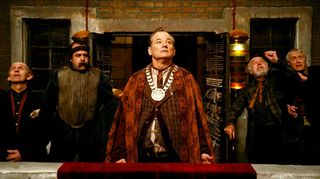 Mayor Cole (City Of Ember)
The Politician: Mayor Cole (Bill Murray) is the leader of the post-nuclear war, underground City of Ember.
During a major food and power shortage, he sweeps around the city in a livery collar campaigning under the slogan "You can believe it… because he says it."
While all along he is sneakily hoarding is own supply of canned food.
Slimiest Moment: When feisty teen Lina Mayfleet discovers Cole's secret supply and directly accuses him of stealing food from the people of Ember face-to-face, he casually denies the allegations while eating some of the very same stolen food.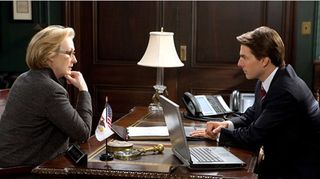 Jasper Irving (Lions For Lambs)
The Politician: Senator Jasper Irving (Tom Cruise), a Republican presidential hopeful invites liberal journalist Janine Roth (Meryl Streep) to his office to offer her an exclusive and persaude her to help him announce a new war strategy in Afghanistan.
Slimiest Moment: Irving's entire screen time feels one long slime-fest as he asks Roth to help him "sell the solution" to the war on terror.
Extra slime points are earned for having his Time Magazine front cover framed and hanging up on the wall.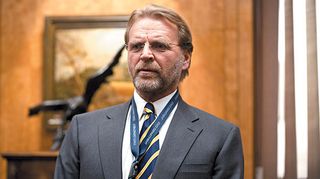 Linton Barwick (In The Loop)
The Politician: Being the best political satire to grace the big screen in recent years, In The Loop is swimming with painfully funny characters running amok in both British and American political circles.
Winner of the slimy label however, is Linton Barwick, the U.S. Assistant Secretary of State for Policy.
Barwick confidently strides around talking in riddles attempting to quietly intimate those around him and keep them out of his business.
Slimiest Moment: Barwick baffles Malcom Tucker and Simon Foster when he exits the room with his parting hallow, faux-poetic phrase "All roads lead to Munich."
In the words of Tucker (a superb Peter Capaldi): "What the fuck does that mean?"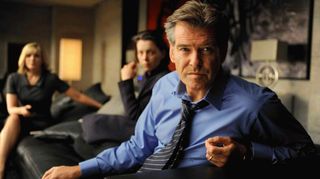 Adam Lang (The Ghost)
The Politician: Ex Prime Minister Adam Lang may have the good looks and smoothness of a former James Bond (Pierce Brosnan) but he also has plenty of skeletons in his closet.
They threaten to all come tumbling out when he is accused of authorising the illegal seizure and torture of suspected terrorists while writing his memoirs.
Slimiest Moment: When the former British Foreign Secretary Richard Rycart (Robert Pugh) accuses Lang of war crimes on national television, Lang lets his charismatic mask slip: narrowing his eyes at his TV set and calling Rycart a "cheeky fuck".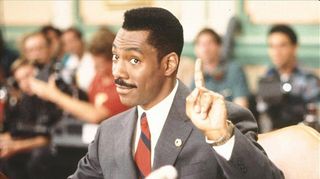 Thomas Jefferson Johnson (The Distinguished Gentleman)
The Politician: Florida con man Thomas Jefferson Johnson (Eddie Murphy) decides to run for Congress when the current Congressman and his namesake dies of a heart attack.
Johnson uses the dead Congressman's campaign material and gets voted in when enough people vote for the name they recognise.
Slimiest Moment: Johnson's winning speech in which he knowingly strings together a series of senseless catch phrases to sound triumphant.
Starting with "We campaigned on the issue. The issue is change. Change for the future." and finishing with "Read my lips" the speech worryingly feels like it could have been lifted from any political campaign throughout history.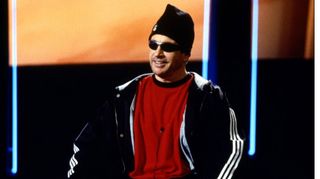 Jay Bullington Bulworth (Bulworth)
The Politician: Senator Jay Bullington Bulworth (Warren Beatty), a veteran Democrat, begins to fall out of favour with voters and thus starts to lose his bid for re-election to a much more appealing, younger opponent.
Unhappy, approaching financial ruin and generally tired of life, Bulworth decides to end it all via a hired assassin and a large life-insurance policy scam.
Slimiest Moment: Aware that the end is nigh, Bulworth decides to go off the rails hitting night clubs and smoking marijuana.
This leads to him embarrassingly rapping a speech on business.
Yes, rapping.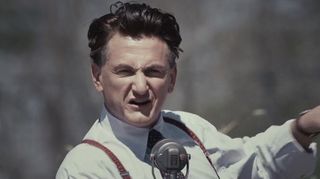 Willie Stark (All The King's Men)
The Politician: Willie Stark (Sean Penn) starts off an idealistic small-town lawyer who is pushed into campaigning to become a Louisiana Governor.
When Stark realises that he was put up to the race to lose, he vows to never be duped again. He runs for Governor a second time eventually wins using any means possible.
Slimiest Moment: Once in power, Stark quickly embraces using corruption and intimidation for his own personal and political gain.
His lowest moment occurs when he demands his friend and advisor Jack Burden (Jude Law) to dig up dirt on his chief critic Judge Irwin (Anthony Hopkins) - the very man that raised up Burden.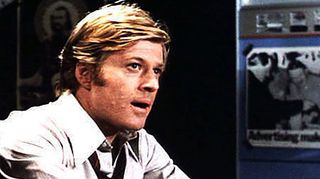 The Candidate (1972)
The Politician: Young Democratic Californian lawyer and candidate for senator Bill McKay is probably the least deserving of the slimy tag in this list.
He enters the political race against an unassailable opponent not to win, but to take the opportunity to spread some his ideas and draw attention to some vital issues.
However, when the likelihood of him winning the position appears to change, so does he…
Slimiest Moment: When McKay is in the full throngs of his own self deception, selling out and becoming California's biggest political heartthrob, he has a revealing mini breakdown in the back of a car in which he repeats his nonsense catch phrases to himself: "Vote once, vote twice, vote for Bill McKay… You middle-class honkies!"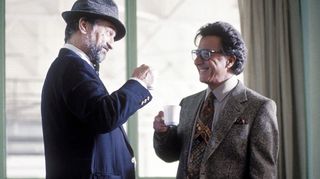 The President (Wag The Dog)
The Politician: An unnamed (and barely seen) President of United States gets himself caught in a predicament so scandalous that his spin doctor (Robert De Niro) and a Hollywood movie producer (Dustin Hoffman) have to stage a fake war with Albania to divert the media's attention on the run up to the election.
Slimiest Moment: The initial scandal which prompts the mass media manipulation.
The President gets caught making advances on an underage Firefly girl inside the Oval Office while her troupe are touring the White House.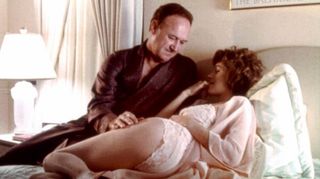 David Brice (No Way Out)
The Politician: Secretary of Defence David Brice (Gene Hackman) should be focusing on the future of a Navy submarine project but he gets distracted when he discovers his lover Susan is seeing someone else besides him.
He slaps Susan while in a jealous rage, causing her to plunge to her death.
Slimiest Moment: If accidentally killing his lover isn't enough, when he then becomes very much implicated in her murder he shifts the blame to his friend and colleague General counsel Pritchard and falsely exposes him as a sleeper agent after the General commits suicide.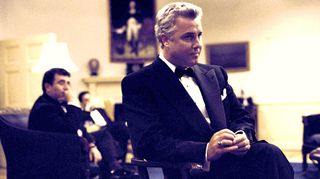 Jack Hathaway (The Contender)
The Politician: Wholesome Virginian Governor and wannabe Vice President Jack Hathaway is hailed as a hero after he dives into a lake in a failed attempt to save a drowning woman.
Therefore no-one is more surprised than him when the President opts to nominate no-name Laine Hanson for the VP spot instead.
Especially as she soon becomes shamed in a sex scandal.
Slimiest Moment: The sickening moment in which the President reveals FBI evidence which shows that Hathaway actually paid the deceased woman to drive off a bridge into the lake in a stunt deliberately engineered to increase his approval ratings.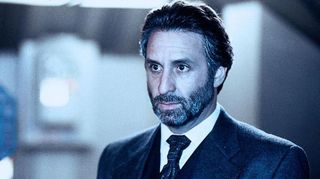 Senator Aaron McComb (Time Cop)
The Politician: Senator Aaron McComb (Ron Silver) leads the oversight committee of the Time Enforcement Commission - the regularity body combatting the misuse of time travel. However, McComb himself is abusing his position to raise money through the 1929 U.S. stock-market crash for his presidential campaign.
Slimiest Moment: McComb is brimming with his own self-importance when he lectures Time Cop Max Walker (Jean-Claude Van Damme): "I'm an ambitious Harvard-educated visionary who deserves to be the most powerful man in the world and you... you're a fucking idiot who never figured out that the only way to make anything of himself with all that fancy kicking was on Broadway". Zing.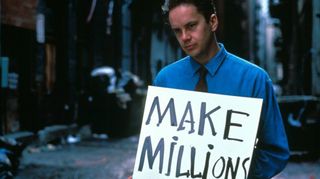 Bob Roberts (Bob Roberts)
The Politician: Conservative Bob Roberts (Tim Robbins) is the all American man: a millionaire businessman, fencing enthusiast , recording artist and a Republican Senatorial candidate.
He leads his campaign urging everyone else to reach for the American dream.
Slimiest Moment: After an assassination attempt supposedly paralyses Roberts from the waist down, he becomes a national martyr and wins his election.
However, he is later seen tapping his feet at his own victory party...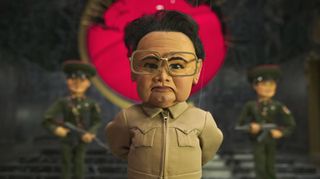 Kim Jong-il (Team America: World Police)
The Politician: Thunderbird-esque puppet and North Korean dictator Kim Jong-il's hobbies include raising man eating sharks, supplying international terrorists with weapons of mass destruction and occasionally expressing his loneliness via song.
Slimiest Moment: Jong-il commits a lot of crimes in Team America: World Police but nothing quite as devastating as when he takes out beloved actor Alec Baldwin with an assault rifle.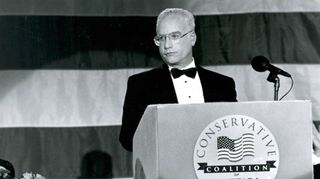 Bob Rumson (The American President)
The Politician: Republican presidential hopeful Bob Rumson (Richard Dreyfuss) looks a little old and crumpled when he is compared to his Democrat rival, the popular, dreamy, "above average dancer" current President Andrew Shepherd (Michael Douglas).
Slimiest Moment: Rumson seizes his opportunity when Shepherd begins romancing environmental lobbyist Ellen Wade (Annettee Bening).
Delivering a speech in which he refers to Wade as the "hired gun of an ultra-liberal action committee" Rumson makes things really personal when he implies the relationship is detrimental to Shepherd's 12-year-old daughter.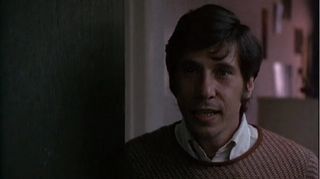 Donald Segretti (All The President's Men)
The Politician: Bending the rules here slightly, as Donald Segretti wasn't a politician.
He was a political operative and the head coordinator of "dirty tricks" for Richard Nixon's pre-Watergate Presidential campaign.
In All The President's Men , a nervy, stripy-knit wearing Sergretti is portrayed by Robert Walden.
Slimiest Moment: As Segretti wasn't involved in the illegal, morally bankrupt fest of Watergate, he almost gains our sympathy when Carl Bernstein (Dustin Hoffman) is interrogating him over a cup of coffee.
That is until he believes he's done nothing wrong in distributing forged campaign literature and reveals he did worst things in student election campaigns.
The term he uses for his dirty tactics is "ratfucking".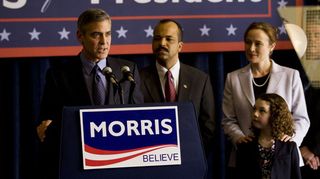 Mike Morris (The Ides Of March)
The Politician: Mike Morris, Governor of Pennsylvania and a Democratic presidential candidate.
His popularity is on the rise thanks to his squeaky clean image, his star junior campaign manager Stephen Meyers (Ryan Gosling) and the fact that he played by the king of suaveness Mr George Glooney.
Slimiest Moment: Unfortunately Morris doesn't completely live up to his clean cut persona thrown about on his campaign trail.
He sleeps with Molly (Evan Rachel Wood), a youthful intern from his campaign, causing her to become pregnant.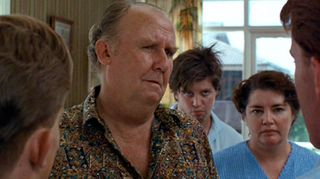 Councillor Bill Heslop (Muriel's Wedding)
The Politician: Full of himself, Hawaiian shirt wearing Councillor Bill Heslop is not only incredibly corrupt, abusing his town connections, taking and receiving bribes but he is also a very nasty, psychologically abusing family man to boot.
Slimiest Moment : Bill bullies and humiliates his whole family, branding them "useless no-hopers" while out dining with Japanese business associates.
He then invites his mistress to to join them, unsubtly flaunting their obvious relationship.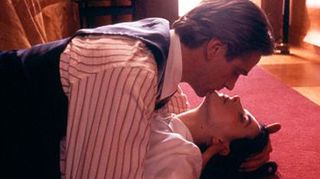 Dr Stephen Fleming (Damage)
The Politician: British cabinet minister Dr Stephen Fleming (Jeremy Irons) has it all: a successful career and a loving family.
The sensible everyman puts all this on the line however when he engages in an affair with his son's girlfriend, the seductive and mysterious Anna (Juliette Binoche).
Slimiest Moment: Predictably it all goes horribly wrong for Fleming and eventually he is left all alone, still consumed by a woman who ruined his career, tour his family apart and indirectly killed his son.
He stews in his own sliminess staring at a blown-up picture of Anna in his apartment. Creepy.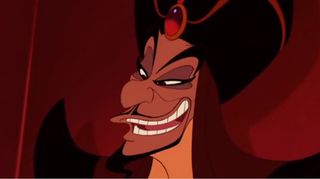 Jafar (Aladdin)
The Politician: Jafar is the Grand Vizier to the Sultan of Agrabah.
Power hungry and far from satisfied with his current position he consistently schemes ways to overthrow the Sultan with his foul-mouthed talking pet parrot.
He also happens to be an evil sorcerer to boot.
Slimiest Moment: Being pure evil means Jafar brings plenty of slimy moments to the film but his worst are probably when he is leering over the Sultan's daughter and Aladdin's girl Jasmine and demanding the Genie to make her fall in love with him.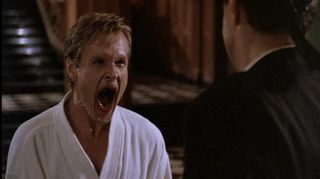 Senator Vernon Trent (Hard To Kill)
The Politician: Trilby wearing, bribe taking, catch-phrase welding Senator Vernon Trent (William Sadler) adds murderous destruction to his list of crimes when he takes on Hard to Kill Detective Mason Storm (Steven Seagal) after he is secretly videotaped completing one of his dirty deals.
Slimiest Moment: Trent's campaign commercial in which his rolls out his trade mark quip: "And you can take that to the bank."
Never fear however, our man Storm is even wittier: "I'm gonna take you to the bank, Senator Trent. To the blood bank!" Hurrah.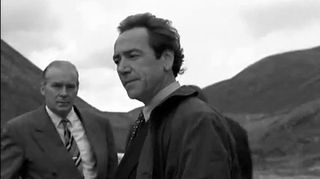 Michael Brinn (Divorcing Jack)
The Politician: Michael Brinn (Robert Lindsay) is a charismatic war hero and candidate running for Prime Minister in Northern Ireland.
He possesses strong public support since he was a victim of a terrorist bombing in which he suffered 30% burns.
Slimiest Moment: Several of Brinn's dirty little secrets are threatened to be let loose when a tape of him discussing his crimes is unwittingly sold to a priest: it turns out Brinn planted the bombs in the terrorist attack that he claimed to be a victim of.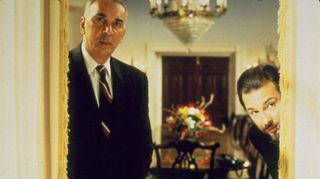 Bob Alexander (Dave)
The Politician: Ambitious White House Chief of Staff Bob Alexander (Frank Langella) convinces president look-a-like Dave to assume to the leader of the country's position when the real President slips into a coma.
Alexander then sets out on a scheme to work himself into the hot seat.
Slimiest Moment: Alexander sinks pretty low when he falsely implicates the Vice President in a savings and loan fraud but it's when Dave becomes uncontrollable he really gets nasty.
In a mad rant he claims he could kill Dave because he's not the president, he's "an ordinary person."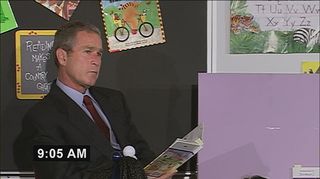 George W. Bush (Fahrenheit 9/11)
The Politician: George W. Bush, real life 43rd President of the United States and former Governor of Texas, famous for leading America through 9/11 and announcing and initiating the global "War on Terror".
Liberal political commentator Michael Moore paints a very grim picture of Bush in Fahrenheit 9/11 , implicating him in election fraud, exploring his connections to the bin Laden family and alleging he actively induced a climate of fear in America via the mass media.
Slimiest Moment: When Bush's Chief of Staff informs him the second plane and has hit the Twin Towers a Brush continues with his photo opportunity, reading 'My Pet Goat' while Moore's narration lists the President's possible failures leading up to the attack.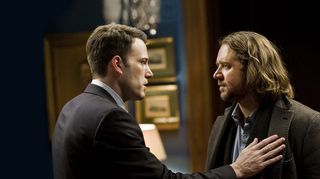 Stephen Collins (State Of Play)
The Politician: Stephen Collins (Ben Affleck), Congressman of Pennsylvania appears to be left devastated when his young and talented lead researcher and secret lover apparently commits suicide.
He looks to his old friend Cal McAffrey (Russell Crowe) for support when his wife kicks him out and reporters set up camp outside his home as the details of his infidelity unfolds in the press.
Slimiest Moment: When the suicide is ruled to be murder, Collins agrees to go on record for his friend McAffrey implicating military contractor Point Corp as responsible.
Except they're not responsible. He is.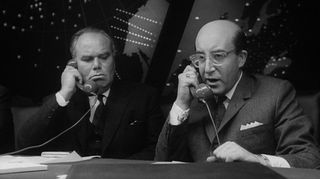 Merkin Muffley (Dr Strangelove)
The Politician: American President Merkin Muffley (Peter Sellers) is probably a little too indecisive and a little too inexperienced for his position. He is really put on the spot when one of his Air Force Generals paranoid Jack D. Ripper (Sterling Hayden) decides to take out the USSR, fearing they are tampering with the nations body fluids.

Slimiest Moment: When Muffley puts in the all important call to the Soviet Premier to break the bad news: "one of our base commanders, he had a sort of... well, he went a little funny in the head... you know... just a little... funny. And, ah... he went and did a silly thing... Well, I'll tell you what he did. He ordered his planes... to attack your country". Strong leadership.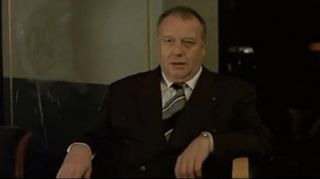 Bruno Hempf (The Lives Of Others)
The Politician: Bruno Hempf (Thomas Thieme), the Minister of Culture of East Germany possesses a strong influence over the country's secret police and also a burning infatuation with a popular actress Christa-Maria Sieland.
Hempf takes his obsession with Christa to the extreme: setting up surveillance on her playwright boyfriend Georg Dreyman to rid himself of his romantic rival.
Slimiest Moment: When Hempf meets Christa for the first time he makes his feelings clear by sliding his hand all over her backside right under the nose of Dreyman.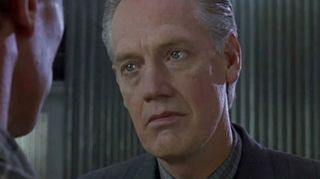 Vilos Cohaagen (Total Recall)
The Politician: Governor of the Mars Colony Vilos Cohaagen (Ronny Cox), is as corrupt and ruthless as politicians come and will stop at nothing to keep mining valuable turbinium ore and risking innocent lives in the process.
Slimiest Moment: Cohaagen's former top agent Hauser (Arnold Schwarzenegger) goes rogue with his new persona Quaid yet unwittingly leads Cohaagen to his goal: the leader of the Mars resistance.
After Cohaagen achieves want he wants, he orders Quaid's memory to be re-implanted to original Hauser and orders Quaid's lover Melina to reprogrammed as Hauser's slave. Literally playing God.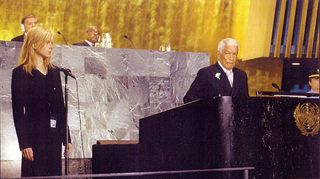 Edmond Zuwanie (The Interpreter)
The Politician: Edmond Zuwanie (Earl Cameron), president of fictional African county Matobo and corrupt dictator is called to the United Nations as he faces indiction to stand trial in the International Criminal Court for executing ethic cleansing and other crimes against humanity.
Slimiest Moment: In a bid to gain world sympathy and win political support a head of his possible trial, Zuwanie has a fake assassin attempt on his life staged. Sneaky.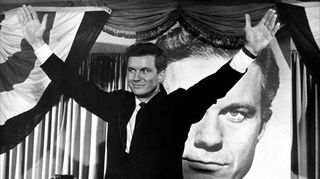 Joe Cantwell (The Best Man)
The Politician: Joe Cantwell (Cliff Robertson), a confident, populist leading candidate for a presidential nomination and a self declared man of the people believes he'll have no trouble taking on his straight-lace, more intellectual opponent William Russell (Henry Fonda).
Slimiest Moment: Cantwell makes things personal, privately targeting Russell where it hurts with illegally-obtained psychological reports covering the full extent of his opponent's past nervous breakdown.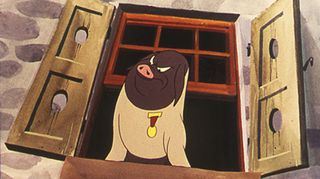 Napoleon (Animal Farm)
The Politician: It doesn't take long for ruthless, antagonist boar Napoleon to take out the competition with his goon squad of puppies and assert himself as the leader of Animal Farm once the animals revolt and drive away the drunken owner Mr Jones.
Slimiest Moment: When Napoleon starts dressing in a suit adorned with medals and reduces the animal's Seven Commandments to one single phrase: "All animals are equal, but some animals are more equal than others."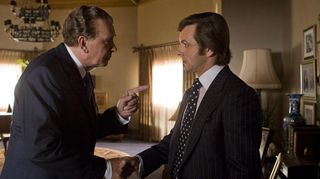 Richard Nixon (Frost/Nixon)
The President: 37th President of the United States Richard Nixon (Frank Langella) became the only president to ever resign from office after a significant loss of political support when the full extent of his Watergate scandal emerged.
Months after his resignation in return for a healthy fee he agrees to a series of sit down interviews with British broadcast journalist David Frost (Martin Sheen).
Slimiest Moment: Naturally the shamed and explosive Nixon has dozens of slimy moments throughout this film but the one that probably tops the list is when he delivers a slight variation on the now famous line
"When the President does it, it's not illegal."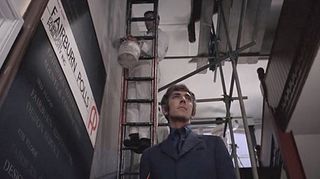 Michael Rimmer (The Rise And Rise Of Michael Rimmer)
The Politician: Michael Rimmer (Peter Cook) mysteriously shows up at an advertising agency one day and somehow convinces everyone he is supposed to be there.
Not only that but he also manages to quickly acquire control of the business.
He soon moves into politics, becoming an MP and eventually Prime Minister - all the while depending on just his charisma and the occasional murder to get him there.
Slimiest Moment: Rimmer dupes Britain into voting for him to become a presidential dictator after he exposes the country to an extreme referendum government.
He proposes this dictatorial option in casual campaign video as he strolls along the beach with his trophy wife.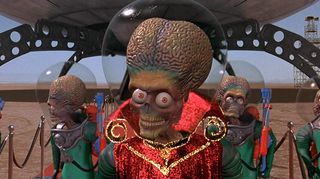 Ambassador of Mars (Mars Attacks!)
The Politician: The ambassador of Mars and leader of the Martians who invade Earth and bring about devastation. Appears to enjoy killing people and destroying everything.
Slimiest Moment: When likeable President Dale (Jack Nicholson) attempts to smooth over the "cultural misunderstanding" of the the martians violent arrival with a hand shake, the Mars ambassador's hand comes off, crawls on to the president and stabs him to death. Dirty tricks indeed.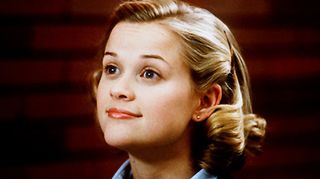 Tracy Flick (Election)
The Politician: Driven overachieving high school student Tracy Flick (Reese Witherspoon) is pretty, blonde, intelligent, and just wants to get into a good college.
Or that's what she would like you to think.
Tracy actually harbours a secret vindictive and sexual side which begins to emerge during her ruthless campaign for student body president.
Slimiest Moment: From seducing teachers to tearing down election posters, Tracy really is no angel.
However, she is particularly skin-crawling when dishing out her 'Pick Flick' cupcakes.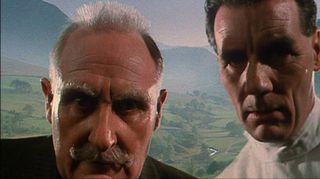 Mr Eugene Helpmann (Brazil)
The Politician: Deputy Minister of information Mr Eugene Helpmann (Peter Vaughan) is very quickly summed up in the first couple of minutes of Brazil .
The well-spoken, moustached politician appears on a flaming television set in a interview being broadcast to the nation in which he dismisses the cause of terrorism as down to "bad sportsmanship" and wishes everyone a merry Christmas.
Slimiest Moment: When Helpmann's face swings into Sam Lowry's (Jonathan Pryce) closing escapist fantasy and dully announces "He got away from us Jack" before being casually wheeled away from the catatonic Lowry.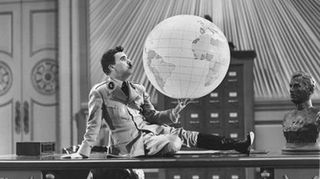 Adenoid Hynkel (The Great Dictator)
The Politician: Adenoid Hynkel (Charlie Chaplin in his first true 'talkie' role) is the ruthless dictator of Tomainia, an extreme fascist and persecutor of Jews.
He also has a knack for slapstick and physical comedy. When he is alone he enjoys dancing around with his inflatable globe and fantasising about being the Emperor of the world.
Slimiest Moment: When the inventor of a hat which supposedly turns into a parachute plunges to his death while demonstrating it, Hynkel turns to his officers and asks why they waste his time with such things. Cold.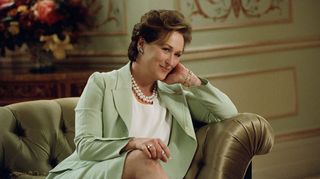 Senator Eleanor Shaw (The Manchurian Candidate)
The Politician: Much more terrifying then her predecessor Angela Lansbury (from the original adaptation), Meryl Streep is Senator Eleanor Shaw, a powerful, dangerously ambitious politician and an even scarier pushy mother.
With her no nonsense attitude, extreme power-dressing and the slickest of Hilary Clinton up-dos, she will stop at nothing to see her congressman son become President.
Slimiest Moment: When Shaw rants that she'll do what ever is takes to protect her son, what she really means is she'll do whatever it takes to protect everything she has been working towards.
However, an even sinister and disturbing side of her relationship with her brain-washed son emerges when she bathes, kisses and caresses him in an uncomfortably intimate manner.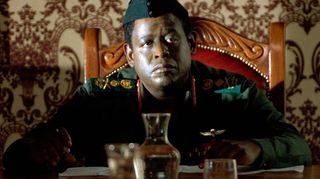 General Idi Amin (The Last King Of Scotland)
The Politician: General Idi Amin (Oscar-winning Forest Whitaker) is the Ugandan president who leads the country after he overthrows his predecessor Milton Obote.
Amin quickly becomes a militant dictator abusing human rights and exercising extrajudicial punishments and xenophobia in his rule.
He also ostracises his third wife because she gave birth to an epileptic son.
Slimiest Moment: When Amin discovers his friend and personal physician Nicholas Garrigan (James McAvoy) had an affair with his third wife, he has Garrigan tortured: his chest is pierced with meat hooks and he is hung by his own skin.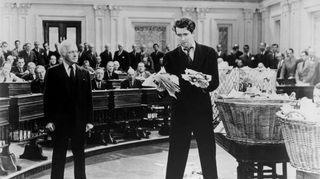 Joseph Paine (Mr Smith Goes To Washington)
The Politician: Joseph Paine is a generally well-loved, held in high public esteem Senator.
He takes under his wing his late best friend's naive and idealistic son Jefferson Smith, who has just been plucked from being Head of the Boy Rangers to become the Junior Senator of their state.
Slimiest Moment: Unfortunately Senator Paine is secretly crooked and becomes involved in a scheme to crucify the Junior Senator when Smith proposes a bill that clashes with a dishonourable bill of his own.
Granted, Paine does see the moral light in the end but it's not until after he has ground Smith down to a pulp on the Senate floor, bringing in bins of letters and telegrams from average, everyday people demanding Smith's expulsion.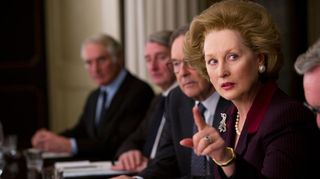 Margaret Thatcher (The Iron Lady)
The Politician: It's difficult to be mad at former Prime Minister Margaret Thatcher when she is being portrayed by darling, Oscar-winning actress Meryl Streep who spends a good chunk of the film stumbling around her house looking for her long dead husband.
Slimiest Moment: Difficult but not impossible. Streep's Thatcher is not so much slimy as bloody terrifying.
In one particular scene she dresses down her cabinet, ranting about "slackers" who "contribute nothing to the community".
She then scolds and humiliates Geoffrey Howe like a school boy because of his spelling errors in the timetable. Yikes.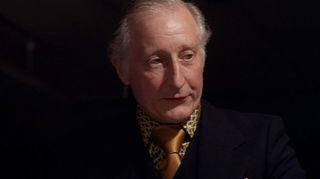 The Minister of the Interior (A Clockwork Orange)
The Politician: The Minister of the Interior (Anthony Sharp) uses prisoners as test subjects for the disturbing: "Ludovico technique" - an experimental aversion therapy which involves drugging subjects, clamping their eyes open and forcing them to watch violence in an attempt to cure them of their violent tendencies.
Slimiest Moment: The Minister visits Alex, a graduate and victim of the Ludovico technique in hospital after he fails to reenter society.
The Minister, concerned with securing Alex's cooperation with PR campaign to smooth over the experiment's messy aftermath, hand-feeds the crippled patient, promising him a job and a bright future.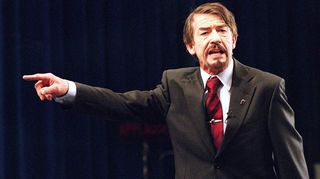 Adam Sutler (V for Vendetta)
The Politician: High Chancellor Adam Sutler, a former Conservative MP and Under-Secretary for Defence, leads the extreme right-wing Norsefire party.
A pure fascist and cold dictator, Sutler controls Britain with a tight iron grip.
He also chooses to live in an underground bunker in self-imposed exile, addressing his lieutenants via television.
Slimiest Moment: Having secretly and deliberately co-ordinated the bio-terrorist attacks that lead Britain to become a totalitarian state, Sutler was always a power-hungry bad egg.
His sliminess erupts to high levels when his power is threatened and he demands extreme fear mongering from his television set: "I want this country to realise that we stand on the edge of oblivion. I want everyone to remember why they need us!"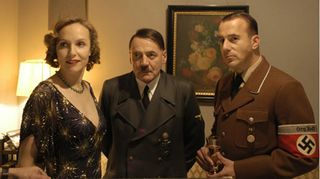 Adolf Hitler (Downfall)
The Politician: Adolf Hitler (Bruno Ganz). An Austrian-born German politician, leader of the Nazi Party and a horrific dictator responsible for millions of deaths.
Slimiest Moment: In a now a famous scene as a result of its endless Internet parodies, the original furious Hitler tirade actually shows the leader in a most disgusting and desperate state when he finally realises that the war has definitely been lost for Germany.