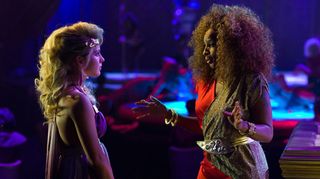 Rock of Ages (2012)
The Stripper: Sherrie Christian (Julianne Hough) is the small town girl who moves to LA in search of fame and fortune. However after breaking up with her boyfriend and abandoning her waitressing job at rock hub The Bourbon Room, she falls on hard times and joins Justice's (Mary J Blige) strip joint.

The Money Shot: When the still sparkling Sherrie reunites with estranged boyfriend Drew (Diego Boneta) along the Hollywood sign and together they decide that Drew's fate in the boyband the 'Z Guyeezz' is actually worse than hers as a stripper.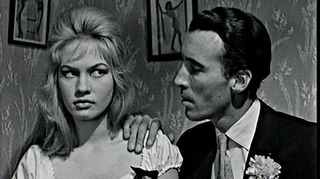 Beat Girl (1960)
The Stripper: Gillian Hills is Jenny, a respectable girl with a rebellious streak and a chip on her shoulder about her father's marriage to a young Parisian former stripper. Jenny's teenage rebellion and desire to humiliate her father and his new wife send her spiraling into depravity.

The Money Shot: Encouraged by her Soho beatnik friends, Jenny strips down to her underwear during a delinquent party, fully embodying every father's worst nightmare.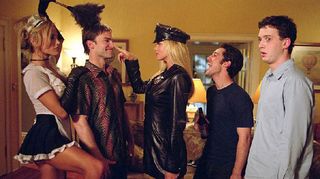 American Pie: The Wedding (2003)
The Strippers: Fraulein Brandi and Officer Krystal are the somewhat aggressive stripper duo hired for Jim's surprise bachelor party by Stifler, the most troublesome member of the American Pie gang.

The Money Shot: Not knowing they are actually crashing an important dinner with the bride-to-be's parents, Brandi and Krystal's rowdy antics send the evening out of control. Brandi creates several Kodak moments by whipping everyone and forcing Jim's future mother-in-law to motorboat her.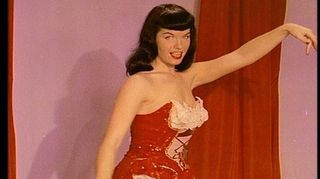 Teaserama (1955)
The Strippers: Bettie Page and Tempest Storm lead a whole cast of famous 1950s burlesque dancers in this compilation documentary.

The Money Shot: A sensual opening sequence, which features Page (classically made up as a French maid) helping Storm dress up in an evening gown, demonstrates how putting on clothes can be just as sexy as taking them off.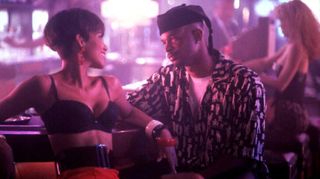 The Last Boy Scout (1991)
The Stripper: In one of her earliest roles, Halle Berry plays Cory, the stripper girlfriend of a retired American footballer. Unfortunately Cory quickly reaches a sticky end, causing her boyfriend to team up with private investigator Joe Hallenbeck (Bruce Willis) to solve her murder.

The Money Shot: Hallenbeck is initially hired to be Cory's bodyguard when it is suspected she might be in danger. When he rocks up to the bar where she works, Cory impresses - strutting her stuff in a cowboy hat and revealing chaps. Yee-hah.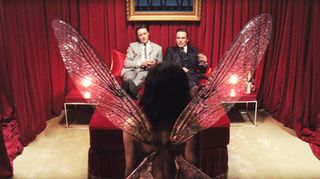 X-Men: First Class (2011)
The Stripper: Before she is recruited to the Division X team by Erik Lensherr and Charles Xavier (Michael Fassbender and James McAvoy), mutant Angel Salvadore (Zoe Kravitz) works in a strip club as a dancer with a rather striking dragonfly wing tattoo.

The Money Shot: After Lensherr and Xavier pay up for a private dance, Salvadore unhooks her top and shows the boys what makes her so truly special.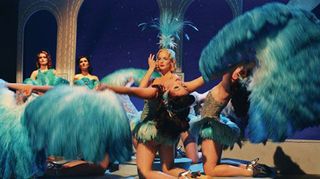 Mrs Henderson Presents (2005)
The Stripper: Maureen (Kelly Reilly) is one of the hot stars of eccentric Mrs Henderson's post-widowhood project, The Windmill Theatre, a controversial yet well-loved wartime London burlesque house.

The Money Shot: Maureen features in many creative ensemble routines, displaying her enviable figure and typical English charm. However, it's her naked salute in song number 'Babies of the Blitz' that's particularly memorable.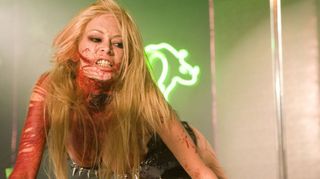 Zombie Strippers! (2008)
The Stripper: Adult film star Jenna Jameson made her transition to mainstream horror as Kat, a dancer whose stripping unexpectedly improves when she is turned into a Zombie.

The Money Shot: Fresh from being bitten, Kat returns to the stage to finish her routine as her new sultrier, covered in blood, zombie self. She then starts to snack on the customers - don't you just hate it when you go to a strip club and get eaten?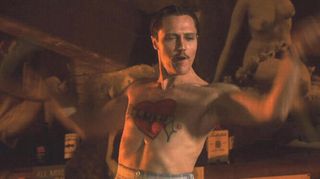 Pennies From Heaven (1981)
The Stripper: Years before that Fatboy Slim video, Christopher Walken treated us to his tap dancing skills on the big screen as Tom, a stylish yet shady 1930s Chicago pimp.

The Money Shot: Tom takes under his wing a pregnant and wronged Eileen, who fantasises about him serenading her and saucily stripping to 'Let's Misbehave'.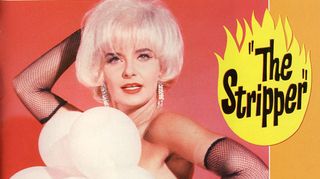 The Stripper (1963)
The Stripper: In a role originally intended for Marilyn Monroe, Joanne Woodward is the washed-up and aging showgirl Lila, who resorts to stripping when she fails to find alternative work.

The Money Shot: Lila dances and sings 'Something's Gotta Give' while wearing an outfit made of balloons. Her patrons proceed to pop them with cigars and cigarettes.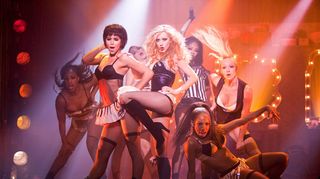 Burlesque (2011)
The Stripper: Christine Aguilera plays Ali Rose, yet another small town girl who moves to LA hoping to make her dreams of stardom come true. She finds herself in a burlesque club run by the veteran dancer Tess (Cher).

The Money Shot: After impressing Tess with her bold singing voice, Ali leads the burlesque troop through many sexy numbers, the steamiest of all being 'Express'.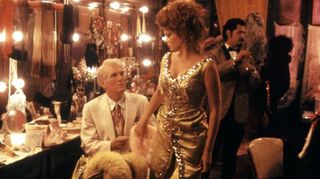 Blaze (1989)
The Stripper: Based on real life stripper Blaze Starr's memoirs, Blaze tells the story of the exciting years the young stripper spent with Earl Long, a former Governor of Louisiana.

The Money Shot: During one of her routines Blaze ties her stocking around a customer's neck, telling him it's a souvenir to take home his wife. Ouch.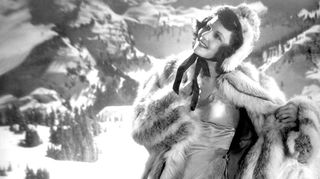 Love Thy Neighbor (1940) / Night and Day (1946)
The Stripper: Mary Martin's rendition of 'My Heart Belongs to Daddy' while shedding her fur coat was a striptease so nice, she did it twice: originally in Love Thy Neighbour and later in Night and Day, in which she played herself.

The Money Shot: Martin's performance in Night and Day has more razzmatazz, shows a lot more skin and has racier lyrics.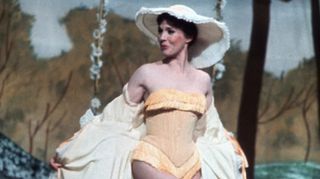 Darling Lili (1970)
The Stripper: Julie Andrews is Lili Smith, a German Spy posing as a music hall dancer who finds herself falling for the very American pilot (Rock Hudson) she is trying to seduce for information.

The Money Shot: Lili makes many monocles fall when she sings and strips her way through a jazzy stage show. Mary Poppins as you've never seen her before.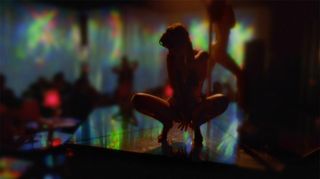 Enter the Void (2009)
The Stripper: Linda was once part of a close loving family, until a car crash killed her parents and tore her away from her brother Oscar. Eventually the siblings are reunited in much seedier roles as a stripper and a drug dealer.

The Money Shot: There's a number of incredibly intimate scenes involving Linda, however the most captivating are when she's gracefully, albeit despondently, pole dancing.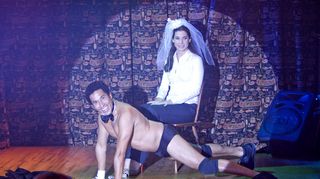 The Proposal (2009)
The Stripper: In a dingy bar on the small island of Sitka, Alaska, a locally famous but past his prime erotic dancer Ramone (Oscar Nunez) treats bride to be Mararet (Sandra Bullock) to a show she won't forget.

The Money Shot: Ramone's entire sequence is hilarious from the moment he pops up from behind an ugly makeshift curtain right up to when everybody's favorite filthy grandma Betty White thrusts dollar bills into his g-string.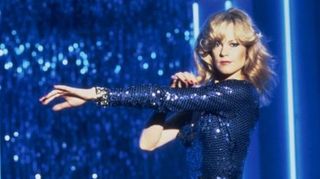 Fear City (1984)
The Stripper: Loretta (Melanie Griffith) is a popular Manhattan stripper engaging in an on/off relationship with her boss (Tom Berenger). Both begin to feel more than a little nervous when a serial killer sets about targeting strippers in the city.

The Money Shot: Loretta proves why she is her club's star attraction when she shimmies her way out of a blue skin-tight sequin dress within the film's first five minutes.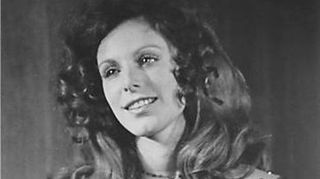 Nashville (1975)
The Stripper: Sueleen Gay (Gwen Wells) is a pretty airport restaurant waitress and aspiring yet talentless country singer who is duped into stripping while pursuing her dream.

The Money Shot: After Sueleen struggles her way through some poorly received songs at an all-male fundraiser she is informed that she is expected to strip. She reluctantly takes off her dress and throws the tissue stuffing from her bra to the floor.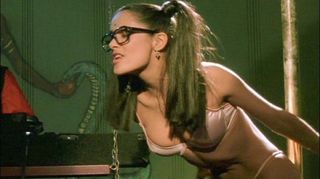 Dogma (1999)
The Stripper : Salma Hayek is Serendipity, a heavenly muse who takes a body on earth so she can obtain credit for her work, only to suffer from writer's block.

The Money Shot: Serendipity gives the phrase 'specs appeal' a whole new meaning as she spins around her stripper pole in her pale pink underwear and geeky glasses. Gyrating around to New Edition's 'Candy Girl' she even strokes Silent Bob's (Kevin Smith) beard when he throws enough cash down.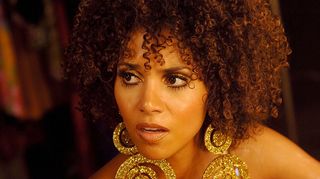 Frankie and Alice (2010)
The Stripper: Halle Berry racks up her second entry in this list as Frankie, a troubled stripper suffering from dissociative identity disorder in 1970s Los Angeles.

The Money Shot: Before the scary black outs and multiple personalities start to take hold, Frankie looks incredible dancing in cages with her dark wigs and large golden circular earrings.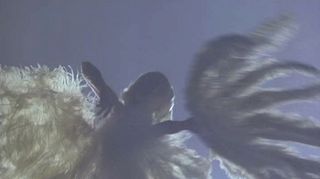 The Right Stuff (1983)
The Stripper: Peggy Davis portrays Sally Rand, a real life burlesque dancer who was best known for her famous ostrich-feather fan dance.

The Money Shot: Rand beautifully performs her iconic signature nude act before the Mercury Seven Astronauts and a host of other important dignitaries in a scene based on true events.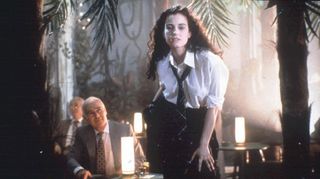 Exotica (1994)
The Stripper: Christina (Mia Kirshner) is stripper at Toronto nightclub Exotica, whose dancing attracts the slightly obsessive attentions of regular Francis, much to the dislike of the club's DJ, Christina's ex-boyfriend.
The Money Shot: Christina's repeated schoolgirl lap dance to Leonard Cohen's 'Everybody Knows' turns up the emotional and physical heat of the club.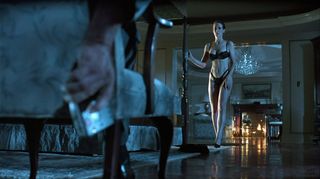 True Lies (1994)
The Stripper: Unknowingly married to a secret agent, Helen (Jamie Lee Curtis) a bored wife gets a shot at excitement when she's tricked into a fake mission in which she's required to pose as a prostitute.

The Money Shot: On this mission Helen strips for who she thinks is a random arms dealer but is actually her husband. Her amateur routine is littered with clumsy, comical errors but is nevertheless still overwhelmingly sexy.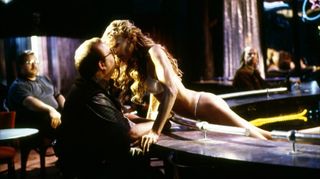 Dancing at the Blue Iguana (2000)
The Stripper: Daryl Hannah is Angel, a dysfunctional stripper who longs to have a child so she can be loved unconditionally.

The Money Shot: Although she struts her stuff in many great dance sequences, Angel's most charming moment is when she hails a passing police officer to help her take a picture of herself beside the giant billboard poster of her advertising the Blue Iguana.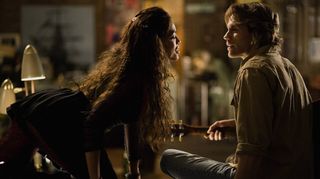 Rent (2005)
The Stripper: Pretty waif Mimi Marquez (Rosario Dawson) is surprisingly cheerful for a HIV positive heroin addict. When she's not sparking a relationship with her upstairs neighbour, she's making her rent by exotic dancing in nightclubs.

The Money Shot: Mimi kicks high and sings higher when she takes to the stage to perform her dazzling solo 'Out Tonight'.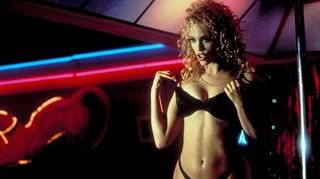 Showgirls (1995)
The Stripper: Elizabeth Berkley attempted to shake off her innocent Saved By The Bell roots as Nomi Malone, a drifter who moves to LA set on transforming herself from a run-of-the-mill stripper to a top-billing showgirl.

The Money Shot: As Berkley spends approximately 20 minutes of the film completely naked, it's so hard to choose.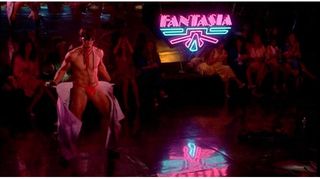 Summer School (1987)
The Stripper: Night owl student Larry is sent to summer school after his late-night stripping antics cause him to flunk out miserably.

The Money Shot: After a show-stopping cowboy-themed strip, Larry is accosted and embarrassingly unmasked by his remedial English teacher, who finally understands Larry's need for sleep during his lessons.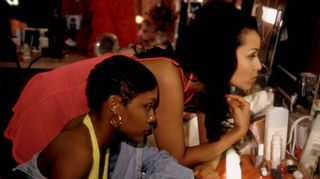 The Player's Club (1998)
The Stripper: Diana Armstrong (LisaRaye) is a struggling single mother who is enticed into stripping to pay for her college education.

The Money Shot: Diana quickly becomes a seasoned and superior performer, best demonstrated when she grinds away to R Kelly's 'Seems Like You're Ready', causing the club DJ (Jamie Foxx) to drop all his records.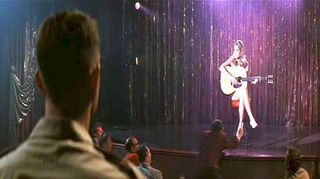 Forrest Gump (1994)
The Stripper: Jenny (Robin Wright), Forrest Gump's troubled childhood best friend and lifelong love had dreams of making it big as a folk singer only to find herself working in a strip club.

The Money Shot: Jenny breaks all of our hearts when she appears on stage with nothing but her guitar to cover her modesty, singing Bob Dylan's 'Blowin' in the Wind'. Save her Forrest, save her!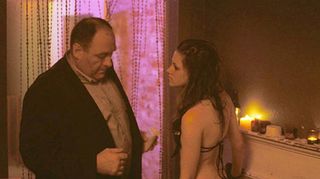 Welcome to the Rileys (2010)
The Stripper: Kristen Stewart is Mallory, an underage stripper who receives an unusual platonic proposition from a man looking to straighten out his life.

The Money Shot: After turning down Mallory's offer of a lap dance, Doug Riley (James Gandolfini) begins to interrogate her about her age. Although she is feisty in her responses, Mallory's true vulnerability and juvenile charisma emerge.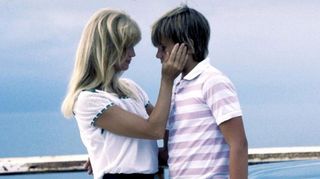 CrissCross (1992)
The Stripper: Divorced mother Tracy Cross (Goldie Hawn) takes to stripping at a local topless bar to support herself and her twelve-year-old son in late 1960s Key West.

The Money Shot: A heart-breaking scene in which a practically naked Tracy sexily grinds along to 'Mustang Sally' with sadness in her eyes as her devastated son looks on in despair.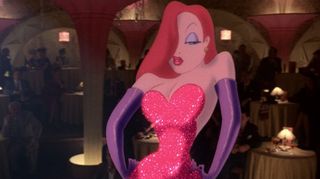 Who Framed Rodger Rabbit
The Stripper: Jessica Rabbit is just a high-class animated stripper, right? Right? Well, Eddie Valiant (Bob Hoskins) certainly gets an eyeful either way...

The Money Shot: Her glittering entrance and very steamy performance of 'Why Don't You Do It Right' sends all kinds of pulses racing. She's not bad, she's just drawn that way.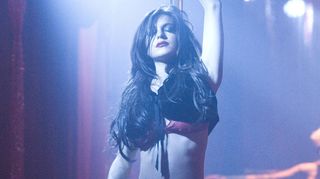 I Know Who Killed Me (2007)
The Stripper: Shortly before she became the huge scandal-magnet we know and love, Lindsey Lohan gave horror acting a shot, playing split personalities pianist Aubrey Fleming and stripper Dakota Moss
The Money Shot: Take your pick. As soon as Lohan hits the screen as stripper Dakota the steamy scenes are not in short supply. The Parent Trap this is not.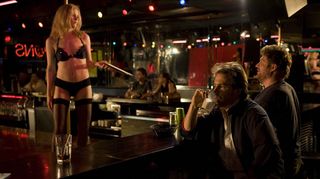 Choke (2008)
The Stripper: Beth (Gillian Jacobs), a stripper who goes by the name Cherry Daiquiri is frequently visited by sex addicts Victor and Denny (Sam Rockwell and Brad William Henke).

The Money Shot: Daiquiri pole dances with a new look, informing the guys that she dyed her hair brunette after Denny told her blondes were more susceptible to skin cancer.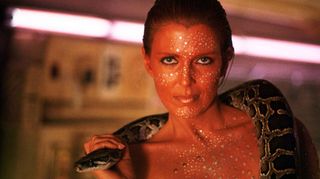 Blade Runner (1982)
The Stripper: Zhora (Joanna Cassidy) is one of four outlawed replicants hiding on the streets of LA. She's what is known as a 'pleasure model' who erotically dances at a bar complete with her own replicant snake.

The Money Shot: When Blade Runner Rick Deckard (Harrison Ford) hunts her down, a tension-filled chase ensues, with the beautiful but doomed Zhora running down the streets of a dystopian future in a see-through raincoat.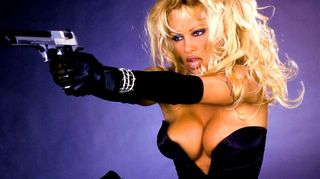 Barb Wire (1982)
The Stripper: Pamela Anderson won a Razzie award playing Barb Wire, owner of the racy nightclub Hammerhead, who also moonlights as a bounty hunter to pay the bills.

The Money Shot: The extensive opening titles involve Anderson constantly gyrating and touching herself in skin tight leather (a look that she sports the entire film) while being soaked with water, proudly showing off the two big reasons the film got made.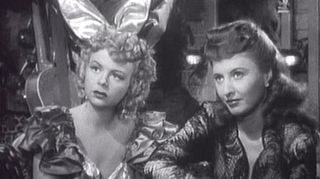 Lady of Burlesque (1943)
The Stripper: Feisty Dixie Daisy (Barbara Stanwick) is a burlesque performer turned mystery-solver when her rival burlesque stars Lolita and Princess are murdered.

The Money Shot: When Daisy takes to the stage, caressing herself with a fur muff, telling us all to 'take it off the e-string and play it on the g-string'. Sensational.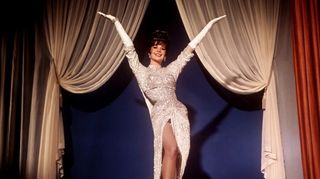 Gypsy (1962)
The Stripper: Natalie Wood stars as shy performer Louise Hovick who is pushed by her mother to transform into popular entertainer Gypsy Rose Lee, in a film based on the memoirs of the real-life Lee.

The Money Shot: Wood's final performance and strip to 'Let Me Entertain You' shows Louise at the peak of her confidence and strength away from her overbearing mother.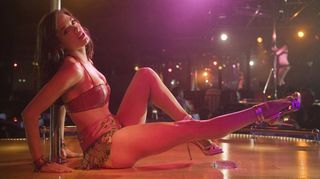 Planet Terror / Grindhouse (2007)
The Stripper: Go-go dancer Cherry Darling (Rose McGowan) is one of a group of survivors destined to stop the rise of zombie-like creatures after an experimental bio-weapon is released.

The Money Shot: After having her leg amputated by zombies, Darling replaces it with a modified M4 Carbine with a M203 grenade launcher, making her the sexiest and deadliest one-legged stripper of all time.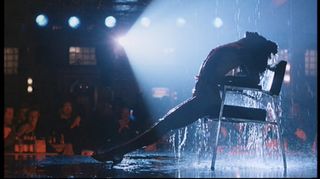 Flashdance (1983)
The Stripper: 18-year-old Alex Owens (Jennifer Beals), is a welder by day and exotic dancer by night. All she really wants to do however is gain a place at a prestigious dance school.

The Money Shot: After the steamiest of performances with a chair, Alex literally cools down, a cascade of water crashing over her silhouetted body, cementing herself in 1980s pop-culture history.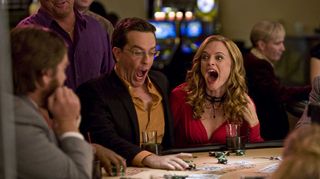 The Hangover (2009)
The Stripper : Heather Graham is Jade, a Las Vegas stripper and single mother who gets hitched to a usually sensible Stu (Ed Helms) after a crazy night of partying.

The Money Shot: We never actually see any stripping from Jade but her extremely likable heart of gold persona easily wins us over – especially when she cheerily takes her missing baby from the three strange men she only met the night before and casually starts breast-feeding him.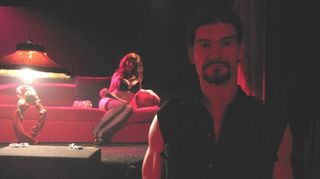 Powder Blue (2009)
The Stripper: Jessica Biel portrays Rose-Johnny, a single mother stripper who has it grittier than most; living out of a dismal motel while her young son lies in a coma.

The Money Shot: Rose-Johnny sensually and effortlessly slides around the stage sultrily smoking a cigarette. No wonder love-struck Qwerty Doolittle (Eddie Redmayne) can't keep his eyes off her.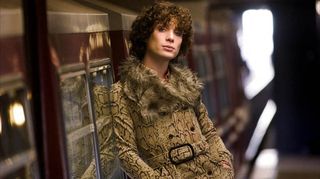 Breakfast on Pluto (2005)
The Stripper: Cillian Murphy earned himself a Golden Globe nomination for his portrayal of the soul-searching transgender Patrick "Kitten" Braden.

The Money Shot: Braden's estranged yet repentant father (Liam Neeson) intending to make peace with his son, stumbles upon his seductive peep show. What is on paper the most awkward of family moments actually unfolds into a beautifully heart-breaking scene.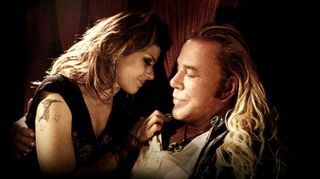 The Wrestler (2008)
The Stripper: Forty-something Cassidy (Marisa Tomei) is a past-her-prime stripper who develops a close friendship with aging wrestler Randy (Mickey Rourke) who shares her feeling of being a fading star.

The Money Shot: Despite her age Cassidy still looks incredible in all her stripteases. However, it's her final dance, which she interrupts to leave and go find Randy, that is the most engaging.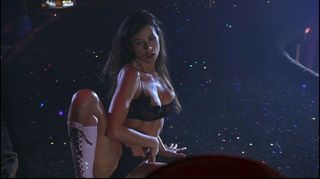 Striptease (1996)
The Stripper : Demi Moore shed it all as Erin Grant, a former FBI secretary who takes to stripping to raise money for her appeal in a child custody battle.

The Money Shot: Grant puts on a stunning routine to Anne Lennox's 'Money Can't Buy It'. Which is ironic as she finishes the dance with many dollar bills stuffed into her g-string.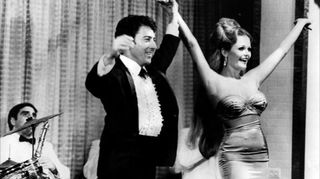 Lenny (1974)
The Stripper: Valerie Perrine portrays Honey Bruce - loyal girlfriend and 'Shiksa goddess' of controversial stand-up comedian Lenny Bruce.
The Money Shot: Honey sizzles in a spectacular and sensual stripping sequence on top of a mirrored podium, a performance made all the more exquisite by Bruce Sturtees' stunning black and white cinematography.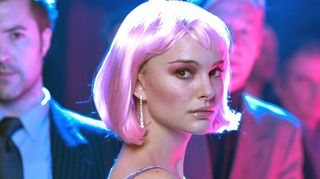 Closer (2004)
The Stripper: Alice (Natalie Portman) a young woman who relocates to London from America, finds herself stripping for a living and getting tangled up in a web of messy relationships.
The Money Shot: Dressed in a pink wig and little else, and pleasuring Larry (Clive Owen) to a lap dance, Alice discloses to him that a certain part of her body tastes 'like Heaven'. Wow.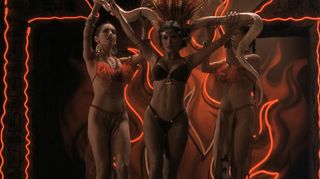 From Dusk Till Dawn (1996)
The Stripper: Salma Hayek sneaks in her second entry in this list as Santanico Pandemonium, star performer of the Mexican Titty Twister Strip Club.
The Money Shot: Pandemonium's sexy table dance begins with her rolling her body around with a snake and closes with her dipping her feet into Quentin Tarantino's mouth – a man well known for his foot fetish.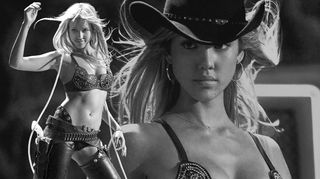 Sin City (2005)
The Stripper: Nancy Callahan (Jessica Alba), a former childhood kidnap victim grows up to be a star stripper at Kadie's Bar, helping her pay for law school.
The Money Shot: The first time Nancy's childhood savior John Hartigan (Bruce Willis) and the audience set eyes on her 19-year-old, exotic-dancing self. In the words of Hartigan: "Skinny little Nancy Callahan. She grew up. She filled out." She certainly did.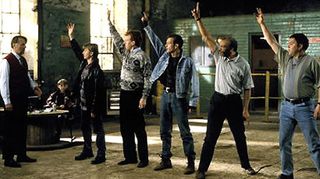 The Full Monty (1997)
The Strippers: Gaz, Dave, Lomper, Guy, Gerald and Horse make up the lovable Sheffield amateurs: six down on their luck, unemployed men who decide to form a male striptease act to raise some cash and surprisingly, some respect.
The Money Shot: It's a toss-up between the lads' hilarious reunion dancing to 'Hot Stuff' at the job centre and their grand finale striptease to Tom Jones' 'You Can Leave Your Hat On'. Their final performance just about wins on flesh points.