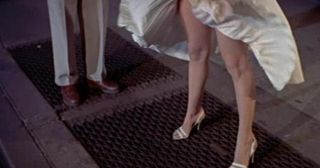 The Seven Year Itch (1955)
The Scene: Only Hollywood censorship can stop Richard Sherman (Tom Ewell) having an affair with his ultra-hot neighbour, The Girl (Marilyn Monroe).
Sexiest Moment: The movies' most iconic image of feminine desirability - a subway vent, a gust of air, and a billowing white dress.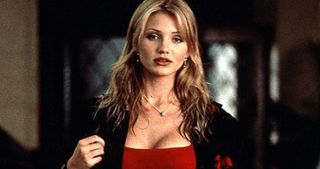 The Mask (1994)
The Scene: Bank clerk Stanley Ipkiss (Jim Carrey) catches sight of Tina Carlyle (Cameron Diaz) while she's fixing her shoe.
Sexiest Moment: A gratuitous but effective slow pan up Diaz's body. A sex symbol is born.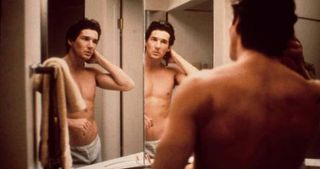 American Gigolo (1980)
The Scene: Clothes porn, as the titular U.S.-based lady-lover Julian Kaye (Richard Gere) chooses his outfit for the evening. Everything is Armani.
Sexiest Moment: Gere does a little shimmy as he dances topless to 'The Love I Saw In You Was Just A Mirage' by Smokey Robinson And The Miracles.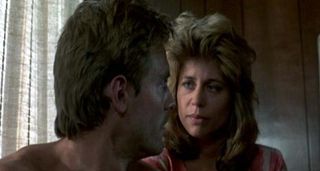 The Terminator (1984)
The Scene: Saving the future with a shag, as Sarah Connor (Linda Hamilton) and Kyle Reese (Michael Biehn) take time out from running away from Arnie.
Sexiest Moment: Sarah, en route from being a victim to becoming a warrior, gets on top. It's, like, symbolic.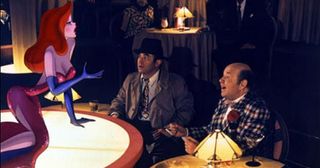 Who Framed Roger Rabbit? (1988)
The Scene: Jessica Rabbit performs 'Why Don't You Do Right?' at the Ink & Paint Club. It's not only the 'toons whose jaws clang on the floor.
Sexiest Moment: Jessica's entrance from behind the curtain: one long leg, and two pushed-up bosoms. Who needs 3D?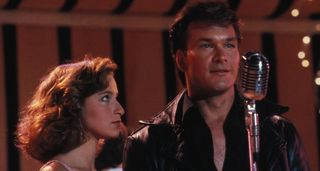 Dirty Dancing (1987)
The Scene: Johnny Castle (Patrick Swayze) comes to the rescue of Frances 'Baby' Houseman (Jennifer Grey) when her parents give her the worst seat in the restaurant.
Sexiest Moment: "Nobody puts Baby in the corner!" Johnny thunders, and drags her on-stage to dance to '(I've Had) The Time Of My Life.'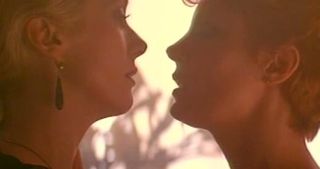 The Hunger (1983)
The Scene: Vampire Miriam Blaylock (Catherine Deneuve) seduces Sarah Roberts (Susan Sarandon) to the tune of Delibes 'Flower Duet,' aka the British Airways music.
Sexiest Moment: Miriam draws Sarah's blood with the gentlest of bites. See, Bella Swan, what's so hard about that?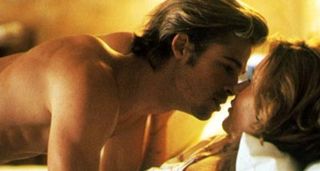 Thelma And Louise (1991)
The Scene: Who cares if JD (Brad Pitt) turns out to be a conman? Not Thelma (Geena Davis), who gets the best shag of her life.
Sexiest Moment: A heartthrob is born, as shirtless J.D. seduces Thelma by fooling around, pretending a hotel hairdryer is a gun.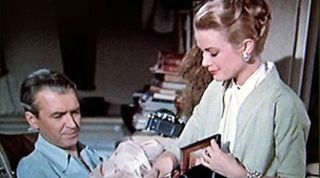 Rear Window (1954)
The Scene: Lisa Fremont (Grace Kelly) invites herself over for the night of vouyeurism at the apartment of boyfriend L.B. Jeffries (James Stewart).
Sexiest Moment: Lisa reveals she's packed an overnight bag with pyjamas, a pair of slippers and a toothbrush. It'd be slutty if the case wasn't a Mark Cross.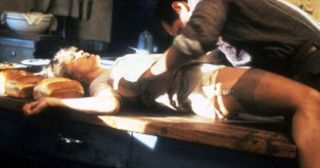 The Postman Always Rings Twice (1981)
The Scene: A special delivery for Cora Smith (Jessica Lange), as drifter Frank Chambers (Jack Nicholson) shags her on the kitchen table.
Sexiest Moment: Cora stops Frank, chucks everything off the table, and growls, "Alright, come on!"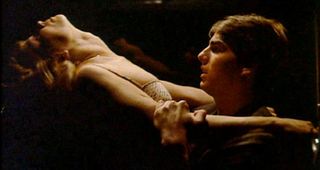 Risky Business (1983)
The Scene: Joel Goodson (Tom Cruise) hired Lana (Rebecca De Mornay), but by the end he's become an entrepreneur who no longer has to pay for it.
Sexiest Moment: Joel and Lana celebrate a successful night's pimping by having sex on a subway train.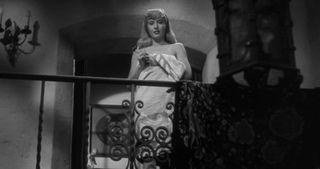 Double Indemnity (1944)
The Scene: Seduction at first sight, as Phyllis Dietrichson (Barbara Stanwyck) bamboozles insurance salesman Walter Neff (Fred MacMurray) wearing only a bath towel.
Sexiest Moment: "Is there anything I can do?" she asks coquettishly. A flustered Neff replies, "I'd hate for you to have a smashed fender or something while you're not... fully covered."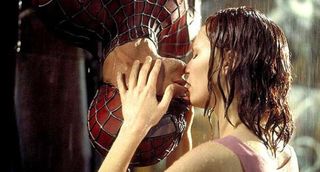 Spider-man (2002)
The Scene: After Spider-man (Tobey Maguire) has saved Mary Jane Watson (Kirsten Dunst), she thanks him with an upside-down kiss.
Sexiest Moment: Mary Jane makes the action of pulling Spidey's mask down over his face and gobbling his face look considerably ruder than a romantic smooch.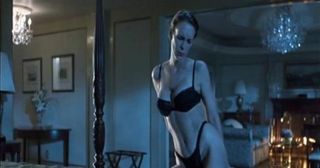 True Lies (1994)
The Scene: Helen Tasker (Jamie Lee Curtis) thinks she's gone undercover as a spy... but really it's husband Harry (Arnold Schwarzenegger) - who really is a spy - trying to spice things up.
Sexiest Moment: Stripped to bra, thong and high heels, Jamie Lee Curtis proves she's still got it despite James Cameron's idea of sexy being incredibly sex ist .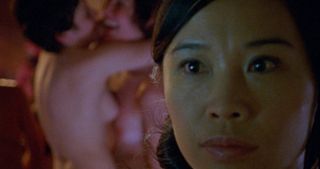 Shortbus (2006)
The Scene: Sex therapist Sofia (Sook-Yin Lee) visits the Shortbus club in search of her first orgasm, only to find an orgy in full, er, swing.
Sexiest Moment: A woman is brought to a juddering climax as she's being shagged from behind by a complete stranger.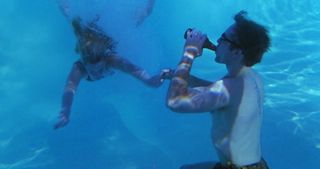 Leaving Las Vegas (1995)
The Scene: Alcoholic Ben Sanderson (Nicolas Cage) gets pissed by the pool with prostitute-turned-lover Sera (Elisabeth Shue).
Sexiest Moment: Sera pours whiskey over her breasts for Ben to suck on; Ben is so turned on he forgets that she's actually wasting a lot of booze.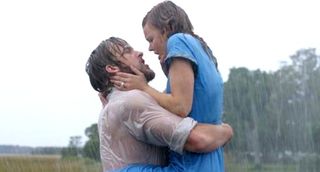 The Notebook (2004)
The Scene: An argument in the rain between Noah Calhoun (Ryan Gosling) and Allie Hamilton (Rachel McAdams) gets a twist when Noah reveals he wrote her love letters she never received.
Sexiest Moment: "It wasn't over," Noah insists. "It still isn't" - and then he proves it.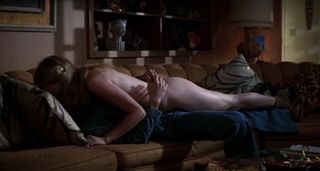 Boogie Nights (1998)
The Scene: The 'shagging a porn star' fantasy comes true for Dirk Diggler (Mark Wahlberg) as he's auditioned by Rollergirl (Heather Graham).
Sexiest Moment: Rollergirl removes her clothes in a single, graceful movement, while still roller skating towards him. What a pro.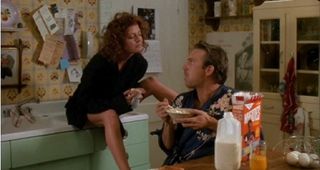 Bull Durham (1988)
The Scene: Baseball star Crash Davis (Kevin Costner) discusses "matters of the heart" with the team's muse/groupie Annie Savoy (Susan Sarandon).
Sexiest Moment: Crash delivers a long list of things he believes in, but saves the best for last: "I believe in long, slow, deep, soft, wet kisses that last three days."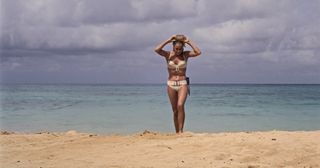 Dr No (962)
The Scene: Honey Ryder (Ursula Andress) emerges from the sea, and sets the standard for nearly fifty years of Bond girls.
Sexiest Moment: That body in a bikini.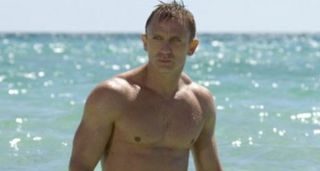 Casino Royale (2006)
The Scene: In the interests of balance, it's only fair to mention that 007 himself (Daniel Craig) has been known to take a dip.
Sexiest Moment: That body in shorts.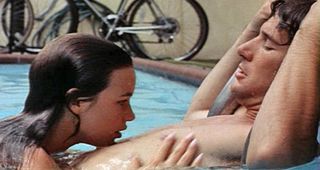 Breathless (1983)
The Scene: Make-up sex in the shower after a tiff between Jesse Lujack (Richard Gere) and Monica Poiccard (Valerie Kaprinsky).
Sexiest Moment: Jesse throws open the shower door singing Suspicious Minds. Monica invites him in and next thing she knows she's squashing her breasts against the glass.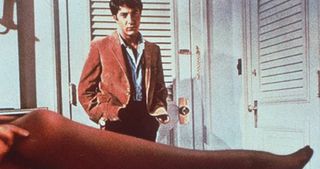 The Graduate (1967)
The Scene: Mrs Robinson (Anne Bancroft) invites Benjamin Braddock inside. "Are you trying to seduce me?"
Sexiest Moment: The famous shot of Mrs Robinson's leg, providing directors with a shorthand for seduction that's still used today.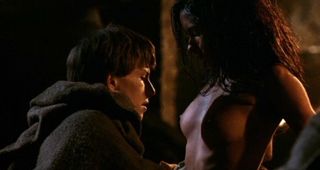 The Name Of The Rose (1986)
The Scene: Young monk Adso of Melk (Christian Slater) forgets his vows when a nameless peasant (Valentina Vargas) pounces on him.
Sexiest Moment: The Girl can't speak, but that doesn't stop her making a lot of noise.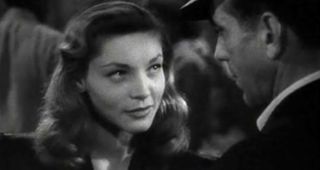 To Have And Have Not (1944)
The Scene: Slim (Lauren Bacall) lets Steve know how to contact her if he's interested. All he has to do is whistle.
Sexiest Moment: Just in case there was any doubt: "You know how to whistle, don't you, Steve? You just put your lips together and... blow."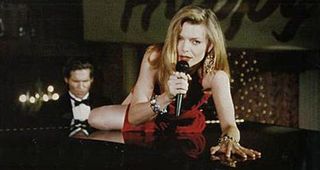 The Fabulous Baker Boys (1989)
The Scene: Nightclub singer Susie Diamond (Michelle Pfeiffer) drapes herself across a piano to sing 'Making Whoopee.'
Sexiest Moment: Susie rolls onto her back and rubs her hand across pianist Jack Baker's (Jeff Bridges) face. Amazingly, he doesn't miss a note.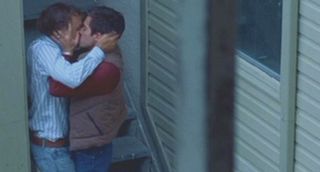 Brokeback Mountain (2005)
The Scene: Summer lovers Jack Twist (Jake Gyllenhaal) and Ennis Del Mar (Heath Ledger) reunite after four years apart, and their repressed passion is unleashed.
Sexiest Moment: Ennis looks around, makes sure nobody is looking, and then pushes Jack against the wall for a snog.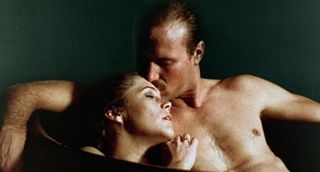 Body Heat (1981)
The Scene: Lawyer Ned Racine (William Hurt) lets the Florida heat get to him as he begins an affair with Matty Walker (Kathleen Turner) in her husband's home.
Sexiest Moment: Matty lies back and lets him make the moves, while giving every impression that she's very much in control.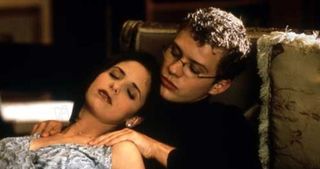 Cruel Intentions (1999)
The Scene: Kathryn Merteuil (Sarah Michelle Gellar) discusses the terms of the bet she's making with Sebastian Valmont (Ryan Philippe), the step-brother she knows fancies her.
Sexiest Moment: If Sebastian loses, Kathryn gets his Jaguar. If he wins, she'll let him "put it anywhere."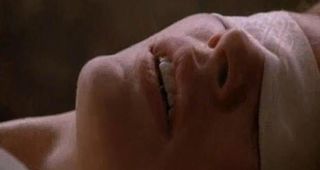 Nine And A Half Weeks (1986)
The Scene: John Grey (Mickey Rourke) and Elizabeth McGraw (Kim Basinger) get creative with ice and a blindfold.
Sexiest Moment: For all the hardbody flesh on display, nothing beats the close-ups of Basinger's lascivious lips as she reaches out to caress the ice cube with her tongue.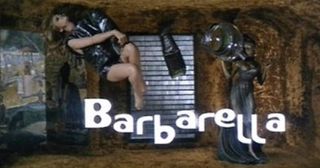 Barbarella (1968)
The Scene: Barbarella (Jane Fonda) gives a demonstration in how to get undressed in zero-gravity.
Sexiest Moment: When she kicks off the leg of her space-suit and it becomes clear she's wearing nothing underneath.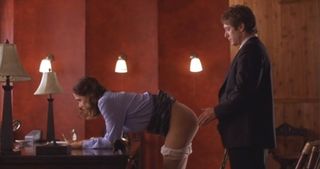 Secretary (2002)
The Scene: Lee Holloway (Maggie Gyllenhaal) gets a taste for what her new boss E. Edward Grey (James Spader) is like when he bends her over the desk for a spanking.
Sexiest Moment: Shock mixed with lust, as Lee realises she likes having her arse paddled until it's raw.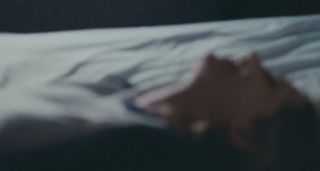 Blue Valentine (2010)
The Scene: Dean Pereira (Ryan Gosling) goes down on girlfriend Cindy Heller (Michelle Williams).
Sexiest Moment: That's it - but you wouldn't believe the furore it caused with American censors.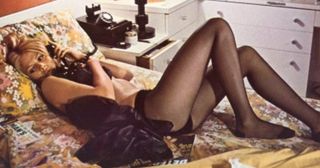 Get Carter (1971)
The Scene: Stuck in Newcastle, Jack Carter (Michael Caine) calls London lover Anna (Britt Ekland) for a phone sex quickie.
Sexiest Moment: Keen to take his mind off from the boarding house landlady sitting in front of him, Jack starts to roleplay: "When we're in South America, we'll make love in the sun. Roll over... and make love again... and again... "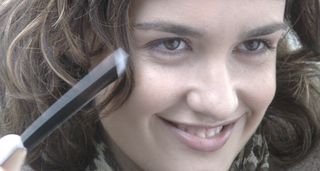 Sex And Lucia (2001)
The Scene: Lucia (Paz Vega) and Lorenzo (Tristan Ulloa) take snaps with a Polaroid while they're having sex.
Sexiest Moment: Afterwards, the two go to a cafe where they tease each other by flashing the photographs in public.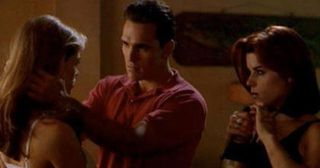 Wild Things (1998)
The Scene: High school guidance counsellor Sam Lombardo (Matt Dillon) enjoys a two-fer with students Kelly Van Ryan (Denise Richards) and Suzie Toller (Neve Campbell).
Sexiest Moment: "Never let the sun go down on an argument," Sam insists as he pushes the girls together for a snog.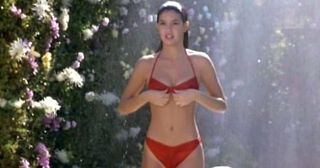 Fast Times At Ridgemont High (1982)
The Scene: Brad Hamilton (Judge Reinhold) cracks one off while spying on Linda Barrett (Phoebe Cates).
Sexiest Moment: The fantasy wank, as dripping-wet Linda emerges from a swimming pool and removes her red bikini.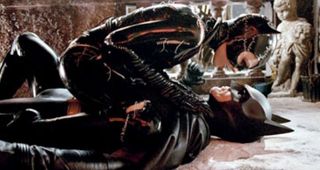 Batman Returns (1992)
The Scene: After much foreplay in fetish wear, Catwoman (Michelle Pfeiffer) gets Batman (Michael Keaton) where she wants him: under the mistletoe.
Sexiest Moment: Catwoman licks him from chin to mask. Well, she does think she's a cat.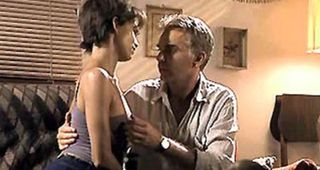 Monsters' Ball (2001)
The Scene: Grieving widow Leticia Musgrove (Halle Berry) asks Hank Grotowski (Billy Bob Thornton), her husband's executioner, to "make me feel good." He wasn't expecting that.
Sexiest Moment: He thinks she wants it rough, but she gradually takes charge and makes things unexpectedly tender.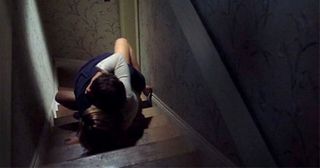 A History Of Violence (2005)
The Scene: Finding out that husband 'Tom' (Viggo Mortensen) used to be a killer has done wonders for Edie Stall's (Maria Bello) libido.
Sexiest Moment: The couple doesn't even make it upstairs, doing the old up 'n' down on the stairs. Watch out for carpet burns.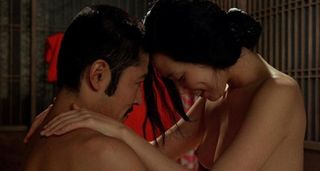 In The Realm Of The Senses (1976)
The Scene: Sada Abe (Eiko Matsuda) and Kichizo Ishida (Tatsuya Fuji) embark on a torrid affair of sexual experimentation.
Sexiest Moment: Pretty much the whole thing... until the painful ending. Worst money shot ever.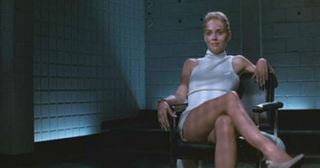 Basic Instinct (1992)
The Scene: Murder suspect Catherine Trammell (Sharon Stone) leaves her police interrogators lost for words with ice-cool sex appeal.
Sexiest Moment: Catherine gives 'em an eyeful as she uncrosses her legs and reveals she's not wearing any knickers.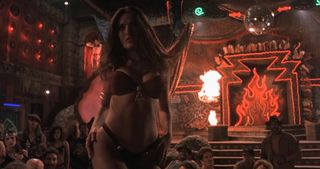 From Dusk Till Dawn (1996)
The Scene: Star attraction at the Titty Twister: curvaceous stripper Santanico Pandemonium (Salma Hayek). At least, before she turns into a vampire.
Sexiest Moment: Santanico's slippery choice of dance partner - a python.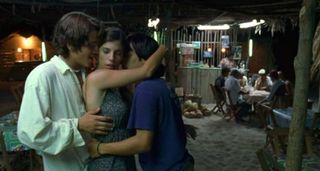 Y Tu Mama Tambien (2001)
The Scene: Horny boys Julio (Gael García Bernal) and Tenoch (Diego Luna) finally get what they want, as object of lust Luisa (Maribel Verdú) agrees to a drunken threesome.
Sexiest Moment: Overcome with passion, the boys get more than they bargained for when Luisa persuades them to snog each other.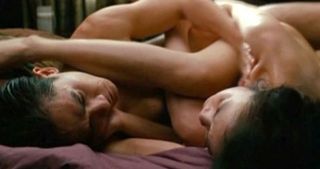 Lust, Caution (2007)
The Scene: Chinese dissident Wong Chia-chi (Tang Wei) starts an affair with government official Mr Yee (Tony Leung), as part of a plot to assassinate him.
Sexiest Moment: Things get a bit Kama Sutra as they manoeuvre themselves into the scissors position.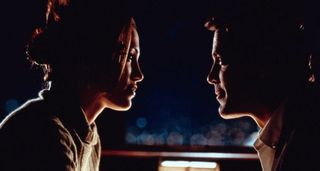 Out Of Sight (1998)
The Scene: Federal Marshal Karen Sisco (Jennifer Lopez) and bank robber Jack Foley (George Clooney) take a time out from pursuer and fugitive by role-playing as 'Gary' and 'Celeste.'
Sexiest Moment: Steven Soderbergh cross-cuts between the pretend meet-cute and the lovers' arrival in a hotel room, where they tentatively undress in front of each other.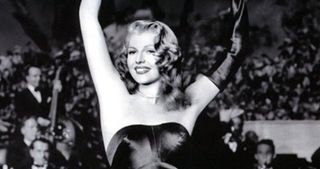 Gilda (1946)
The Scene: Gilda (Rita Hayworth) ties to torment her husband (Glenn Ford) by performing a slinky striptease while singing 'Who Put The Blame on Mame?'
Sexiest Moment: The only thing Gilda strips off is a single black glove. It's enough to send this into the Top 5 sixty-five years later.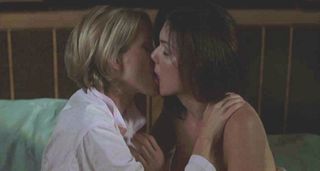 Mulholland Dr. (2001)
The Scene: Betty (Naomi Watts) and Rita (Laura Harring) share a bed. What could possibly happen?
Sexiest Moment: A tentative first foray into lesbianism - or is it? "Have you ever done this before?" Betty asks. "I don't know," replies amnesiac Rita. "Have you?" Betty answers: "I want to with you."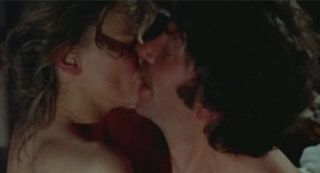 Don't Look Now (1973)
The Scene: Grieving couple John and Laura Baxter (Donald Sutherland and Julie Christie) rekindle their intimacy by making love for the first time since their daughter drowned.
Sexiest Moment: The sex is made tenderer by inter-cutting with a later scene of the couple getting ready to go out, especially when Laura catches John's eye in the bathroom mirror and gives him a bashful post-coital smile.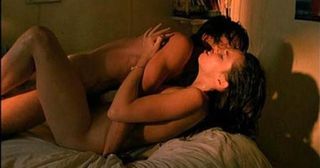 Betty Blue (1986)
The Scene: Skip the foreplay. Just because Betty (Beatrice Dalle) and Jorg (Jean-Hugues Anglade) have only just met, doesn't stop them shagging like rabbits.
Sexiest Moment: The passionate shag that opens the movie, shot in a single-take by a camera gradually dollying in onto the couple until they collapse in a sweaty heap.