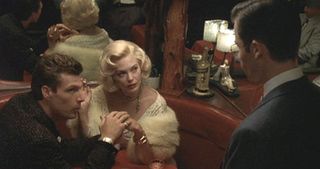 L.A. Confidential (1997)
The Movie: In Curtis Hanson's retro-noir thriller, L.A. is home to Hollywood stars...and prostitutes cut to look like Hollywood stars. But who can spot the difference?
The Awkward Moment: Ed Exley (Guy Pearce) angrily interrogates gangster Johnny Stompanato (Paolo Seganti) and his girlfriend (Brenda Bakke), who Exley assumes is a Lana Turner-lookalike whore.
Look Away When: "She is Lana Turner" - and the actress throws her drink in Exley's face.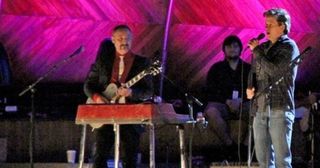 Ted (2012)
The Movie: Thirtysomething slacker John Bennett (Mark Wahlberg) needs to grow up fast to keep girlfriend Lori (Mila Kunis). Not easy when John's best friend is a sentient, slobbish teddy bear (Seth MacFarlane).
The Awkward Moment: Ted pulls strings so that John can serenade Lori from the stage of a Norah Jones gig.
Look Away When: John starts singing Octopussy theme tune All Time High in totally the wrong key.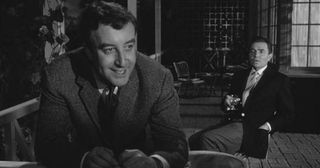 Lolita (1962)
The Movie: Stanley Kubrick makes the unmakeable, adapting Nabokov's infamous satire about paedophile Humbert Humbert (James Mason) and his desire for step-daughter Lolita (Sue Lyons).
The Awkward Moment: Humbert, hoping to find a quiet hotel with Lolita, discovers it is full of police officers... and one of them, in fact fellow paedophile Clare Quilty (Peter Sellers) going incognito, won't leave Humbert alone.
Look Away When: Quilty sleazily notes, " I wish I had a lovely daughter like that."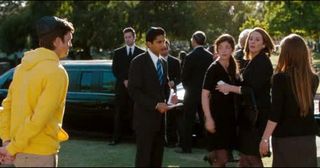 No Strings Attached (2011)
The Movie: Beating the similarly themed Friends With Benefits into cinemas, this is the one where Natalie Portman and Ashton Kutcher make a pact to become fuck-buddies.
The Awkward Moment: When Emma (Portman) invites Adam (Kutcher) to meet the family, he shows up in a bright yellow sweatshirt, not realising the event is a funeral.
Look Away When: Emma compounds his embarrassment by denying that she's dating Adam - "I'm not. I just had a one night stand with him when I was fourteen."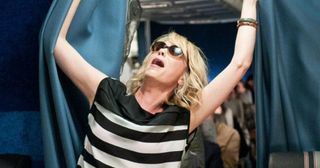 Bridesmaids (2011)
The Movie: Paul Feig's hit comedy sees trouble-magnet Annie (Kristen Wiig) trying - and failing - to step up to the duties of chief bridesmaid for best pal Lillian (Maya Rudolph).
The Awkward Moment: Scared of flying, Annie wrecks the trip to the hen party after taking a dangerous mix of alcohol and sedatives.
Look Away When: Annie remonstrates with steward Steve (aka "Stove") by doing Hitler impersonations.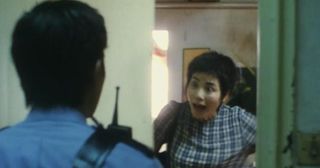 Chungking Express (1994)
The Movie: Wong Kar-Wai's zippy Hong Kong drama sees two would-be romances floundering, the second one largely because infatuated Faye (Faye Wong) is pretty much stalking Cop 663 (Tony Leung).
The Awkward Moment: Faye has been breaking into 663's apartment for a while, but has to think fast when he comes home while she's still there.
Look Away When: Faye gives a terrible response to what she's doing there - "you asked me to visit you."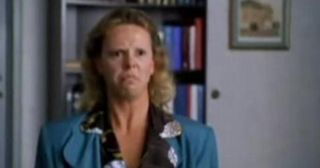 Monster (2003)
The Movie: This biopic of serial killer Aileen Wuornos - played by an unrecognisable, Oscar-winning Charlize Theron - lifts the lid on the American dream.
The Awkward Moment: Aileen goes for a job interview and is heckled by her would-be employer - "when the beach party is over, you don't get to say: You know what? Now I think I'd like to have what everybody else has worked their entire life for."
Look Away When: Aileen's placid facade crumbles and she spits back, "Fuck you!" with unexpected venom.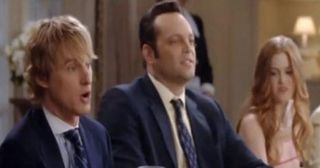 Wedding Crashers (2005)
The Movie: Along with pal John Beckwith (Owen Wilson), Jeremy Grey (Vince Vaughn) has a great plan - crash weddings to get laid. Until he meets crazy Gloria Cleary (Isla Fisher).
The Awkward Moment: Invited to a posh dinner at the Clearys' house, Jeremy certainly isn't expecting Gloria to give him an impromptu hand job under the table.
Look Away When: The camera cuts to a close-up of Gloria's hand rubbing Jeremy's crotch.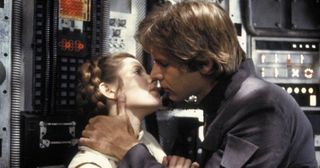 The Empire Strikes Back (1980)
The Movie: Blockbuster sci-fi sequel - or screwball comedy about the growing romance between Han Solo (Harrison Ford) and Princess Leia (Carrie Fisher)?
The Awkward Moment: Leia tries to rebuff Han's help aboard the Millennium Falcon. "My hands are dirty." "My hands are dirty too. What are you afraid of?"
Look Away When: C-3PO interrupts a near-kiss. If looks could kill droids, Han's withering glare would do the job.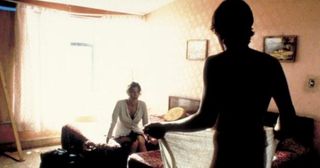 Y Tu Mama Tambien (2001)
The Movie: Alfonso Cuaron's movie is - depending on your viewpoint - a subtle satire about the Mexican class system, or a brainy sex comedy about two teenagers with the horn for an older woman.
The Awkward Moment: Tenoch (Diego Luna) finds Luisa (Maribel Verdú) crying; his stilted attempts to console her turn into an unexpected clinch.
Look Away When: They have sex, but a carried-away Tenoch climaxes almost immediately.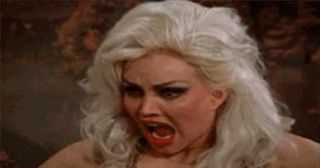 Desperate Living (1977)
The Movie: John Waters' typically taboo-busting crime thriller revolves around the inhabitants of transgressive shantytown Mortville.
The Awkward Moment: Self-loathing lesbian Mole McHenry (Susan Lowe) gets a sex change, but lover Muffy St Jacques (Liz Renay) doesn't like it, so Mole cuts off her new penis.
Look Away When: The severed penis is thrown out of the window, and a passing dog grabs it as a snack.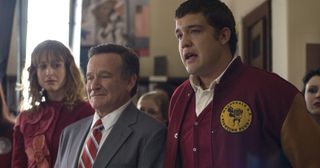 World's Greatest Dad (2009)
The Movie: Lance Clayton (Robin Williams) takes drastic measures to maintain family pride when his obnoxious son dies in an autoerotic asphyxiation accident.
The Awkward Moment: Lance finally admits to the school he faked his son's suicide: "you guys didn't like Kyle. That's okay. I didn't either. I loved him. He was my son. But he was also a douchebag."
Look Away When: A student walks over to Lance, and slaps him across the face.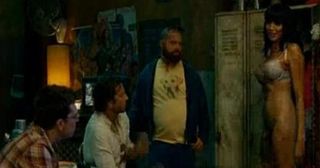 The Hangover Part 2 (2011)
The Movie: They've swapped Las Vegas for Bangkok - otherwise, it's business as usual as the Wolf Pack awakes without remembering a single thing they did the night before.
The Awkward Moment: Kimmy (Yasmin Lee) reveals that Stu (Ed Helms) had sex with her... Her? Him . Kimmy's a transgender prostitute.
Look Away When: Kimmy turns around and gives them all an eyeful of her manhood.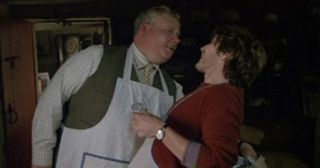 Withnail And I (1987)
The Movie: Unemployed actors Withnail (Richard E. Grant) and Marwood, aka I (Paul McGann) go on holiday by mistake to stave off boredom in Bruce Robinson's semi-autobiographical comedy about life at the fag-end of the 1960s.
The Awkward Moment: Marwood is confronted in his bedroom by Withnail's Uncle Monty (Richard Griffiths), who mistaken thinks Marwood is as gay as he is.
Look Away When: A desperate Monty yells that, "I mean to have you even if it must be burglary."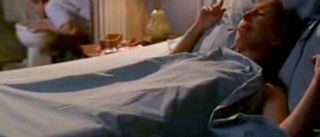 Kingpin (1996)
The Movie: The ten pin bowling circuit looks like the seventh circle of Hell in the Farrelly brothers' gross-out comedy.
The Awkward Moment: Down-and-out ex-star Roy Munson (Woody Harrelson) is so poor he has to have sex with his gnarly landlady (Lin Shaye) in lieu of rent.
Look Away When: Roy throws up post-shag as the landlady admits she needs to take a crap: "pump and dump."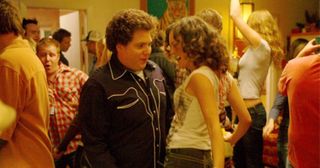 Superbad (2007)
The Movie: All Seth (Jonah Hill) and Evan (Michael Cera) want to do is have one great night out. How hard can it be?
The Awkward Moment: Seth thinks he's finally in with a girl at a party, only to realise she's on her period in the most embarrassing way possible.
Look Away When: Fellow partygoers twig what's happened: "ha ha dude! This guy's got period blood on his leg!"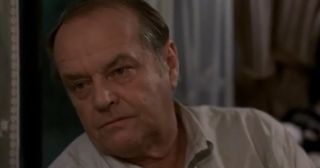 About Schmidt (2002)
The Movie: Jack Nicholson plays Warren Schmidt in Alexander Payne's tragicomedy about a misanthropic widower trying to find his way forward in life.
The Awkward Moment: Invited for dinner by a kind couple, Warren mistakes the intention of the wife (Connie Ray) when they have a heart-to-heart.
Look Away When: Warren makes a pass at her and she recoils in horror. "Get off me - are you insane?"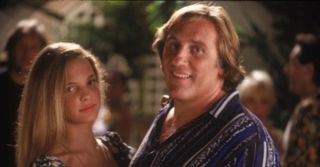 My Father The Hero (1994)
The Movie: Gérard Depardieu reprises his role as André, the divorced dad determined to do whatever it takes to keep daughter Nicole (a young Katherine Heigl) happy.
The Awkward Moment: After a tall tale by Nicole leads the community to wrongly believe her dad is a paedophile, André inadvertently chooses the most inappropriate song when he's asked to play "something French" at a posh restaurant.
Look Away When: André launches into a jovial rendition of Maurice Chevalier's Thank Heaven For Little Girls , as the room empties behind him.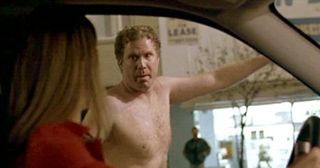 Old School (2003)
The Movie: How old is too old? For eternal fratboys like Frank "the Tank" Ricard (Will Ferrell), never.
The Awkward Moment: Frank heads off on a spontaneous streak, not realising nobody else is joining in, and is caught by his wife and her friends as they drive past.
Look Away When: Someone remarks, "looks like it's a little cold out there;" Frank's face is the definition of 'crestfallen.'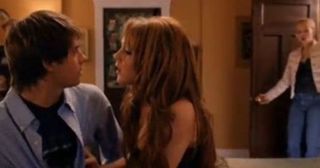 Mean Girls (2004)
The Movie: Tina Fey scripted the acerbic high school satire that gave a pre-meltdown Lindsay Lohan her finest hour as non-mean girl Cady Heron.
The Awkward Moment: Cady comes face-to-face with the guy she fancies at a party. Trouble is, she's paralytic.
Look Away When: Cady throws up in his lap. Not "word vomit" - actual vomit.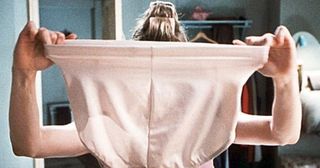 Bridget Jones' Diary (2001)
The Movie: The film of the newspaper column of the fictional diary of Bridget Jones (Renée Zellweger), torn between dashing Mark Darcy (Colin Firth) and bad boy Daniel Cleaver (Hugh Grant).
The Awkward Moment: Bridget has finally got Daniel into bed, but as he undresses her he discovers her "absolutely enormous panties."
Look Away When: Trying to convince Bridget that the pants are not a turn-off, Daniel slimily says, "Hello, Mummy." Yuck.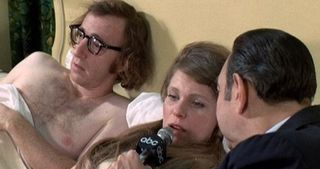 Bananas (1971)
The Movie: This early Woody Allen sees the writer/director play Fielding Mellish, a reluctant revolutionary who just wants to marry Nancy (Louise Lasser).
The Awkward Moment: The Fielding Mellish honeymoon night - as shown live on TV by Wide World of Sports . "They approach each other cautiously - nothing unusual about that," exclaims presenter Howard Cosell.
Look Away When: Nancy tells Cosell, "He's not the worst I've had. He's not the best I've had, but he's not the worst."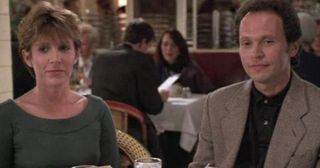 When Harry Met Sally... (1989)
The Movie: Harry (Billy Crystal) and Sally (Meg Ryan) were meant for each other. They just won't admit it.
The Awkward Moment: The friends go on a double date - Sally with Jess (Bruno Kirby), Harry with Marie (Carrie Fisher). Neither has anything in common.
Look Away When: Harry and Marie exhaust a potential line of conversation within seconds, and go back to stony silence.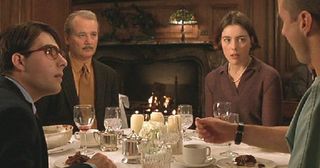 Rushmore (1998)
The Movie: Wes Anderson's breakthrough charts the life of precocious teenager Max Fischer (Jason Schwartzman) and his undeclared love for teacher Miss Cross (Olivia Williams).
The Awkward Moment: Insane with misplaced jealousy, Max berates Miss Cross' old friend Dr Peter Flynn (Luke Wilson) when the latter is invited to dinner without Max's knowledge.
Look Away When: Max blurts out the truth when Miss Cross asks how she's hurt Max's feelings, and he tells her, "I'm in love with you."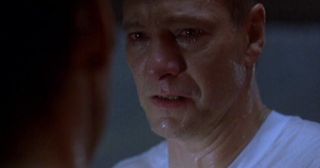 American Beauty (1999)
The Movie: Sam Mendes' suburban satire revolves around the mid-life crisis and eventual murder of Lester Burnham (Kevin Spacey) - but who killed him, and why?
The Awkward Moment: Lester's neighbour and closeted homosexual, Colonel Frank Fitts (Chris Cooper), gets the wrong idea and tries to kiss Lester.
Look Away When: The Colonel's face crumples into the sad realisation he's made a terrible mistake.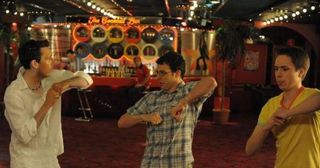 The Inbetweeners Movie (2011)
The Movie: Will, Simon, Neil and Jay hit Malia in the biggest Britcom success in years.
The Awkward Moment: Jay (James Buckley) introduces his mates to club etiquette - dance your way over to the girls you fancy.
Look Away When: Will (Simon Bird) joins in, looking like he's pretending to ride a horse.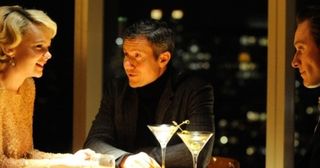 Shame (2011)
The Movie: Steve McQueen's study of a self-loathing sex addict in New York is pretty much one long awkward moment, but if we had to choose…
The Awkward Moment: Brandon (Michael Fassbender) plays gooseberry as his boss David (James Badge Dale) hits on his sister Sissy (Carey Mulligan).
Look Away When: They all head back to Brandon's apartment, where Sissy and David audibly get down to business.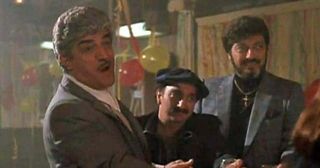 Goodfellas (1990)
The Movie: Scorsese's Mob masterpiece is a reminder that, while it's OK for Tommy DeVito (Joe Pesci) to bust his friends' balls, he can't take the same joke.
The Awkward Moment: Billy Batts (Frank Vincent) unwisely rattles Tommy by telling him to "go home and get your fuckin' shinebox."
Look Away When: Tommy returns - with murderous intent.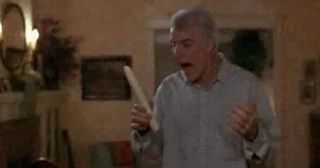 Parenthood (1989)
The Movie: Ron Howard's dramedy about a crazy suburban family is fit to bursting with a great cast - Steve Martin, Jason Robards, Dianne Wiest and Keanu Reeves amongst them.
The Awkward Moment: When there's a power cut during dinner, dad Gil (Martin) searches for the flashlight but finds his wife's dildo instead.
Look Away When: Daughter Taylor (Alisan Porter) remarks innocently, "It was kind of big." Grandma (Helen Shaw) replies, not so innocently, "it sure was."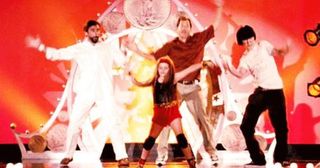 Little Miss Sunshine (2006)
The Movie: Jonathan Dayton and Valerie Faris' Oscar-winning debut sees the dysfunctional Hoover family travel cross-country to help daughter Olive (Abigail Breslin) pursue her beauty queen dream.
The Awkward Moment: Olive does her dance routine to Super Freak , and it's wildly inappropriate.
Look Away When: The family storms the stage and joins in with Olive.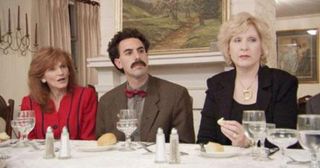 Borat (2006)
The Movie: Sacha Baron Cohen arrives in America disguised as Kazakh journalist Borat Sagdiyev, determined to do mischief.
The Awkward Moment: Attempts to educate Borat in Southern civility flounder when he causes uproar at a posh dinner by bringing prostitute Luenell to the house.
Look Away When: Borat returns to the table from a loo break, still clutching his poo in a plastic bag.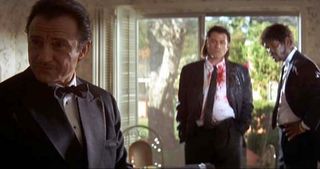 Pulp Fiction (1994)
The Movie: Quentin Tarantino's multi-strand epic features so many characters trapped in weird situations that the awkwardness factor is high throughout.
The Awkward Moment: Winston Wolf (Harvey Keitel) has turned up to deal with 'the Bonnie situation,' but Vincent Vega (John Travolta) risks everything by getting shirty because Wolf didn't say "please."
Look Away When: Vincent and Jules (Samuel L. Jackson) end up on car-cleaning duty. As Jules says, "this is some fucked-up repugnant shit."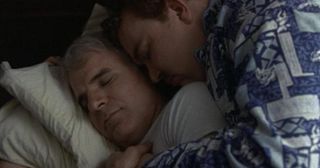 Planes, Trains and Automobiles (1987)
The Movie: John Hughes' mismatched-buddy comedy sees uptight Neal Page (Steve Martin) have to make his way home for Thanksgiving in the company of slobbish Del Griffith (John Candy).
The Awkward Moment: The two men have to share a bed.
Look Away When: Realisation dawns as to where Del's hand is. "Those aren't pillows!" screams Neal.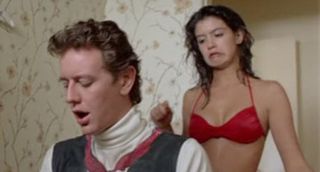 Fast Times At Ridgemont High (1982)
The Movie: If Amy Heckerling's high school comedy rings painfully true, that's because Cameron Crowe's screenplay was based on his own undercover research.
The Awkward Moment: Brad Hamilton (Judge Reinhold) knocks one out over his sister's best friend, Linda (Phoebe Cates).
Look Away When: Linda walks in on Brad and the best he can manage is outrage: "Jeez. Doesn't anyone fucking knock any more?"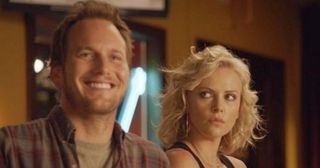 Young Adult (2011)
The Movie: Jason Reitman and Diablo Cody turn the screws on an aging-but-still-immature generation that can't let go of the past, via the hideous presence of selfish kidult author Mavis Gary (Charlize Theron).
The Awkward Moment: Mavis has returned to win back high-school crush Buddy (Patrick Wilson), only to hear his current wife playing a cover version of Mavis and Buddy's old song, Teenage Fanclub's The Concept .
Look Away When: She reminds him it was the song playing the first time she went down on him.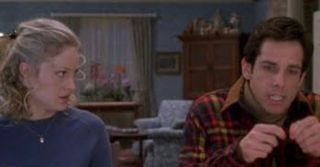 Meet The Parents (2000)
The Movie: What could be more awkward than meeting your partner's parents? For Greg Focker (Ben Stiller), finding out his future father-in-law is creepy CIA vet Jack Byrnes (Robert De Niro), that's what.
The Awkward Moment: Greg and Jack come to blows over the latter's milkable cat, Mr Jinx. "You can milk just about anything with nipples," reckons Greg. "I have nipples, could you milk me?" retorts Jack.
Look Away When: At the same meal, Greg accidentally demolishes the urn containing the ashes of Jack's mother.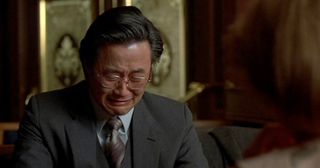 Fargo (1996)
The Movie: Never mind the Coen brothers' tale of kidnap and murder in the Minnesota snow, Fargo is also the story of happily-married, about-to-drop police chief Marge Gunderson (Frances McDormand).
The Awkward Moment: Marge takes a break from the case to meet old school friend Mike Yanagita (Steve Park), only to discover he's hoping for more than a chat.
Look Away When: Mike starts sobbing. "You were such a super lady. And I'm, I'm so lonely."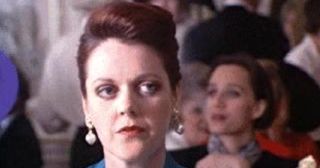 Four Weddings And A Funeral (1994)
The Movie: The clue's in the title.
The Awkward Moment: A table plan snafu sees Charles (Hugh Grant) seated amongst a posse of ex-girlfriends who are only too happy to spill the communal beans.
Look Away When: The girls discuss a fellow ex they knew only as Miss Piggy. Turns out she's at the table, too, but has "lost a lot of weight since then."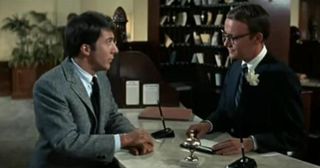 The Graduate (1967)
The Movie: Mike Nicholls' era-defining comedy reminded that the Sixties didn't just swing for the kids.
The Awkward Moment: A nervous Benjamin Braddock (Dustin Hoffman) tries to book a room for his affair with Mrs Robinson (Anne Bancroft) from a suspicious clerk (Buck Henry).
Look Away When: Asked about luggage, Ben panics and says the porter shouldn't bring it in because "I only have a toothbrush."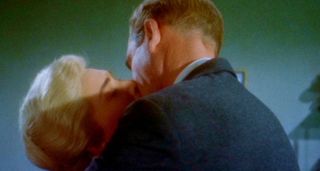 Vertigo (1958)
The Movie: The new "greatest film ever made," according to the critics, sees Alfred Hitchcock making us uncomfortable over voyeurism and necrophilia.
The Awkward Moment: Scottie Ferguson (James Stewart) drags Judy Barton (Kim Novak) into a shop to give her an unusual makeover - he wants her to look just like Madeleine Elster, the woman he loved and lost [little realising that Judy is Madeleine].
Look Away When: Scottie starts on her hair - "Judy, please, it can't matter to you."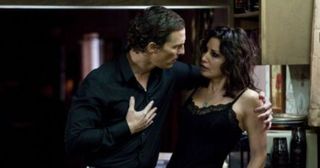 Killer Joe (2011)
The Movie: How deep-fried is William Friedkin's Texan comedy-thriller and return to form? Let's see.
The Awkward Moment: Killer Joe Cooper (Matthew McConaughey) confronts Sharla Smith (Gina Gershon) about her hitherto secret role in events.
Look Away When: He humiliates her by forcing her to fellate a piece of deep-fried chicken held to his crotch. There, that deep-fried.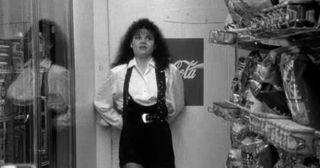 Clerks (1994)
The Movie: Kevin Smith's never-bettered debut about a day in the life of reluctant convenience store clerk Dante Hicks (Brian O'Halloran).
The Awkward Moment: Old flame Caitlin (Lisa Spoonhauer) thinks she's had the best shag ever with Dante in the Quick Stop bathroom... except it wasn't him.
Look Away When: Smith gives us a close-up of the guy Caitlin shagged: a dead passenger who passed away on the toilet while masturbating.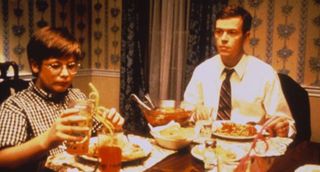 Happiness (1998)
The Movie: Todd Solondz invites outrage with his ensemble black comedy about the vile underbelly of suburbia.
The Awkward Moment: Billy Maplewood (Rufus Read), having found out his father Bill (Dylan Baker) is a paedophile, asks dad some searching questions.
Look Away When: Asked if he'd ever fuck his son, Bill replies, "No. I jerk off instead."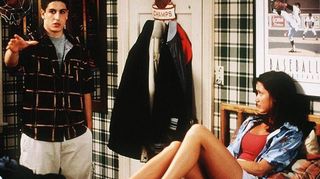 American Pie (1999)
The Movie: Four lads, one pact - to lose their virginity by graduation, or forever hold their piece.
The Awkward Moment: Jim (Jason Biggs) scores with hot exchange student Nadia (Shannon Elizabeth), but has unwisely been peer-pressured into playing the whole event live via webcam.
Look Away When: Jim prematurely ejaculates - for the second time.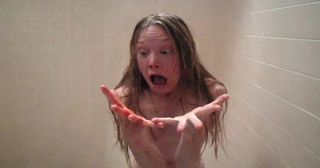 Carrie (1976)
The Movie: It might be a telekinetic horror-show, but Brian De Palma's Stephen King adap is also a bruising portrayal of a naïve girl's rite of passage.
The Awkward Moment: Carrie White (Sissy Spacek) has her first period - something her mad religious mother has never prepared her for - at school, and assumes she's dying.
Look Away When: Her classmates taunt her and throw tampons at her.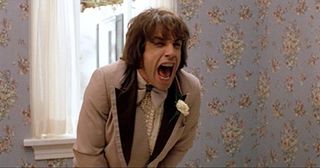 There's Something About Mary (1998)
The Movie: The Farrelly brothers hit the motherlode with the story of Ted Stroehmann (Ben Stiller), a guy around whom awkwardness orbits like a sun.
The Awkward Moment: Ted starts as he means to go on, ruining his prom date with Mary Jensen (Cameron Diaz) by having a zipper malfunction.
Look Away When: The Farrellys cut to a close-up of Ted's red-raw penis.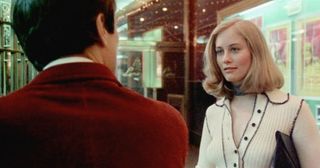 Taxi Driver (1976)
The Movie: Robert De Niro's sociopathic cabbie Travis Bickle struggles to relate to normal life after Vietnam, in Martin Scorsese's classic.
The Awkward Moment: Travis convinces Betsy (Cybill Shepherd) to go out on a date…and then takes her to a porno.
Look Away When: Betsy storms out, yelling at Travis, "Taking me to this place is about as exciting to me as saying, 'Let's fuck.'"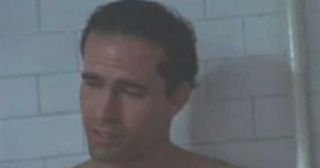 Your Friends And Neighbors (1998)
The Movie: Misanthropy rules in Neil LaBute's squirm-inducing black comedy about a bunch of narcissistic, amoral friends.
The Awkward Moment: Laddish banter about their best sexual experience turns sour when Cary (Jason Patric) admits his involved raping a male classmate at high school. "It's never been like that with a woman, ever."
Look Away When: Jerry (Ben Stiller) admits his own best was Barry's (Aaron Eckhart) wife. "That beats my story," reckons Cary.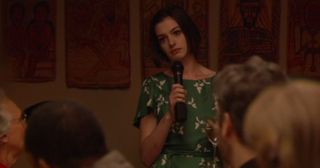 Rachel Getting Married (2008)
The Movie: Jonathan Demme's painfully realistic film about a wedding celebration unravelled by the arrival of the bride's sister and recovery drug addict, Kym (Anne Hathaway).
The Awkward Moment: Kym kills the mood by giving a rambling, self-absorbed toast at the rehearsal dinner - "Hello. I'm Shiva the destroyer and your harbinger of doom for the evening."
Look Away When: Kym gets the giggles telling an inappropriate story about trying to apologise to a girl... "but I couldn't talk to her because her Mom took out a restraining order."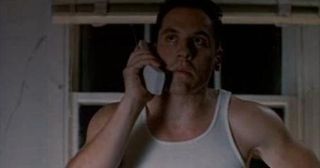 Swingers (1996)
The Movie: Jon Favreau wrote himself his breakthrough role as Mike, a struggling actor trying to get back into the dating game.
The Awkward Moment: Mike leaves potential date Nicky a voicemail - but did she get the whole number? So he leaves her another message. And then another. And another. Mike just doesn't know when to shut up.
Look Away When: Nicky answers. "Don't ever call me again."