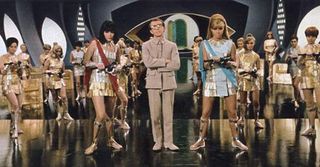 Jimmy Bond
The Character: James Bond's nephew in Casino Royale , masquerading as SMERSH boss Dr Noah in order to kill all men taller than him so he can get all the girls.
Best Line: "You can't shoot me! I have a very low threshold of death. My doctor says I can't have bullets enter my body at any time."
How Woody-Esque? The film's a mess, but this is a revealing portrait of how others saw Woody in the early days of his film career.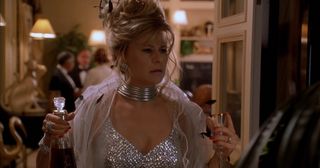 Frenchy
The Character: Woody's foil in Small Time Crooks is a dumb broad... with aspirations to being classy. Covers all the bases for a Woody Allen character, then.
Best Line: "I won't be held back mentally by some overage juvenile delinquent."
How Woody-Esque? Woody barely gets a look-in as Tracey Ullman seizes the chance to shine in a rare leading film role.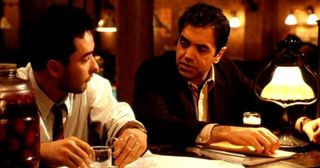 Cheech
The Character: New York gangster whose flirtation with the theatre in Bullets Over Broadway reveals an undiscovered gift as a playwright.
Best Line: "What am I? A fuckin' idiot? They taught me how to read and write in school before I burned it down." (He then clarifies: "it was Lincoln's birthday. There was nobody there.")
How Woody-Esque? In Woody's imagination, just about everybody wants to write like he can.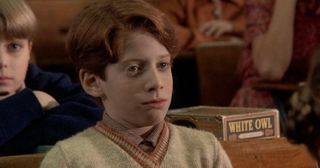 Joe
The Character: Woody Allen as a kid, basically… played by Seth Green in the director's autobiographical account of growing up, Radio Days .
Best Line: "Oh God, we're all going straight to hell!"
How Woody-Esque? The only way Joe could be more Woody-esque is if they went back and time and snatched the young Allan Konisberg off the streets.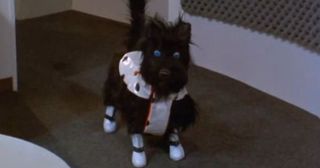 Rags
The Character: Robot dog in Sleeper given to Miles Monroe. We still don't know if he's house-broken or if he'll leave little batteries all over the floor.
Best Line: "Woof woof woof. Hello, I'm Rags."
How Woody-Esque? Rags' vocabulary is too limited for one-liners.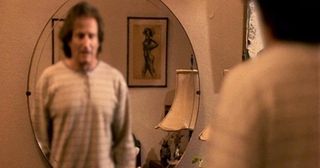 Mel
The Character: Robin Williams cameos as one of the eponymous writer's creations in Deconstructing Harry - an actor who has "gone soft," because he is constantly out of focus.
Best Line: "It's not an allergic reaction."
How Woody-Esque? A classic Woody gag - incredibly cinematic, yet loaded with psychological subtext.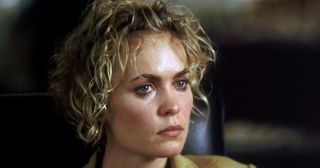 Melinda
The Character: A fictional woman becomes the subject of a dinner party debate, as two playwrights reshape her life into two - Melinda And Melinda - a comedy and a tragedy.
Best Line: Telling love interest Hobie about an ex-lover who "knew how to touch me," he asks, "you mean emotionally?" "No," Melinda replies, "with his hands."
How Woody-Esque? Often, when a woman gets the lead role in an Allen film, it's a drama ( Interiors , Another Woman ). This one is closer to the director's nature by offering two sides of the coin.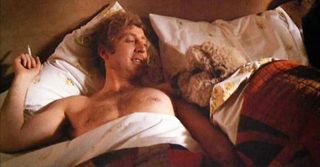 Dr Ross
The Character: Gene Wilder's doctor falls in love with a sheep in Everything You Always Wanted To Know About Sex* (*But Were Afraid To Ask) .
Best Line: Caught by his wife with the sex, Ross tries to deflect by telling her, "This is Mrs. Bencours, one of my patients. She thinks she's a sheep."
How Woody-Esque? Woody's sex life would eventually become the source of tabloid gossip...but bestiality? No.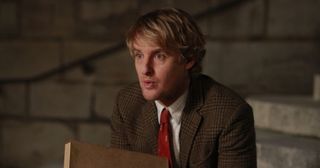 Gil Pender
The Character: Unfulfilled screenwriter who finds a new life - literally - when he realises that when it turns Midnight In Paris he can travel back to the 1920s.
Best Line: "Wonderful but forgettable. It sounds like a film I've seen. I probably wrote it."
How Woody-Esque? Owen Wilson doesn't look the part, but the actor's hesitant speaking style effortlessly apes Woody's shtick.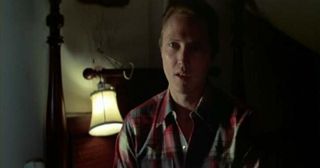 Duane Hall
The Character: Annie Hall's mentally disturbed brother - a memorable bit-part by a pre-fame Christopher Walken.
Best Line: "Sometimes when I'm driving... on the road at night... I see two headlights coming toward me. Fast. I have this sudden impulse to turn the wheel quickly, head-on into the oncoming car. I can anticipate the explosion. The sound of shattering glass. The... flames rising out of the flowing gasoline."
How Woody-Esque? A crazier, creepier version of Woody's own neuroses.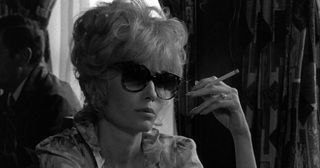 Tina
The Character: Brassy broad and consort of gangsters who fakes a relationship with Broadway Danny Rose to deflect from her actual affair with Danny's client.
Best Line: "You're living like a loser."
How Woody-Esque? Allen often cast Mia Farrow as variations on herself, but here her casts his then-girlfriend completely against type to showcase her range.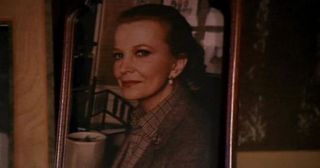 Marion Post
The Character: Philosophy professor (played by Gena Rowlands) whose rented flat enables her to eavesdrop on Another Woman , causing her to re-evaluate her life.
Best Line: "If someone had asked me when I reached my fifties to assess my life, I would have said that I had achieved a decent measure of fulfilment, both personally and professionally. Beyond that, I would say I don't choose to delve."
How Woody-Esque? One of Allen's most Bergman-esque films steers clear of comedy, but in her introverted way Marion is just as self-doubting as Woody.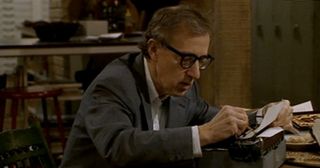 Harry Block
The Character: Famous writer who begins to question the morality of basing his fiction on friends and acquaintances in Deconstructing Harry .
Best Line: "I'm a guy who can't function well in life but can in art."
How Woody-Esque? As a wry apology for any writer's magpie thieving from their memories of real-life people, this is quintessentially Woody.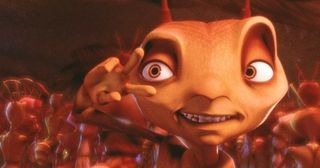 Z-4195
The Character: "Zee" is a neurotic worker ant in Dreamworks' CG animation Antz who falls in love with the colony's princess.
Best Line: "I think everything must go back to the fact that I had a very anxious childhood. My mother never had time for me. You know, when you're - when you're the middle child in a family of five million, you don't get any attention."
How Woody-Esque? One of the rare occasions when Allen acts in a film he didn't write, but it scarcely matters - this script mines just about every cliché in the Woody playbook.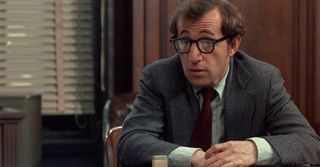 Howard Prince
The Character: Bookie who agrees to become The Front by taking credit for blacklisted writers' scripts during the McCarthy era and finds himself under investigation.
Best Line: "Fellas... I don't recognize the right of this committee to ask me these kind of questions. And furthermore, you can all go fuck yourselves."
How Woody-Esque? Although Howard is meant to be unable to write in this rare dramatic role for Allen, Woody can't help but make him a witty figure.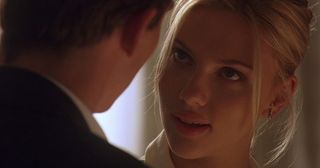 Nola Rice
The Character: A struggling American actress failing to fit in with the British upper class in Match Point , until she's murdered by lover Chris.
Best Line: Asked if she's anything special, Nola replies, "Well, no one's ever asked for their money back."
How Woody-Esque? As a catty American in an otherwise all-British class, she's the most Woody-esque by default. Allen was impressed enough by Scarlett Johansson's performance to work with her twice since.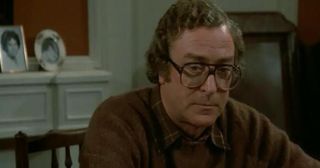 Elliot
The Character: Michael Caine won his first Oscar playing Elliot in Hannah And Her Sisters - husband to Hannah and lover of one of her sisters.
Best Line: "God, she's beautiful. She's got the prettiest eyes. She looks so sexy in that sweater. I just want to be alone with her and hold her and kiss her and tell her how much I love her and take care of her. Stop it you idiot, she's your wife's sister."
How Woody-Esque? Woody takes the more Woody-esque role of Mickey Sachs in the film, but given his own turbulent personal life, there may be more of him in Elliot than he'd care to admit.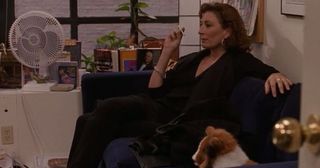 Marcia Fox
The Character: Kooky poker-playing author who encourages Woody to catch an alleged killer in Manhattan Murder Mystery .
Best Line: "When I come back from the ladies room, I'll tell you how to trap him."
How Woody-Esque? Angelica Huston is hardly in the film, but she's exactly the kind of oddball presence who tends to steal later Woody films from under the star's nose.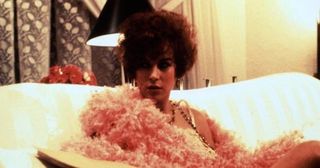 Olive Neal
The Character: Jennifer Tilly gets a fabulous excuse to use her screechy voice as the dumb gangster's moll whose dreams of stardom ignite the plot of Bullets Over Broadway .
Best Line: Given "black pearls" as a gift, Olive moans, "What do think I am, some kind of chump? They're black for God's sake. They probably came from defective oysters."
How Woody-Esque? Olive's complete lack of intellectual guile puts her on the opposite end of the spectrum.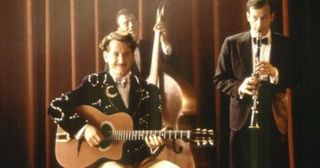 Emmet Ray
The Character: Alcoholic jazz guitarist (played by Oscar-nominated Sean Penn) who finds that his belief in never settling down is being tested by his love for mute Hattie in Sweet And Lowdown .
Best Line: The mournful, repeated last line: "I made a mistake!"
How Woody-Esque? Never mind their shared relationship troubles; his love of jazz mirrors Woody's own.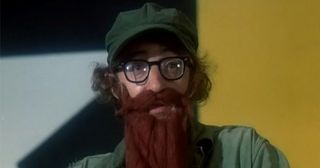 Fielding Mellish
The Character: Mellish is so hot for the politically-minded Nancy that he becomes a reluctant revolutionary to prove his credentials in Bananas .
Best Line: Told he has a chance to die for freedom, Mellish responds, "Yes, well, freedom is wonderful. On the other hand, if you're dead, it's a tremendous drawback to your sex life."
How Woody-Esque? He might start a revolution, but he'd much rather be airing his complaints to his psychiatrist.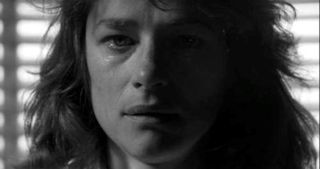 Dorrie
The Character: The troubled ex-girlfriend of Sandy Bates in Stardust Memories , whose mental disintegration led to her being institutionalised.
Best Line: "There's a doctor here who thinks I'm beautiful or interesting."
How Woody-Esque? Misogynistic in conception but heart-breaking in Charlotte Rampling's performance, Dorrie shows Allen's intermingling of cynicism and affection.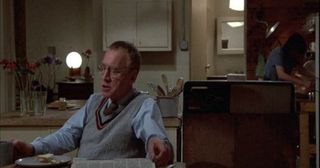 Frederick
The Character: Max Von Sydow plays this reclusive artist in Hannah And Her Sisters , whose condescending attitude towards lover Lee sends her into an affair with her sister's husband.
Best Line: On Auschwitz: The reason they can never answer the question 'How could it possibly happen?' is that it's the wrong question. Given what people are, the question is 'Why doesn't it happen more often?'"
How Woody-Esque? Who better than Von Sydow, a regular for Allen's hero Ingmar Bergman, to play a character at the more waspish, intense end of Woody's character spectrum?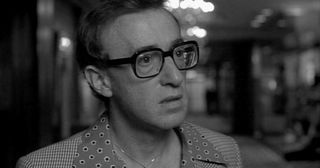 Danny Rose
The Character: Two-bit talent agent - the eponymous Broadway Danny Rose - whose one successful client gets him involved with the Mob.
Best Line: "You know what my philosophy of life is? That it's important to have some laughs, but you gotta suffer a little too, because otherwise you miss the whole point to life."
How Woody-Esque? Proof that Allen could stray out of his comfort zone as an actor - Danny is no intellectual, but his romanticism is pure Woody.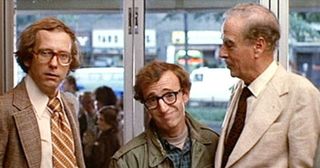 Marshall McLuhan
The Character: The real-life media philosopher who realised that "the medium is the message," brought into Annie Hall by Allen to berate a pseudo-intellectual abusing his work.
Best Line: "You know nothing of my work! You mean my whole fallacy is wrong. How you got to teach a course in anything is totally amazing!"
How Woody-Esque? Who else would even think to include someone like McLuhan in his film?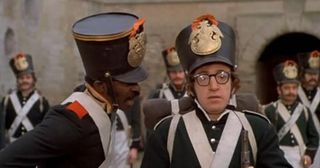 Boris
The Character: Russian pacifist - or, technically, coward - determined to avoid the Napoleonic Wars in Love And Death .
Best Line: "There are worse things in life than death. I mean, if you've ever spent an evening with an insurance salesman, you know exactly what I mean. The key here, I think, is to not think of death as an end, but think of it more as a very effective way of cutting down on your expenses."
How Woody-Esque? The first Allen film set entirely outside America confirms that Woody will always be Woody wherever he is.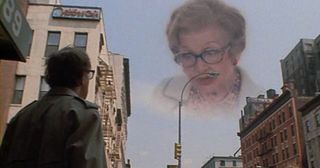 Mother
The Character: Mae Questel essays every Jewish mother joke available in New York Stories , as Woody wishes she'd disappear but she reappears in the sky to broadcast her disapproval of her son.
Best Line: "I was just discussing your problem with these nice people."
How Woody-Esque? At least some of this has to be based on personal experience.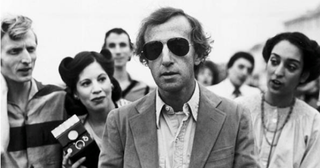 Sandy Bates
The Character: A movie director hounded by fans who prefer his "earlier, funnier movies." Real life or the premise of Stardust Memories ?
Best Line: "To you, I'm an atheist; to God, I'm the loyal opposition."
How Woody-Esque? Allen has often played writers in his films, but this is the only time he played an actual film director.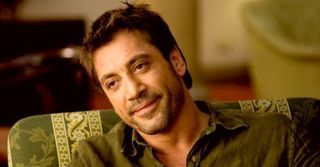 Juan Antonio Gonzalo
The Character: Spanish artist (played by Javier Bardem) whose charismatic presence brings a wedge between the titular stars of Vicky Cristina Barcelona .
Best Line: "I'll show you around the city, and we'll eat well. We'll drink good wine. We'll make love."
How Woody-Esque? Rugged, manly and seething with passion - well, one out of three ain't bad.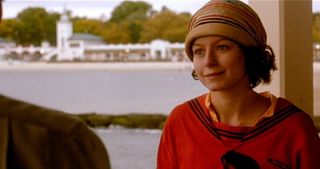 Hattie
The Character: Samantha Morton made her name (and earned an Oscar nomination) as the mute who turns out not to be so shy when she falls in love with jazz guitarist Emmet Ray in Sweet And Lowdown .
Best Line: None, obviously - but Morton beguiles with her face alone.
How Woody-Esque? Hattie stands out amongst all of Woody's fast-talking gals.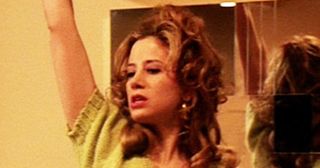 Linda Ash
The Character: When Woody adopts a son in Mighty Aphrodite , he decides to track down the biological mother - 'tart with a heart' Linda (Mira Sorvino in an Oscar-winning performance).
Best Line: Discussing her prized possession, a novelty watch: "the mainspring goes back and forth, the bishop keeps fucking her in the ass. It's a genuine antique and it keeps perfect time."
How Woody-Esque? The Pygmalion -inspired plot marks a change from Woody's usual penchant for female co-stars as bookish and intellectual as he is.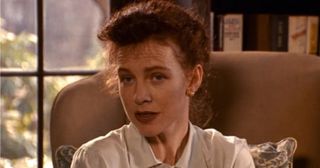 Sally
The Character: After her husband leaves her, Sally reluctantly but sarcastically discovers life after being Husbands And Wives .
Best Line: "It's the Second Law of Thermodynamics: sooner or later everything turns to shit. That's my phrasing, not the Encyclopaedia Britannica."
How Woody-Esque? In a film that mirrored the end of Woody's real-life relationship with Mia Farrow, Oscar-nominated Judy Davis gives a memorable portrayal of what happens to someone after their partner leaves them.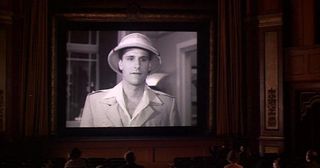 Tom Baxter
The Character: The main protagonist of film-within-a-film The Purple Rose Of Cairo (played by Jeff Daniels), who steps out of his own movie when he spies lonely Cecilia watching the movie over and over.
Best Line: Tom suddenly becomes aware of the advantages of not being tied to the standards of 1930s Hollywood. "You make love without fading out?"
How Woody-Esque? Totally different, yet imbued with all the hallmarks of Allen's idealised version of Golden Age cinema - "honest, dependable, courageous, romantic, and a great kisser."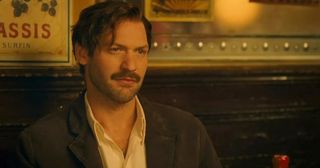 Ernest Hemingway
The Character: Allen has fun recreating the literary titans of the 1920s in Midnight In Paris , nowhere more so than in Corey Stoll's rambunctious portrayal of Hemingway.
Best Line: Asked to give his opinion of time-traveller Gil's novel, Hemingway refuses. "If it's bad, I'll hate it. If it's good, then I'll be envious and hate it even more. You don't want the opinion of another writer."
How Woody-Esque? Since Hemingway's credo is that "you'll never write well if you fear dying," probably not.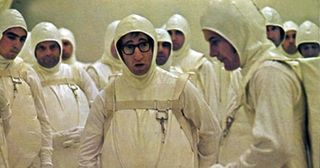 Sperm #1
The Character: As his 'owner' prepares for sex in Everything You Always Wanted To Know About Sex* (*But Were Afraid To Ask) , the pressure is on for Allen and his fellow semen to find their way towards the target egg.
Best Line: "I'm not getting shot out of that thing. What if he's masturbating? I'm liable to end up on the ceiling."
How Woody-Esque? He could be the seed for all Woody Allen characters.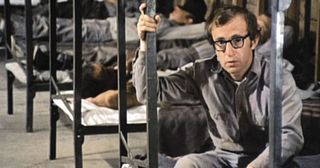 Virgil Starkwell
The Character: Inept bank robber, whose life of crime is followed in (spoof) documentary Take The Money And Run .
Best Line: "The psychiatrist asked me, do I think sex is dirty. I said, 'it is if you're doing it right.'"
How Woody-Esque? As Allen's first self-directed surrogate, Virgil set the standard for on-screen Woody-ness.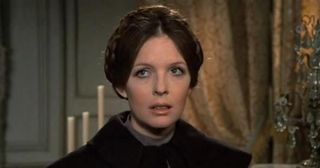 Sonja
The Character: In Love And Death , Diane Keaton provides the former as Woody's philosophically-minded Russian cousin and, later, wife.
Best Line: "I'm having trouble adjusting my belt. Do you think you could come over here and hold my bosom for a while?"
How Woody-Esque? Mixing physical comedy with highbrow literature gags, Sonja is very nearly the perfect Woody heroine… except that, for Keaton, it's just a dry run for Annie Hall .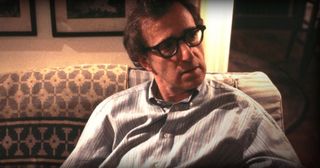 Gabe Roth
The Character: Apparently settled down with Judy (Mia Farrow), his certainties about Husbands And Wives are torn apart when their best friends separate.
Best Line: "Can I go? Is this over?"
How Woody-Esque? Made documentary-style as Allen was breaking up with on-screen/off-screen partner Farrow, this cuts uncomfortable close to the bone in portraying Woody's mid-life crisis.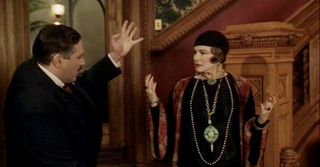 Helen Sinclair
The Character: Alcoholic theatre star in Bullets Over Broadway , whose scene-stealing antics bagged Dianne Wiest her second Best Support Actress Oscar for a Woody Allen film.
Best Line: "I'm still a star. I never play frumps or virgins."
How Woody-Esque? Allen didn't always act, so when he stays behind the camera those zingers have to go to somebody.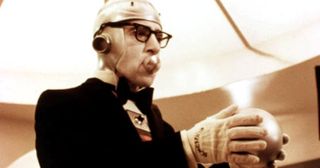 Miles Monroe
The Character: Jazz musician who is cryogenically frozen for 200 years and forced to find his way in a 22nd Century police state in Sleeper .
Best Line: "Sex and death - two things that come once in a lifetime... but at least after death, you're not nauseous."
How Woody-Esque? Even though this is science-fiction, no matter what the genre, Woody can't help being Woody.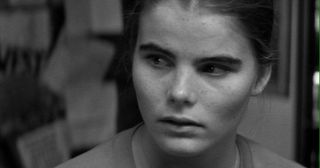 Tracy
The Character: 17-year-old student (played by Mariel Hemingway) who dates Woody's older man Isaac in Manhattan .
Best Line: "Not everybody gets corrupted. You have to have a little faith in people."
How Woody-Esque? Uncomfortably so.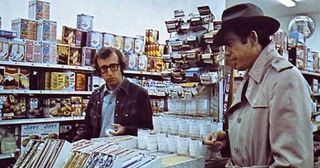 Humphrey Bogart
The Character: The ghost of the late Hollywood star (played by Jerry Lacy), who doles out advice to Woody's character, Allan Felix, in Play It Again, Sam .
Best Line: Bogart tells Allan to move closer for a kiss. How close? "The length of your lips."
How Woody-Esque? The whole point is that Woody is nothing like Bogie.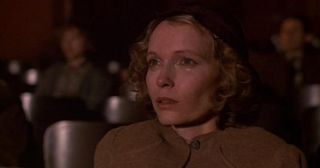 Cecilia
The Character: Lonely housewife who finds refuge from her unhappy marriage in the local cinema - and who finds fantasy bleeding into reality when movie character Tom Baxter comes to life.
Best Line: "I just met a wonderful new man. He's fictional but you can't have everything."
How Woody-Esque? The finest role Woody ever gave to his long-term lover Mia Farrow during their professional relationship - and it's about somebody enchanted with cinema.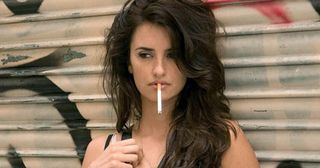 Mara Elena
The Character: Blowsy, suicidal Spaniard who can't keep away from stormy lover Juan Antonio in Vicky Cristina Barcelona .
Best Line: To Juan Antonio - "you'll always seek to duplicate what we had. You know it."
How Woody-Esque? A suitably tempestuous, Oscar-winning performance by Penélope Cruz highlights the divide with the more Woody-esque Vicky (Rebecca Hall).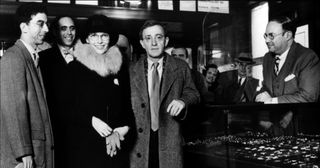 Leonard Zelig
The Character: Human chameleon who found fame in the early 20th Century for his ability to change his appearance and character to fit in wherever he is - even if that means Nazi Germany.
Best Line: "I'm treating two sets of Siamese twins with split personalities. I'm getting paid by eight people."
How Woody-Esque? For once, Woody submerges his usual personality to suit Zelig's intriguing character.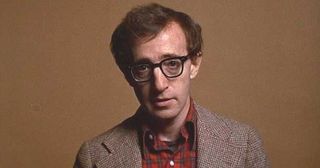 Alvy Singer
The Character: Neurotic? Check. Sex-obsessed? Sure. New Yorker? To the core. Funny? Yep, Alvy's the deliverer of some of Woody's best ever gags.
Best Line: "Hey, don't knock masturbation. It's sex with someone I love."
How Woody-Esque? As star of the transition from Allen's "early, funny ones" to a more searching, self-reflective autobiographical type of filmmaking, Alvy couldn't be any more like Woody if he tried.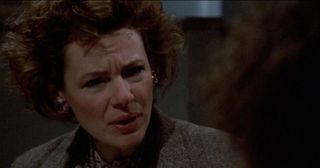 Holly
The Character: One of the sisters in Hannah And Her Sisters , Holly is a recovering addict and a failed actress who is forever in the shadow of her family.
Best Line: "My stupid roller-skating joke. I should never tell jokes. Mom can tell 'em and Hannah, but I kill 'em."
How Woody-Esque? A gift of a role for Oscar-winning Dianne Wiest, who makes Holly fragile, flawed but still fabulous - note she gets Woody in one of the director's most hopeful endings.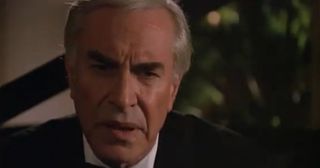 Judah Rosenthal
The Character: Martin Landau was Oscar-nominated for his performance in Crimes And Misdemeanors , as a man so terrified that his lover will reveal their affair that he has her killed.
Best Line: "If you want a happy ending, you should go see a Hollywood movie."
How Woody-Esque? One of the best examples of Allen writing a character to be the polar opposite of the Woody "type," in this case the director's own role as Cliff Stern.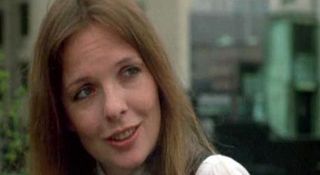 Annie Hall
The Character: The object of Alvy Singer's affection, breezing through life in bohemian dress and a "la-di-da" attitude.
Best Line: When Alvy won't smoke weed before sex, Annie replies, "You've been seeing a psychiatrist for 15 years. You should smoke some of this. You'd be off the couch in no time."
How Woody-Esque? The character for whom Woody will always be remembered as writer and director was, give or take, an exact likeness of the actress who played her, Diane Keaton.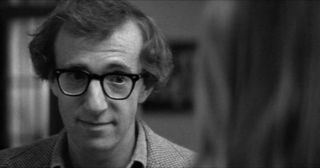 Isaac Davis
The Character: Middle-aged writer in the throes of juggling various relationships in Manhattan , who "has complaints about life but never any solutions" and idolises New York out of all proportion.
Best Line: "I think people should mate for life, like pigeons or Catholics."
How Woody-Esque? Perhaps the director's most honest self-portrait of the lot.