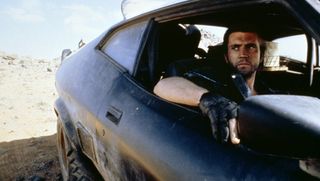 Drive time
Usually linear plotting is a bit of a pejorative term, meaning that a films script is overly simplistic. But road movies, out of necessity, actually turn getting from A to B into an art form. They also manage to be amazingly diverse considering they all have the same basic template: the start, the road, the end. Theres loads of fun to be had along the way, though, whether youre in a race where killing pedestrians earn you extra points or stuck in the car with geeks, geeking out endlessly or regretting you picked up that odd hitcher. Disclaimer: some road movies do no feature cars.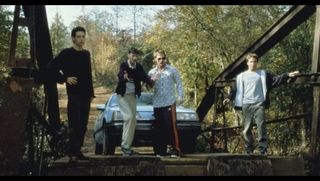 50. Road Trip (2000)
The Movie: Todd Phillips sends Breckin Meyer and Seann William Scott on a mission to retrieve an incriminating videotape, while slacker Tom Green stays behind to eat mice.
How To Recreate It: Videotape? Nowadays, you'd upload straight onto YouTube. Ironically, considering the film's title, this is one plotline consigned to history's dustbin.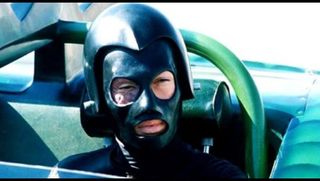 49. Death Race 2000 (1975)
The Movie: David Carradine and Sylvester Stallone do battle in the bloody Transcontinental Death Race, used by a dystopian government to quell dissent. Think The Hunger Games on wheels.
How To Recreate It: Since the mowing down of innocent pedestrians is a bit of a sticking point, this will need a new method of scoring points that doesn't involve fatalities. How about points for knocking down cardboard boxes?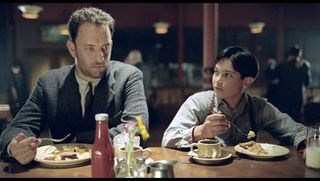 48. Road To Perdition (2002)
The Movie: Father/son bonding in gangland, as Sam Mendes sends crazy Jude Law after Tom Hanks and his boy.
How To Recreate It: Ask your dad for a lift out of town on the day you raid the stationery cupboard.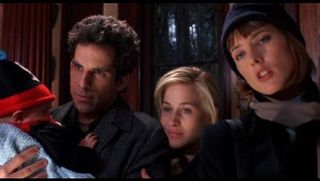 47. Flirting With Disaster (1996)
The Movie: Ben Stiller and Patricia Arquette are led on a wild goose chase around the States searching for Stiller's biological parents, in David O. Russell's screwball comedy.
How To Recreate It: Become famous and get signed up to the BBC's family tree show Who Do You Think You Are?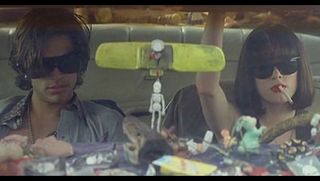 46. The Doom Generation (1995)
The Movie: Gregg Araki's pervy, nihilistic drama revels in the sexual possibilities of being on the road, as Rose McGowan, James Duval, and Johnathon Schaech get it on.
How To Recreate It: There are plenty of websites for this kind of hook-up. Go wild.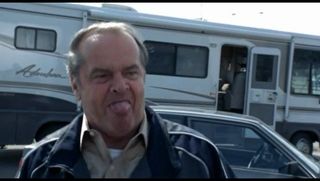 45. About Schmidt (2002)
The Movie: Unhappy widower Warren Schmidt (Jack Nicholson) heads off in his Winnebago on a fool's errand to stop his daughter getting married to a buffoon.
How To Recreate It: Buy a caravan and show up uninvited to cause a nuisance at the homes of friends and family.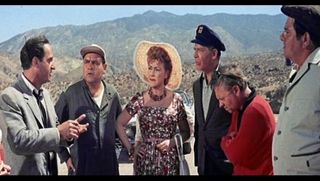 44. It's A Mad, Mad, Mad, Mad World (1963)
The Movie: Half of the comedians in Hollywood race to find buried loot in Stanley Kramer's epic chase comedy.
How To Recreate It: Tweet that you've left a million quid somewhere in the Lake District. Hashtags will do the rest.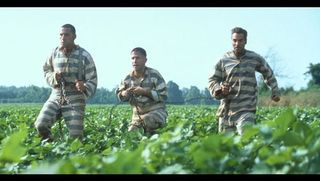 43. O Brother, Where Art Thou? (2000)
The Movie: The Coen brothers' deep-fried stew of Homer's Odyssey, Preston Sturges, and bluegrass music finds chain gang absconders George Clooney, John Turturro, and Tim Blake Nelson in a tight spot.
How To Recreate It: Skive community service for a wander around the countryside.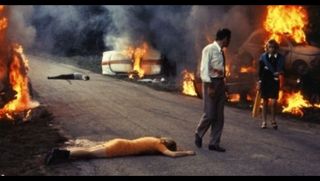 42. Weekend (1967)
The Movie: Jean-Luc Godard's apocalyptic, avant-garde vision of France tearing itself apart in a bloody mess of traffic accidents, leaving its residents no choice but to become cannibal revolutionaries.
How To Recreate It: Go to France. Godard wasn't kidding about their roads.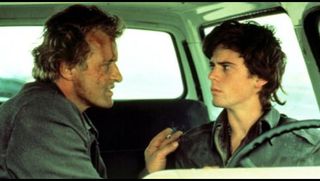 41. The Hitcher (1986)
The Movie: C. Thomas Howell picks up the wrong man when hitchhiker Rutger Hauer turns out to be a finger-severing psycho.
How To Recreate It: In the interests of your safety, giving lifts to weirdoes is best avoided. Maybe tone it down a little by carpooling with an annoying colleague?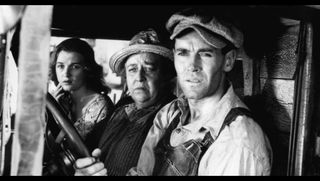 40. The Grapes Of Wrath (1940)
The Movie: John Ford tackles John Steinbeck's Great Depression classic, as Henry Fonda and family up sticks and head West in search of a better life.
How To Recreate It: Let's hope you never have to.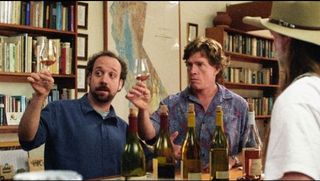 39. Sideways (2004)
The Movie: Paul Giamatti and Thomas Haden Church taste 'n' drive their way across California's vineyards, in Alexander Payne's mid-life crisis dramedy.
How To Recreate It: Join CAMRA for a boozy tour of the nation's finest real ales.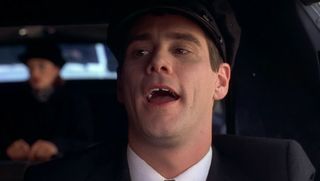 38. Dumb And Dumber (1994)
The Movie: The Farrelly brothers send idiot pals Jim Carrey and Jeff Daniels on a quest to return a lost briefcase. Star of the show, though, is their mode of transport, the sheepdog-inspired Mutt Cutts van.
How To Recreate It: Paint your car black and white and pretend it's a Dalmatian.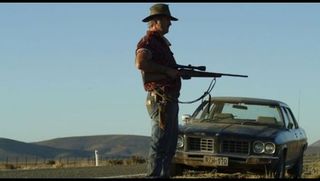 37. Wolf Creek (2005)
The Movie: The single worst advert for backpacker tourism in cinema history, as exterminator John Jarratt stalks a trio of hapless travellers.
How To Recreate It: Hitch a ride with the first larrikin who offers his help. Actually, on reflection, don't.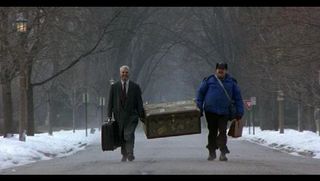 36. Planes, Trains And Automobiles (1987)
The Movie: John Hughes pairs John Candy (fat, jolly) with Steve Martin (thin, jaded) to create the "commuter hell" version of Laurel & Hardy.
How To Recreate It: Bribe the airport baggage handlers to strike on an Autumn day; leaves on the track will do the rest.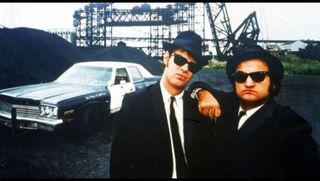 35. The Blues Brothers (1980)
The Movie: Jake and Elwood are on a mission from God to reform the band and save an orphanage. Trouble is, the long road ahead is teeming with police, C&W bands, and Illinois Nazis.
How To Recreate It: Form a band and go on tour. If anything, the Blues' experience will look tame.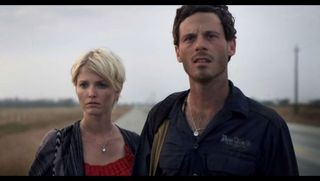 34. Monsters (2010)
The Movie: Gareth Edwards' lo-fi sci-fi imagines the Tex-Mex border as a no-go area thanks to an alien invasion. Scoot McNairy and Whitney Able risk everything to cross the danger zone.
How To Recreate It: Try to make it across Glasgow on the day of an Old Firm derby.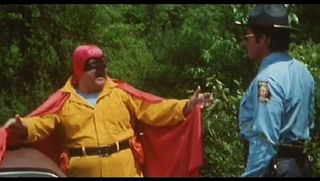 33. The Cannonball Run (1981)
The Movie: One race, and a lot of stars - Burt Reynolds, Dom DeLuise (aka Captain Chaos), Farrah Fawcett, Jackie Chan, Roger Moore, Dean Martin, and Sammy Davis Jr.
How To Recreate It: Become a producer on ITV2, and book Keith Lemon, Jordan, and the cast of TOWIE for a charity version of the race.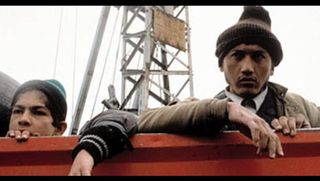 32. In This World (2002)
The Movie: Michael Winterbottom's docudrama about Pakistani refugees making the arduous journey to seek asylum in Britain gained authenticity from casting non-professionals Jamal Udin Torabi and Enayatullah as its stars.
How To Recreate It: Sadly, this one happens on a daily basis with often tragic results.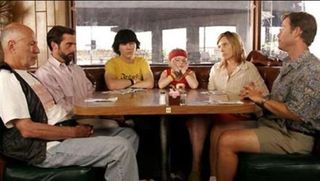 31. Little Miss Sunshine (2006)
The Movie: Whimsical Oscar-winning indie about a family who drop everything to drive daughter Abigail Breslin to a beauty pageant.
How To Recreate It: Take your niece to The X Factor auditions.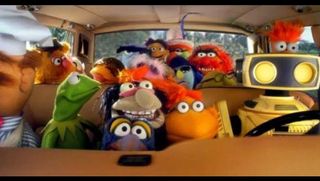 30. The Muppets (2011)
The Movie: Jason Segel's love letter to Henson's heroes thieves from The Muppet Movie's 'on the road' structure as he tries to put together the old team for one last hurrah.
How To Recreate It: Fancy a trip to New Zealand to reunite Peter Jackson's Feebles?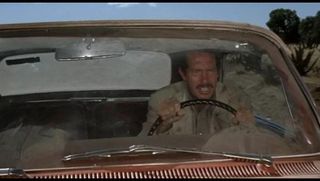 29. Bring Me The Head Of Alfredo Garcia (1974)
The Movie: Sam Peckinpah's surreal odyssey about a drifter (Warren Oates) forced to cross the Tex-Mex border with a decapitated head for company is the savage extreme of the road movie.
How To Recreate It: Spend the summer driving around some rotting meat for that authentically rancid, fly-blasted Peckinpah look.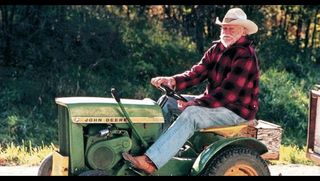 28. The Straight Story (1999)
The Movie: Elderly Richard Farnsworth sets off to visit his estranged brother on a ride-on John Deere lawnmower. A typically weird David Lynch film, but this time it's nice weird.
How To Recreate It: Buy a mower, visit your folks. Sign up to Just Giving and you could do it for charity.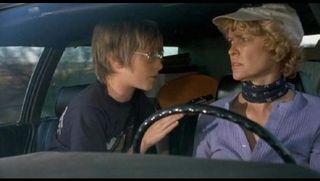 27. Alice Doesn't Live Here Anymore (1974)
The Movie: A change of pace for Martin Scorsese, as he hits the road to document the troubled life of Alice Hyatt (Ellen Burstyn) as she evades abusive men in search of a better life.
How To Recreate It: Somebody giving you hell? Give them the finger by driving away.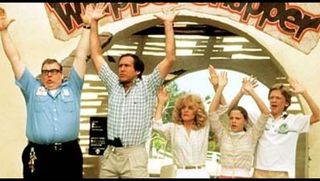 26. National Lampoon's Vacation (1983)
The Movie: Clark Griswold (Chevy Chase) drives the family to Walley World in a station wagon. Hilarity - in the form of vandals, cousin Eddie, and Christie Brinkley - ensues.
How To Recreate It: It's virtually impossible to get to Euro Disney by road without something going wrong.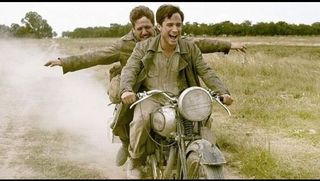 25. The Motorcycle Diaries (2004)
The Movie: Gael Garca Bernal plays the young Che Guevara, whose eyes are opened to the injustice of the world while travelling across South America on a knackered bike known, ironically, as The Mighty One.
How To Recreate It: Hop aboard a moped for a tour of charities and community projects. Blog about to raise awareness and funds.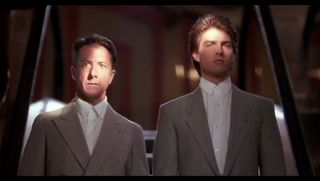 24. Rain Man (1988)
The Movie: Tom Cruise kidnaps autistic brother Dustin Hoffman in the hope of securing an inheritance. But unless they're willing to fly Qantas, it looks like they're going to have to drive.
How To Recreate It: The specifics of this one are a bit niche, but most people have relatives who don't get out much, so why not take your Gran out for a drive?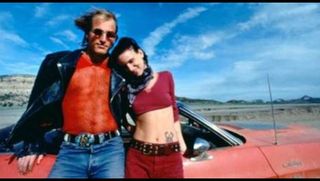 23. Natural Born Killers (1994)
The Movie: Woody Harrelson and Juliette Lewis set the record for highest body count in a lovers-on-the-run movie as Oliver Stone blames MTV for everything that's gone wrong in modern America.
How To Recreate It: Go wild on a paintball rampage. You'll probably still get arrested (and have to pay for a lot of dry-cleaning) but at least there's no murder involved.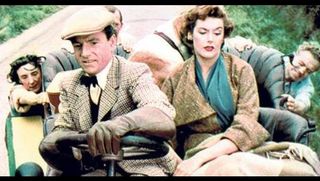 22. Genevieve (1953)
The Movie: Veteran car club members Kenneth More, Kay Kendall, John Gregson, and Dinah Sheridan collide as they make a drunken wager to race back to London against club regulations.
How To Recreate It: Enter the real-life London to Brighton Veteran Car Run and then break the rules.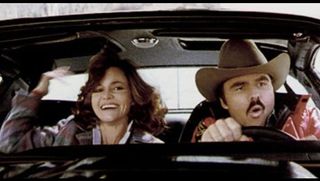 21. Smokey and The Bandit (1977)
The Movie: Bandit (Burt Reynolds) and Basset hound Fred bamboozle "Smokey" - Jackie Gleason's Sheriff Buford T. Justice - to distract the law while Bandit's pal delivers an illegal booze-filled truck cross-state.
How To Recreate It: Stock up in Calais, and don't declare to customs in Dover.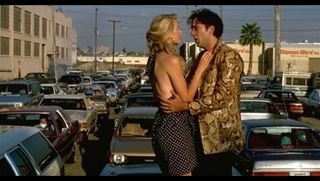 20. Wild At Heart (1990)
The Movie: Nic Cage breaks parole with Laura Dern on a cross-country trip heady with sex and violence. David Lynch's most romantic film.
How To Recreate It: Fall in love with a convict and have the transport ready for their release.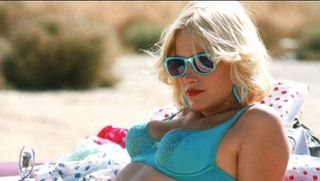 19. True Romance (1993)
The Movie: Words by Tarantino; pictures by Tony Scott. The road movie at its most self-consciously cool, as Christian Slater and Patricia Arquette go on the lam in a blizzard of sex, drugs, and kung fu movie references.
How To Recreate It: Try to impress a hooker into driving off into the sunset with you by regaling her with your in-depth knowledge of Christopher Nolan's Batman trilogy. Note: this won't work.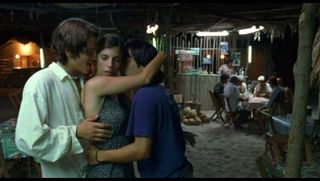 18. Y Tu Mama Tambien (2001)
The Movie: Two horny teenagers (Gael Garca Bernal, Diego Luna) persuade hot older woman Maribel Verdu to accompany them to a fictional beach. Meanwhile, the voiceover of Alfonso Cuaron's Mexican movie notes all of the poverty the trio is ignoring.
How To Recreate It: Next time you suggest taking your date to Southend-On-Sea, stick Jon Snow in the back seat to provide a running commentary.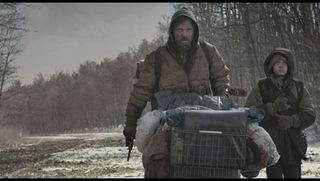 17. The Road (2009)
The Movie: John Hillcoat's austere adaptation of Cormac McCarthy's apocalyptic classic sees Viggo Mortensen and Kodi Smit-McPhee seeking sanctuary in a bleak landscape overrun by cannibals.
How To Recreate It: It'd be unfair to name names, but we can think of plenty of towns that are already like that without requiring the end of civilisation.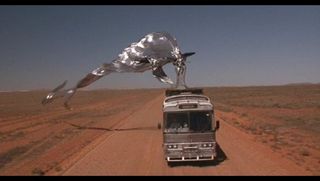 16. The Adventures Of Priscilla, Queen Of The Desert (1994)
The Movie: Three drag queens (Terence Stamp, Hugo Weaving, and Guy Pearce) leave Sydney for a gig in Alice Springs aboard tour bus 'Priscilla'.
How To Recreate It: Transform your backpacking adventure by boarding the Oz Experience in a wig.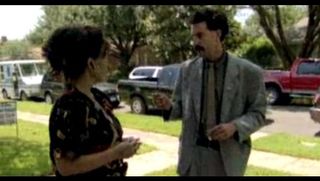 15. Borat (2006)
The Movie: Sacha Baron Cohen goes deep undercover as he crosses the USA in the guise of anti-Semitic Kazakh Borat Sagdiyev, coaxing the prejudices of real-life Americans along the way.
How To Recreate It: Flip the movie's logic, and head over to Kazakhstan under the pretext of making a documentary about whether the country is really like Borat.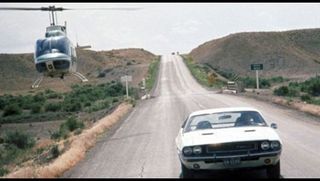 14. Vanishing Point (1971)
The Movie: Pill-popping delivery driver Kowalski (Barry Newman) outruns the cops in order to get a Dodge Challenger to its owner on time.
How To Recreate It: Rent a car and insist on returning it to a different city. Obligatory soundtrack: the 1997 Primal Scream album named after the film.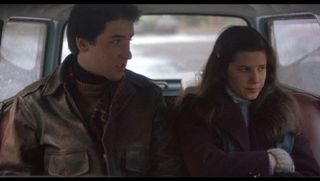 13. The Sure Thing (1985)
The Movie: Rob Reiner's screwball throwback charts John Cusack's cross-country journey to meet a Sure Thing, but stuck with prissy Daphne Zuniga for the duration.
How To Recreate It: Flirt via Facebook. Travel by Megabus.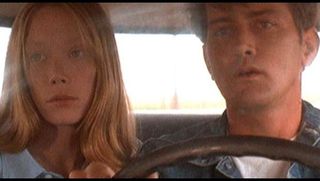 12. Badlands (1973)
The Movie: Terrence Malick's lyrical debut is an ironic eulogy to the open road in the company of a sociopathic killer (Martin Sheen) and his naive girlfriend (Sissy Spacek).
How To Recreate It: Best to do this one without the murdering, and simply take the missus for a drive without her father's permission. Worry about the payback later.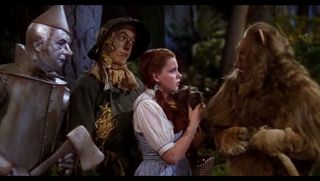 11. The Wizard Of Oz (1939)
The Movie: Judy Garland swaps Kansas' monochrome dustbowl for Oz's Technicolor infrastructure, where the roads are yellow and made of brick.
How To Recreate It: Fancy dress shop for the cossies, B&Q for the paint, and that's a bingo!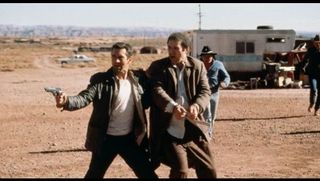 10. Midnight Run (1988)
The Movie: The ultimate foul-mouthed, mismatched-buddies on-the-road comedy, as bounty hunter Robert De Niro finds that getting mob-thieving accountant Charles Grodin back to L.A. is going to take longer than a 'midnight run'.
How To Recreate It: Attempt a citizen's arrest on a fugitive, and drag 'em back to Scotland Yard on a National Express coach.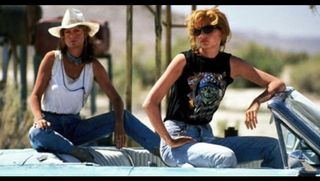 9. Thelma And Louise (1991)
The Movie: Geena Davis and Susan Sarandon's girls' night out turns into a 'feminists on the lam' adventure in Ridley Scott's classic.
How To Recreate It: Ladies, leave your men and go away for the weekend. Sheila's Wheels offers excellent car insurance rates.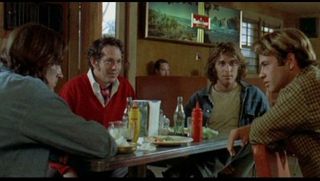 8. Two-Lane Blacktop (1971)
The Movie: Monte Hellman's existential drama about two hot-heads (James Taylor, Dennis Wilson) who challenge Warren Oates to a cross-country race.
How To Recreate It: Drive over to any city centre late at night. Shouldn't be too hard to find a boy racer to go head-to-head with.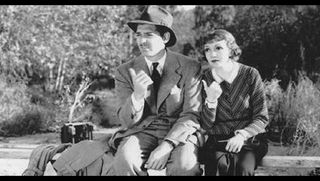 7. It Happened One Night (1934)
The Movie: Claudette Colbert is rich and on the run. Clark Gable's the reporter after a scoop. Their journey together is the original comedy road movie, and still one of the genre's gold standards.
How To Recreate It: Frank Capra's film was made during the Great Depression, and frankly things aren't much better now. We'll all be sharing travel plans soon.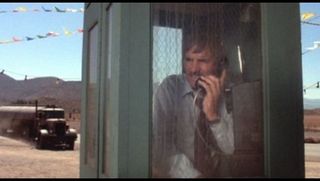 6. Duel (1971)
The Movie: Steven Spielberg's made-for-TV thriller about an everyman driver (Dennis Weaver) inexplicably hounded by a Peterbilt tanker truck was so nerve-wracking it was upgraded to a cinema release in the UK.
How To Recreate It: Cut up any truck driver, on any road, and you'll soon 'enjoy' your very own remake of Duel.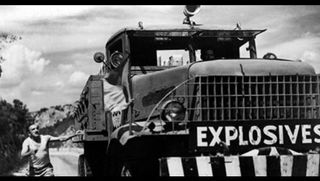 5. The Wages Of Fear (1953)
The Movie: Four desperate men agree to carry volatile nitro-glycerine along an obstacle-packed mountain road in Henri-Georges Clouzot's nerve-wracking action thriller.
How To Recreate It: Please, don't. Things aren't that bad. Here's the number for the Samaritans instead: 08457 90 90 90.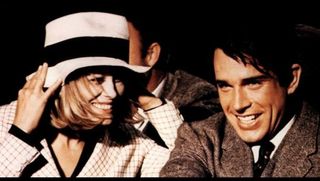 4. Bonnie And Clyde (1967)
The Movie: 1930s backwoods bank robbers are rhymed with 1960s countercultural cool in Arthur Penn's statement of declaration for the youngsters of the civil rights and Vietnam era.
How To Recreate It: Regardless of its illegality, there's little that is glamorous or cool about driving town to town raiding branches of NatWest.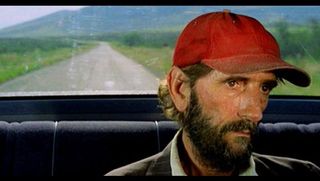 3. Paris, Texas (1984)
The Movie: Road movie veteran Wim Wenders ended up in the genre's spiritual home, as Dean Stockwell drives Harry Dean Stanton through America's lonely wilderness for a family reunion.
How To Recreate It: Get lost trying to find yourself, and have to call home for help.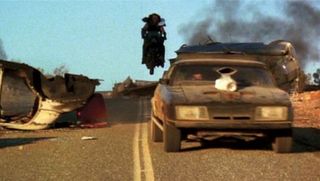 2. Mad Max 2 (1981)
The Movie: aka The Road Warrior, as Mad Mel Gibson takes on a gang of post-apocalyptic punks threatening a convoy of survivors.
How To Recreate It: Find a bunch of live-action role-players with driving licences, and then hit the M25.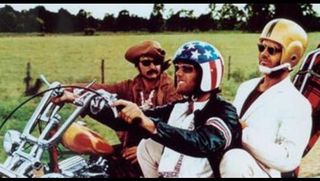 1. Easy Rider (1969)
The Movie: Generation-defining rebel yell of 'born to be wild' biker pals Dennis Hopper and Peter Fonda, who drag Jack Nicholson's lawyer on a sex and drug binge.
How To Recreate It: Borrow your mate's Harley and dress up in Native American gear a la Hopper. Try to avoid looking like the Village People, mind.