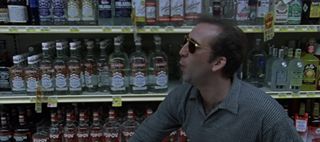 Nicolas Cage in Leaving Las Vegas (1995)
The Drunk: The fumes literally come off the screen as Ben Sanderson goes on a mission to drink himself to death, as love interest Elisabeth Shue watches on. Nicolas Cage is so convincing we always get a hangover the day after watching the movie.

Tipple Of Choice: Whiskey, though any alcohol will do, really.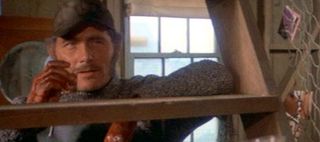 Robert Shaw in Jaws (1975)
The Drunk: Shark hunter Quint is a pirate of the modern day variety, drinking more than a fish as he searches the seas for the monsters of the deep.

Tipple Of Choice: Ask the shark, he'll know.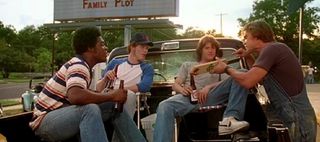 Everybody in Dazed And Confused (1993)
The Drunks: The 1976 graduating class of Texas' Lee High School. Doing it the proper way, this lot get themselves a keg, and then head to the moon tower to enjoy it. Shame the police turn up.

Tipple Of Choice: Beer, dudes.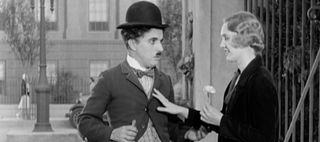 Charlie Chaplin in City Lights (1931)
The Drunk: The kind of drunk who creates chaos wherever he goes. Known only as A Tramp, this fellow is picked up periodically by a millionaire who gets him well and truly trollied.

Tipple Of Choice: He doesn't really have a choice to be honest.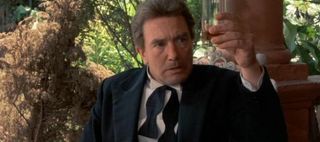 Albert Finney in Under The Volcano (1984)
The Drunk: Miserable old Geoffrey Firmin. His finest line? "Hell is my natural habitat." He's drinking in an attempt to drown his inner despair.

Tipple Of Choice: Is this whiskey or brandy he's holding aloft? Either way, strong stuff.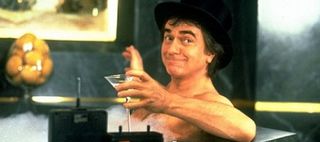 Dudley Moore in Arthur (1981)
The Drunk: Playboy Arthur Bach, who lives a life of utter frivolity, partying it up with the best of them – which, naturally, includes downing a few bottles of the good stuff.

Tipple Of Choice: The finest champagne that money can buy.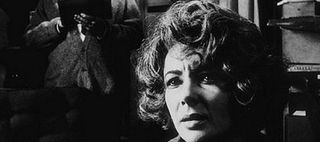 Elizabeth Taylor in Who's Afraid of Virginia Woolf? (1966)
The Drunk: Mean old Martha's got a mouth on her, and she's not afraid to use it. Whether that's putting down her husband, or getting busy with a house guest...

Tipple Of Choice: Not rubbing alcohol, though if she's desperate enough…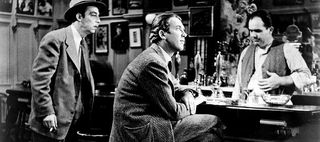 Jimmy Stewart in Harvey (1950)
The Drunk: Drink-loving Elwood P. Dowd has a best friend that he likes to go to the pub with. That best friends just so happens to be a 6' 3" pooka named Harvey. Don't judge him for it.

Tipple Of Choice: Beer. Shots. Whatever the bartender gives him.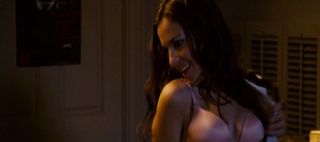 Martha MacIsaac in Superbad (2007)
The Drunk: High schooler Becca gets so drunk that she winds up in bed with skinny dweeb Evan. At least he's going to get an amazing "blow-jay" out of it…

Tipple Of Choice: Goldschlager.
Robert Hays in Airplane! (1980)
The Drunk: Don't call him Shirley. Taxi driver Ted Striker loves him a drink – though he seems to have a bit of trouble getting them into his gob.

Tipple Of Choice: Whatever he can find on a plane.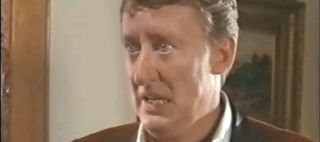 Tom Poston in Cold Turkey (1971)
The Drunk: He's so dependent on the booze that he reasons if he stopped smoking and drinking, his head would fall off. Better keep going then, son.

Tipple Of Choice: Oh, you know, booze...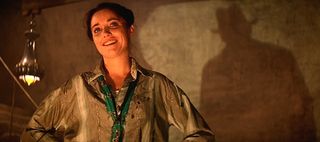 Karen Allen in Raiders Of The Lost Ark (1981)
The Drunk: More of a 'drinker' than an all-out drunk, Marion Ravenwood can hold her liquor - even when she's competing with the roughest of the rough. What a gal.

Tipple Of Choice: Shots of liquor. It'll put hairs on your chest.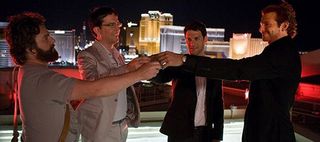 Everybody in The Hangover (2009)
The Drunks: A quartet of buddies (sort of) who all get together to celebrate the impending marriage of Doug. Their night of debauchery is matched only in epic-ness by the hilarious repercussions.

Tipple Of Choice: It would be more pertinent to ask: Just what don't these guys drink?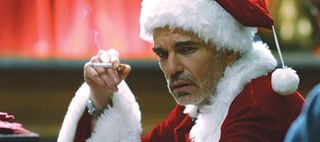 Billy Bob Thornton in Bad Santa (2003)
The Drunk: Willie T. Stokes loves alcohol so much that when some kid brings him a glass of straight orange juice, he doesn't even know what it is.

Tipple Of Choice: Mostly stolen, whatever shape that comes in.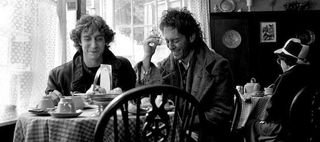 Richard E. Grant in Withnail and I (1987)
The Drunk: Withnail lives on a diet of booze and pills. Which understandably makes him into something of a hot-blooded chap, though he's got the heart of a poet.

Tipple Of Choice: Any tipple will do. Especially when paired up with pills.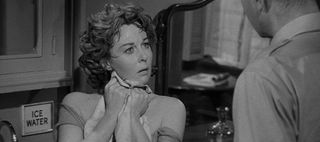 Susan Hayward in I'll Cry Tomorrow (1955)
The Drunk: Occasional actress Lillian Roth, whose domineering mother – not to mention the death of her fiancé – drives her to drink.

Tipple Of Choice: Whatever numbs the pain.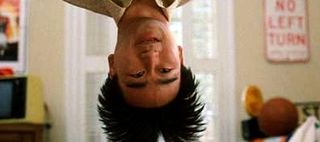 Gedde Watanabe in Sixteen Candles (1984)
The Drunk: "What's happening hot stuff?" Exchange student Dong has never tasted American booze before, but apparently it's supremely potent because he spends nearly the whole movie wasted.

Tipple Of Choice: Whatever it is that kids drink these days.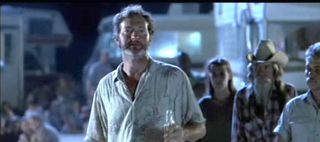 Randy Quaid in Independence Day (1996)
The Drunk: Nobody believes Russell Casse when he starts raving that he's been abducted by aliens, mostly because he's all but hooked up to an alcohol drip. Except then the aliens invade…

Tipple Of Choice: Beer. Beautiful.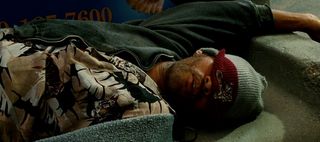 Will Smith in Hancock (2008)
The Drunk: Superhero John Hancock. Sure, he uses his powers for good by taking down crime, but he's generally off his rocker when he does so, meaning he destroys more of the city than he saves.

Tipple Of Choice: Beer. Wine. Anything he can get his mitts on.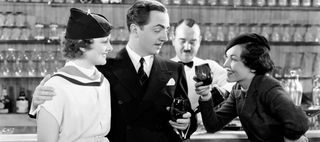 William Powell and Myrna Loy in The Thin Man (1934)
The Drunks: Nick and Nora Charles, truly loveable comedy drunks who've been married for years, and like nothing more than a brisk snifter to help them mull over their latest case.

Tipple Of Choice: Anything that comes in a nice glass.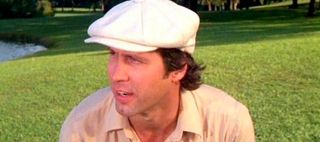 Chevy Chase in Caddyshack (1980)
The Drunk: Ty Webb may snort salt and chuck tequila over his shoulder, but that doesn't stop him getting properly pissed from time to time.

Tipple Of Choice: Hard liquor. It's the only way.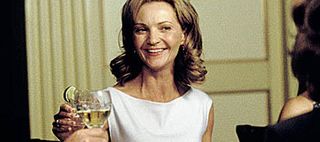 Joan Allen in The Upside of Anger (2005)
The Drunk: Terry Ann Wolfmeyer turns to the drink when her husband unexpectedly leaves her. Men? They come and go. Alcohol's the friend that keeps on giving.

Tipple Of Choice: Grey Goose by the bucketload.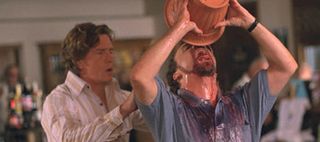 Paul Giamatti in Sideways (2004)
The Drunk: Struggling writer Miles Raymond takes a week-long road trip through the Santa Barbara Wine County with his buddy Jack, and ends up drinking himself stupid. Yes, he even stupidly drinks the spit bucket. Ack.

Tipple Of Choice: Er, wine?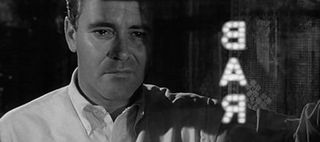 Jack Lemmon in Days Of Wine And Roses (1962)
The Drunk: Joe Clay, who has an insatiable appetite for alcohol. Which is what lands him in his father-in-law's greenhouse desperately searching for more stuff to swill.

Tipple Of Choice: Wine, naturally.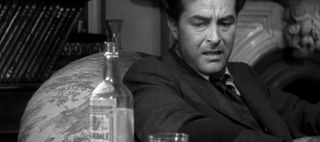 Ray Milland in The Lost Weekend (1945)
The Drunk: He's been on the wagon for 10 days, but Don Birnam is about to fall spectacularly off it as he goes on a wild hunt for alcohol that sees him soaking up the bad stuff over a whole weekend.

Tipple Of Choice: Anything that comes in a bottle.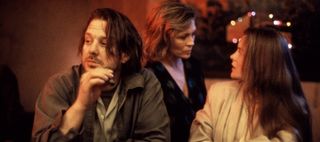 Mickey Rourke in Barfly (1987)
The Drunk: Henry Chinaski, whose love for a tipple is a pseudo-autobiographical exorcism for poet/author/screenwriter Charles Bukowski. Spends most of his time getting absolutely sozzled and scrapping.

Tipple Of Choice: Whiskey.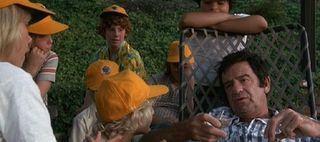 Walter Matthau in Bad News Bears (1976)
The Drunk: Ex-major league baseball player Morris Buttermaker, who's recruited to help coach a team of terrible baseballers. Drinking is so everyday to him that he even drives with a car full of kids who aren't wearing seatbelts. The scandal.

Tipple Of Choice: Wine, naturally.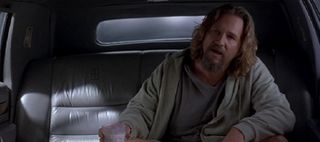 Jeff Bridges in The Big Lebowski (1998)
The Drunk: The Dude, one of the coolest cats to ever grace the big (and small) screen. He's an unemployed LA slacker who spends his time bowling, smoking, dreaming and, yes, drinking.

Tipple Of Choice: White Russian.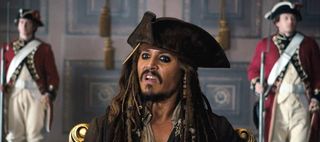 Johnny Depp in Pirates Of The Caribbean (2003-2011)
The Drunk: Swooning, effeminate pirate Captain Jack Sparrow, who doesn't so much have alcohol in his bloodstream as the total opposite.

Tipple Of Choice: Rum of course. Yo ho ho.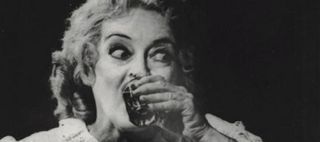 Bette Davis in Whatever Happened To Baby Jane? (1962)
The Drunk: Crazy old Baby Jane Hudson, who sort of looks how the Wicked Witch would look if she wasn't trapped in Oz. Cackling and conniving, Jane makes her disabled sister's life a misery.

Tipple Of Choice: Shots. Quick and easy.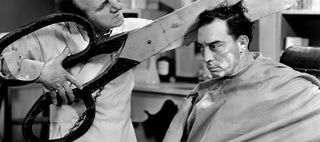 Buster Keaton in What! No Beer? (1933)
The Drunk: Taxidermist Elmer just loves him a beer. Or 12. Which comes back to bite him in the arse during one scene where he's forced to dodge giant beer barrels that are rolling down the hill toward him. Dangerous business being a drunk.

Tipple Of Choice: Um, beer.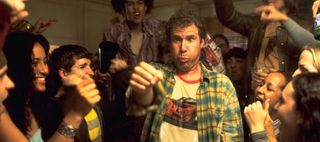 Will Ferrell in Old School (2003)
The Drunk: Frank Ricard's enrolled back in school, which naturally means he has to attend parties with all the other students. You'd think that being older would mean he can handle his booze…

Tipple Of Choice: Anything that you can yell "Chug! Chug!" to.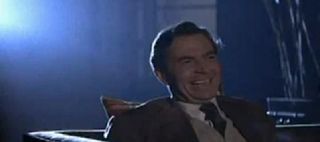 James Mason in A Star is Born (1954)
The Drunk: Norman Maine, an ex-matinee idol whose career isn't doing so great anymore. His drunken ways catch the eye of Esther (Judy Garland), who's unaware that his charms are merely a cover for his deep-set depression.

Tipple Of Choice : Anything that will numb the pain.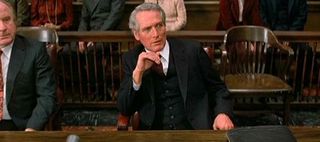 Paul Newman in The Verdict (1982)
The Drunk: Lawyer Frank Galvin, a lonely chap who spends his days smoking, drinking and playing on pinball machines. Until a case comes along that revitalises him.

Tipple Of Choice: Beer. A classic never dies.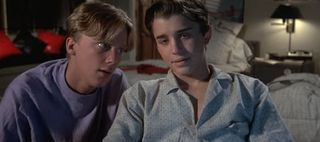 Anthony Michael Hall in Weird Science (1985)
The Drunk: Gary Wallace gets taken to The Kandy Bar with his beautiful sci-fi creation, and forced to drink liquor by the patrons. Soon enough he has a cigar hanging out of his mouth as he complains about women.

Tipple Of Choice: Some kind of shot. Phew.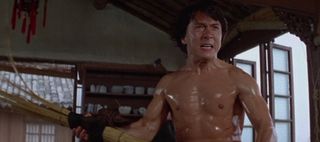 Jackie Chan in The Legend Of The Drunken Master (1994)
The Drunk: Wong Fei-hung, who needs to get plastered in order to fight. Which is probably true of a lot of guys, now we come to think of it.

Tipple Of Choice: Beer. Lots and lots of beer.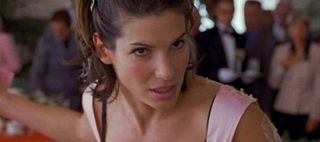 Sandra Bullock in 28 Days (2000)
The Drunk: Gwen Cummings ruins her sister's wedding by getting well and truly trollied and crashing the limo. Which is one way to draw attention away from the bride.

Tipple Of Choice: Wedding wine. Deadly stuff.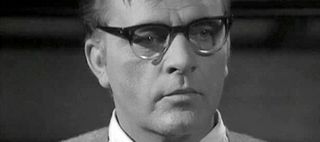 Richard Burton in Who's Afraid Of Virginia Woolf? (1966)
The Drunk: George, a teacher who could learn a thing or two about when to stop drinking. Probably right around the time that you start strangling your wife, George.

Tipple Of Choice: Whatever Martha says he's allowed to drink.
John Belushi in Animal House (1978)
The Drunk: John 'Bluto' Blutarsky, who comes up with absolutely genius ideas whenever he's had a few (too many) drinks. Most genius plan? Dumping a horse in the dean's office. Nice one.

Tipple Of Choice: Can anybody say 'keg'?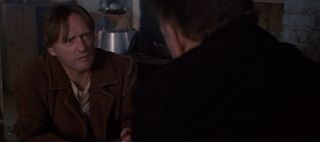 Dennis Hopper in Hoosiers (1986)
The Drunk: Town drunk Shooter, who is the definition of 'mess'. Until Coach Dale (Gene Hackman) helps him go straight in order to help his son out on the basketball team.

Tipple Of Choice: Beer.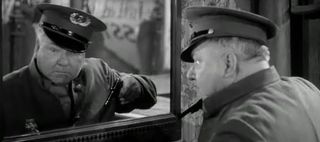 W.C. Fields in Everything
The Drunk: Doesn't matter what character W.C. Fields plays, he always ends up a drunk. "'Twas a woman drove me to drink," he's been known to slur. "I never had the courtesy to thank her." What a gent.

Tipple Of Choice: Anything and everything.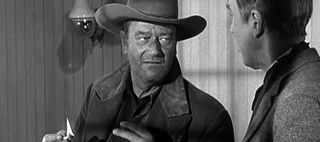 John Wayne in The Man Who Shot Liberty Valance (1962)
The Drunk: Championing one heck of a volatile temper, Tom Doniphon doesn't take rejection well – when he's rejected by Hallie, he heads straight to the pub. Then burns down his crush object's house.

Tipple Of Choice: Something strong. Really strong.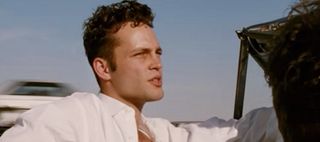 Vince Vaughn in Swingers (1996)
The Drunk: Trent, who's probably the most embarrassing drunk on the entire list. He gets so wasted during one bender that he stands on a table of waffles with his shirt over his head. Shameless.

Tipple Of Choice: Whatever comes in a cocktail glass. Or a glass, full stop.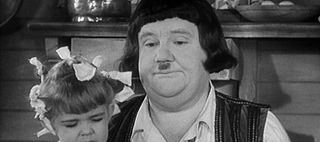 Stan Laurel in The Bohemian Girl (1936)
The Drunk: Stan, a gypsy. The word 'subtle' could never be used to describe him – witness the scene where he drunkenly attempts to spring old Arline from jail, but goes about it with all the subtlety of a trumpeting elephant.

Tipple Of Choice: Wine. From a wine barrel.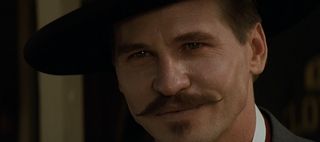 Val Kilmer in Tombstone (1993)
The Drunk: Doc Holliday can do maths, even when drunk. "I have two guns," he slurs, "one for each of ya." Except he's actually only wielding one gun. Alright, he can't do maths, but he sure can shoot.

Tipple Of Choice: Something old school.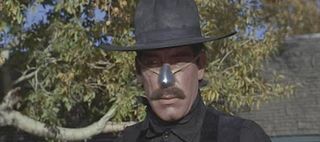 Lee Marvin in Cat Ballou (1965)
The Drunk: Gunfighter Kid Sheleen, who was once brilliant, but has drunken himself into such a stupor that he couldn't hit a target if his life depended on it.

Tipple Of Choice: Well, it's not milk.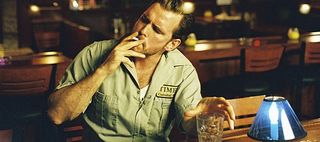 Matt Dillon in Factotum (2005)
The Drunk: So dependent on certain liquids that even when he's woken up and promptly vomited, the very next thing he does is crack open another bottle of beer. Total pro.

Tipple Of Choice: Beer. Yum.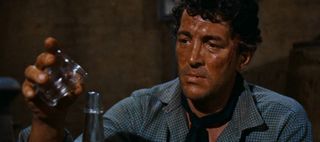 Dean Martin in Rio Bravo (1959)
The Drunk: A self-loathing ex-gunfighter who used to be a quick shot, but now spends his time roving the streets filled up to his eyeballs with booze.

Tipple Of Choice: He doesn't get much of a choice as he's a penniless waster. Whatever drops he can find, he'll take.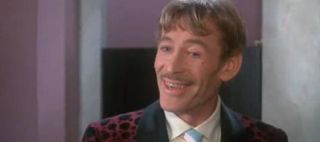 Peter O'Toole in My Favorite Year (1982)
The Drunk: A larger-than-life booze hound who has Errol Flynn as his idol. Alan Swann's benders are all the better because he executes them so publically, getting trollied just before stepping out on stage to perform live on King Kaiser's hit variety show.

Tipple Of Choice: Anything that you can drink.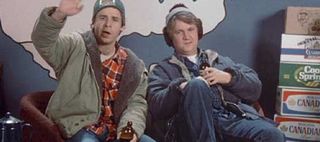 Rick Moranis and Dave Thomas in Strange Brew (1983)
The Drunks: Bob and Dough Mckenzie only need one thing in life: beer. Which is lucky, considering they've just gotten their dream jobs at a brewery. But can they resist temptation?

Tipple Of Choice: Good ol' fashioned beer.
Who's your favourite drunk? Tell us below...