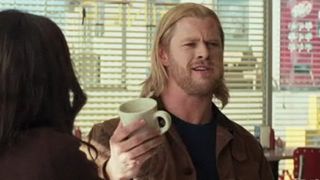 Thor (2011)
The Drinking Scene: Mug-smashing galore as Thor (Chris Hemsworth) discovers the sweet nectar that is coffee, and hurls the cup to the floor, demanding more of it.

"This drink… I like it! ANOTHER!"

If The Booze Hadn't Been There: This one's booze-free, though can you imagine what it would have been like if Thor had tasted Earth beer for the first time instead of coffee?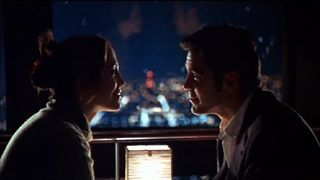 Out Of Sight (1998)
The Drinking Scene: Snow's falling. Karen Sisco (Jennifer Lopez) is sitting alone when Jack Foley (George Clooney) strolls up.

"Can I buy you a drink?" he asks. "Yeah, I'd love one." Cue fireworks…

If The Booze Hadn't Been There: Puh-lease, like these two need any booze to ignite sparks. Here, it's pretty much surplus to requirement.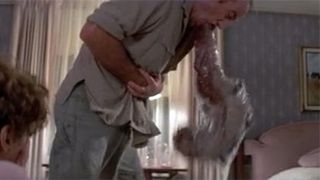 Poltergeist II: The Other Side (1986)
The Drinking Scene: Vomit creature! Steven (Craig T. Nelson) swigs down a bottle of Tequila, even downing the worm at the bottom.

This being a Poltergeist flick, that worm then turns into a hideous monster which births itself when Steven voms onto the carpet…

If The Booze Hadn't Been There: The booze is sort of integral to this one, though we'd like to think that even without it, Steven would have had a similarly hideous encounter with a monster. This is Poltergeist , after all.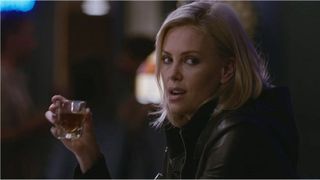 Young Adult (2011)
The Drinking Scene: "Shots!" Divorced writer Mavis Gary (Charlize Theron) makes a total fool of herself when she heads out to a bar and meets up with high school boyfriend Buddy Slade (Patrick Wilson), then suggests they hang out together in a ploy to get him back. Awkward.

If The Booze Hadn't Been There: Mavis would probably have skipped the pretences and just rammed her tongue down Buddy's throat. Who needs subtle when your biological clock is ticking?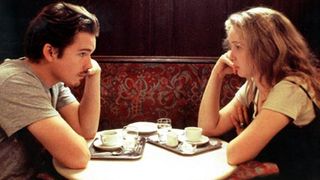 Before Sunrise (1995)
The Drinking Scene: Jesse (Ethan Hawke) and Celine (Julie Delpy) go for a coffee in Vienna, where Celine makes a fake phone conversation to her boyfriend and describes how amazing Jesse is. Bless.

If The Booze Hadn't Been There: These two are drunk on unexpected love rather than alcohol, so booze isn't a requirement.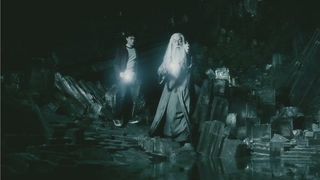 Harry Potter & The Half-Blood Prince (2009)
The Drinking Scene: An ingenious moment of tension-cranking lifted straight from the book as Harry (Daniel Radcliffe) and Dumbledore (Michael Gambon) go in search of a piece of Voldemort's soul. Dumbledore must drink from a well in order to release a magical locket, but each mouthful slowly drives him mad…

If The Booze Hadn't Been There: Technically, it's not booze, but a poisonous potion. And without it, the scene wouldn't be even half as horrifying.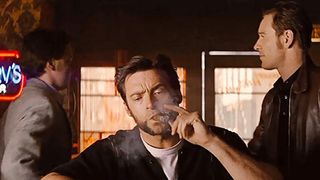 X-Men: First Class (2011)
The Drinking Scene: Charles (James McAvoy) and Eric (Michael Fassbender) approach a mutant in a bar, hoping to make a new ally.

Except Wolverine (Hugh Jackman) isn't in the mood for making allies. "Go fuck yourself," he growls.

If The Booze Hadn't Been There: To be honest, Wolvie seems more interested in his cigar than the glass resting in front of him, so it probably wouldn't have made a massive difference.

Still, if it hadn't been booze, we imagine he'd have been nursing a protein shake.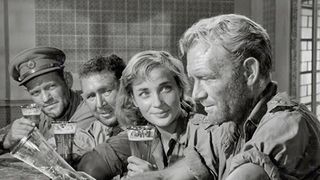 Ice Cold In Alex (1958)
The Drinking Scene: Captain Anson (John Mills) and his fellow travellers finally make it to Alexandria and head straight to a bar for that much-dreamed-about lager. Except then a Military Police officer arrives to arrest Captain van der Poehl (Anthony Quayle)…

If The Booze Hadn't Been There: Anson would have thrown a massive, MASSIVE hissy fit.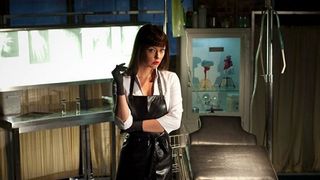 American Mary (2012)
The Drinking Scene: Surgeon-in-training Mary (Katharine Isabelle) is invited to a party hosted by some of the surgeons from her hospital. Any pretence at civility goes out the window, though, when Mary's drink is spiked and she's brutally attacked. Which leads to the birth of one of horror's most awesome anti-heroines.

If The Booze Hadn't Been There: Her attackers would have injected Mary with a cocktail of drugs. They are surgeons, after all…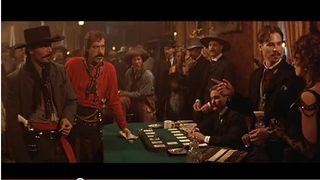 Tombstone (1993)
The Drinking Scene: A sweaty, sick-looking Doc Holliday (Val Kilmer) meets Johnny Ringo (Michael Biehn) in a bar and wastes no time verbally abusing him. While sipping a brew. Then Ringo takes out his gun and flips it around a bit - prompting Doc to show off some considerable skill with his tin cup.

If The Booze Hadn't Been There: Doc would've impressed everybody with a card trick instead.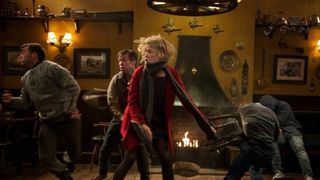 The World's End (2013)
The Drinking Scene: All Gary (Simon Pegg) wants to do is finish his pint. Sadly, there's a massive brawl going on between the pub patrons and scary replicant-like pod people, and every time he gets close to his pint, another pod person gets in his way.

Can't a man just drink in peace?!

If The Booze Hadn't Been There: Gary would be fighting for the last packet of crisps.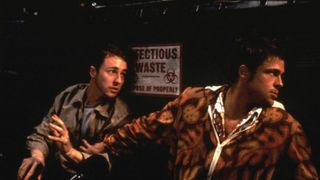 Fight Club (1999)
The Drinking Scene: "We should do this again sometime," says The Narrator (Ed Norton), sharing a beer on the curb with Tyler (Brad Pitt) after their first fight club. Funny, that's how we felt after the first time we'd seen Fight Club …

If The Booze Hadn't Been There: The duo would have smoked a cigar in honour of Fight Club.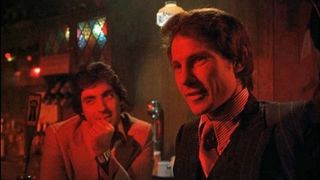 Mean Streets (1973)
The Drinking Scene: Wannabe alpha-mobster Charlie (Harvey Keitel) knocks back more liquid grenades than we've ever seen. The beauty of this scene is all in Martin Scorsese's deliciously discombobulating filmmaking – the thrumming music and the queasy lighting throw us down the drain with Charlie.

If The Booze Hadn't Been There: Charlie would be getting high on class A drugs instead.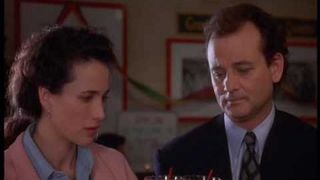 Groundhog Day (1993)
The Drinking Scene: "Can I buy you a drink?"

Phil Connors (Bill Murray) offers Rita (Andie MacDowell) a beverage, and because he's lived the same day a hundred times, he knows exactly what she wants. "That's my favourite drink!"

If The Booze Hadn't Been There: They'd bond over Pizza instead - they both love Rome, right?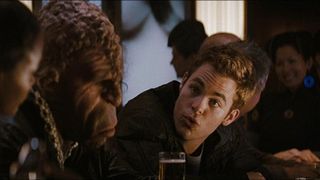 Star Trek (2009)
The Drinking Scene: Kirk (Chris Pine) makes a fool of himself as he attempts to woo Uhura (Zoe Saldana) at a bar, then gets into a raging bar fight with Starfleet cadets.

He ends up with bits of tissue stuffed up his nose and on the receiving end of a good dressing down from Captain Christopher Pike (Bruce Greenwood).

If The Booze Hadn't Been There: It wouldn't really have mattered - Kirk would still have ended up in a fight no matter what.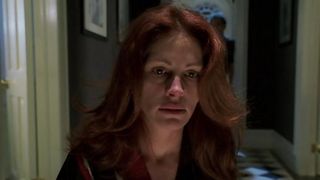 Confessions Of A Dangerous Mind (2002)
The Drinking Scene: Gameshow host and secret CIA assassin Chuck Barris (Sam Rockwell) pulls a conniving switcheroo on agent Patricia Watson (Julia Roberts). She poisons his drink, but he swaps it around and she's the one who ends up writhing on the floor in agony.

If The Booze Hadn't Been There: Patricia would have baked the poison into a cupcake instead.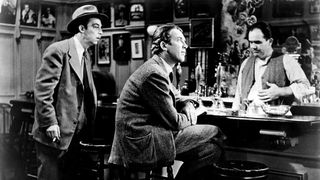 Harvey (1950)
The Drinking Scene: Elwood P. Dowd (Jimmy Stewart) goes to his local bar, where he orders two Martinis, despite being there alone. That's because he's also buying one for Harvey, his best friend - an invisible six foot rabbit…

If The Booze Hadn't Been There: Harvey might have gotten upset…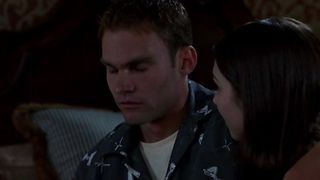 American Pie (1999)
The Drinking Scene: Unaware that Kevin (Thomas Ian Nicholas) has made a rather unappetising deposit in a beer, Stifler (Seann William Scott) takes a great big swig. Oh dear…

If The Booze Hadn't Been There: God knows where Kevin would have made his deposit, but it would have saved Stifler getting a miserable mouthful.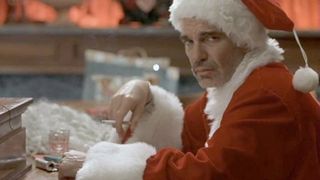 Bad Santa (2003)
The Drinking Scene: The film's opening scene. In O'Hara's Pub, Christmas revellers are having a jolly old time - except for Willie (Billy Bob Thornton), who's perched right at the end of the bar sucking back whiskey while wearing his Santa costume. "Nothing has ever sucked more ass than this…"

If The Booze Hadn't Been There: The scene probably wouldn't have ended with Willie vomiting in the alley…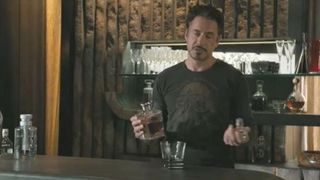 Avengers Assemble (2012)
The Drinking Scene: Proving what a cool cucumber he is, Tony (Robert Downey Jr) arrives back at his penthouse and, despite having a formidable visitor in the form of Loki (Tom Hiddleston), he pours himself a drink at the bar…

If The Booze Hadn't Been There: As we all know, Tony has a bit of a problem with the wet stuff. Is he expecting to die in this scene, so goes for one last swig? Or is he attempting to bolster his courage? Either way, it adds an interesting wrinkle to the scene.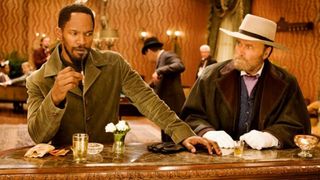 Django Unchained (2013)
The Drinking Scene: While at the house of Calvin Candie (Leonardo DiCaprio), Django (Jamie Foxx) heads to the bar for a drink. There, he finds Amerigo Vessepi, played by original Django Franco Nero. Past meets present…

If The Booze Hadn't Been There: We may never have had that fortuitous meeting.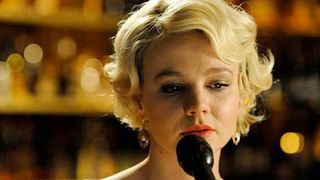 Shame (2011)
The Drinking Scene: Brandon (Michael Fassbender) and his boss David (James Badge Dale) go to a New York club. Sitting with their drinks, they watch Brandon's sister Sissy (Carey Mulligan) croon a hypnotising version of 'New York, New York'.

If The Booze Hadn't Been There: The booze is all-but forgotten when Sissy starts singing, so it wouldn't make too much of a difference if it was absent. Though what kind of New York bar doesn't serve booze?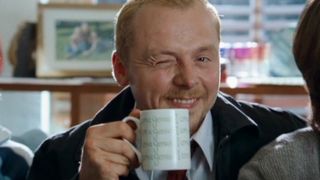 Shaun Of The Dead (2004)
The Drinking Scene: "Have a cup of tea and wait for this whole thing to blow over…" Ed (Nick Frost) and Shaun (Simon Pegg) plan how to save Shaun's mum, pick up Liz and get home for a nice brew to wait out the apocalypse.

If The Drink Hadn't Been There: Ed and Shaun would have sat down with a nice Cornetto instead.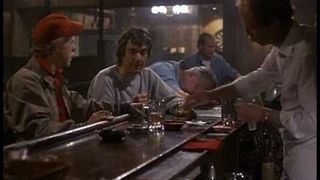 Arthur (1981)
The Drinking Scene: Billionaire Arthur (Dudley Moore) sits in a bar with a rolling drunk who's wearing a red baseball cap and pretends he's a dentist. Just for the fun of it. Meanwhile, the bartender's got his work cut out for him.

Meanwhile, Arthur reveals his secret pain over his father's death. "Then he just kept sleeping. And I was all alone…"

If The Booze Hadn't Been There: They'd probably have smoked a joint instead.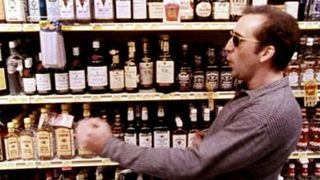 Leaving Las Vegas (1995)
The Drinking Scene: The opening credits are more of a prelude to drinking, as Ben Sanderson (Nicolas Cage) dances through the aisles grabbing bottles by the fistful.

If The Booze Hadn't Been There: Sanderson would have been shoving bleach into his trolley instead.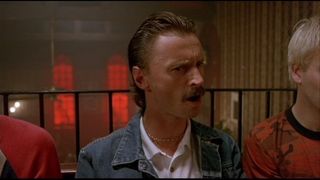 Trainspotting (1996)
The Drinking Scene: Franco Begbie (Robert Carlyle) starts a fight (simply because he feels like it) by hurling a pint glass into the middle of the pub, then throwing his knuckles at anything that moves.

If The Booze Hadn't Been There: Begbie would have chucked a packet of peanuts over his head. Not quite as dangerous, but still pretty annoying.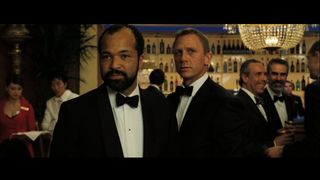 Casino Royale (2006)
The Drinking Scene: "Dry Martini," orders Mr Bond. "Wait... three measures of Gordon's; one of vodka; half a measure of Kina Lillet. Shake it over ice, and add a thin slice of lemon peel."

Nobody knows what he likes to drink more than James Bond (Daniel Craig).

If The Booze Hadn't Been There: Bond without booze? Don't be silly.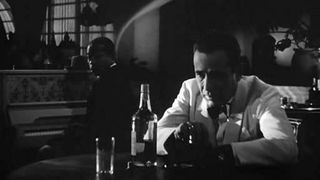 Casablanca (1941)
The Drinking Scene: "Shut up and go home, will ya?" demands Rick (Humphrey Bogart). "No, I'm staying right here," says Sam, sitting down to play the piano.

Quite simply one of the most beautiful scenes in cinematic history - not counting the other beautiful scene at the film's climax.

If The Booze Hadn't Been There: Rick would have been comfort eating by chowing down on some Moroccan meatballs instead.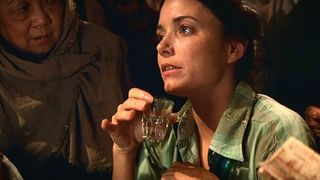 Raiders Of The Lost Ark (1981)
The Drinking Scene: Marion (Karen Allen) has a drinking competition in her tavern in Nepal, and proves that her constitution is fit to rival any man's.

Later in the scene, she even uses a whiskey bottle to smash over a bad guy's head. Brilliant.

If The Booze Hadn't Been There: Marion would have been arm-wrestling instead.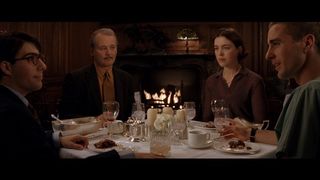 Rushmore (1998)
The Drinking Scene: After downing a whiskey and soda while at dinner, Max (Jason Schwartzman) spectacularly insults Luke Wilson.

"I like your nurse's uniform, guy." Meanwhile, Bill Murray chokes a chuckle into his glass…

If The Booze Hadn't Been There: Max wouldn't have gotten quite so inebriated, though he'd probably still have had a few choice obnoxious remarks to share.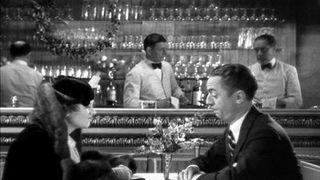 The Thin Man (1934)
The Drinking Scene: Nora (Myrna Loy) reveals that she can hold her liquor as well as any man by matching hubbie Nick's (William Powell) drinking glass for glass. Atta girl.

If The Booze Hadn't Been There: Nora would have shown Nick up by changing the oil on their car while he sits warming his hands in the front seat.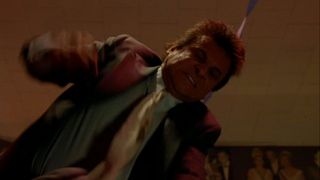 Goodfellas (1990)
The Drinking Scene: Billy Batts (Frank Vincent) has just been sprung out of prison when he bumps into Tommy (Joe Pesci) in a bar. Batts wastes no time drinking "on the house" after attempting to reminisce with Tommy about his days as a shoe-shiner. Which leads to Tommy spectacularly executing him…

If The Booze Hadn't Been There: The booze isn't really as important as the fact that Batts can't keep his mouth shut - if he had, he might still be alive today…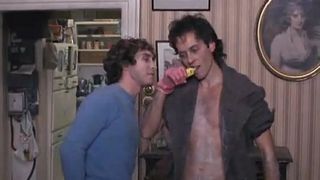 Withnail & I (1987)
The Drinking Scene: "I must have some booze. I demand to have some booze!"

Withnail (Richard Grant) discovers there's no alcohol in the flat, and so decides to try out a little lighter fluid instead. Cue hysterical laughter and not a little retching.

If The Booze Hadn't Been There: That's the beauty of this scene - there really is NO BOOZE, which is what forces Withnail to search for creative (and potentially deadly) alternatives.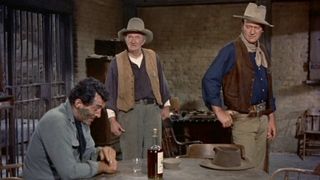 Rio Bravo (1959)
The Drinking Scene: Legendary boozer Dean Martin plays a drunk in this grubby Western. His penniless deputy sheriff, Dude, is so desperate for a drink that he contemplates fishing a dollar coin out of a spittoon to buy something wet until the sheriff (John Wayne) arrives and stops him…

If The Booze Hadn't Been There: It kind of has to be - the whole point is that Dude's a drunk, and the presence of the booze acts as a reminder of just how tempting it is for him.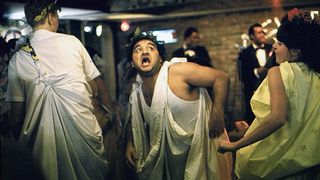 Animal House (1978)
The Drinking Scene: "Toga! Toga! Toga!" John Belushi takes centre stage as he and his fellow fratboys throw an Ancient Greece-themed party that includes more booze than we've ever seen EVER. Highlight includes Otter (Tim Matheson) seducing Mrs Wormer and taking her to his room, which comes with its own mini bar.

Of course, there's also that bit where Belushi downs a bottle of JD in one go…

If The Booze Hadn't Been There: The guys would have sat around discussing politics and the state of the world economy. Because that's what fratboys are like when they're sober, right?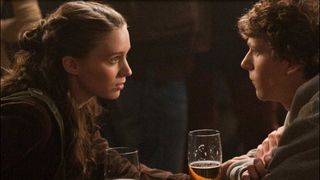 The Social Network (2010)
The Drinking Scene: In one of the best-written scenes of the film (hell, the entire year), Mark Zuckerberg (Jesse Eisenberg) meets up with his girlfriend Erica (Rooney Mara), who unceremoniously dumps him over a beer. Ouch.

If The Booze Hadn't Been There: It's arguable that Zuckerberg wouldn't have continued drinking in his dorm room, where he has the idea to create Facemash.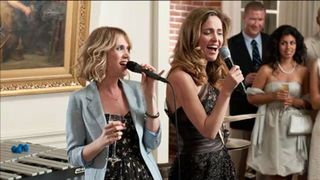 Bridemaids (2011)
The Drinking Scene: A slowly-escalating time bomb of embarrassment, as champagne-swilling bridesmaids Annie (Kristen Wiig) and Helen (Rose Byrne) attempt to up-stage one another in their speeches to bride Lillian (Maya Rudolph).

If The Booze Hadn't Been There: Annie and Helen probably can't blame the booze for their embarrassing outpourings - even without the champagne, they'd have made spectacular fools of themselves.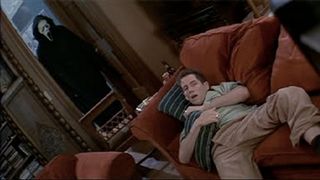 Scream (1996)
The Drinking Scene: Randy (Jamie Kennedy) and his high school buddies sit around the living room at Stu Macher's (Matthew Lillard) house. While everybody gets wasted on beer, Randy explains the very simple rules you need to survive a horror movie.

If The Booze Hadn't Been There: It wouldn't have seemed like a legitimate high school get together. What's a high school party without a keg?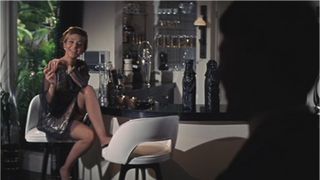 The Graduate (1967)
The Drinking Scene: Only one of the most famous drinking/seduction scenes ever filmed. Ben (Dustin Hoffman) drives home his girlfriend's mother, Mrs Robinson (Anne Bancroft), where she serves him a drink and then takes off her clothes…

If The Booze Hadn't Been There: The booze is obviously meant to, er, loosen Ben up, but it's also a metaphor for just how intoxicating Mrs Robinson is. Without the booze, it wouldn't work half as well.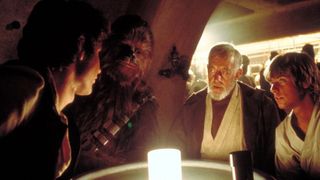 Star Wars (1977)
The Drinking Scene: Say hello to Han Solo (Harrison Ford)! The space scoundrel first appears in this film's cantina scene, where he discusses business over a drink as Obi-Wan Kenobi (Alec Guinness) attempts to hire his ship for transportation.

If The Booze Hadn't Been There: To be honest, nobody seems particularly interested in drinking - Solo doesn't take a single sip - so this scene would work fine without the booze.

Though we wouldn't mind seeing a drunk Chewbacca…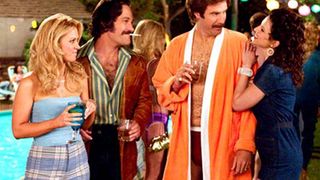 Anchorman (2004)
The Drinking Scene: " By the beard of Zeus!" Ron Burgundy (Will Ferrell) is at a pool party when he first lays eyes on Veronica (Christina Applegate). Drink in hand, he attempts to woo her. "I don't know how to put this, but I'm kind of a big deal."

Also: "Scotchy, scotchy, scotch."

If The Booze Hadn't Been There: It's kind of lucky the booze IS there, considering how coldly Ron's shot down…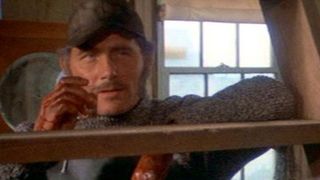 Jaws (1975)
The Drinking Scene: Brody (Roy Scheider), Quint (Robert Shaw) and Hooper (Richard Dreyfuss) share a few drinks aboard the Orca, then share their numerous scars with each other, along with a few colourful stories.

If The Booze Hadn't Been There: The booze is integral to these guys bonding. Without it, we doubt they'd have exchanged more than a few words with one another.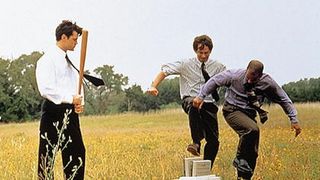 Office Space (1999)
The Drinking Scene: Peter (Ron Livingston) and his work buddies load up on beer, then boogy down in Peter's living room, where Samir (Ajay Naidu) shows off some impressive break-dancing moves. Not so much with Peter's shoulder bopping.

If The Booze Hadn't Been There: The trio would have danced anyway. Only far worse than they already do. And probably still get a hangover the next day.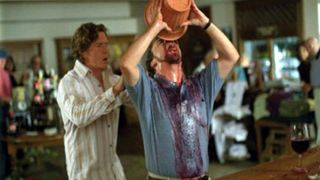 Sideways (2004)
The Drinking Scene: Writer Miles (Paul Giamatti) only knows one way to comfort himself when his latest manuscript is rejected - by drowning his woes with the contents of a spittoon, which he glugs from in a fit of mania.

If The Booze Hadn't Been There: Trust us, Miles would have found booze anywhere - he was so desperate that he drank from a spittoon, for crying out loud.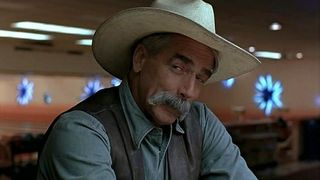 The Big Lebowski (1998)
The Drinking Scene: The Dude (Jeff Bridges) has a drink at the bowling alley, where he's joined by Leonard (Sam Elliot), a wisdom-spouting cowboy with a voice like melted butter. "Sometime you eat the bar and sometimes, well, the bar eats you."

If The Booze Hadn't Been There: The Dude would have filled up on mixed nuts instead.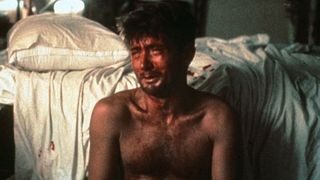 Apocalypse Now (1979)
The Drinking Scene: One of the most difficult-to-watch scenes ever filmed, not least because Martin Sheen actually drank himself near-blind in it.

As Francis Ford Coppola's film opens, Sheen's holed up in a hotel room drinking himself into a stupor. Before long, he destroys the whole room…

If The Booze Hadn't Been There: We imagine Sheen's character would have turned to harder stuff instead - that's how desperately miserable he is.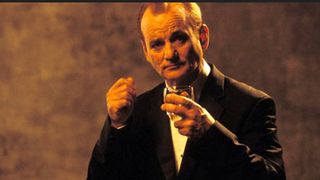 Lost In Translation (2003)
The Drinking Scene: Movie star Bob Harris (Bill Murray) pretends that Iced Tea is really the delicious whiskey that he's shooting an advert for in Tokyo.

"A ring-a-ding-ding," Bob jests with a straight face as the photographer makes a string of bizarre requests.

If The Booze Hadn't Been There: Bob would probably have been promoting a perfume instead. That's what most actors do these days, right?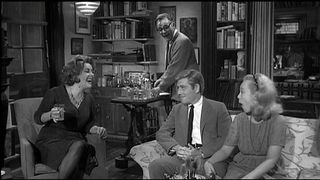 Who's Afraid Of Virginia Woolf? (1966)
The Drinking Scene: Pretty much the entire film is one giant drinking scene, but certain devastating moments stand out as bitter married couple George (Richard Burton) and Martha (Elizabeth Taylor) get more and more inebriated - in particular the moment when Martha brands George a "flop" and he smashes a bottle against the fireplace…

If The Booze Hadn't Been There: George and Martha would probably have kept their feelings all buttoned up. Which probably wouldn't have been a very healthy thing.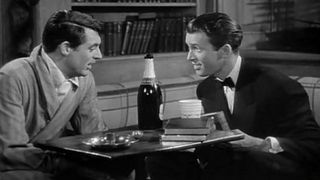 The Philadelphia Story (1940)
The Drinking Scene: An inebriated Macaulay (James Stewart) visits C.K.Dexter Haven (Cary Grant). They go into the 'talking room', where Macaulay continues to drink (oh dear) and gets the hiccups, then demands to know if Dexter's still in love with Tracy (Katharine Hepburn).

If The Booze Hadn't Been There: It would've been difficult for Macaulay to get that drunk…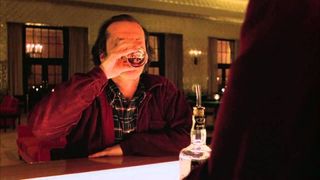 The Shining (1980)
The Drinking Scene: By this point, Jack (Jack Nicholson) is well and truly starting to lose his marbles, which is probably why he takes solace in a bar, which is suddenly full of life despite the fact that the Overlook Hotel is closed for business over the winter period.

"You set them up, and I'll knock 'em back, Lloyd."

If The Booze Hadn't Been There: There's a lot going on in The Shining , but one of the main themes is alcoholism, which sort of needs the involvement of booze…