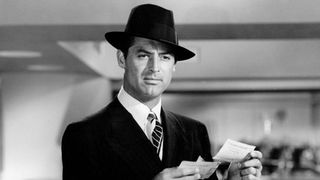 His Girl Friday (1940)
The Meta Moment: "Listen," begins Cary Grant, "the last man that said that to me was Archie Leach just a week before he cut his throat!"

Why It's Great: Archie Leach is Cary Grant's real name. So now you know!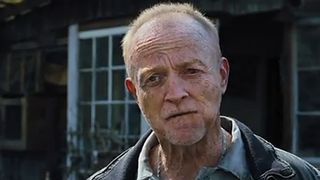 The Cabin In The Woods (2012)
The Meta Moment: The introduction of a sinister local type at a rickety old gas station. "I can get you there," he says of the titular cabin. "Getting back… that's your concern."

Why It's Great: It's a hoary old horror stereotype being dangled in front of the audience in order to make them think they're watching a different kind of movie entirely. And it only gets more meta from here…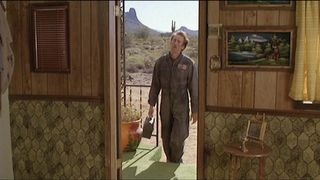 Raising Arizona (1987)
The Meta Moment: Nic Cage can be spotted wearing a set of overalls marked "Hudsucker Industries".

Why It's Great: A call-back is one thing but a call-forward? That's what comes of sitting on a batch of completed movie scripts!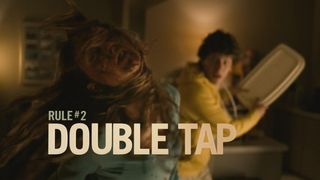 Zombieland (2009)
The Meta Moment: Jesse Eisenberg's explanation of the rules is essentially a crash course to the art of the zombie film, and a nod to the genre-savvy audience.

Why It's Great: His "always double tap" rule is the most satisfying, given how many times it is ignored in horror films in general.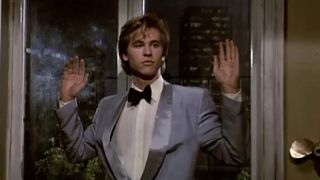 Top Secret (1982)
The Meta Moment: "Listen to me Hillary," begins Val Kilmer's character, Nick Rivers. "I'm not the first guy who fell in love with a woman that he met at a restaurant who turned out to be the daughter of a kidnapped scientist only to lose her to her childhood lover who she last saw on a deserted island who then turned out fifteen years later to be the leader of the French underground." "I know," she replies. "It all sounds like the plot of some bad movie."

Why It's Great: The Zucker brothers never did take themselves too seriously, did they?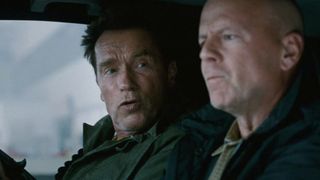 The Expendables 2 (2012)
The Moment: "You've been back enough," growls Bruce Willis. "I'll be back." "Yippie-kay-ay!" is Arnie's bemused response.

Why It's Great: It might sound a little forced, but there's still plenty of enjoyment to be had in watching these two old-stager hamming it up.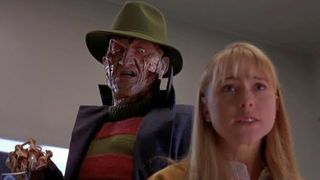 Wes Cravens New Nightmare (1994)
The Moment: The entire film, which follows Wes Craven and his team creating a new instalment of the Nightmare On Elm Street franchise, only to find the lines between fiction and reality becoming horribly blurred.

Why It's Great: Because despite its ludicrously meta set-up, the whole thing kind of works, breathing new life into an increasingly tired series.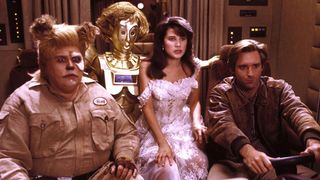 Spaceballs (1987)
The Meta Moment: With the villains fruitlessly searching for the heroes, one bright spark suggests they put on a video of Spaceballs and fast forward to work out where they are.

Why It's Great: In a movie that doesn't even come close to taking itself seriously, it's a pleasingly delirious plot device.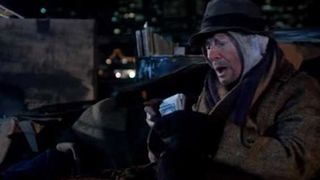 Coming To America (1988)
The Meta Moment: The Duke brothers from Trading Places make a meta-cameo, newly destitute and living on the streets. Prince Akeem (played by Eddie Murphy, their co-star in the earlier film) takes pity on them however, tossing them a bag of cash for their troubles.

Why It's Great: The brothers acknowledge their sudden change in luck with a gleeful, "we're back!" Lovely stuff.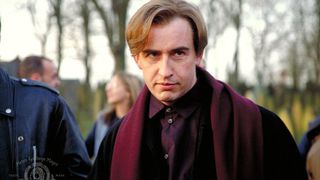 24 Hour Party People (2002)
The Meta Moment: Steve Coogan breaks the fourth wall by pointing out every cameo by a real-life musician in the film so far. That bit of business taken care of, the action restarts again, audience safely clued up!

Why It's Great: Coogan's delivery is perfect. "I'm being postmodern," he quips. "Before it was fashionable."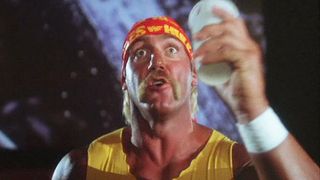 Gremlins 2: The New Batch (1990)
The Meta Moment: The film suddenly breaks down on account of Gremlins in the projection booth. Fortunately Hulk Hogan is knocking about in the cinema lobby to save the day.

Why It's Great: Any film that breaks the fourth wall to allow for a Hulk Hogan cameo is alright by us!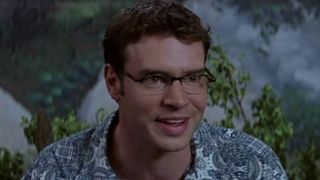 Scream 3 (2000)
The Meta Moment: Stab 3 director Roman Bridger complains that the movie's failure could thwart his real ambition: to direct a classic love story.

Why It's Great: Craven is freely admitting that his primary motivation to return for part 3 was to secure enough funding to direct Music Of The Heart . So take that, audience!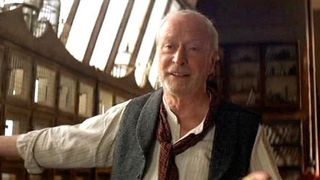 The Prestige (2006)
The Meta Moment: Michael Caine's voiceover is replayed at the film's finale, clearly addressing the audience as he tells them, "You don't really want to work it out… you want to be fooled."

Why It's Great: Caine's explanation of magic is actually Nolan's explanation of movie-making, and his way of talking to his audience, without explicitly breaking the fourth wall.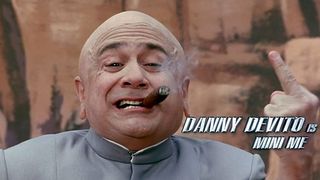 Goldmember (2002)
The Meta Moment: The opening credits take the form of a movie within a movie, featuring the likes of Tom Cruise, Kevin Spacey and Gwyneth Paltrow.

Why It's Great: Kevin Spacey and Danny DeVito steal the show as Dr. Evil and Mini Me respectively.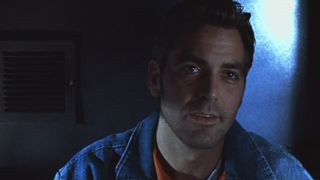 Out Of Sight (1998)
The Moment: Karen Sisco is watching the TV when Jack Foley's mugshot is shown on the news. "It doesn't even look like him," she mutters, dismissively.

Why It's Great: The image is actually Seth Gecko's mugshot from From Dusk Till Dawn , another character played by George Clooney.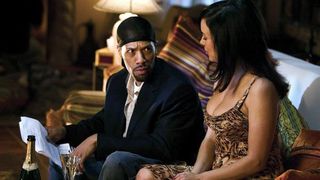 Seed Of Chucky (2004)
The Meta Moment: Jennifer Tilly (starring as herself), throws herself at Redman in order to get the part of the Virgin Mary in his directorial debut. Midway through her "persuasion", she's knocked out by Tiffany, voiced by… Jennifer Tilly.

Why It's Great: Because it's totally, totally barmy. Fair play to Tilly for being such a good sport!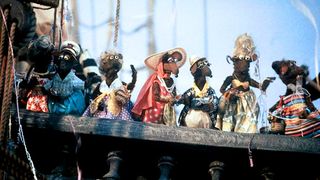 Muppet Treasure Island (1996)
The Meta Moment: A tour group of rats can be seen taking photographs of a sign that reads, "the actual jungle location for the movie Muppet Treasure Island ".

Why It's Great: Meta movie moments can occasionally come across as smug or indulgent, but not when they've got the Muppets to sell them!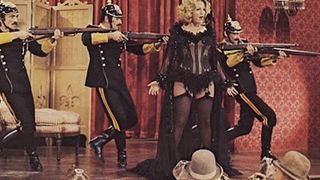 Blazing Saddles (1974)
The Meta Moment: The final dust-up comes crashing through the fourth wall, as the scrapping cowboys go barrelling through Warner Bros studios (interrupting the filming of a musical in the process) before winding up outside the premiere of… Blazing Saddles .

Why It's Great: It's a gloriously chaotic finale, with Mel Brooks gleefully abandoning the conventional rules of storytelling.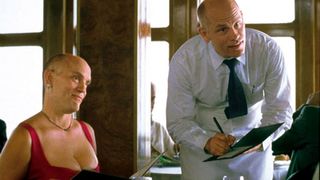 Being John Malkovich (1999)
The Meta Moment: When the actual John Malkovich stumbles through the portal into the mind of John Malkovich, resulting in a mega-Malkovich meltdown.

Why It's Great: The scene is batshit crazy, and all the better for it. Mallovich Malkovich!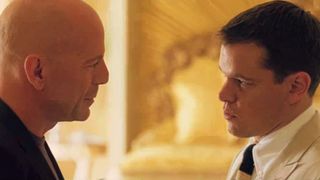 Oceans 12 (2004)
The Meta Moment: Julia Roberts is forced to impersonate Julia Roberts in the presence of Bruce Willis, while Matt Damon improvises as her PR manager.

Why It's Great: The Roberts element might be a bit smug, but the scene does afford Matt Damon the opportunity to tease Willis about his lack of Oscar recognition. "That little statue on the mantle starts smirking at you after a while, you know what I'm saying?" says Damon. "Not really, no," comes the terse response.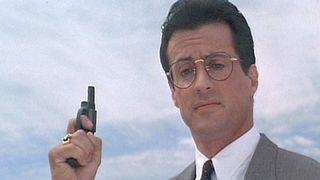 Tango And Cash (1989)
The Meta Moment: Who do you think you are?" asks a local cop of Tango. "He thinks he's Rambo," chrips another. "Rambo?" chuckles Tango. "Rambo's a pussy."

Why It's Great: Sly is having a laugh at himself. A bloody good laugh…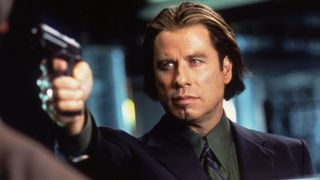 Swordfish (2001)
The Meta Moment: "You know what the problem with Hollywood is?" begins John Travolta's villain. "They make shit. Unbelievable, unremarkable shit."

Why It's Great: Opening a movie like Swordfish with the aforementioned lines is punchy in the extreme. Having them delivered by the man who brought you Battlefield Earth … well that's nothing short of genius.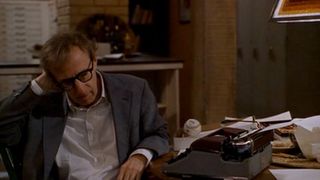 Deconstructing Harry (1997)
The Meta Moment: Harry begins to lose his focus, resulting in his character becoming visibly blurry on the screen.

Why It's Great: Most of Woody Allen's characters are fictionalised versions of himself, so it's nice to see him being more explicit about it here!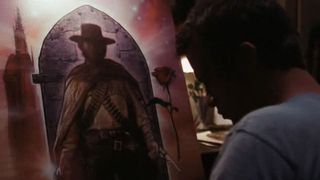 The Mist (2007)
The Meta Moment: The film's opening reel sees Thomas Jane's character painting a rather familiar-looking image to fans of Stephen King…

Why It's Great: That painting is the cover art of King's novel The Dark Tower . We'll be expecting a reference to The Mist in that film, should it ever get made…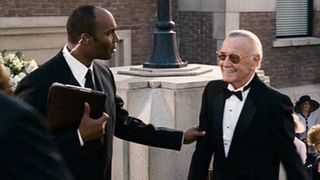 Fantastic Four: Rise Of The Silver Surfer (2007)
The Meta Moment: "I should be on that list!" protests Stan Lee, having been turned away from the wedding of Reed Richards and Susan Storm.

Why It's Great: Stan Lee is always awesome, but this one is particularly nod-nod, wink-wink as a Stan Lee lookalike is also turned away from the very same event in the comic-book.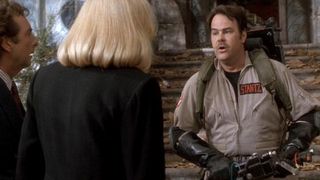 Casper (1995)
The Meta Moment: Ray Stantz comes bursting out of the haunted mansion, sporting a terrible moustache and looking a bit perturbed. "Who you gonna call?" he asks. "Someone else!"

Why It's Great: A Dan Aykroyd cameo would be one thing, but having him pitch up as Ray Stantz is raising the bar.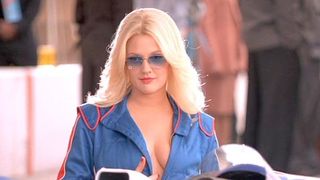 Charlies Angels (2000)
The Meta Moment: Drew Barrymore's character goes hurtling into a living room that's the mirror image of the one lived in by her character in ET .

Why It's Great: Ignoring the too-obvious placement of an ET poster above the television, it's a nice call-back to Drew's big break.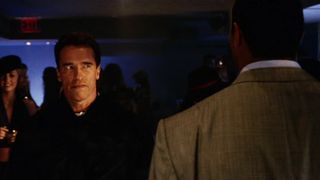 Welcome To The Jungle (2003)
The Meta Moment: The Rock is strolling into a nightclub, only to bump into Arnie walking out of the entrance. "Have fun," smiles the Austrian Oak before heading off into the night.

Why It's Great: It's a lovely passing of the torch from one action hero to another.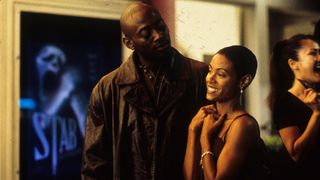 Scream 2 (1997)
The Meta Moment: Mike Epps and Jada Pinkett Smith head to a screening of Stab (itself a parody of Scream ), where the latter complains about the horror genre being "historical for excluding the African-American element." Guess who gets it first?

Why It's Great: Wes Craven takes the hoary old genre trope of the black guy dying first, holds it up to ridicule, then goes through with it anyway!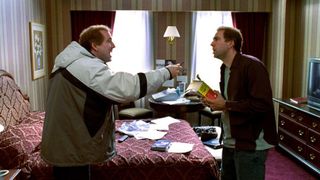 Adaptation (2002)
The Meta Moment: The moment where Nicolas Cage announces he will cast Gerard Depardieu in his movie, giving us the prospect of Depardieu as Charlie Kaufman in a film by Charlie Kaufman in a film by Charlie Kaufman.

Why It's Great: Because you don't often see an example of meta-metafiction!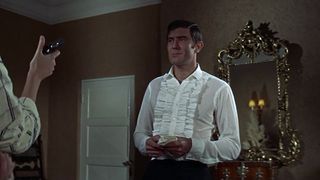 On Her Majestys Secret Service (1969)
The Meta Moment: George Lazenby breaks the fourth wall, quipping that, "this never happened to the other fellow!"

Why It's Great: Connery's departure was hanging over Lazenby like a black cloud, so it's nice to see the issue confronted right from the off. Alright so it's a bit cheesy, but this is Bond we're talking about…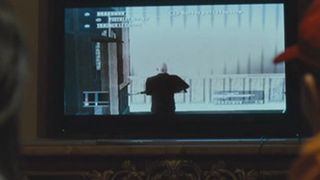 Hitman (2007)
The Meta Moment: Agent 47 crashes into a hotel room, only to be confronted by a pair of children playing a videogame. The game in question? Hitman , of course!

Why It's Great: Timothy Olyphant's look of confusion sells the moment perfectly.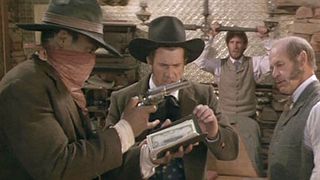 Maverick (1994)
The Meta Moment: Brett Maverick, as played by Mel Gibson, finds himself caught in the midst of a bank robbery being perpetrated by Danny Glover. As the two exchange glances, the theme from Lethal Weapon works its way into the score…

Why It's Great: Richard Donner puts a lot of love into this in-joke, even granting Danny Glover the chance to reel out an "I'm too old for this shit".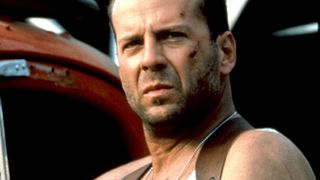 Die Hard With A Vengeance (1995)
The Meta Moment: When asked how he's been spending his retirement, Bruce Willis replies, "smoking cigarettes and watching Captain Kangaroo" a reference to a lyric from Flowers On The Wall .

Why It's Great: Willis can be seen singing those very words in Pulp Fiction , released the previous year!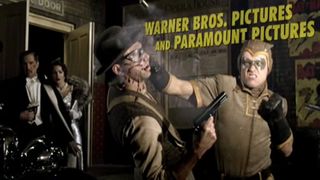 Watchmen (2007)
The Meta Moment: A wealthy-looking couple emerge from the back doors of a theatre (showing a production of Die Fleidermaus ), only to see Night Owl taking out a gun-wielding crook.

Why It's Great: We're watching an alternative timeline in which Joe Chill is thwarted, the Waynes' lives are spared and Bruce never has to become Batman. That's taking things way beyond an in-joke, and it's awesome!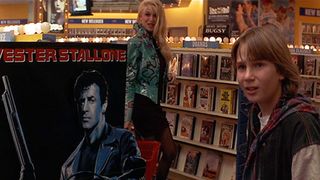 Last Action Hero (1993)
The Meta Moment: Passing a video store, we see an advert for The Terminator , starring none other than… Sylvester Stallone.

Why It's Great: Arnie gets to give his old rival a backhanded compliment. "He's fantastic," he says. "It's his best performance ever".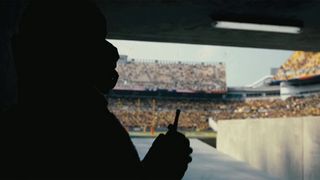 The Dark Knight Rises (2012)
The Meta Moment: Just before blowing the football stadium to high heaven, Bane listens to a choirboy belting out The Star Spangled Banner . "What a lovely, lovely voice," he muses to himself.

Why It's Great: It's Nolan's nod to the controversy surrounding Bane's supposedly indistinct dialogue. A lovely voice, indeed…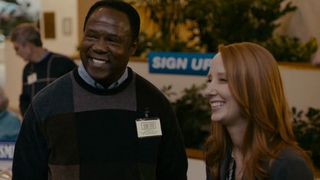 Cedar Rapids (2011)
The Meta Moment: Isaiah Whitlock performs an impression of his Wire co-star Michael K. Williams (AKA Omar Little) in order to scare off some thugs. Indeeed.

Why It's Great: It would be too straightforward just to have Whitlock quote his Clay Davis catchphrase ("Sheeeeeeeit", in case you were wondering), but having him quote Omar is an HBO fan's wet dream.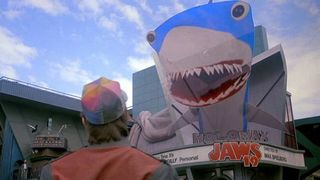 Back To The Future Pt. 2 (1989)
The Meta Moment: Marty McFly is confronted by a massive holographic shark as part of a teaser for Jaws 19 . "Shark still looks fake," he mutters snarkily.

Why It's Great: It's Robert Zemeckis having a little fun with his executive producer. We also like the fact that the film's director is listed as Steven's son, Max Spielberg.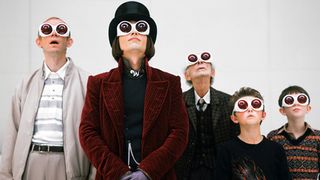 Charlie And The Chocolate Factory (2005)
The Meta Moment: Strolling past a room full of pink sheep, Wonka silences the group with a curt, "I'd rather not talk about this one."

Why It's Great: It's a reference to Ed Wood, another Johnny Depp character, a cross-dresser with a preference for pink woollen sweaters.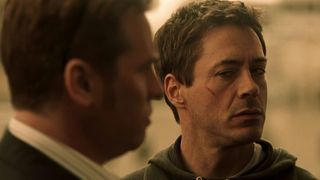 Kiss Kiss Bang Bang (2005)
The Meta Moment: Any of Robert Downey Jr.'s wry pieces of narration. We particularly like his attempt to bring things together at the film's conclusion: "I saw the last Lord of the Rings , I'm not gonna have the movie end, like, seventeen times."

Why It's Great: The dialogue is clever-clever without being smug, thanks largely to RDJ's hugely likeable delivery.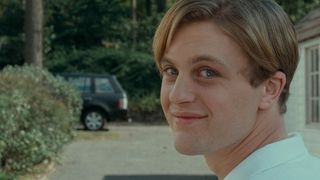 Funny Games (2007)
The Meta Moment: Having put her husband out of her misery with a shotgun, Ann looks to have taken charge of her destiny, only for her tormentors to rewind the scene in order to play it out how they want it to happen.

Why It's Great: Michael Pitt breaks the fourth wall throughout the film, gleefully admonishing the audience for pretending they aren't watching to revel in his violence.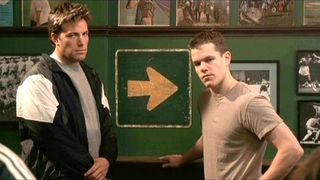 Jay & Silent Bob Strike Back (2001)
The Meta Moment: Ben Affleck and Matt Damon bicker on the set of Good Will Hunting 2: Hunting Season , while a disinterested Gus Van Sant counts his money. Now how do you, like them apples?

Why It's Great: The two trash each other's filmographies with great relish. "Hey look," sneers Affleck, "I'm sorry I dragged you away from whatever-gay-serial-killers-who-ride-horses-and-like-to-play-golf-touchy-feely-picture you're supposed to be doing this week."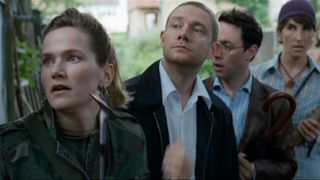 Shaun Of The Dead (2004)
The Meta Moment: Shaun's gang of survivors bump into a remarkably similar posse, headed-up by Simon Pegg's Spaced co-star, Jessica Hynes.

Why It's Great: The rival group not only mirror Sean's gang, they're also made up of an equivalent band of British comedy stars, including Reece Shearsmith, Martin Freeman, Matt Lucas and Tamsin Grieg.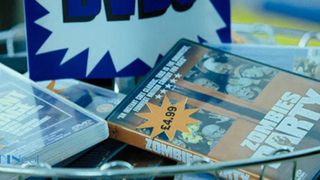 Hot Fuzz (2006)
The Meta Moment: A glimpse inside a bargain bucket of DVDs reveals a title called Zombies Party which looks more than a little like the cover of Shaun Of The Dead .

Why It's Great: Zombies Party was actually the title Shaun Of The Dead was released under in some territories.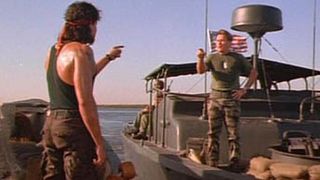 Hot Shots Part Deux (1993)
The Meta Moment: Martin Sheen and Charlie Sheen pass each other, look up and simultaneously shout, "I loved you in Wall Street ".

Why It's Great: As well as referencing their starring roles in Wall Street , Martin Sheen is also sending up his Apocalypse Now persona.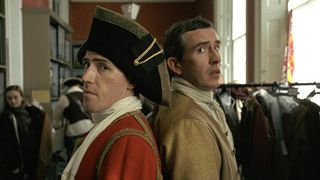 A Cock And Bull Story (2005)
The Meta Moment: Rob Brydon does his best Steve Coogan impression, which is rather a lot like an Alan Partridge impression. "A-HA!"

Why It's Great: Brydon and Coogan's chemistry is as impeccable as ever, particularly Coogan's growing irritation of Brydon's failure to distinguish between he and Partridge.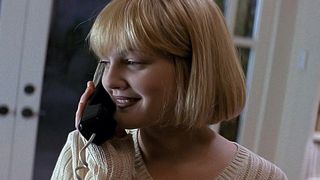 Scream (1997)
The Meta Moment: "What's your favourite scary movie?" enquires the unseen killer before testing Drew Barrymore's knowledge of all things slasher. Sadly for her, her knowledge of Friday 13th lets her down, and she ends up gutted like a fish…

Why It's Great: Wes Craven sets his postmodern stall out right from the off with a scene that's simultaneously frightening and funny, while being utter porn for horror nerds.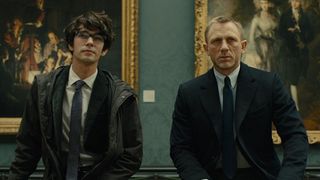 Skyfall (2012)
The Meta Moment: "What were you expecting, an exploding pen?" queries Q, mockingly. "We don't really go in for that any more."

Why It's Great: It's a direct call-back to the gadget that appeared in Goldeneye , with Q sniffily speaking for both Q branch and the filmmakers.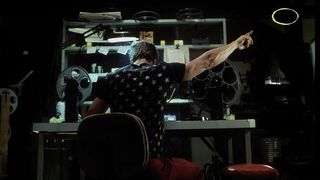 Fight Club (1999)
The Moment: Having earlier been informed that Tyler enjoys splicing cells of pornography into mainstream movies, the film ends with a blink-and-you'll-miss-it shot of the male member.

Why It's Great: It's flagged up a mile off, but it still elicits a mischievous chuckle when it arrives.