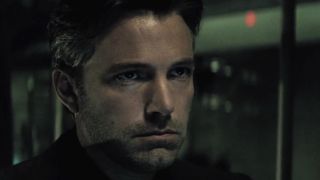 Back to Bat
Superman has already shown us what he's made of this week in the run up to the release of Batman Vs Superman: Dawn of Justice, but now it's Batman's turn to take to the stage and flex his movie muscles. Ben Affleck is donning the famous pointed cowl this time out, but he's got some big bat-shoes to fill if this list of best Batman movie moments is anything to go by...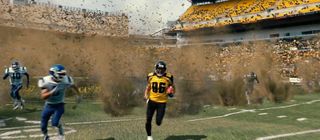 Stadium collapse
The moment: A football stadium playing field collapses while players run with the ball to avoid it. Other tunnels and bridges also explode as Bane isolates the entire city in one go.
Why it's great: It's the point where you realise just how horribly evil and dangerous Bane is in The Dark Knight Rises. It's a massive demonstration of what he's capable of and with no Batman in sight it feels like all hope is lost as Gotham falls into chaos.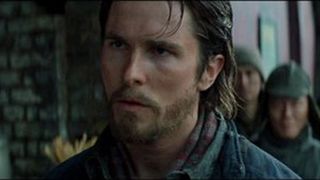 First round... fight!
The moment: Batman Begins new, grittier style is demonstrated by Bruce Wayne's six on one punch-up in a Bhutan prison. The guards are soon called, dragging Bruce off for protection. "I dont need protection," snaps Wayne. "Not you," comes the reply, "them!"
Why it's great: Barely five minutes in and we've already had more exhilaration than in the two Joel Schumacher movies put together.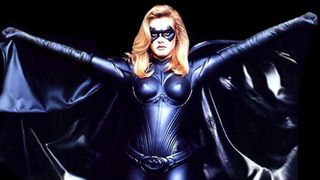 Batgirl suit-up
The Moment: Batgirl decides that the time for taking a back-seat is over, and straps herself into some figure-hugging leather of her own in Batman & Robin.
Why it's great: Don't get us wrong, Alicia Silverstone's Batgirl is a Grade-A irritant. That said, the shriekingly camp but undeniably sexy suit-up scene is one of the few enjoyable scenes from the Caped Crusader's darkest hour.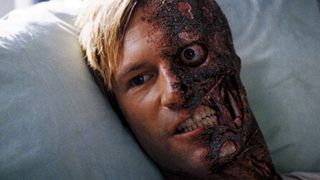 Say my name
The moment: Commisioner Gordon goes to visit Harvey Dent in hospital, receiving a barrage of abuse for his troubles. Finally, after much directorial teasing, Dent turns his face to the camera to reveal the hideous damage caused by the Joker's goons.
Why it's great: If we had one criticism of The Dark Knight, it would be that Dent's time as Two-Face is handled a little too quickly, with very little running time afforded to his psychotic new persona. However, the big reveal is handled excellently, as Nolan cranks up the tension to almost intolerable levels before finally showing Dent in all his gory glory.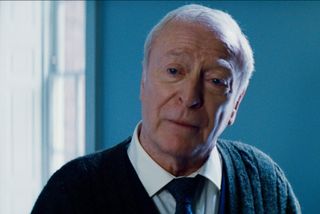 Alfred leaves Bruce
The moment: Bruce crosses a line and Alfred can't stand to watch him hurt himself any more so makes an impassioned speech and admits he burnt Rachel's letter as he bids farewell.
Why it's great: Michael Cain's line delivery at this point during The Dark Knight Rises is so good that it's impossible not to feel a little teary as he says goodbye to his friend for the last time (or so he thinks).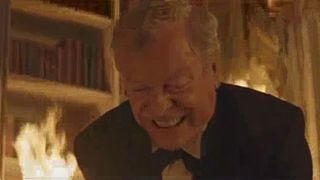 Up in smoke
The moment: The League Of Shadows set fire to Wayne Manor, trapping Bruce under a burning rafter. Fortunately a golf club-wielding Alfred is on hand to drag his master away from the inferno.
Why it's great: The burning of Wayne Manor is one of Batman Begins' more spectacular setpieces, made all the more enjoyable by Michael Caine and his pithy one-liners. We want a butler like that!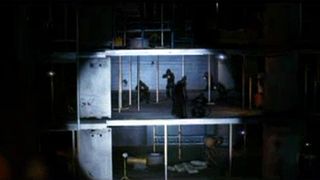 SWAT team takedown
The Moment: Batman solves a case of mistaken identity by incapacitating a SWAT team fooled by Joker into targeting hostages. Using sonar, quick wits and his trusty grappling hook, Bats manages to undo one of Joker's most fiendish set ups.
Why it's great: It's a dizzying setpiece and one of the most convoluted action sequences you could hope to see in a summer blockbuster. And still he manages to maintain his one rule.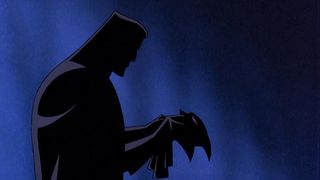 You look Phantasmic
The moment: Alfred sees master Bruce in his full Batman get-up for the first time in 1993's animated Batman: Mask of the Phantasm. It's safe to say he's a little shocked by what he sees.
Why it's great: Boasting the vocal talents of Kevin Conroy as the Batman and Mark Hamill as the Joker (for many people, the definitive version of the Clown Prince of Crime), Mask of the Phantasm is an excellent addition to the canon, and well worth fishing out on Youtube.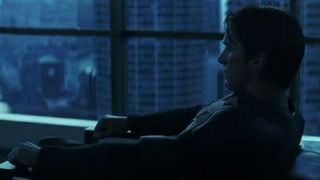 Bruce in mourning
The moment: With the Joker's fiendish scheme having claimed the life of Rachel Dawes, a despondent Bruce sits slumped in the window of his penthouse, pondering whether his actions were responsible and whether Gotham can ever be saved.
Why it's great: Chris Nolan has never been afraid to take Batman down some pretty dark roads, and this exchange represents one of The Dark Knight's bleakest moments. Alfred's decision to withhold Rachel's letter (telling Bruce she chose Harvey) is a moment of simple compassion that cuts through the darkness.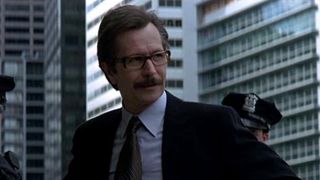 Bedtime story
The moment: Lieutenant Gordon, presumed dead at the hands of the Joker, returns to his family and his lightly dozing son. "Did Batman save you?" asks the boy. "This time, I saved him," replies Gordon happily.
Why it's great: A touching moment between father and son, brought to life by Gary Oldman's wonderfully human performance. The slap that his wife gives him when he shows up from the dead is another excellent moment.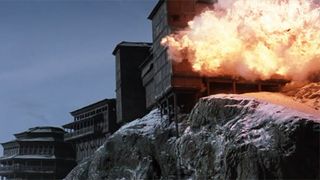 Escaping the League
The moment: Bruce Wayne makes his escape from the HQ of the League Of Shadows, sending most of it up in flames as he does so. How's that for gratitude?
Why it's great: Nolan flexes his muscles with Begins' first major set-piece, and he pulls it off with aplomb. By the way, anyone notice the similarities between this scene and the Arctic assault in Inception? Just a thought.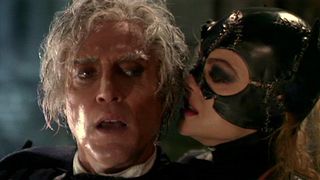 Sealed with a kiss
The Moment: As Max Shreck uses up all but two of Catwoman's nine lives, the feline fatale sparks up a taser and electrocutes the both of them with a particularly wet kiss. What a way to go!
Why it's great: Tim Burton's penchant for the melodramatic hits fever pitch as Shreck pumps round after round into Catwoman, only for her to become more hysterical with each wound. A fitting final show-down between two deliciously grotesque villains.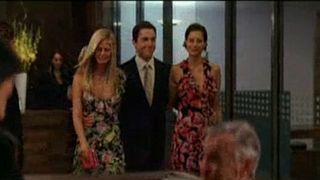 Man about town
The Moment: Bruce follows Alfred's advice to have a little fun, by turning up to a posh hotel with a pair of models on his arm, frolicking in the pool with them before buying off the protesting manager. How the other half live, eh?
Why it's great: Nolan's films don't devote a huge amount of time to Bruce Wayne's billionaire playboy persona, but this scene (similar to the one inThe Dark Knight where he spirits away the Russian ballet) provides a nice tip of the hat to that public image.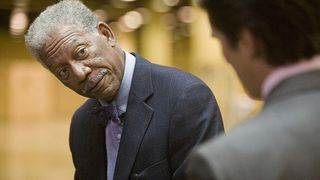 Enter Lucius
The moment: Morgan Freeman's Lucius Fox acts as Batman's very own version of Q, supplying the hero with all manner of nifty gadgets whilst keeping one eyebrow firmly raised at his young charge's antics. His exchange with Bruce Wayne over the loan of a bullet-proof suit, for what Bruce insists is a cave-diving excursion, is priceless: "Expecting to run into much gunfire in these caves?"
Why it's great: Freeman supplies much of the comic relief in both Batman Begins and The Dark Knight, and like Michael Caine, his chemistry with Christian Bale is impeccable.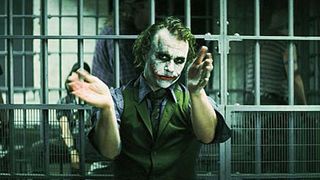 Round of applause
The Moment: Gotham's Mayor has just promoted Lieutenant Gordon to the role of Commissioner, only for the Joker to undermine the moment with a bout of sarcastic applause.
Why it's great: Even the way he claps is unsettling! Cooler still, the whole thing was an ad-lib from Ledger, improvising his way to that Oscar.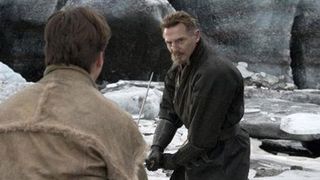 Montage time
The moment: Ducard puts Bruce through his paces with the League Of Shadows' patented training programme. And what's the one rule he must never forget? "Always mind your surroundings."
Why it's great: It's odd to think that Nolan's genre-subverting Bat-series would contain anything so conventional as a training montage, but it's in there. Fortunately, the combination of Liam Neeson's toweringly authoritative performance and Hans Zimmer's ever-present strings ensures that this sequence is anything but routine.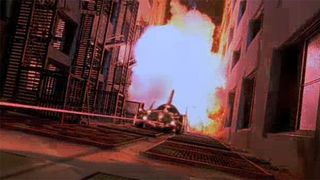 Evasive manoeuvres
The moment: Batman Forever might not have had much going for it, but Val Kilmer did get the chance to drive his souped-up Batmobile up a vertical wall. Improbable? Yes. Cool? Undoubtedly.
Why it's great: Bats uses a grappling hook to help the old girl on her way, so, y'know, it's not completely unrealistic!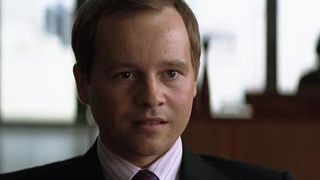 Blackmail
The moment: Slippery Wayne Enterprises employee Coleman Rees confronts Lucius Fox with his plan to blackmail Bruce Wayne, only for Fox to explain the realities of the situation to him. "Let me get this straight," begins Fox. "You think that your client, one of the wealthiest, most powerful men in the world, is secretly a vigilante who spends his nights beating criminals to a pulp with his bare hands. And your plan is to blackmail this person? Good luck."
Why it's great: Morgan Freeman gets all the best lines, doesn't he?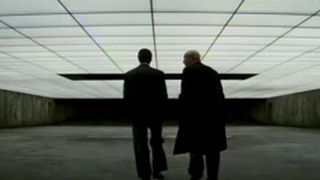 Double-act
The moment: Alfred and Bruce mull over the latter's decision to turn himself in, before indulging in a spot of gallows humour. "I suppose they're going to lock me up as well," begins Alfred, "as your accomplice." "Accomplice?" responds Bruce. "I'm gonna tell them the whole thing was your idea."
Why it's great: As the Joker's reign of terror takes hold, and the tension begins to build, this is a welcome bit of humour between the ever-reliable double-act of Caine and Bale.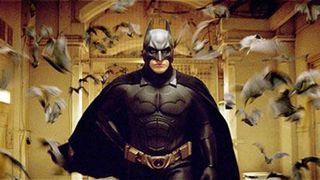 The bats
The moment: Batman creates a distraction at Arkham Asylum by summoning a Biblical swarm of the wing-flapping critters from which he takes his name. Just about as visually impressive a scene as any other in Batman Begins.
Why it's great: Referencing a similar scene in Frank Miller'sYear One comic book, this represents the moment at which the Batman finally takes control of his fears.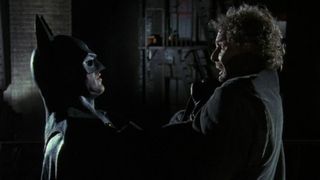 "I'm Batman"
The moment: Bats makes his grand entrance in a rooftop scuffle with one of Gotham's many thugs. Dangling the terrified goon off the edge of a rooftop, Batman urges his prey to tell all his friends about the encounter. "What are you?" shrieks the hapless crook. "I'm Batman" comes the reply. Shivers.
Why it's great: Keaton's Batman was less aggressive than Bale's, but he brought an icy calm to the role that worked well in its own right. This scene is a perfect case in point.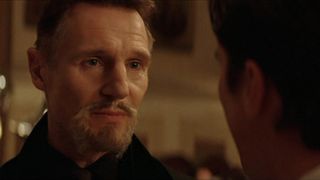 Remember me?
The Moment: The League Of Shadows pay an unexpected visit to Bruce Wayne's birthday party, with the mysterious Henri Ducard revealing himself to be none other than Ra's al Ghul.
Why it's great: Its an excellent twist to kick Batman Begins' last act into the next gear. Plus, Liam Neeson makes for an excellently hissable baddie.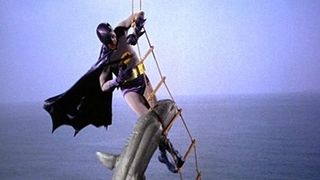 Jumping the shark
The moment: Batman is forced to contend with a pesky shark in 1966's ultra-camp Batman: The Movie. Thankfully, our hero has a handy aerosol full of "shark-repellent bat spray" for just such an occasion. Phew!
Why it's great: Oh come on, we had to include it! Daft it might be, but this toothy encounter still seems more realistic than most of what goes on in Batman & Robin.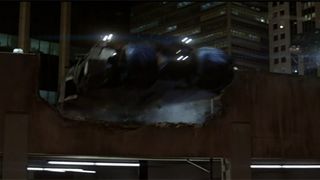 Taking a tumble
The moment: Batman makes his escape from Arkham by hopping into the tumbler and taking it for a nighttime jaunt across Gotham's rooftops. It's the only way to travel you know.
Why it's great: The tumbler, introduced with a knowing "oh, you wouldn't be interested in that" by Lucius Fox, is a superb successor to the Batmobile, and provides Batman Begins with a truly excellent chase scene.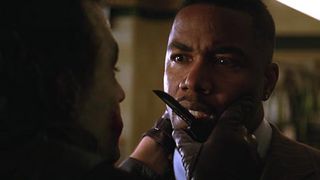 "Why so serious?"
The moment: Both of the Joker's stories as to how he got his scars are supremely tense scenes, each tale delivered with a manic intensity by Heath Ledger. We marginally prefer the one about his father, if only for the, "Why so serious?" payoff. Why it's great: The twin scenes shed no light on the true nature of the Joker's past, and yet tell you everything you need to know about his personality. Plus, the violence with which each is delivered is truly mesmerising.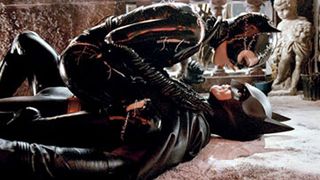 Bats vs. Cats
The Moment: Batman and Catwoman go toe to toe in a whip-cracking rooftop scuffle containing more than a hint of sexual tension. Miaow!
Why it's great: Michelle Pfeiffer is at her slinkiest here, with dozy old Batman falling for her feminine wiles not once but twice. Although who wouldn't have their head turned by Catwoman asking them to "help me find the woman behind the cat"?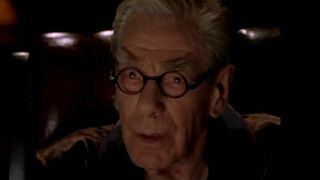 Mentor moment
The moment: One of the few bearable moments in Joel Schumacher's obscenely bad Batman & Robin is a quiet exchange between George Clooney's Bruce and Michael Gough's Alfred. In it, the pair discuss the death of Bruce's parents, and the way in which this early trauma has shaped everything he has become.
Why it's great: Gough's dialled down performance provides blessed relief from Uma Thurman and Arnold Schwarzenegger's morale-sapping pun contest. The old boy is by far and away the best thing in the movie.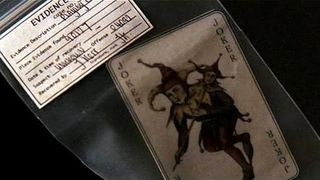 Calling card
The moment: Chris Nolan tees up his next Bat-sequel at the end of Batman Begins, as Lt. Gordon fills Batman in on a violent criminal at large in Gotham. "Armed robbery, double homicide," he begins. "Got a taste for the theatrical like you. Leaves a calling card." Deliciously, the card is a joker.
Why it's great: Everybody loves a comic-book in-reference, and one that sets up the next film as neatly as this one does deserves to celebrated.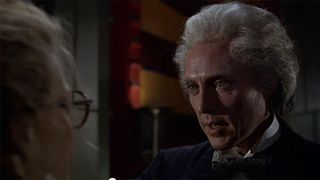 Mad Max
The Moment: Christopher Walken's Max Shreck artfully intimidates Michelle Pfeiffer's Selina Kyle before pushing her out of the window. It's a log way down.
Why it's great: It's the point at which Walken gets his first opportunity to really flex his sinister muscles as the demonic Shreck. "It's not like you can just kill me," squeaks the plaintive Ms. Kyle. "Actually, it's a lot like that," smirks Max.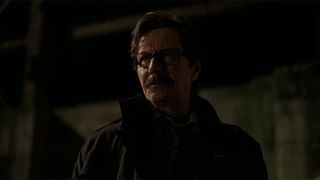 A silent guardian
The moment: The Dark Knight's epic final scene in which Batman outlines his scheme to take the fall for Two-Face's murders, and Commisioner Gordon explains to his son why Batman must go on the run.
Why it's great: The combination of stirring dialogue ("because he's the hero Gotham deserves, but not the one it needs right now") with Hans Zimmer's superlative score gives us goosebumps every time. "He's a silent guardian, a watchful protector, a dark knight!"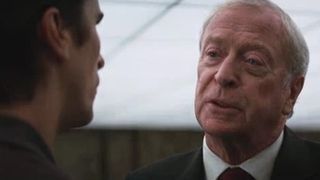 "Some men just want to watch the world burn"
The moment: Alfred attempts to explain to Bruce that the Joker is a different breed of opponent from those he has faced in the past. He makes the point that Wayne has underestimated Joker's sheer appetite for destruction, explaining that when it comes to motivation, "some men just want to watch the world burn."
Why it's great: Caine is an excellent Alfred, and nowhere is his wisdom and importance to Batman illustrated better than it is here. We also get a hint at a badass-sounding backstory. Alfred was in Burma?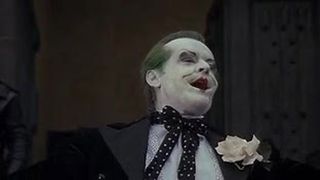 The pen vs. the sword
The moment: The Joker bumps off Vinnie Ricorso by plunging the sharpened tip of a quill directly through his windpipe. "The pen is truly mightier than the sword" he quips, gleefully. What is it with him and writing implements?
Why it's great: It's the perfect illustration of just how few actors cross menace with charisma as well as Jack Nicholson.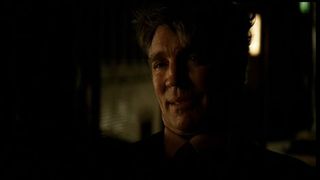 Sal takes a fall
The moment: Batman dangles mobster Sal Maroni from the top of a fire escape. "From this height, the fall wouldn't kill me," sneers the crim. "I'm counting on it," snarls Bats, before dropping Maroni to the pavement below. Crunch!
Why it's great: If there was ever a question-mark over just how badass Bale's Batman really is, this scene pretty much ends the discussion.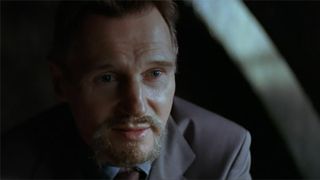 More than a man
The moment: Ducard gives Bruce a pep talk on the nature of crime-fighting. "If you make yourself more than just a man, if you devote yourself to an ideal, and if they can't stop you, then you become something else entirely - a legend, Mr Wayne."
Why it's great: Ducard's motivational speech forms the basis of the Batman's modus operandi, and sets the tone nicely for the rest of Batman Begins.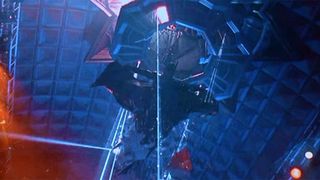 Crashing the party
The moment: Batman turns up to Two-Face's soiree uninvited, smashing through the skylight and taking down a clutch of henchmen in the process. "You're entrance was good," remarks Riddler to his bi-polar chum, "his was better."
Why it's great: Joel Schumacher's Batman Forever could rarely be accused of being cool, but in this case, the man deserves his dues. It's a nice little scene.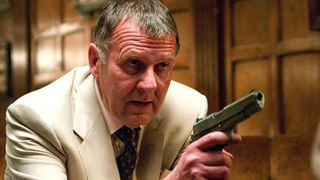 Falcone's speech
The moment: Bruce Wayne goes to confront Carmine Falcone, only to be met with the following verbal volley: "You think because your mommy and your daddy got shot, you know about the ugly side of life, but you don't. You've never tasted desperate. You're, uh, you're Bruce Wayne, the Prince of Gotham; you'd have to go a thousand miles to meet someone who didn't know your name. So, don't-don't come down here with your anger, trying to prove something to yourself. This is a world you'll never understand. And you always fear what you don't understand." Ouch.
Why it's great: It's a brilliantly scripted piece of dialogue, delivered with vicious aplomb by Tom Wilkinson.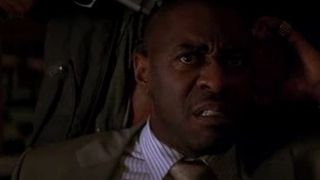 Tryouts
The Moment: The Joker does for crime boss Gambol, before telling his hired muscle there's a spot open to run with his crew. However, as there are three newly unemployed henchman and only one vacancy, Joker tells them they're going to have tryouts, ominously dropping a splintered pool cue in the floor between them.
Why it's great: Without actually showing the violence, Nolan makes it crystal clear just what calibre of psycho we're dealing with. "Make it fast," he whispers as he strolls nonchalantly from the scene.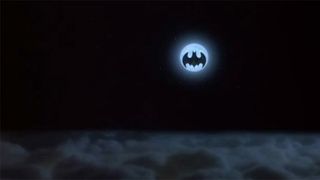 The Batwing takes flight
The Moment: The Batwing takes to the skies in Tim Burton's Batman, soaring above the Gotham streets before casting a bat-signal-esque shadow against the moon. And then come the missiles.
Why it's great: The effects might not have stood the test of time, but there's still something exhilarating about seeing the Batwing in full effect. Let's hope its rumoured return in The Dark Knight Rises lives up to expectations.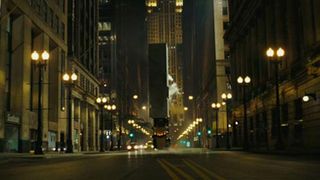 Batman flips the truck
The moment: The Dark Knight's big action setpiece comes to a suitably jarring close as the Joker's 18-wheeler is flipped through 180 degrees onto its back. Impressive stuff.
Why it's great: The truck chase is a genuinely pulse-quickening sequence, and the OMG moment that comes when the truck is flipped is the perfect way to bring it to a close. One of several scenes that really benefitted from the IMAX presentation.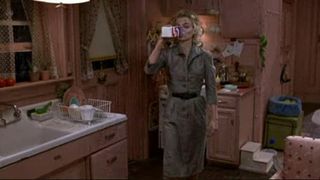 Becoming Catwoman
The Moment: Selina Kyle stumbles through her front door and proceeds to kiss farewell to her old life, trashing her singleton's apartment, spray-painting her clothes and fashioning the figure-hugging latex suit that will transform her into Catwoman.
Why it's great: There's something gloriously deranged about the whole sequence, from the voracious draining of a carton of milk to Michelle Pfeiffer's throaty proclamation, "I don't know about you Miss Kitty, but I feel so much yummier now." Amen to that.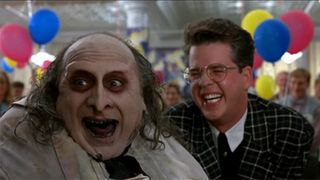 Don't feed the Penguin
The moment:Danny De Vito's Penguin takes umbrage to a suit's suggestion that there's "not a lot of reflective surfaces down in the sewer," by nearly biting his nose clean off. Ooooh, touchy!
Why it's great: De Vito's Penguin might resemble a hysterically OTT vaudeville act, but he's got a feral side that makes for some effective bouts of villainy. This one has the added bonus of being funny as well.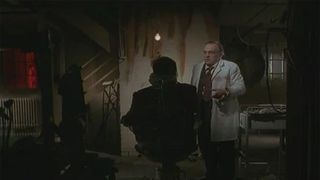 Mirror mirror
The moment: Jack Napier's plastic surgeon removes his patient's bandages and is visibly horrified by the results. "Mirror... MIRROR!" barks Napier, before dissolving into a fit of hysterical giggles.
Why it's great: Jack Nicholson might spend much of the film playing it for laughs, but this is a genuinely unnerving sequence made all the more effective by the fact we can't actually see his face.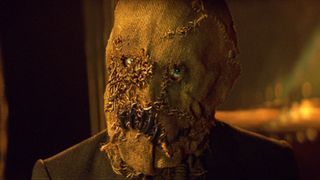 "Would you like to see my mask?"
The moment: Dr Jonathan Crane disproves Carmine Falcone's claims that he's untouchable, by donning the Scarecrow mask and reducing him to a gibbering wreck.
Why it's great: All of the scenes in which Scarecrow uses his fear serum are a macabre treat, but this one is particularly insidious, given the calibre of the man he's scaring. "He's not faking," smirks Crane to a nurse, "not that one."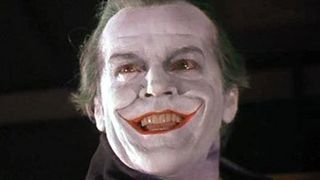 "You can call me Joker"
The moment: Jack Nicholson's Clown Prince of Crime makes his bow, stepping from the shadows to reveal his hideously disfigured face before putting a bullet in Jack Palance's wide-eyed crime boss.
Why it's great: The circus music that kicks in halfway through adds a carnival atmosphere to a scene that veers dramatically between the amusing and the macabre.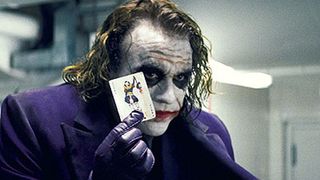 Pencil trick
The Moment: Having swanned into the mobsters' sit-down, Joker introduces himself to his new acquaintances via the medium of a magic trick. "I'm gonna make this pencil disappear," he begins.
Why it's great: It's a brilliantly grisly (second) introduction to Heath Ledger's diabolical villain. The off-key delivery of, "it's - it's gone," that follows is the icing on the cake.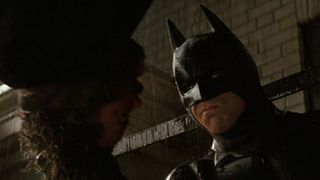 "Swear to me!"
The Moment: Batman interrogates crooked cop Flass in Batman Begins, dangling him a perilous distance above the ground as he "swears to God" that he doesn't know anything. "Swear to me!" roars Bats before sending his terrified victim plummeting groundwards.
Why it's great: This is the point at which one thing becomes painfully clear: Bale's Batman ain't messing around!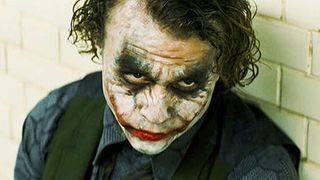 "I want my phone call"
The moment: The Joker takes advantage of his jailer's short temper by taunting him about the number of his colleagues' deaths he's been responsible for. The man really wants his phone call.
Why it's great: When Joker mouths a disbelieving "six?" back at the guard, it's a masterclass in black comedy. The line, "would you like to know which of them were cowards?" is also pretty cool.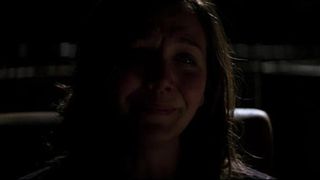 Rachel Dawes RIP
The Moment: Batman arrives to rescue Rachel Dawes, only to realise that the Joker has directed him to Harvey Dent instead. Meanwhile, somewhere across town, time runs out for poor Rachel as she's blown to smithereens.
Why it's great: We really didn't see this one coming. Just when you think the film is on the brink of wrapping up, Rachel is killed, the Joker escapes and Harvey Dent is transformed into Two-Face. With this one scene, the entire film is turned on its head!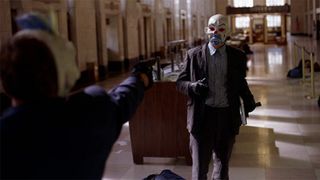 Heist to meet you
The Moment: The Dark Knight's opening bank-job sequence, filmed in glorious IMAX, is not only a visual treat, but a hell of a way to introduce its chief antagonist.
Why it's great: From the off, the Joker is presented as an entirely amoral villain, bumping off his henchman with icy detachment before gleefully mocking William Fichtner's shotgun-toting banker. The mask-removing reveal is a nice touch as well.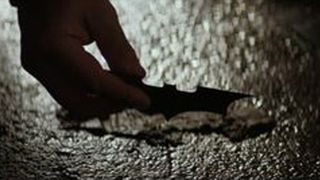 "Where are you?"
The moment: Batman makes his suited bow in Begins, terrorising Carmine Falcone's hired muscle as he flits between the shadows amongst the port's towering container units. Goons dealt with, Bats heads outside to face Falcone, setting up a well-worked re-delivery of Michael Keaton's famous "I'm Batman" line.
Why it's great: The scene perfectly sums up Batman's modus operandi of turning fear against Gotham's gangsters. He's behind you."