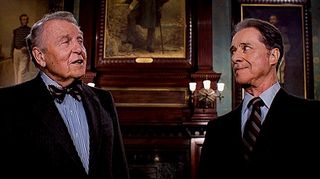 Randolph and Mortimer Duke (Trading Places)
The Movie Boss: Old and wealthy, the Duke brothers, Randolph (Ralph Bellamy) and Mortimer (Don Ameche) are now so distanced from the real world that they see human beings as pawns for their own games.

Which is why they decide to play out a real life 'nature vs nurture' test by hiring a homeless man (Eddie Murphy) and turning him into a banker.

Cruellest Moment: The Dukes attempt to get rid of their new creation once and for all at the film's climax.

Luckily, things don't entirely go their way.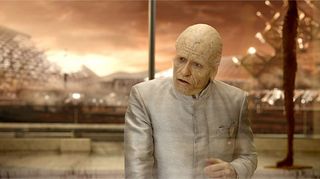 Peter Weyland (Prometheus)
The Movie Boss: CEO of his own Weyland Corporation, Peter Weyland (Guy Pearce) is obsessed with charting space and searching for life among the stars.

Cruellest Moment: Pretty much everything that happens in Prometheus is because of Weyland. He sends a crew of scientists to a deadly distant world where they face certain death.

And all because he wants aliens to prevent his death. Selfish old git.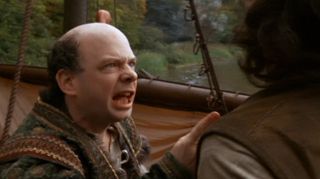 Vizzini (The Princess Bride)
The Movie Boss: An outlaw, Vizzini employs the giant Fezzik and Inigo Montoya, a Spaniard, as his assistants.

With their help, he is able carry out the evil plans he devises – which doesn't stop him berating them verbally.

Cruellest Moment: "Am I going MAD, or did the word 'think' escape your lips?" rages Vizzini at one point. "You were not hired for your brains, you hippopotamic land mass."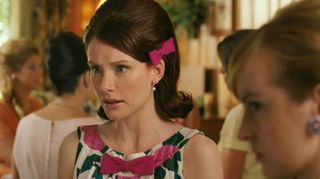 Hilly Holbrook (The Help)
The Movie Boss: A privileged, entitled snoot, Hilly (Bryce Dallas Howard) is the worst kind of boss – she treats her employees like disease-ridden animals.
She even insists that her housemaids use a separate bathroom to her.
All the scarier because The Help is based in fact.

Cruellest Moment: Hilly's maid Minny uses her bathroom during a potentially deadly thunderstorm rather than go outside.

Hilly fires her for it.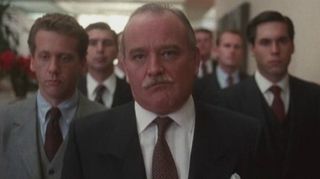 Frank Shirley (Christmas Vacation)
The Movie Boss: Mean and unsympathetic, Frank Shirley spares no thought for his employees whatsoever, merely viewing them as drones that help to fill his pockets with cash.

Cruellest Moment: Shirley's Christmas bonus finally arrives… and turns out to be a subscription to the Jelly of the Month club…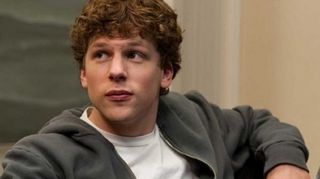 Mark Zuckerberg (The Social Network)
The Movie Boss: A student of Harvard University, Zuckerberg (Jesse Eisenberg) makes history when he establishes website Facemash, which will evolve into Facebook.

Cruellest Moment: Turning on his colleagues/friends in a fight over who owns Facebook.
Or is it they who turn on him..?
We should probably make it clear that we're talking about the movie Zuckerberg here. We're sure the real one is a lovely boss.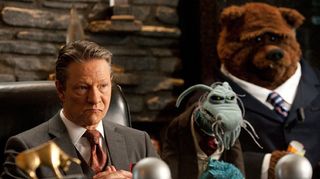 Tex Richman (The Muppets)
The Movie Boss: An evil, power-hungry goon, Tex Richman (Chris Cooper) wants to buy the Muppet Studios and demolish them in order to drill for oil.

As you do.

Cruellest Moment: In a moment of total desperation, Richman attempts to derail the Muppets' live show and stop them making the money they need to restore the Muppet Studios.

Naturally, he fails.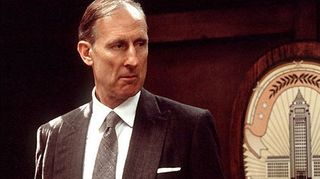 Capt. Dudley Liam Smith (LA Confidential)
The Movie Boss: Callous and unforgiving, Captain Dudley Liam Smith (James Cromwell) works in 1930s Los Angeles.

Cruellest Moment: Smith takes the 'cruel to be kind' route when he confronts Ed (Guy Pearce) over his by-the-book approach to policing.

"For the love of God, don't be a detective," he advises.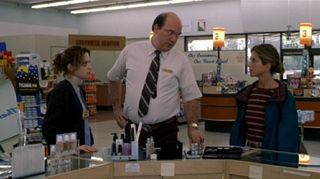 Jack Field (The Good Girl)
The Movie Boss: The store manager at Retail Rodeo, Jack Field (John Carroll Lynch) looks at his staff with nothing more than total disdain.

Which, of course, grates with bored worker Justine (Jennifer Aniston).

Cruellest Moment: Field shows he has pretty much zero compassion in the wake of the death of employee Holden (Jake Gyllenhaal).

"Holden was a thief and a disturbed young man and what happened was a sad thing," he says over the store tannoy.
"Perhaps we can learn a lesson from this tragedy like don't steal and don't be disturbed."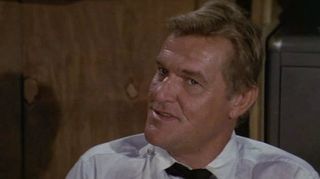 Marshall Murdock (Rambo: First Blood Part 2)
The Movie Boss: Marshal Murdock (Charles Napier), a bureaucrat in charge of an operation to root out POWs in Vietnam.

Cruellest Moment: Rambo (Sylvester Stallone) requests extraction from Vietnam when he saves a group of POWs from pirates.

Murdock denies Rambo's request for fear of the repercussions should the public find out about the operation. Coward.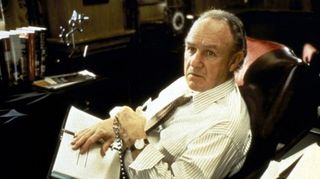 Avery Tolar (The Firm)
The Movie Boss: Avery Tolar (Gene Hackman) is the head of The Firm in Memphis, and mentor to young law graduate Mitch McDeere (Tom Cruise).

Gifted a house and a car, Mitch is blinded by Tolar's generosity until two associates turn up dead…

Cruellest Moment: Killing anybody who attempts to leave The Firm.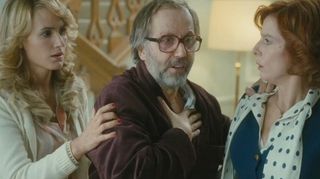 Robert Pujol (Potiche)
The Movie Boss: A tyrannical businessman, Robert Pujol (Fabrice Luchini) owns his own umbrella factory, which he governs with a cruel imperiousness.

Cruellest Moment: Robert's evil ways provoke his workers to go on strike.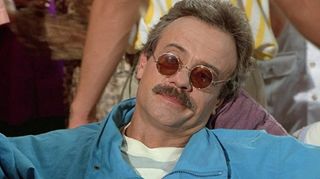 Bernie Lomax (Weekend At Bernies)
The Movie Boss: Dead for pretty much the entirety of Weekend At Bernie's , Bernie Lomax (Terry Kiser) is nevertheless a horrible boss while alive.

As the chief of a New York insurance company, he fiddles the books and doesn't take kindly to those who question him.

Cruellest Moment: When he learns that two of his employees have found out about his life insurance fraud, he sends the mob after them…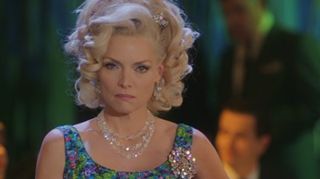 Velma Von Tussle (Hairspray)
The Movie Boss: The racist manager of a TV station, Velma Von Tussle (Michelle Pfeiffer) is a former beauty queen who spends much of her time putting teenage girls down for the way they look.

She's also not above cheating (she slept with judges to win beauty contests).

Cruellest Moment: Velma encounters Tracy's mother (John Travolta) and isn't afraid to let rip with a few barbed insults.

"Mrs. Turnblad! I'd know whose mother you were ANYWHERE," she drools. "Oh, let me guess - new dress? You'll stop traffic!"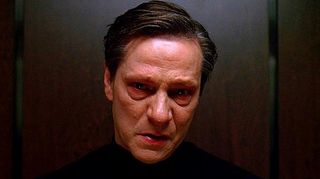 Robert Hanssen (Breach)
The Movie Boss: A senior FBI agent, Robert Hanssen (Chris Cooper) is suspected to be a sexual deviant and has a very odd outlook on power in the FBI.

For one, he believes that only those who regularly shoot their guns are considered for senior positions at the organisation.

Cruellest Moment: Though he's generally kind to his undercover assistant Eric O'Neill (Ryan Phillippe), Hanssen keeps secrets – the biggie being that he's spying for Russia. Bad boy.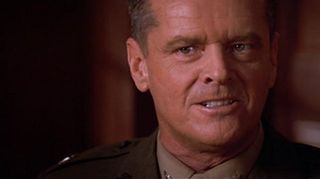 Colonel Nathan R. Jessup (A Few Good Men)
The Movie Boss: The no-nonsense Colonel (Jack Nicholson), who commands the Guantanamo Bay Naval Base in Cuba with a firm hand and a toothy leer.

Cruellest Moment: "You can't handle the truth!" The full extent of Jessup's cruelty is revealed when he's questioned on the stand about the death of PFC William Santiago (Michael DeLorenzo).

It turns out he all but covered the entire thing up.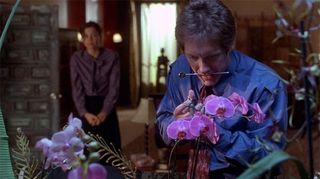 E. Edward Grey (Secretary)
The Movie Boss: Though Lee Holloway (Maggie Gyllenhaal) is unprofessional and not exactly dressed for the job, attorney E. Edward Grey (James Spader) hires her as his secretary.

Then reveals he has some rather unorthodox methods for dealing with her shortcomings…

Cruellest Moment: Disgusted with his own predisposition for BDSM, Grey fires Lee after a particularly steamy encounter in the office.
It's particularly cruel considering she's in love with him…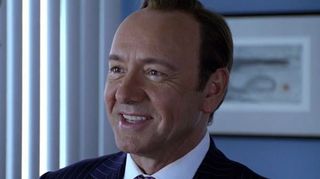 David Harken (Horrible Bosses)
The Movie Boss: The President of Comnidyne Industries, David Harken (Kevin Spacey) is a malicious manipulator who delights in sadistically messing with his staff's minds.

Director Seth Gordon admitted that the character was based on several real life bosses. We'd love to know who they were…

Cruellest Moment: Right at the beginning of the film, Harken hints that Nick (Jason Bateman) is about to get promoted – and then announces to the company that he's taken the job himself.
Bitch.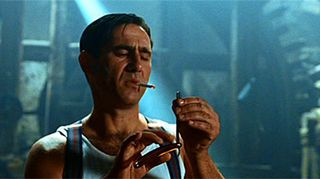 Captain Vidal (Pan's Labyrinth)
The Movie Boss: Stepfather to young Ofelia and a Falange officer, Captain Vidal's (Sergi López) cruelty knows no bounds.

"He is the most evil character I've ever played in my career," acknowledges López.

Cruellest Moment: Vidal is violent to the extreme, setting a bloody example for his men by brutally butchering anybody he considers to be a rebel.

Take the moment when he kills two men who could be rebel allies, or could just be farmers…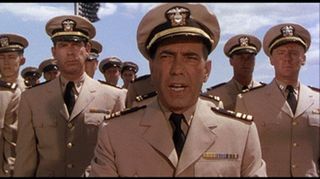 Capt. Queeg (The Caine Mutiny)
The Movie Boss: Captain of the Navy during World War II. He's so crackers that he decides to spend more time accusing his crew of stealing strawberries than actually, y'know, saving the world.

Cruellest Moment: While under enemy fire, Queeg abandons a group of landing craft, leaving them to fight on their own.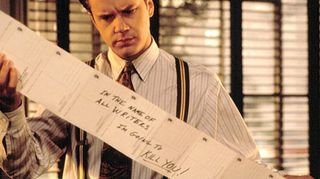 Griffin Mill (The Player)
The Movie Boss: Griffin Mill (Tim Robbins) is a high-up Hollywood studio executive who spends his time hearing pitches from screenwriters.

Cruellest Moment: Mill kills David Kahane (Vincent D'Onofrio), a writer he believes has been sending him death threats.

He then proceeds to cover the whole thing up.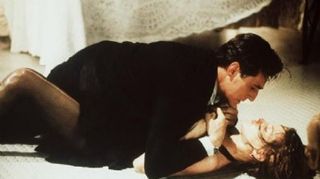 Bob (The Assassin)
The Movie Boss: The rather innocuous-sounding Bob (Gabriel Byrne) works for a secret government department that turns no-hopers into trained assassins.

The only catch? There's no way out. You're officially dead, and can be killed at any time if you show signs of insubordination.

Cruellest Moment: Bob falsely promises new assassin Maggie (Bridget Fonda) her freedom after one last job.
But that job goes wrong, so Bob sends cleaner Victor (Harvey Keitel) in to get rid of Maggie.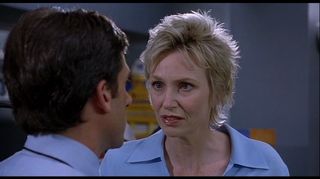 Paula (The 40-Year-Old Virgin)
The Movie Boss: Store manager at electronics outlet SmartTech.
Paula (Jane Lynch) enjoys cutting her employees down to size with a well-placed insult.

Then she smirks and stalks off.

Cruellest Moment: "Andy. Have you ever heard of the term... 'Fuck Buddy?'" Paula propositions virgin Andy (Steve Carell).

"I'm very discreet... but I will haunt your dreams."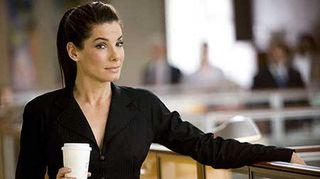 Margaret Tate (The Proposal)
The Movie Boss: As callous as they come, Tate (Sandra Bullock) is an executive editor in chief who has trampled her way to the top of the pile, leaving a trail of broken people in her wake.

Cruellest Moment: Blackmailing her assistant (Ryan Reynolds) into marrying her so that she's not deported.

Sure, it all works out great in the end, but that's a pretty horrendous thing to do, no?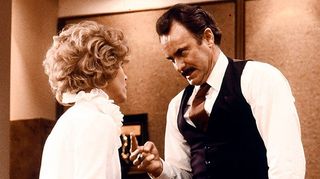 Franklin Hart Jr (9 To 5)
The Movie Boss: According to those in his employ, Franklin Hart Jr (Dabney Coleman) is a "sexist, egotistical, lying, hypocritical bigot".

Which is pretty much the hard truth.
Promoting only men, he spreads vicious rumours about his female employees and takes credit for their hard work.

Cruellest Moment: Take your pick. He yells at Judy (Jane Fonda) on her first day after her equipment goes awry.
He fires Maria when he overhears her talking about money.

And he passes Violet's (Lily Tomlin) efficiency proposals off as his own, then refuses to promote her…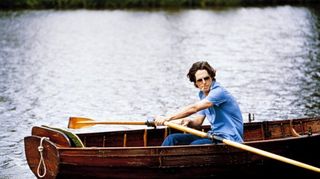 Daniel Cleaver (Bridget Joness Diary)
The Movie Boss: Suave to the extreme, but also a total dog, Daniel Cleaver (Hugh Grant) is the floppy-haired boss of a London publishing house.

He spends most of his time sending flirty emails to impressionable singleton Bridget Jones (Renée Zellweger).

Cruellest Moment: Cleaver's cheating ways are exposed when Bridget discovers him in a compromising position with colleague Lara (Lisa Barbuscia).

Happily, this discovery leads to Bridget laying the smackdown on Cleaver with the immortal line: "I'd rather have a job wiping Saddam Hussein's arse."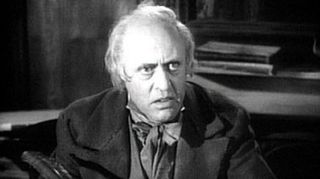 Ebenezer Scrooge (A Christmas Carol)
The Movie Boss: Alastair Sim plays perhaps Dickens' most famous character, the dastardly Christmas-hater who's famous for his greed and lack of empathy.

Cruellest Moment: Scrooge refuses to help two men who are looking to raise funds to help the poor.

Instead of dipping into his own pocket, he comments that he already pays taxes for that sort of thing…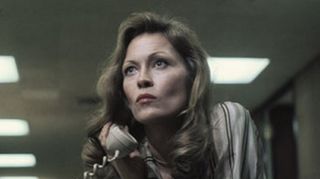 Diana Christensen (Network)
The Movie Boss: Heading up the programming of television network UBS, Diana isn't above making a clandestine deal – as shown when she makes a deal with some terrorists for a new docudrama series.

Cruellest Moment: "You are television incarnate, Diana," accuses colleague Max after Diana's devotion to her job results in the dissolution of their romance.

"Indifferent to suffering, insensitive to joy. All of life is reduced to the common rubble of banality."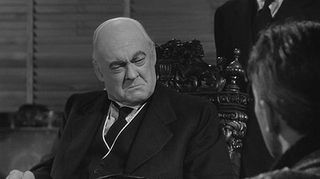 Henry F Potter (Its A Wonderful Life)
The Movie Boss: An emotionless slumlord, Potter (Lionel Barrymore) thinks only about money and the survival of the Building and Loan, in which he is a major shareholder.

Cruellest Moment: Potter turns down George's (James Stewart) appeal for help via a loan.
Not only that, but he openly mocks him and puts out a warrant for his arrest.

Talk about pushing a man to the edge.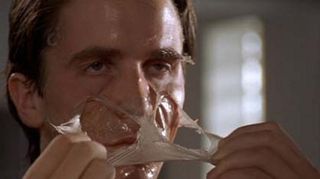 Patrick Bateman (American Psycho)
The Movie Boss: A suave and sophisticated exterior belies the dark heart of Wall Street wolf Patrick Bateman (Christian Bale).

He's competitive to the extreme and has some rather disturbing fantasies.

Cruellest Moment: Bateman invites his secretary Jean (Chloë Sevigny) to dinner, then considers murdering her in his apartment by holding a nailgun to her head…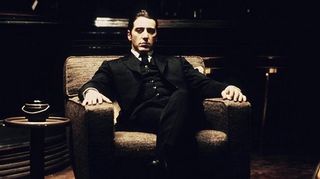 Michael Corleone (The Godfather Part II)
The Movie Boss: The head of a booming crime syndicate, Michael (Al Pacino) has made it his mission to expand the family business across Hollywood, Las Vegas and Cuba during the 1950s.

Cruellest Moment: Taking his position just a little too seriously, Michael kills Fredo (John Cazale), his own brother…
Thought, to be fair, he did have it coming. "I knew it was you, Fredo."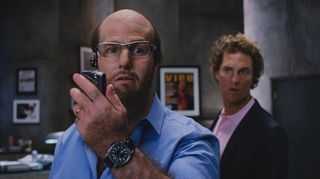 Les Grossman (Tropic Thunder)
The Movie Boss: Every studio's worst nightmare: Les Grossman (Tom Cruise) is a tantrum-throwing, expletive-spewing executive who's producing the movie Tropic Thunder.

In short: he's mental.

Cruellest Moment: Grossman threatens to cancel the whole movie if things aren't put back on track – no matter what. Talk about harsh.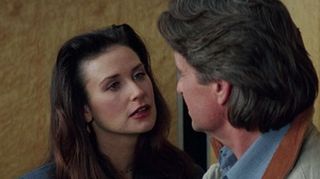 Meredith Johnson (Disclosure)
The Movie Boss: When DigiCom, a Seattle software company merges with a publishing company, Meredith Johnson (Demi Moore) snags the promotion that Tom Sanders (Michael Douglas) was expecting to land.

Cruellest Moment: When Tom rebuffs Meredith's sexual advances, she files a sexual harassment report against him.
Which is only just the beginning…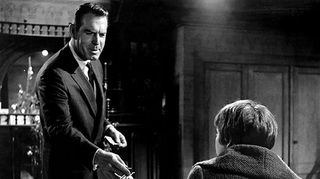 Mr Sheldrake (The Apartment)
The Movie Boss: A smarmy bigot who's a manager at a national insurance corporation.

Cruellest Moment: Sheldrake's affair with a young girl who works, uh, under him at the company comes to a tragic end when she attempts to commit suicide because of he way he's treated her.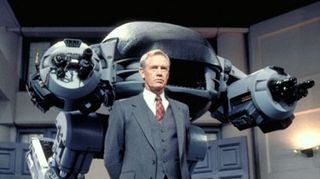 Richard Dick Jones (RoboCop)
The Movie Boss: The Senior President of Omni Consumer Products, Jones is a man with a plan – he wants to entirely decimate Old Detroit and build the utopian Delta City in its place.

Cruellest Moment: When RoboCop creator Bob Morton (Miguel Ferrer) is promoted, Jones gets revenge by hiring Clarence Boddicker (Kurtwood Smith) to kill him.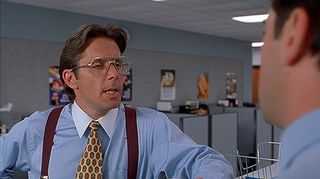 Bill Lumbergh (Office Space)
The Movie Boss: Mug-clutching vice president of Initech Division and boss to Peter (Roy Livingston).

Cruellest Moment: This: "I'm gonna need you to go ahead come in tomorrow. So if you could be here around 9 that would be great, okay?

"Oh, and I almost forgot, I'm also going to need you to go ahead and come in on Sunday too, okay?"

Also, exiling Milton Waddams to the basement. And stealing his stapler.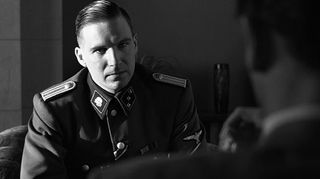 Amon Gth (Schindlers List)
The Movie Boss: A senior SS officer, Amon Göth (Ralph Fiennes) is a psychopathic sadist who's tasked with running the Paszów concentration camp.

He often murders prisoners for entertainment. He's very, very, very evil.

Cruellest Moment: Göth decides to execute a hinge-maker in the camp who he deems unfit to live. Except his gun won't seem to work…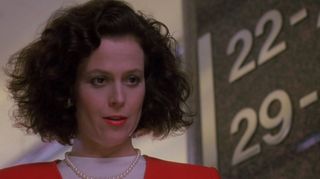 Katharine Parker (Working Girl)
The Movie Boss: As ruthless as any Wall Street investment banker you've ever met, Katharine Parker (Sigourney Weaver) is beautiful, successful and ambitious.

She's also a massive bitch.

Cruellest Moment : Aside from sending her secretary Tess McGill (Melanie Griffith) on numerous, ridiculous wild goose chases, Katharine also reads Tess' diary and accuses her of stealing her idea.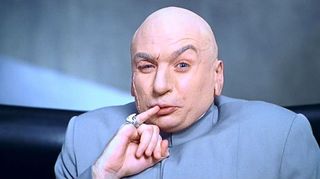 Dr. Evil (Austin Powers)
The Movie Boss: Owner of his own night club (Electric Psychedelic Pussycat Swingers Club), Dr Evil (Mike Myers) has hugely evil plans for the world, which he routinely attempts to conquer.

Unfortunately, most of his plans are outdated in the modern world, revealing his origins as a 1960s mastermind.

Cruellest Moment: Much of Dr Evil's bile is directed toward teenage son Scott (Seth Green).

He frequently ignores and humiliates him, most notably in The Spy Who Shagged Me 's 'zip it' sequence.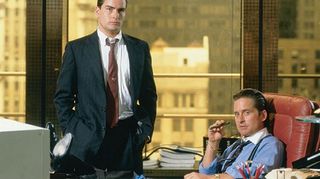 Gordon Gekko (Wall Street)
The Movie Boss: A corporate raider and renowned in Wall Street circles as a ruthless shark, Gekko (Michael Douglas) is all about big bucks and easy sells.

Cruellest Moment: Turning father on son in a clever power play that shows just how far his protégé Bud (Charlie Sheen) will go to succeed.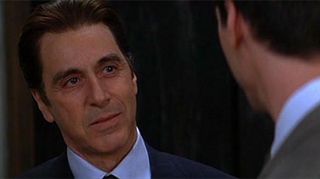 John Milton (The Devils Advocate)
The Movie Boss: Named after the author of Paradise Lost, John Milton (Al Pacino) is a law firm big wig who gives a job to young up-and-comer Kevin (Keanu Reeves).

Oh, and he's also Satan.

Cruellest Moment: "Free will. It's like butterfly wings: once touched, they never get off the ground. No, I only set the stage. You pull your own strings."

Kevin discovers that John is his father (he raped his mother) and is basically indestructible…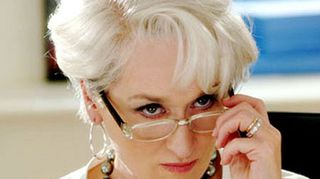 Miranda Priestly (The Devil Wears Prada)
The Movie Boss: "Details of your incompetence do not interest me."

Inspired by Vogue editor Anna Wintour, Priestly (Meryl Streep) is chilly as a block of ice and just as impenetrable.
She's the boss of aspiring young journalist Andrea (Anne Hathaway), who knows next to nothing about fashion.

Cruellest Moment: Miranda puts Andrea well and truly in her place during a look at a new collection, publicly humiliating her in front of her staff.
Not to mention the moment where she sends Andrea out to get a copy of an unpublished Harry Potter book...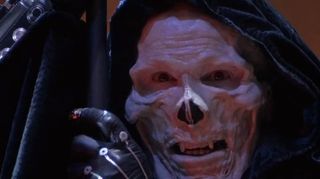 Skeletor (Masters Of The Universe)
The Movie Boss: Egotistical, power-hungry and a little bit bonkers.
Oh, and he has a face like molten wax.

Skeletor's the biggest threat to Eternia, which he wants to seize for himself.

Cruellest Moment: When his motley crew of mutants fail to acquire the Cosmic Key for him, Skeletor shows how he feels about failure by killing the reptilian Saurod.
Make a mistake, you die. Before you've even had a chance to fill out a HR form.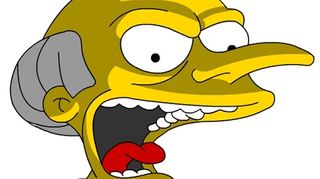 Mr Burns (The Simpsons Movie)
The Movie Boss: As wicked on the inside as he looks on the outside, Mr Burns has a piece of coal where his heart should be.

He owns the Springfield Nuclear Power Plant and is employer to, among others, loveable oaf Homer Simpson.

Cruellest Moment: Mr Burns confirms his utter lack of compassion when he refuses to help Springfield overcome its power outage.
When Apu attempts to reason with the mogul, he releases the hounds…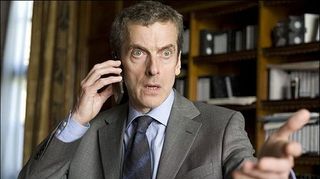 Malcolm Tucker (In The Loop)
The Movie Boss: Equipped with a mouth like a viper and a sting in his tail, Tucker's the Director of communications for the Government, and will stop at nothing to enforce his strict rules.

Cruellest Moment: Tucker convinces a newspaper editor to spike a story by threatening to expose his cheating ways.

"Yeah, maybe it's better to spike it, yeah. OK. Fuckety-bye…"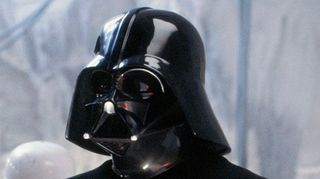 Darth Vader (Star Wars)
The Movie Boss: Ashthmatic Sith Lord. Built the Death Star (with a little help, we assume). Doesn't like Jedis very much.

Cruellest Moment: So many to choose from (revealing his true identity as Luke Skywalker's father is one heck of a mindfuck).

In terms of cruelty to those in his employ, though, Vader loves using the Force Choke – most notably on poor Moff Jerjerrod.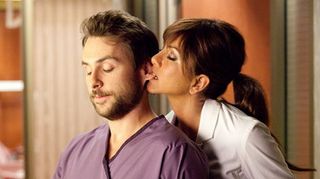 Dr. Julia Harris, D.D.S. (Horrible Bosses)
The Movie Boss: Think you know sexual abuse? You haven't seen anything until you've seen Jennifer Aniston's insanely promiscuous dentist.

She makes life a living hell for assistant Dale (Charlie Day), whom she flirts with unashamedly.

Cruellest Moment: Julia drugs Dale and takes photos of him in compromising positions – then threatens to tell his wife they slept together, unless he actually sleeps with her…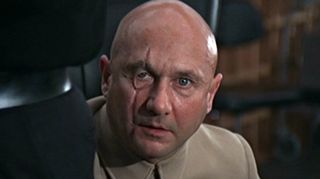 Blofeld (You Only Live Twice)
The Movie Boss: The head of evil organisation SPECTRE, he's a megalomaniac who's planning global nuclear war. Just because he can.

Cruellest Moment: When Brandt, a SPECTRE assassin, fails to kill Bond, Blofeld seems to let her off the hook.

Then he drops her into a pool full of hungry Piranha…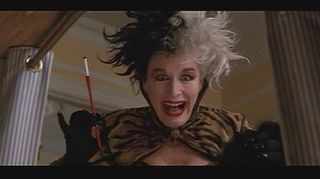 Cruella De Vil (101 Dalmatians)
The Movie Boss: Lover of all things fur, the aptly-named Ms. De Vil (Glenn Close) is boss to wallflower fashion designer Anita Campbell-Green (Joely Richardson).

She smokes like a chimney and looks sort of like a female version of Skeletor.

Cruellest Moment: Kidnapping Anita's newborn puppies. What would somebody so sinister want with cute little pups? Well, it's all about the fur…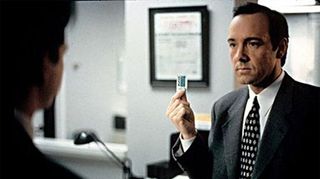 Buddy Ackerman (Swimming With Sharks)
The Movie Boss: A movie mogul who hires a new assistant in the form of writer Guy (Frank Whaley), then proceeds to cut him down to size.

Cruellest Moment: "You are nothing! If you were in my toilet, I wouldn't bother flushing it. My bathmat means more to me than you!"

And that's just one example of Buddy's constant torrent of verbal abuse…