Kick, punch, it's all in the mind
A lot of movies invite imitation, but few make their mimics look quite so clumsy as a good kung-fu flick. "Heeee-ya! Waaaaahow!" *cringeworthy chopping motion, groin pulling spin kick. At least with the likes of Star Wars even the most graceless and ungainly could keep up with old man Kenobi. Not so here, oh no. Kung-fu movies showcase some of the most breathtaking and damn near impossible feats in the history of fist-flinging, high-kicking combat. Its actors are more than just actors, they're lethal weapons, combining amazing physicality and some surprisingly strong theatrical skills. Well, in some cases at least...
This list counts down the very best in kung-fu cinema. Click ahead to begin your martial arts odyssey, and please for the love of all things sacred, don't imitate any of it at home - you'll just end up looking really, really stupid.
50. Kill Bill Vol. 2 (2004)
The movie: The second part of Quentin Tarantino's kung fu cinema homage continues the journey of Uma Thurman's Bride as she works her way through a kill list of revenge. Many elements are quintessentially Tarantino, such as the extended dialogue sequences and his fondness for telling stories out of order. It's the time spent with The Bride's mentor, Pai Mei, and the awesome fight choreography that earn this pic its kung fu stripes.
Coolest fight: The Bride tracks down the traitorous Elle Driver to Budd's trailer, and the pair go at it tooth and nail in a bloody cat fight that's more like something off Jackass than any respected martial arts movie.
Iconic moment: It all comes to a head when The Bride finally tussles with the man responsible for it all, wiping out Bill with the legendary five-point-palm exploding-heart technique. Damn.
49. 13 Assassins (2010)
The movie: Takashi Miike's flick is a loose remake of the 1963 movie by Eiichi Kudo, yet it pays a lot of respect to Japanese auteur Kurosawa. Is it a historical actioner? Or a blood-soaked morality tale? Well, to be honest, it's both. It takes place in 1844 as Naritsugu, the illegitimate half brother of a Shogun, climbs the criminal ranks, murdering and raping as he pleases. It's up to a wise samurai and his trusted cohorts to take him out. Things get a bit violent.
Coolest fight: Surrounded by the dead and dying, Naritsugu and the samurai face off, leaving each other in a pretty sorry state.
Iconic moment: The final sequence as the assassins lay a carefully-orchestrated trap in a small village. Forget your "woops, that pile of sticks is actually covering a hole!" type of hijinks. This team uses such 'weapons' as bisons on fire and spiked gates that mangle anyone who attempts to pass.
48. The Raid (2011)
The movie: Gareth Evans redefined martial arts actioners with this blistering, high-speed assault on the senses. The film mashes together the fluidity of silat (alright, so it's not technically kung fu) with plenty of gunplay. Things kick off when a SWAT team enters a tower block in the Jakarta slums to remove a particularly nasty crime lord using whatever means necessary. No wonder that critics and fans went goo-goo for it.
Coolest fight: It's got to be the last one in the film when the cop in charge, Rama, takes on Mad Dog and Andi. The former happily tosses his guns aside n favor of his fists, making this one of the best hand-to-hand combat sequences in a movie that's packed with 'em.
Iconic moment: Rama, the ballsy sonofa, takes on the entire Machete Gang. If the name didn't tip you off - they all wield Jason Voorhees' favored weapon.
47. The Bride With White Hair (1993)
The movie: Directed by soon-to-be horror helmer Ronny Yu (who went on to revive the evil doll genre with Bride Of Chucky), The Bride With White Hair is a great blend of wuxia and romance. Its main character is loosely based on the protagonist in Liang Yusheng's novel Baifa Monü Zhuan, an enchanting warrior who falls in love with a guy tasked with wiping out her evil cult.
Coolest fight: Well, it's not so much a fight as an all-out attack on a camp that features some of the most inventive decapitation ever: heads are severed by whips.
Iconic moment: That infamous waterfall bathing scene, where the Bride in question loops her hair around her pursuer's neck as if to kill him, but instead gives him a kiss.
46. The Matrix (1999)
The movie: A modern genre mash-up that combines sci-fi, philosophy and martial arts for a heady, daringly original brew. Keanu Reeves plays Neo, a computer programmer by day and hacker by night. He discovers that the world we're living in is all a front, and that the human race is really enslaved to machines.
Coolest fight: After having every type of martial arts training downloaded into his brain, it's got to be Neo's training with Morpheus. It packs a real punch thanks to the Wachowskis' obvious love for the movies they're paying homage to.
Iconic moment: The bit where Neo and Trinity face off against agents on a rooftop in the matrix, and The One shows off his bullet time skills. How could it not be?
45. Mr. Vampire (1985)
The movie: So successful at the box office that it spawned four sequels, this comedy horror follows Taoist priest Gau, who discovers that a supposedly deceased rich man is really an undead vampire. Said vampire is based on the jiangshi tradition - a bloodsucker inspired by Chinese folklore - who breaks free from his coffin and revels in causing chaos through various forms of martial arts.
Coolest fight: It's hopping mad! No, it really is, as so-called 'hopping corpses' close in on our heroes as they try to dust the vamp.
Iconic moment: Student Man-choi is bitten by the vampire, and comes *this* close to transforming into a creature of the night himself.
44. Heroic Ones (1970)
The movie: When a Mogul king selects nine of his 13 generals to go on a mission to take down his rivals, in-fighting amongst them threatens to rip their operation apart from the inside. Directed by the late, great Chang Cheh, Heroic Ones is notable for the sheer spectacle of the battle scenes.
Coolest fight: Shih Ching Szu (Ti Lung) infiltrates a castle where his enemies reside, but is confronted with hundreds of armed fighters. Shih ain't no amateur though; he soon makes short work of them all, slashing left and right until it's a bloodbath of mammoth proportions.
Iconic moment: The above fight is an example that's been repeated many times in action scenes ever since: one man against a huge army of assailants.
43. A Touch Of Zen (1971)
The movie: The first Chinese action film ever to win an award at the Cannes Film Festival (the Technical Grand Prize), King Hu's wuxia film is a true epic at over three hours long. The plot follows Ku (Chun Shih), who gets caught up in beautiful maiden Yang's life after Imperial nobles kill her family. A poetic entry into the martial arts movie genre, A Touch Of Zen is also noted for its strong spiritual aspect woven into the action.
Coolest fight: Fighters take to the forest for a brutal skirmish that's only soundtracked by screams and the singing of blade on blade.
Iconic moment: This film was responsible for establishing the 'bamboo forest' moment that's now become synonymous with kung fu films. In particular, Ang Lee's Crouching Tiger, Hidden Dragon.
42. Master Of The Flying Guillotine (1976)
The movie: The One-Armed Boxer (Yu Wang) becomes the prey of a blind, revenge-driven flying guillotine expert. If that wasn't mad enough, the Boxer is a teacher at a martial arts school, where he teaches pupils how to run up walls and ceilings by holding their breath. A film with a villain who's as cool as its nutso plot. Pure cult classic.
Coolest fight: Realising that his Thai opponent doesn't wear shoes, the Boxer fights him in a house with a metal floor, which he heats with fire from beneath, leading to a very sticky end indeed.
Iconic moment: The assassin gets mean with his special weapon - a round hat edged by... you guessed it - a guillotine!
41. Five Fingers Of Death (1972)
The movie: Two martial arts schools go head-to-head in a life-changing tournament. Lo Lieh's kung fu flick plays the Ironside theme in many of its fights, a trick that Quentin Tarantino pinched for Kill Bill. QT even calls Five Fingers his 11th favourite movie. It was this film's (dubbed) release in the States that kick-started the US' obsession with kung fu movies.
Coolest fight: A bar fight quickly escalates into a head-butting, ceramics-smashing brawl. And is all the better for it.
Iconic moment: That climax, in which Lo Lieh is challenged to a fight to the death by a samurai carrying a severed head. Lieh overcomes his attacker by delivering his signature move - the Iron Fist.
40. Return Of The Five Deadly Venoms (1978)
The movie: While its alternate name - Crippled Avengers - conjures up an interesting visual, this flick produced by legendary Kung Fu film champions the Shaw Brothers has nothing to do with Marvel's superheroes. This sequel stars four members of the Venom Mob, and follows a band of martial artists who want revenge on the master who crippled them. It was spoofed in a season one episode of Futurama.
Coolest fight: The blind warrior and his crazy sidekick engage in bloody battle with a pugilist who has metal arm guards. It features some truly jaw-dropping choreography.
Iconic moment: Those dart-shooting arm things!
39. Red Cliff (2008)
The movie: This is the type of sprawling, mammoth war movie that the word 'epic' truly describes. John Woo's ambitious flick delves into the catastrophe of battle in ancient China, when two opposing factions fight for freedom. There's fancy fighting techniques galore across its butt-numbing four-hour running time.
Coolest fight: There's many, many stand-out combat sequences, but it's got to be when Zhao Zilong, Zhang Fei, and Zhang Zhao take on the entire Cao Cao army with some killer kung fu moves.
Iconic moment: Zhuge Liang's cunning plan to acquire 100,000 arrows - the enemy fires said amount at 20 boats filled with straw dummies.
38. The Young Master (1980)
The movie: Jackie Chan graduates from being a stuntman for production company Golden Harvest, bagging himself an early lead role. It's his second film as director, and already the Chan trademarks are in place - mostly fight scenes that involve the use of unusual props, including fans and poles.
Coolest fight: Slow-mo pot smashing in the middle of some truly gorgeous scenery - it's Jackie Chan at the top of his game. What more could you want from a fight?
Iconic moment: Benches aren't just for sitting on, they're also great for picking up and smacking people upside the head with. Whatever next, sun loungers?
37. Shogun Assassin (1980)
The movie: Created for the overseas market by editing together two films from the Lone Wolf And Cub series, this '80s treat from Roger Corman was initially banned in the US for its depictions of extreme violence.
Coolest fight: Fighters burst out of the sand for a bloody battle, and before you know it, there's dismembered corpses all over the place. It's a messy business, being a ninja.
Iconic moment: "Anybody could be a ninja," our intrepid narrator warns us. That's probably why Beatrix Kiddo's daughter quite enjoys watching it before bed - to get her trained for the sequel. What, we can dream, right?
36. Shaolin Soccer (2004)
The movie: You've got to give director Stephen Chow props for taking a mainstream sport and combining it with a revered martial art. There's simply nothing else like Shaolin Soccer, a mash-up movie about a young lad (played by Chow) who unites his kung fu chums to form a football team. It's part coming-of-age tale, part slapstick comedy and part martial arts brilliance.
Coolest fight: Well, it's not a fight per se, but when the Shaolin gang get out on the pitch for a training warm-up their kung fu skills are brought to the fore. It's proper brutal.
Iconic moment: With the belief of their leader Steel Leg (Chow), the team focus their energies mid-game and harness the power of kung fu to totally obliterate the other side.
35. Last Hurrah For Chivalry (1979)
The movie: An early bright spot in legendary action director John Woo's CV, Hurrah follows two killers-for-hire who come to the rescue of a merchant who's looking for revenge against a kung fu master. Typically for Woo, the action's air tight, with some super-fast sword work.
Coolest fight: If you think you've seen sword play, then you ain't seen nothing yet. This climactic showdown is chock full of 'em, with some nifty slo-mo segues just to make it all the more heroic.
Iconic moment: "You mean to say you're a bastard?" No-one really has time to mince their words in this movie.
34. House Of Flying Daggers (2004)
The movie: Dealing more in sweeping romance than full-on martial arts, Flying Daggers still contains some standout clashes. The plot follows a police captain who springs a beautiful young woman - a member of a rebel group - out of prison.
Coolest fight: For a movie that revolves around the honor of fighting, it's a tough one to nail down: but it's got to be when Jin and Leo wield their trusty swords to fight over Mei.
Iconic moment: It's the first thing that springs to mind when you think of the film - that bamboo forest fight at the end. 'Tis a breathtaking moment.
33. Dance Of The Drunk Mantis (1979)
The movie: Yuen Siu-tien's final film, Drunk Mantis picks up a year after the events of Drunken Master - the comedy actioner starring Jackie Chan. And, while Chan doesn't reprise his role as Freddy Wong from that movie, this spin-off follows the story of his mentor.
Coolest fight: The epic finale when Beggar So's adopted son Foggy kills Rubber Legs using a special style of kung fu known as 'sickness boxing.'
Iconic moment: Beggar So returns home... but his wife isn't all that pleased to see him.
32. The Streetfighter (1974)
The movie: With a title translated literally as Clash, Killer Fist!, The Streetfighter was a big enough hit to inspire two sequels. The film stars Sonny Chiba as Terry, a martial arts mercenary who vows to protect a young, wealthy heiress who's become the target of the Mafia. The ensuing movie is super-violent with some stellar martial arts work.
Coolest fight: "Tell her how sorry I am I can no longer be her friend," says Terry as he takes on a room full of goons, knocking the teeth out of one of the poor fools.
Iconic moment: Disguised as a Buddhist monk, Terry encounters a convicted murderer and decides to enact some vigilante justice by delivering the oxygen coma punch - a move that knocks the killer out instantly.
31. Billy Jack (1971)
The movie: An American production, this actioner stars Tom Loughlin as the titular Billy who also directed and co-wrote the script. Half-Indian and half-white, Billy Jack hates violence, but finds himself having to use it whenever he's confronted with the ways of the white world. Which is when he reveals his mad martial arts skills.
Coolest fight: Billy decides to forget his whole 'passive and non-violent' stance by teaching some bullies a lesson.
Iconic moment: "I'm gonna take this right foot," Billy says, "And I'm gonna whop you that side of your face. There's not a damn thing you're gonna be able to do about it." He then unleashes the Outside Crescent Kick to spectacular effect...
30. The One-Armed Swordsman (1967)
The movie: Pioneering in its presentation of the anti-hero, this Shaw Brothers drama features some seriously bloody scenes and a lot of ballistic blade-whirring. It was the first film to ever make HK$1m at the box office, and lead Jimmy Wang Yu went on to become a superstar.
Coolest fight: Yu proves to a group of supposedly legendary swordsmen that he's not to be underestimated in the fighting department just because of his handicap.
Iconic moment: Yu slices off a chunk of an opponent's helmet - just to show 'em who's boss.
29. Dragon Gate Inn (1967)
The movie: An early classic, this influential wuxia film is number seven in the Hong Kong Film Awards list of The Best 100 Chinese Motion Pictures. The story tells of a killer swordsman who is tasked with protecting the children of an army commander. It was remade in 1992, and again in 2011 under the title The Flying Swords Of Dragon Gate, starring Jet Li.
Coolest fight: Swords and desert sands make one particular confrontation between Polly Shang-Kwan's skilled fighter and a gang of opponents a show-stopping affair. If we could wield a blade that fast, it'd definitely make preparing the Sunday roast less of a strain.
Iconic moment: Four fighters attempt to confuse their opponent by running around him in a circle. It almost works.
28. Police Story (1985)
The movie: The first in the popular Police Story franchise, Jackie Chan directs and stars in what he considers to be his finest film action-wise, here playing a Hong Kong police detective who single-handedly apprehends a druglord.
Coolest fight: Chock full of big stunts and crazy-cool choreography, the mall clash is Chan at his finest.
Iconic moment: The entire mall scene is without question one of the most iconic things Chan's ever done, but if we had to choose? The moment when he slides down a pole dotted with light bulbs in order to retrieve a briefcase. Talk about ball-busting.
27. Kung Fu Hustle (2004)
The movie: Directed, written, produced by and starring Stephen Chow, Hustle is a cartoonish actioner that features the return of many retired 1970s Hong Kong actors. It's also a departure from the Noughties trend of sweeping historical epics like Hero and Crouching Tiger, Hidden Dragon. Set in the 1940s, it follows a wannabe gangster who aspires to be a part of the Axe Gang.
Coolest fight: An old shopkeeper shows he's not to be messed with when a strange man in a hat arrives in his shop after hours.
Iconic moment: Moments before, the stranger's arrival is signalled by a man losing his head. Yeah, he literally gets it chopped off. What? This is a gory movie.
26. Fist Of Legend (1994)
The movie: A remake of 1972's Fist Of Fury, the film is set in 1937 during the Second Sino-Japanese War, when a martial artist (Jet Li) returns to Shanghai and discovers his teacher is dead and his school's been infiltrated by the Japanese.
Coolest fight: Chen Zhen (and his Chinese shoes) takes on a room full of fighters lickety split. Seriously, it's over so fast, he barely even breaks a sweat - which is amazing considering he's wearing a heavy-duty uniform.
Iconic moment: Chen is given an ultimatum: either leave the woman he loves, or fight with Huo Ting'en. He chooses the latter and the pair destroy a courtyard in a frantic, quick-cut fight sequence.
25. Fearless (2006)
The movie: Jet Li's last wushu epic is based on the life of Chinese martial artist Huo Yuanjia, who challenged foreign fighters and boosted Chinese morale when it was at its lowest thanks to Japanese manipulation and Western imperialism.
Coolest fight: Seeing as Yuanjia faces off against tons of opponents in this movie... we're going for the sword fight where he leaps, swims and punches his way to glory.
Iconic moment: The lotus pond scene was filmed at a lake outside of Shanghai, where over 200 lotus plants were shipped specifically for the movie. Luckily, it turned out to be a legendary scene.
24. Iron Monkey (1993)
The movie: Chinese folk hero Wong Fei-hung continues to inspire the movies. This '90s kung fu film takes a rifle through his childhood for a fictional yarn detailing his supposed encounter with the Iron Monkey. The young Fei-hung was played by a talented martial artist called Tsang Sze-Man, who's actually a girl.
Coolest fight: Insults are slung like mud, before right hooks, chains, shovels, and... uh, giant sleeves get slung as well. No-one saw those coming.
Iconic moment: "It is I, Iron Monkey!" A gloriously camp introduction to our masked fighter.
23. Fatal Contact (2006)
The movie: Wu Jing plays a young man trained in the art of Sanshou and lured into fighting in illegal martial arts competitions. The film's fight scenes were choreographed by Nicky Li, who's a member of the Jackie Chan Stunt Team, hence the superb combat style.
Coolest fight: Jing shows everyone who's boss, even managing to take down a bitchy coward who's cheated and shoved nails into his gloves and shoes.
Iconic moment: Sure, Jing can fight, but he can also do really cool flips off stuff, making him a martial arts AND parkour expert.
22. Chocolate (2008)
The movie: A Thai martial arts film, Chocolate (aka Fury) stars Yanin 'Jeeja' Vismitananda as Zen, an autistic woman who develops jaw-dropping martial arts skills by copying what she's seen on TV. It's all rather handy, because she needs to track down gangs that owe her dying mother money.
Coolest fight: It's got to be the film's final fight, as a battered, exhausted Zen shows us why she's the queen of kung fu - she takes out an entire squad of Thai gangsters like it ain't no thing.
Iconic moment: Zen, mimicking the great martial arts prowess of Bruce Lee and Tony Jaa, comes to grips with her abilities.
21. Magnificent Butcher (1980)
The movie: Sammo Hung continues his endeavours to create an action comedy like Drunken Master with this fun genre-blending romp. He plays Lam Sai-wing, a rotund butcher who is falsely accused of raping the head of the Five Dragons Kung Fu School, and targeted for revenge.
Coolest fight: Yuen Biao and Lam Ching-ying duke it out. Never has fighting looked more beautiful and painstakingly choreographed than here. It's almost like really macho dancing. Except there's lots of slapping.
Iconic moment: Lee Hoi San and Sammo Hung show us what they're made of. Old boots, it would seem. This guys are tough.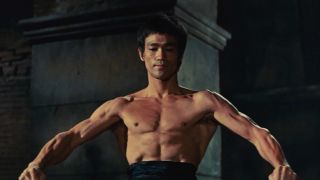 20. The Way Of The Dragon (1972)
The movie: Bruce Lee's directorial debut finds him also playing the titular Dragon. He travels to Rome in order to help his friend's family, whose restaurant is being targeted by the Mafia, and winds up kicking ass. The film set a new box office record in Hong Kong, taking $5 million.
Coolest fight: Lee finds himself opposite the Mafia's hired hand played by Chuck Norris; the pair go toe-to-toe in a Roman Colosseum. Naturally, Lee wipes the floor with his competitor.
Iconic moment: It's hard to imagine another moment in this movie that's more iconic than a Lee vs. Norris smackdown.
19. The Big Boss (1971)
The movie: Initially set up as a starring vehicle for James Tien, the emergence of the fantastic Bruce Lee (in his first major role) earned him the lead instead. Big Boss went on to become the highest grossing fight film in Hong Kong in 1971. And just in case you were wondering, the Thai brothel featured in the film? The real deal.
Coolest fight: Cheng, on a mission to avenge the deaths of his family, takes down Hsiao Chiun's gang. He's no fool, he saves the gangster's father Hsiao Mi for last. To be honest, he could be taking out a load of random passers-by, this is fun because it's one of Lee's earliest screen fights.
Iconic moment: More like a lost iconic moment: a scene in which Lee slams a handsaw into a villain's head was featured in an early cut of the film, but has been excised in more recent releases. It's a shame. That would have been bonkers.
18. The Burning Of The Red Lotus Temple (1928)
The movie: Adapted from a newspaper serial Red Lotus is the longest kung fu film ever created. No, really. You've got to be committed to watch this as it's a staggering 27 hours long. It was released in feature-length portions - 18 in total - over a period of three years. It pretty much kicked off the martial arts movie craze in the East, something we should all we thankful for.
Coolest fight: It's damn near impossible to get a copy of the film, but we've heard on the grapevine that this contains some stellar moments.
Iconic moment: The story thread, in which a young main gains kung fu powers after stumbling upon a secret, would go on to become a martial arts movie staple.
17. Warriors Two (1978)
The movie: Celebrated as one of the few films that features an authentic version of the Wing Chun style of kung fu (point of reference: the type that Neo uses against the Seraph in The Matrix Reloaded). Warriors Two stars Sammo Hung as a student who convinces his doctor master (Bryan Leung) to teach his patients the art of Wing Chun.
Coolest fight: It may sound like some mad person's having a clapping competition somewhere nearby, but there's no denying the skills involved in the climactic tussle.
Iconic moment: Casanova Wong whoops some serious ass, taking on an unstoppable herd of sword-wielding assailants and barely breaking a sweat.
16. Ong-Bak (2003)
The movie: Thai actioner Ong-Bak shoved newcomer Tony Jaa into the spotlight as a supremely skilled martial artist. He plays Ting, who takes on the underworld when a sacred statue is disfigured. Proving his dedication, Jaa trained for four years in the action form of Muay Boran for the film.
Coolest fight: "Let's fight!" Ting takes on three opponents, one after another, and it's watching him go up against the goliath Big Bear that's the most fun. Ting might be small in stature, but boy, does he make up for it with his quick-footed muay Thai skills.
Iconic moment: Ting shows off his parkour prowess during a chase through some hectic backalleys.
15. The Invincible Armour (1977)
The movie: An R-rated actioner with John Liu playing Chow Lung-fu, a man framed for murder by corrupt Ming guard Minister Cheng (Korean martial artist Jang Lee Hwang). On the run, Chow encounters a teenager who's an expert at the Iron Armour technique, which makes the expert impervious to outside harm.
Coolest fight: The final showdown between Cheng, Lung-fu, and Shen Yu - ten whole minutes of climactic music and some deadly moves. Even though it's a tad dated you can't deny its over-the-top greatness.
Iconic moment: Two words: groin attack! Yikes. The film's crammed with a ton more - some of which are heavily referenced in Kill Bill: Vol. 1.
14. Legendary Weapons Of China (1982)
The movie: Mixing martial arts with fantasy, this Lau Kar-leung movie is set in the late Qing Dynasty, when an Empress sends her agents out to uncover supernatural fighters who are vulnerable to the weaponry of modern pugilists.
Coolest fight: In a final confrontation, (real life) brothers Lau Kar-leung and Lau Kar-wing clash for an epic 20 minutes using all the 17 weapons of China. That's a lot of sparring.
Iconic moment: The hand-stuck-in-back moment is sheer ridiculousness in beautiful motion.
13. Eight Diagram Pole Fighter (1984)
The movie: Another one from the Shaw Brothers. This time the power producer duo hired Gordon Liu and Alexander Fu Sheng for this 'based on a true story' fight-fest. Fu Sheng tragically died in a car crash during filming, which meant the script had to be rewritten to redirect focus onto Liu's character.
Coolest fight: As a fair chunk of the movie takes place in a monastery - where the murdered son of a general bides his time before exacting his revenge - commonplace weapons are forbidden. So out come the poles along with the menacing glares. Amazing stuff.
Iconic moment: Yeung Dek finally tracks down the man who killed his father and siblings, and we get to see the eight diagram pole fighting technique in action. It's frankly outstanding that he wipes out a whole fleet of assailants, considering he's got a big stick and they have swords.
12. The Victim (1980)
The movie: Chun-yau and his newlywed bride are on the run from his mean step-brother, who blames Chun-yau for losing his eye. Fearing for their lives, the couple hide out in a village where Fatty (Sammo Hung) insists on being Chun-yau's servant. It's a lot more complex than that, but you've got the gist.
Coolest fight: Bryan Leung's (Chung Yao) final fight scene where he wipes the floor with his opponent by throwing him into a support column. That was after several long-winded hand-to-hand battles which exhausted even the intense fighter himself - especially as most of the battle didn't involve a stunt double.
Iconic moment: Any of Fatty's numerous attempts at convincing Yao to let him be his slave. They go on and on and on...
11. Come Drink With Me (1966)
The movie: An early classic of the genre Come Drink With Me is often lauded as one of the finest Hong Kong kung fu movies ever made. An action thriller, it revolves around a group of bandits who kidnap the governor's son in order to use him as a bargaining chip for the release of their master. Yeah, that's going to go well.
Coolest fight: Golden Swallow infiltrates a Buddhist temple and confronts her brother's kidnapper, leading to one massive scrap. Until she gets a poisoned dart in the neck, she gave it a damn good go.
Iconic moment: There's a mammoth brawl that kicks of at an inn, resulting in copious amounts of blood that'd make Tarantino queasy.
10. Heroes Of The East (1978)
The movie: Blending Japanese martial arts with more typical kung fu, Heroes Of The East stars Gordon Liu as student Ah To. He enters into an arranged marriage with a Japanese woman and, after insulting her martial arts family, enters into a contest to prove how good Chinese kung fu really is.
Coolest fight: When Japanese and Chinese swords collide - like the romantic love plot at its center! Watching Ah To wield the traditional Chinese jien against his Japanese opponent's katana is a sight to behold.
Iconic moment: Yasuaki Kurata uses the Japanese crab fist, which involves a lot of waddling from side to side. Looks a lot cooler than it sounds.
9. The Prodigal Son (1981)
The movie: Also known as Pull No Punches, Prodigal Son is a kung fu comedy that follows the lives of historical figures Leung Jan, Leung Yee-tai, and Wong Wah-bo. Biao Yuen plays Jan, who thinks he's the best fighter in Canton, unaware that his dad has bribed all of his opponents to let him win.
Coolest fight: Who says restaurants are just for eating in? Not this lot. This battle turns a rather nice eating establishment into a blustering mess of punches, kicks and quite a bit of blood.
Iconic moment: "Masterrrrrrr!" The final fight between Chang and Ngai finds the young upstart beating his opponent into submission before leaping over a wall and striking a tough guy pose. He's earned it.
8. Ip Man (2008)
The movie: Semi-autobiographical tale revolving around the life of legendary Chinese martial artist Yip Man (also known as Yip Kai-Man), Bruce Lee's teacher. Though it significantly departs from historical fact in places, it has been celebrated as a classic of the genre featuring some breathtaking fight choreography.
Coolest fight: The fast-paced, bone-cracking, whip-lashing confrontation between Donnie Yen and a circle of deadly assailants.
Iconic moment: It has to be the final fight scene plucked from the history books, a medley of impressive fighting skills between Chinese and Japanese warriors.
7. Enter The Dragon (1973)
The movie: The first martial arts film to be produced by a Hollywood studio (here, Warner Bros), this was Lee's last ever film. He plays a martial artist who spies on a reclusive crime lord. Ever the perfectionist, Lee rewrote much of Dragon's script himself and directed the opening Shaolin Monastery fight.
Coolest fight: Lee breaks into the underground base of Han's operations, accidentally setting off the alarm. Which, sadly, means he has to kick a lot of booty. Spectacular.
Iconic moment: When Lee is in Han's underground lair, look out for an early appearance by Jackie Chan, who was a stuntman here before he got his big break. It's the passing of the torch...
6. Clan Of The White Lotus (1980)
The movie: Like many entries on this list, it's a quasi remake/sequel of an earlier film. In this case it's Executioners From Shaolin. The movie revolves around a long-standing feud between a monk (Gordon Liu) and an evil priest named White Lotus (Lo Lieh), who boasts the impressive ability to achieve total weightlessness during fights.
Coolest fight: Wen Ting takes on a clan of yellow-robed mercenaries and beats them all into mulch.
Iconic moment: The bath confrontation between Wen Ting and White Lotus is hard to forget, in its own special way, but really this is another killer performance from Gordon Liu. Two decades later he'd riff on this character in Kill Bill as The Bride's mentor Pai Mei.
5. Five Deadly Venoms (1978)
The movie: Directed by Chang Cheh, this much-celebrated cult classic follows the dying wish of a kung fu teacher who asks that his final student track down five of his most notorious pupils. The quartet of kung fu fighters in question each spar using unique animal styles The Centipede, The Snake, The Scorpion, The Lizard and The Toad.
Coolest fight: The Toad fights his way out of prison. And we're not talking through an extensive parole process. He literally beats down anyone who stands in his way.
Iconic moment: The Scorpion's gravity-defying training sequence takes the biscuit. It's another moment that's proved to be rather influential on the martial arts genre.
4. Fist Of Fury (1972)
The movie: Bruce Lee's second major martial arts picture after The Big Boss, Fist Of Fury confirms him as one of the defining kung fu stars, especially as he choreographed his own fight scenes. Here, he's Chen Zhen, who fights to avenge his master's death while defending the honour of the Chinese.
Coolest fight: A crescendo of music, and then deadly silence. Then: "Get out!" and lots of fighting. They're not called fists of fury for nothing.
Iconic moment: Lee, being the humble chap that he is, takes on an entire Japanese martial arts school. This is why baddies only ever attack one at at a time - it just looks way cooler.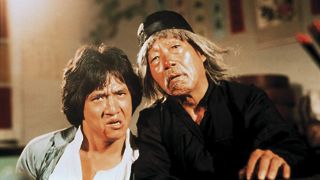 3. Drunken Master (1978)
The movie: Now it's nothing new, but back in the late seventies no-one was mixing comedy and martial arts. This was one of the first successful genre blends of that type, and became Jackie Chan's calling card. He stars as Wong Fei-hung, who trains in the ancient form of Drunk Boxing.
Coolest fight: While drinking and fighting typically results in a night in the slammer, for Chan's fighter it's an intoxicating combination. It's amazing that his moves connect.
Iconic moment: The training sequences in which Chan is quite clearly suffering a lot. The birth of the "Ah, I'm so tired but I know I must go on to be the master" training montage.
2. Snake In The Eagles Shadow (1978)
The movie: Snake In The Eagle's Shadow was released just before The Drunken Master, and was Jackie Chan's breakthrough role, as well as the directorial debut of martial arts auteur Yuen Woo-ping. Chan stars as an orphan adopted into a kung fu school, where he's ill-treated by the teachers and over-worked as a janitor. Yeah, he's gonna turn out just fine.
Coolest fight: Pai Chang-tien and Sheng Kuan confront each other in a dusty desert setting, using their wildly different sparring skills in a fight to the finish. Can the eagle triumph over the snake?
Iconic moment: Those frankly groove-tastic opening credits, in which a solid-muscle Jackie Chan practises kung fu moves against a hot red backdrop. Ow!
1. The 36th Chamber Of Shaolin (1978)
The movie: Massive influentially and seriously polished, the film is loosely based on the story of Shaolin martial arts student San Te, who's pulled into a rebellion against the Manchu government. Gordon Liu, whose name is all over this here list, stars as the bald-headed warrior and gives one of his most dynamic performances.
Coolest fight: The fiery, bladed confrontation which - as YouTube users have kindly acknowledged in their titling of videos - could just be the best fight scene EVER. It totally is.
Iconic moment: "Master, teach me kung fu," beseeches San Te, only to get an invisible whipping from the bearded old bloke. That'll learn him. In a funny twist, Liu would go on to play mentors to tons of other desperate students throughout his career.