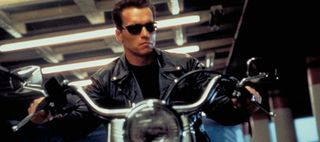 Terminator 2 (1991)
The Life Lesson: Kids need a strong father figure in their lives.

How It's Taught: Poor little John Connor is on the rocky road to juvenile delinquency, before the T-800 shows up to put a paternal arm round his shoulder.
With the steering hand of a father figure to guide him, he goes on to become the second Messiah. Even a robot dad is better than no dad at all. There's your next policy Cameron, "Robot Dads For All!"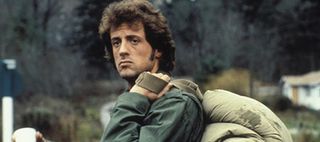 First Blood (1982)
The Life Lesson: Treat everyone you encounter with respect.

How It's Taught: If only Sherriff Teasle were a bit more tolerant and a little less judgmental, he could have let John Rambo go about his business in peace, and he probably would have left town in a few days anyway.
Okay, so the guy looks a bit scruffy, but he wasn't doing anyone any harm. Instead, Teasle treats him like shit, and all hell breaks loose. Nice one Sherriff.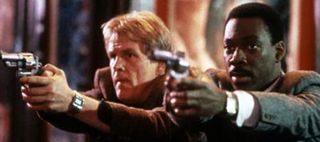 48 Hrs (1982)
The Life Lesson: You can find friendship in the most unlikely places.

How It's Taught: You'd think a cop and a robber could never be pals, but friendship's a funny old game, particularly in Hollywood.
So when crooked Eddie Murphy delivers a criminal to Nick Nolte's copper, the two realise they've formed a bond despite all the odds. It's enough to bring a tear to your eye, it really is.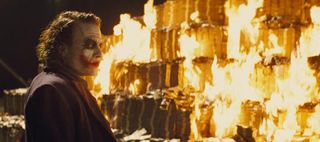 The Dark Knight (2008)
The Life Lesson: Money isn't everything, fun is important too.

How It's Taught: Bruce Wayne is absolutely loaded, but spends the majority of the film in a deep funk.
The Joker, on the other hand, doesn't give a hoot for money, and seems to be having a whale of a time.
Indeed, as Bruce glumly stares out of his million-dollar penthouse, the Joker is gleefully setting fire to a vast pile of cash.
Are either of them truly happy? Perhaps not, but we know who's having more fun.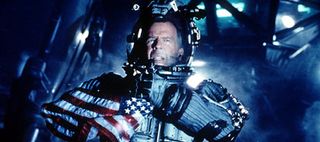 Armageddon (1998)
The Life Lesson: Parenthood is all about sacrifice.

How It's Taught: When Brucey decides to step up to the plate and save the earth, he does so in order to protect his little girl.
In fact, the idea that fatherhood includes the responsibility to sacrifice oneself can be extrapolated further to suggest that one generation has a responsibility to protect the next, family or otherwise.
Al Gore should take another look at Armageddon. It's basically a Green propaganda piece. With explosions.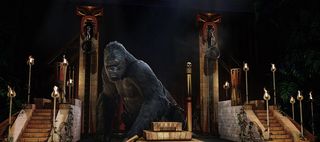 King Kong (2005)
The Life Lesson: Fame isn't always a bed of roses.

How It's Taught: Kong was happy on Skull Island. Sure he had the odd T-Rex to fend off, but other than that, living a life of obscurity suited him just fine. It's only when he becomes a celebrity back in New York City that things start to take a turn for the worse.
He might have enjoyed a better quality of banana there, but when the public turned, you can bet your life he'd have taken it all back to be an unknown again. A cautionary tale if ever there was one.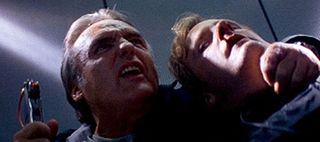 Speed (1994)
The Life Lesson: Bitterness will get you nowhere.

How It's Taught: All the explodey mayhem that Dennis Hopper unleashes on the city of Los Angeles is a result of him feeling a bit put out by the way he left his job. And in the end, where does his bitterness get him?
An early exit off this mortal coil, courtesy of a low hanging tunnel light. Life will hand you plenty of bum cards, but it doesn't do to dwell on it. It'll drive you mad.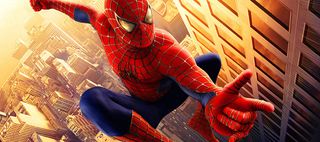 Spider-Man (2002)
The Life Lesson: Virtue is often thankless.

How It's Taught: Uncle Ben was the one who told Spidey that "with great power comes great responsibility", but he should probably also have mentioned that no-one will thank you for being a hero either.
Throughout the three films, Peter Parker largely finds himself suffering for the greater good, with nary a hint of thanks from those he cares about most.
Batman is the same over in Gotham. Virtue is its own reward, chaps, which is why not many people go in for it!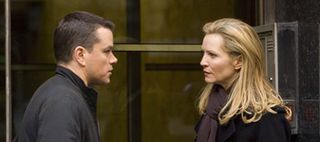 The Bourne Ultimatum (2007)
The Life Lesson: There is always someone you can trust.

How It's Taught: Even when things are looking bleak, and it seems as though the whole world is out to get you, there's always someone out there who's willing to lend a hand.
In Bourne's case he's got the whole weight of Treadstone and Blackbriar coming down on him like a ton of bricks, but suddenly finds out that Joan Allen's ice queen is actually backing him up. No man is an island etc. etc.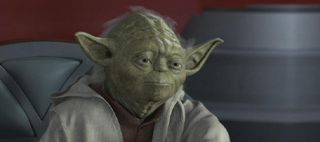 Star Wars: Episode One - The Phantom Menace (1999)
The Life Lesson: Fear is the biggest enemy one can face.

How It's Taught: There is nothing to fear but fear itself. Well actually, there's plenty, but fear is the main one.
Don't believe us? Well maybe you'll listen to Yoda then. "Fear is the path to the dark side," says the little green oracle. "Fear leads to anger. Anger leads to hate. Hate leads to suffering."
There is plenty of evil in the world, but so long as you don't live in fear of it, it can never truly prevail.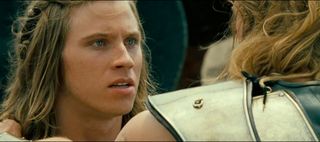 Troy (2004)
The Life Lesson: Never send a boy to do a man's job.

How It's Taught: When Paris calls out Menelaus, it surprises precisely no-one when the young upstart is given a sound beating.
Lessons however are not learned, as Achilles' young cousin Patroclus is sent to fight Hector whilst the main man lies sleeping.
Unsurprisingly, Patroclus isn't up to the job and ends up dead for his troubles. You can't win anything with kids.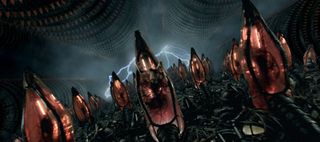 The Matrix (1999)
The Life Lesson: Technology is fundamentally dangerous.

How It's Taught: You might think the iPad is the future, but you'd be wrong. Sentient, power-hungry machines are the future, and if we let them carry on evolving, they'll be using us as batteries in no time.
Neo thought he was a slave to the machines in his day job as a computer programmer, but that was just the start of it. THEY ARE OUT TO GET US!
Stop reading this and smash up your laptop immediately. But download our app first.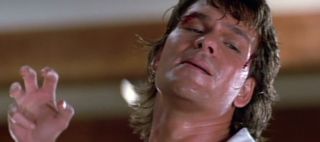 Roadhouse (1989)
The Life Lesson: Be nice to people, unless you need to give them a hiding.

How It's Taught: Patrick Swayze's character spends a large portion of the movie practising a Zen-like level of restraint, cooling down bar fights without dishing out any pain.
This seems to be the way to go, although the movie is very clear that sometimes, violence is definitely called for.
When Swayze turns the other cheek one last time on the villainous Brad Wesley, he is nearly killed, but for the intervention of his gun-toting mates.
So basically, it's best to try and avoid violence if possible, although sometimes you should go mental and kill someone when you have the chance. All clear? Good.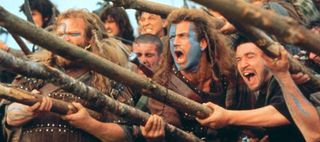 Braveheart (1995)
The Life Lesson: It's your responsibility to make something of life.

How It's Taught: It doesn't take any special skill to exist in this life, but men like William Wallace aren't happy just to "exist". "Every man dies," says Wallace, "not every man really lives."
And to really live you must stand up for your convictions, no matter how far the odds are stacked against you.
Secondary lesson: the English are a race of raping, thieving, slaughtering bastards.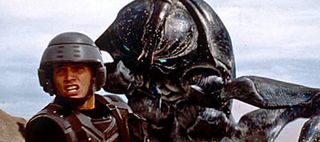 Starship Troopers (1997)
The Life Lesson: War is kind of stupid.

How It's Taught: As director Paul Verhoeven points out, "war makes fascists of us all," and so it proves in Starship Troopers as the good old US of A picks one fight too many and plunges the Earth headfirst into conflict with a race of giant bugs.
Breeding a generation of ultra-violent meatheads is not portrayed as the best way of achieving world (or in this case universal) peace.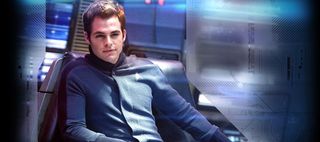 Star Trek (2009)
The Life Lesson: Self-confidence beats experience.

How It's Taught: Despite being a cocky, brash greenhorn, with no discernable qualifications other than a famous father, James Kirk manages to shrug off a disciplinary hearing and become captain of the Enterprise with the absolute minimum of fuss.
The message here kids is that hard-work, experience and common sense come a distant second to being able to talk the talk. See The Apprentice for further details.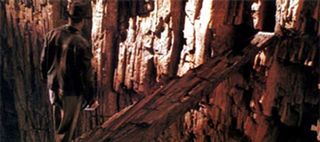 Indiana Jones & The Last Crusade (1989)
The Life Lesson: Sometimes it's necessary to take a leap of faith.

How It's Taught: Faced with a gaping chasm, falling into which would result in certain death, Indy has to decide whether to turn back or follow in God's footsteps into the unknown.
Naturally he takes the leap of faith, steps out onto what appears to be thin air, and finds himself able to walk safely across to the other side.
WARNING: this will not be true of all gaping chasms.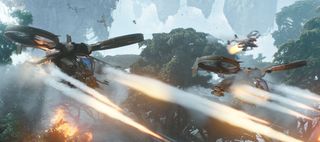 Avatar (2009)
The Life Lesson: The end doesn't always justify the means.

How It's Taught: Harvesting natural resources to further the lifespan of your species is all well and good, but not when it comes at the cost of another way of life.
In this case, the humans who set about murdering the Na'vi just to get their hands on their minerals, don't come across terribly well.
Abandon all your moral principles, and you cease to be human. So ended the lesson according to Jim.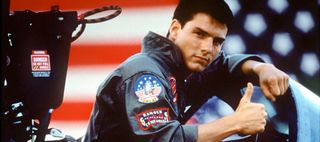 Top Gun (1986)
The Life Lesson: Play by your rules, and you may just save the day.

How It's Taught: Throughout the film, Tom Cruise's Flash Harry of a fighter pilot has been repeatedly told his style of flying is reckless and aggressive.
Indeed, this aggression causes his good friend Goose to needlessly die, landing him in the dock before the board of enquiry.
So does he change his ways? Hell no, he does the exact same thing again and saves the day. The lesson? Ignore everyone and do what you like. It'll usually work out.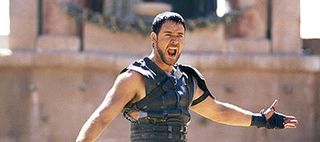 Gladiator (2000)
The Life Lesson: Power is useless without integrity.

How It's Taught: Maximus is shown to be a true leader of men, his soldiers worshipping the ground he walks on, on account of his bravery, loyalty and honesty.
Commodus on the other hand, is a treacherous, snivelling shit who cons his way into power and rules with an iron fist.
Unsurprisingly, his guards turn on him at the first opportunity and he ends up with a dagger in the neck, courtesy of nice old Maximus.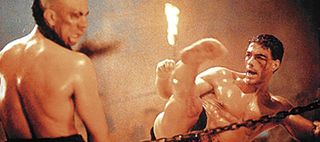 Kickboxer (1989)
The Life Lesson: Vengeance must be pursued at all costs.

How It's Taught: Having seen his brother brutally paralysed at the hands (or rather feet) of Thai kickboxer Tong Po, Van Damme swears vengeance.
It soon becomes clear that Thai mobsters don't want a rematch to happen, but JCVD ploughs ahead with it anyway, only becoming more determined when his trainer's niece is beaten and raped in retaliation.
Still, he wins the fight, so we guess it was worth it…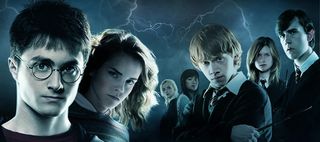 Harry Potter (2001-2011)
The Life Lesson: If you're not born special, don't bother.

How It's Taught: Great people aren't born great, but they are born with the potential to be great, so if you aren't born with said potential, you may as well give up.
In Potter-land, people can be neatly divided into those who can do magic, and those who can't.
The muggles are well documented as being inferior to witches and wizards, but there's even the pejorative term "squib" to be applied to those born into wizarding families who can't do magic themselves.
They're just as run-of-the-mill as muggles it seems, suggesting the only ones worth hearing about, are the special ones. How heartwarming.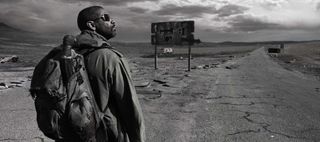 The Book Of Eli (2010)
The Life Lesson: When the world inevitably goes tits up, Christianity will show us how to fix it.

How It's Taught: Set in a post-apocalyptic world, Denzel Washington's drifter possesses a book in which can be found the secrets to rebuilding society. SPOILER ALERT…the book turns out to be the Bible.
It's the last copy on Earth, and without it, civilisation is unable to flourish again.
So perhaps the real lesson here is to keep a spare copy at home, because you'll need it when our way of life goes down the toilet.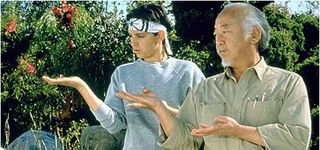 The Karate Kid (1984)
The Life Lesson: Strength comes from the mind, not the body.

How It's Taught: Daniel learns his karate blocks through a number of helpful chores, that not only improve his muscle memory but also turn him into a bit of a boy-scout.
Good thing too, as that's the sort of moral fibre that will allow him to prevail against Johnny's underhand tactics in the final fight.
True strength comes from inside you see, so don't bother going down the gym. Help an old lady across the road instead.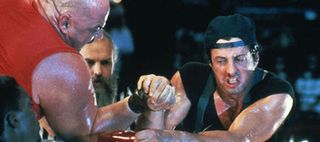 Over The Top (1987)
The Life Lesson: The damage done by walking out on your son can be atoned for via arm-wrestling.

How It's Taught: Stallone plays a trucker named Hawk who walks out on his family, only to get saddled by his bratty son when his mother dies.
Understandably, Hawk junior isn't over-enamoured with his wantaway pa, but Hawk manages to turn the relationship on its head by winning an arm-wrestling contest and a big wad of cash.
Who needs family counselling when you've got massive guns?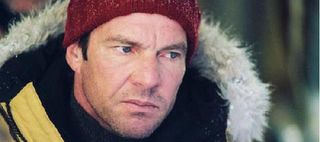 The Day After Tomorrow (2004)
The Life Lesson: Our way of life is going to come back and bite us on the arse.

How It's Taught: Dennis Quaid discovers that Global Warming really is about to ruin everything, and goes to see the president to tell him.
Sadly, the president couldn't care less, and the world starts to collapse more or less on the spot.
Basically, we all need to get our act together and turn our tellys off standby, or we're going to end up being chased by the cold around the New York Public Library.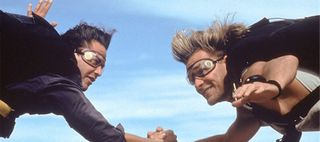 Point Break (1991)
The Life Lesson: Life should be lived to the extreme.

How It's Taught: Patrick Swayze's character Bodhi may be a criminal, but his adrenaline-chasing lifestyle actually instructs Keanu Reeves' FBI man Utah in how to capture him.
Having seen Bodhi pinch the last parachute and dive out of their plane, Utah jumps out anyway, defying death and intercepting his man in the process.
Sure, Bodhi goes on to escape, but Utah only managers to keep the chase alive by taking things to the extreme. Gnarly, dude.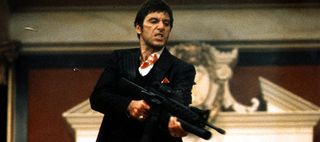 Scarface (1983)
The Life Lesson: Anyone can achieve the American dream.

How It's Taught: Tony Montana arrives in America a penniless nobody, but with a bit of perseverance he soon has all the money, power and respect he could ever have dreamed of.
Granted, he ended up losing it all shortly after, but therein lies the second lesson: if you think you want something, make sure you know what the price is, and whether you're willing to pay it…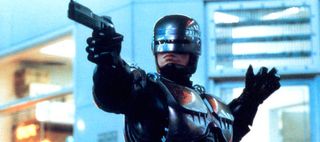 RoboCop (1987)
The Life Lesson: Big corporations are almost always up to no good.

How It's Taught: You could be forgiven for thinking Omni Consumer Products had the best interests of the people at heart by providing a new robot police force to restore order to Detroit.
Of course they didn't you idiots, they just wanted to seize power from themselves. Never trust businessmen. Or indeed robots. Unless they are acting as a much-needed father figure, as discussed earlier.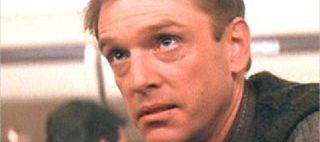 Die Hard & Die Hard 2 (1988 & 1990)
The Life Lesson: Journalists are scumbags.

How It's Taught: Despite the presence of a number of mass-murdering Euro-terrorists, William Atherton's slippery reporter is arguably presented as the most reprehensible character on show.
Continually putting people's lives at risk for the sake of boosting celebrity, he embodies everything that right-thinking people loathe about those who work in the media. It's all lies of course…