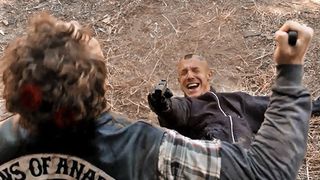 Juice Murders Miles (Season 4, Episode 6: "With an X" )
The Moment: In a deal with the cops, Juice (Theo Rossi) sneaks out a brick of coke to provide them with a sample - and gets caught by one of the prospects, Miles (Frank Potter). In the first of many terrible, terrible decisions Juice shoots him and then blames the coke-informant mess on him!
Why It's Great: It was terrifying to see Juicy Boy stoop to such a level. He's the good guy, right?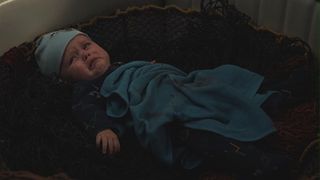 Hayes Kidnaps Abel (Season 2, Episode 13: "Na Triobloidi)
The Moment: The miasma of total batsh*t craziness in the final episode of season two climaxed when the IRA's Cameron Hayes (Jamie McShane) mistakenly believed Gemma (Katey Sagal) had murdered his son.
Exacting his revenge by hitting Jax (Charlie Hunnam) in the offspring, he steals his son Abel and after a lengthy chase with the Sons makes away with him on a speedboat. To Ireland.
Why It's Great: Who knew Hayes had the balls to steal a baby? It was a most unexpected turn of events - especially with the vast quantity of murder and extortion in the preceding ten minutes.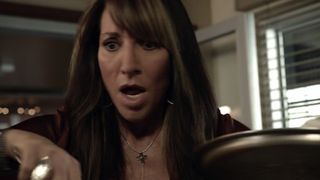 Secret Sauce (Season 4, Episode 8: Family Recipe)
The Moment: Club dogsbody Chucky (Michael Marisi Ornstein) cooks up a batch of chilli in the clubhouse kitchen when a bunch of Charming deputies arrive unexpectedly. Not one to alienate guests, he serves them each a steaming bowl.
Gem pops in to stir the pot and spies a severed head bobbing in it.
Why It's Great: Sons rarely delves into out-and-out slapstick comedy but the look on Gemma's face is classic.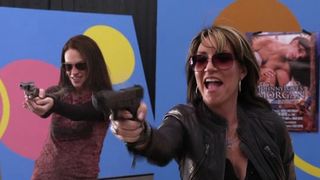 Gemma and Tara Bond (Season 2, Episode 6: Falx Cerebri)
The Moment: Gemma takes Tara (Maggie Siff) out to the backlot at Caracara, the club's porn operation, and teaches her how to handle a gun. Spotting the car of Tara's former rival, Ima, the pair riddle her luxury vehicle with bullets 'til it's no longer roadworthy.
Why It's Great: Considering the amount of time they spent at loggerheads in later seasons, this almost-forgotten tender moment between Gemma and Tara is one of the show's funniest asides.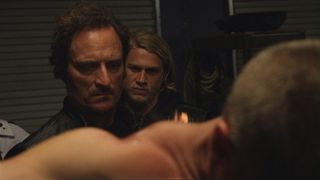 Tattoo Removal (Season 1, Episode 5: Giving Back)
The Moment: Former SAMCRO (that's Sons Of Anarchy Motorcycle Club Redwood Original by the way) member Kyle pops up in Charming still wearing his club tattoo. This is a big no-no.
Club president Clay (Ron Perlman) asks him calmly if he'd like fire or knife. You know, for his preferred method of removal. Kyle picks fire. We're not sure which is worse to be honest.
Why It's Great: An early look at the club's strict policies, its compelling while simultaneously making you gag.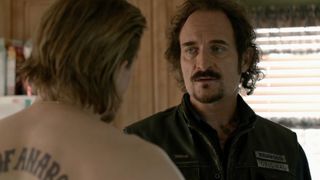 Tig Isnt Dead! (Season 6, Episode 4: Wolfsangel)
The Moment: After Jax makes an agreement with August Marks (Billy Brown) to let him kill Tig (Kim Coates) as revenge for his shooting of Damon Pope - the curly-haired biker turns up at the President's doorstep the next morning.
Why It's Great: The stunned look on Jax's face mirrored ours. Who cares why Tig was spared, he's alive!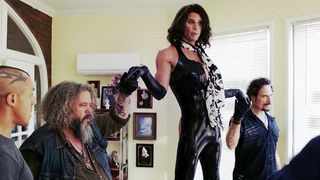 Venus Van Dam (Season 5, Episode 5: Orca Shrugged)
The Moment: In the midst of a plot to bring down a Charming councilman the club brings in Venus Van Dam (Walter Goggins), a transsexual escort, to pose with the passed out councillor.
Why It's Great: Goggins' typical onscreen persona does a complete 180 - from thuggish bastard to utterly loveable. The chemistry between Venus and Tig is possibly the only time we'd ever use the word 'adorable' discussing Sons .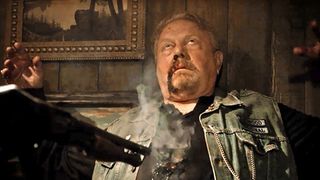 Clay Kills Piney (Season 4, Episode 8: Family Recipe)
The Moment: One of the club's founding members Piney Winston (William Lucking) retreats to the club's cabin to clear his head. After learning from Tara that Clay was responsible for John Teller's death he can't sit at the club table any longer - Teller was his best friend.
He's not alone for long before Clay shows up and weighs up the odds. Unable to risk Piney getting loose lipped with the truth, he blows him away with a shotgun.
Why It's Great: As sad as it was to see Piney go, now audiences had a real reason for their burning desire to see Jax kick Clay's ass.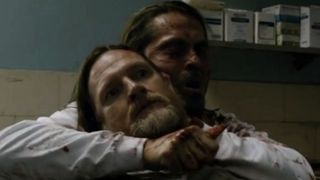 Otto And Torics Showdown (Season 6, Episode 4: Wolfsangel)
The Moment: Smug arse and former US Marshal Lee Toric (Donal Logue) visits Otto (series creator, Kurt Sutter) - the man who killed his sister - to offer him one last chance to rat out Clay and save himself.
Turns out Clay had already slipped Otto a shiv. In one quick motion, he draws the blade across Toric's throat killing him instantly.
Why It's Great: For Toric's blackly funny line as he faces death, "Well, I didn't see that coming."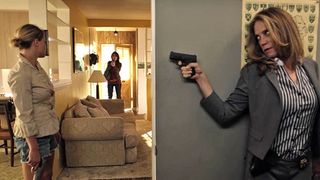 Backstabber Stahl (Season 2, Episode 13: "Na Triobloidi)
The Moment: Ruthless ATF Agent Stahl (Ally Walker) kills IRA head honcho Cameron Hayes' son, then hides when she is interrupted by Gemma arriving to off Zobelle's daughter. It seems for a moment she isn't quite the vile scum we've come to expect when she and Gem plot a way out of their predicament.
Which is over less than a minute later when Stahl throws Gemma the gun used to kill Hayes' son. With Gem's dabs all over the weapon Stahl calls the murder in, landing Gem in the slammer.
Why It's Great: Who knew that Gemma would meet her match?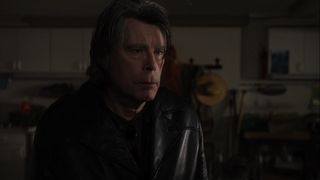 Literary Cameo (Season 3, Episode 3: Caregiver)
The Moment: While visiting her elderly father Nate, Gemma and Tara wind up accidentally killing his caretaker, Amelia (well, technically she knifes herself) and have to call in a cleaner.
Cue: Stephen King, in full-on biker garb as a creepy clean-up guy who disposes of the body.
Why It's Great: The name of King's on-screen cleaner is Bachman, a cute reference to his real life pseudonym Richard Bachman.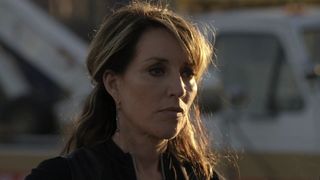 Bad Grandma (Season 5, Episode 7: Toads Wild Ride)
The Moment: Seizing the opportunity to spend time with her grandkids, Abel and Thomas, Gemma drives them home heavily under the influence. A night chuffing away at the weed clouds her judgment and she crashes her car.
Why It's Great: The cliffhanger - will Abel survive? - was a fantastic story tool to drive a much-needed wedge between Jax and his mom. Plus, it was about time someone on the show dealt with all the substance abuse twinned with babysitting!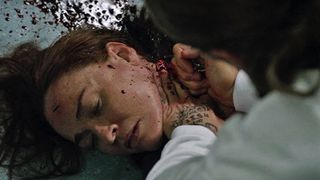 Otto Kills The Nurse (Season 5, Episode 10: "Crucifixed")
The Moment: Oh, Otto. The club member whose long-suffering stint inside has seen him lose his eyesight, his tongue and his sanity. To make it up to the club after he sells them out, he manipulates Tara into bringing him a gold cross... which he uses to stab a nurse repeatedly in the neck.
Why It's Great: Yes, it's incredibly violent but there's no way he can testify against the club on the RICO case now. A prime example of the club's logic.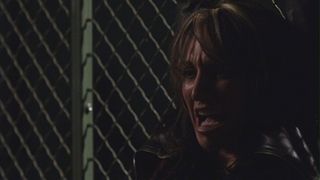 Gems Attack (Season 2, Episode 1: "Albification")
The Moment: Charming's newest rivals, the white supremacists led by Ethan Zobelle (Adam Arkin) and AJ Weston (Henry Rollins) opt to make their mark on the MC not by attacking them. But by attacking Gemma.
In a truly abhorrent scene, Gemma is tricked into helping a woman with a broken-down car and kidnapped. When she awakes in a dismal warehouse tied up, she is subjected to a horrific gang rape.
Why It's Great: The content of the scene is of course, despicable, but it's Gemma's unrelenting strength afterwards that's worth the mention. She's an even bigger badass than the Sons; she keeps the whole incident to herself - which was not what Zobelle wanted at all.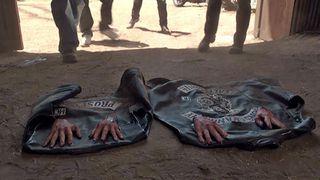 Galen Murders The Prospects (Season 6, Episode 4: Wolfsangel)
The Moment: Jax has made it clear: the club wants to stop running guns in Northern California. Galen O'Shay (Timothy V. Murphy) and the IRA don't give a monkeys - they want the Sons to maintain the relationship so they can rake in the cash.
When Jax puts his foot down and tells Galen to keep his hands off his club, Galen retaliates in the most frightful way. He shoots two of the prospects at point blank range, chops their bodies into pieces and leaves their hands on the back of their kuttes.
Why It's Great: A gruesome response to Jax's ultimatum, it spurs the Sons on to toughen up and take out Galen.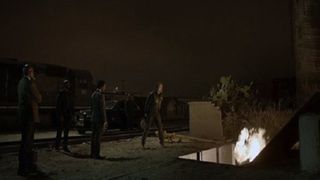 Burning Up (Season 5, Episode 1: Sovereign)
The Moment: A bloody season opener following on from the repercussions of Tig's crazed killing spree the previous year. This act of revenge is served up by Oakland gangbanger Damon Pope (Harold Perrineau), after Tig mowed down his daughter.
An eye for an eye has never been more chilling. Pope forces Tig to watch his daughter get burned alive, the sounds of her screams and his are utterly disturbing.
Why It's Great: It's a fantastic introduction to the payback tactics of Pope, a man who would come to be one of the Son's most hated enemies.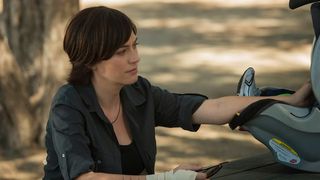 A Walk In The Park (Season 6, Episode 13: A Mothers Work)
The Moment: Freedom was in her grasp. Tara had the boys, the assurances of the DA and a clubless future to look forward to. Until Jax tracks her down at a local park as she's about to close a witness protection deal. Chibs (Tommy Flanagan) and Juice take Abel and Thomas while Jax orders his wife to take a seat...
Why It's Great: Maggie Siff's phenomenal performance in this scene warranted an Emmy. Frightened, vulnerable and aware that she's likely to be murdered, she still puts her sons first.
But it's Jax's response that pulls the rug - he doesn't want to hurt her. He agrees that she should take the boys and raise them away from the club.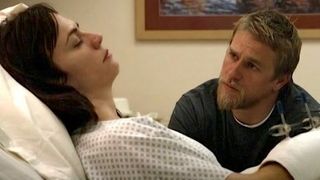 Clays Hit On Tara (Season 4, Episode 10: Hands)
The Moment: When Clay learns that Tara is aware of his involvement in John Teller's death, he seeks to take her out. Recruiting a bunch of thugs to snatch her into an unmarked van, their sloppy techniques don't exactly get the job done.
While Tara screams and shouts, Jax chases down the vehicle and rescues his paramour. Sadly, not before her hand is crushed in the sliding door.
Why It's Great: Plotting an elaborate hit on his stepson's old lady while the beefcake stepson was present? A poor choice on Clay's part - a hint at his downfall to come.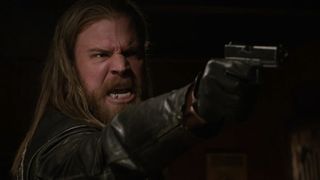 Opies Revenge (Season 4, Episode 12: "Burnt and Purged Away")
The Moment: Opie's (Ryan Hurst) gotta lotta things to avenge. One of those was his father Piney's death. The discovery that his long-trusted friend and MC brother, Clay, was responsible fuels his burning desire for closure. In the inevitable showdown, he delivers a non-fatal bullet to Clay's shoulder.
Why It's Great: Finally, Clay gets some of what he deserves for his complete lack of conscience. Offing people left, right and centre as if humans are expendable was bound to catch up with him.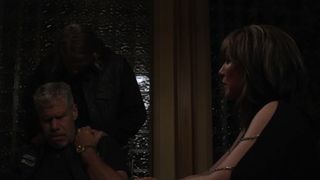 Gemmas Confession (Season 2, Episode 10: Balm)
The Moment: After nearly an entire season of keeping the details of her rape quiet, Gemma tells Jax and Clay.
Why It's Great: Gem suffered in silence for the benefit of the club, never spilling the atrocious truth which would've achieved exactly what Zobella and his crew wanted: to divide the Sons.
Her admission scene is an understated reveal into the emotional mechanics of Samcro, as Clay and Jax put their differences aside.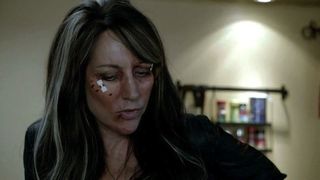 Clay vs. Gemma (Season 4, Episode 10: "Hands" )
The Moment: The culmination of Clay's terrible attempt on Tara's life after she discovers the Teller letters - which implicate Clay in Jax's father's murder - ends in the show's first slice of horrific domestic violence.
After Gemma learns of Clay's plan to off Tara, she threatens to tell Jax about the failed hit. Clay makes a move, Gem pulls a gun and it ends with the club matriarch on the floor at the receiving end of a fistful of very chunky rings.
Why It's Great: It's a "great" moment only due to its repercussions. There's no way out for Clay after beating Gem within an inch of her life. His days are numbered.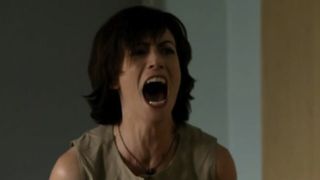 Taras Fake Miscarriage (Season 6, Episode 7: Sweet And Vaded)
The Moment: Eager to leave Charming with her boys safely away from the violent life of the club, Tara ropes in Unser and Wendy to orchestrate a cunning plan. With all the pieces in place to prevent Gemma access to her grandchildren, Tara and Jax's boys, the final domino must be toppled.
Riling up Gemma into a frenzy at the hospital, Tara throws herself against a table edge - piercing a bag of blood beneath her shirt. Security barge in and apprehend Gemma, who's slapped with a restraining order. Oh, and she's arrested for attempted murder.
Why It's Great: If the plot had not been exacted against her, Gemma would have been proud of Tara for such a magnificent scheme.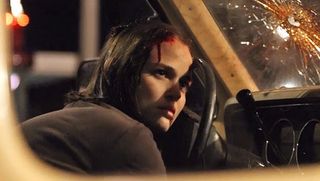 Fatal Misfire (Season 1, Episode 12: "The Sleep of Babies" )
The Moment: When Club President Clay is fed misinformation by ATF Agent Stahl that Opie is a rat, he sends Tig to take him out. What Tig didn't know was that Opie and his wife Donna (Sprague Grayden) switched cars earlier in the evening. When he pulls up to Opie's truck, it's his innocent wife who's plugged full of lead.
Why It's Great: The first of many poor decisions made by Clay, the death of Donna signified the beginning of the end for SAMCRO. For the viewers, it proved that no-one is ever safe from the wrath of the MC.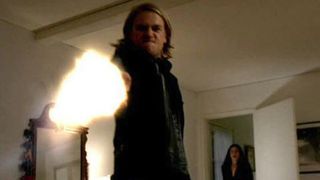 Jaxs First Time (Season 1, Episode 8: "The Pull")
The Moment: Mad with jealousy, Tara's ex, the misguided ATF Agent Josh Kohn (Jay Karnes) breaks into her house and attacks her. Jax arrives to find his high school sweetheart at the mercy of a psychopath. Hearing Kohn call Tara a biker slut is the last straw for Jax - who duly blows him away.
Why It's Great: Looking back over the entire series' run, Jax has killed his fair share of low lifes. This moment was his very first kill, setting him on a path of mayhem and murder.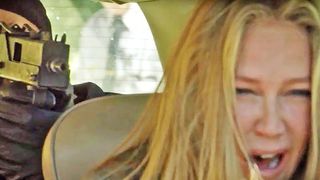 Stahl Gets It (Season 3, Episode 13: NS)
The Moment: Brokering a deal with ATF Agent Stahl, the Sons pledge to hand over the True IRA leader Jimmy (Titus Welliver) for reduced prison sentences. As Stahl drives Jimmy away, Sheriff Unser (Dayton Callie) tells her fellow agents there's an IRA blockade down the road - leaving Stahl alone.
The Sons appear, take out Jimmy before Opie slides in the backseat behind Stahl and murders her in the same way his wife was killed. A slew of bullets to the back of the dome.
Why It's Great: While it's another bloody offing for the Sons, the death of Agent Stahl was a long time coming, offering much-needed closure for Opie. After all, it was Stahl's malicious meddling that led to the murder of his wife, Donna.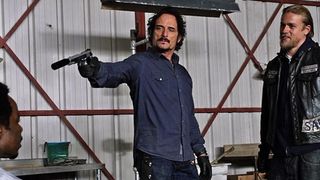 Double Crossing Pope (Season 5, Episode 13: Jai Obtenu Cette")
The Moment: Jax and Tig head to the middle of nowhere, where Damon Pope waits to kill Tig in revenge for the murder of his daughter. When the Sons arrive, Jax and Tig take out the henchmen and Jax gives Tig a gun so he can off Pope.
Why It's Great: There's so many layers to Jax's long con. First off, the audience are led to believe he's actually going to let Pope murder Tig to ensure the Charming Heights project goes ahead. Second, the gun used is Clay's, which implicates him for the murder instead of Tig.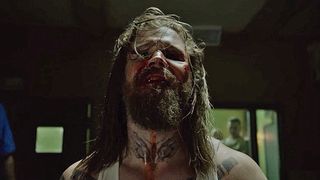 Opies Death (Season 5, Episode 3: Laying Pipe)
The Moment: The Sons are locked up at the hands of Damon Pope, who tells Jax one of the boys must die in order to settle their affairs. As Pope's goons close in on the Sons, Opie steps up to the plate to make the ultimate sacrifice for his club. From behind the glass, Jax, Chibs and Tig watch as their loyal friend is beaten to death with a pipe.
Why It's Great: The shot of Opie and Jax meeting eyes as Ope says to his MC brother "I got this" is just... YES, we're crying.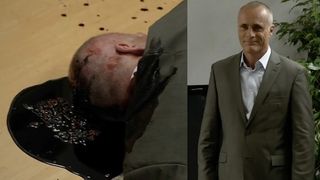 The IRA Shootout (Season 6, Episode 11: Aon Rud Persanta)
The Moment: Galen's grip on the club comes to a head when the Sons help him break Clay out of jail. Before the boys return Clay to the warehouse, Jax and Tig take out Galen and his goons in one spray of bullets.
Why It's Great: Another unexpected moment fuelled by the creative writing of the show's creators, audiences had no idea the club had decided to off their extortionist comrades.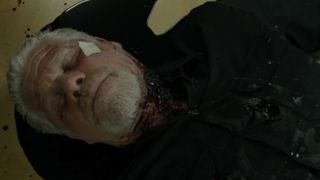 Clay Is Killed (Season 6, Episode 11: Aon Rud Persanta)
The Moment: Busted out of prison transport by Samcro, Clay is brought back to the warehouse for his meet with IRA bigwig, Galen Ross. It doesn't quite work out that way (see previous entry) and Clay takes a bullet in the neck from his stepson, Jax.
Why It's Great: Come on! Clay had this coming from the second Jax found out he tried to kill Tara and actually killed his dad, J.T. Still, in typical Sons fashion, despite Clay's reprehensible character, the eye-lock he shares with Gemma is an emotionally-charged end to his scummy existence.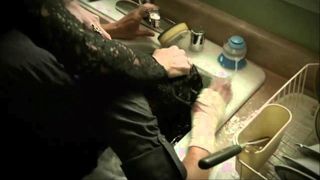 Taras Death (Season 6, Episode 13: A Mothers Work)
The Moment: Tara returns home after finally working through her issues with Jax - she's finally getting her boys out of Charming! She spots Unser's truck on the drive. Wait, what's he doing there?
It ain't Unser. Under the assumption that Tara had cut a deal with D.A. Patterson and intended to rat out Jax and the club, Gemma attacks Tara the second she walks into the kitchen.
Plunging her daughter-in-law's face in a sink of dirty dish water, she stabs her in the head over and over with a carving fork.
Why It's Great: The bittersweet split-second when a faint smile twitches on Tara's lips at the thought of finally escaping Charming. It's a heartbreaking glimpse at a future that could never be, which was instead replaced by one of the show's most brutal slayings.