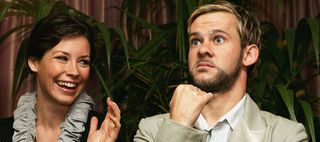 Dominic Monaghan & Evangeline Lilly
The Couple: Worth including if only for the sheer WTF-ness of it! Lost co-stars Lilly and Monaghan managed to keep their off-screen relationship as closely guarded as the most top secret of storylines, with headlines only really emerging when the duo announced (and then retracted) plans to marry back in 2007. We still can't see it...

Relationship History: The pair got together back in 2004, before the aforementioned marriage plans were aired a few years later. The union never materialized however, and a break-up soon followed as Monaghan's screen-time decreased following the show's third season.

Onscreen Chemistry: Damned if we ever noticed any! Kate was usually too busy mooning around after Sawyer and Jack to give Charlie a second glance.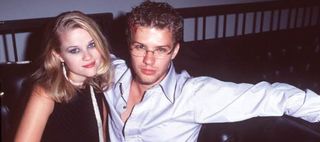 Ryan Phillippe & Reese Witherspoon
The Couple: Hot young things Phillippe and Witherspoon co-starred in saucy teen drama Cruel Intentions , having begun dating after Witherspoon's birthday party the year before. Cute, no?

Relationship History: The couple married in 1999, when Witherspoon was five months pregnant with daughter Ava. Son Deacon followed in 2003 before the pair officially split in 2006. Boooo.

Onscreen Chemistry: Forget the kiss between Sarah Michelle Gellar and Selma Blair (difficult, we know), Cruel Intentions ' steamiest moment surely has to be the sex scene between Reese and Ryan. Yowsers!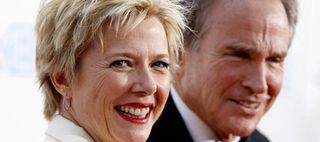 Warren Beatty & Annette Bening
The Couple: Beatty spent much of his youth carousing as a notorious Hollywood playboy, until he met Bening on the set of Bugsy and decided the time was right to hang up his pulling vest. "She's great," he told director Barry Levinson, "I'm gonna marry her."

Relationship History: The pair were married in 1992 after a hush-hush romance, and have remained so ever since, giving birth to four kids along the way.

Onscreen Chemistry: There's definite heat between Bening and Beatty in the aforementioned crime drama, with the pair trading snappy zingers as the sexual tension crackles.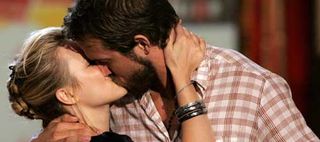 Ryan Gosling & Rachel McAdams
The Couple: Two of modern Hollywood's hottest stars delighted weepie fans everywhere when they revealed their throbbing chemistry on The Notebook has spilled over into real life. How dreamy…

Relationship History: The pair got together after filming the Nicholas Sparks adaptation before separating amicably in 2007. However, according to Gosling, their relationship was far juicier than anything we saw onscreen. "( The Notebook ) introduced me to one of the great loves of my life," he told GQ, "but people do Rachel and me a disservice by assuming we were anything like the people in that movie. Rachel and my love story is a hell of a lot more romantic than that."

Onscreen Chemistry: The early sections of The Notebook fairly sizzle with animal attraction between the pair. No wonder some of it hung around after the cameras stopped rolling.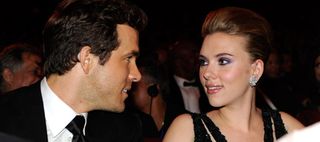 Ryan Reynolds & Scarlett Johansson
The Couple: Talk about hot. As two of Hollywood's sexiest stars, Reynolds and Johansson disappointed men and women everywhere by announcing they were dating each other back in 2007. Way to ruin everyone's dreams, guys.

Relationship History: After marrying in 2008, the couple announced their divorce just two years later, claiming that, "we entered our relationship with love and it's with love and kindness we leave it." Both are currently back on the market…

Onscreen Chemistry: At present, the pair are yet to co-star, although should that change, expect a crowd of rubberneckers to swell the box-office take!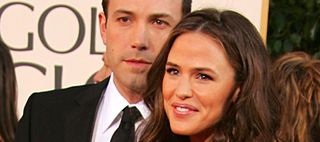 Ben Affleck & Jennifer Garner
The Couple: Having endured the car-crash that was Bennifer, Ben Affleck has conducted his personal life in a far more low-key fashion ever since. His A-list partnership with Jennifer Garner has largely shied away from the spotlight, and the pair are happily married with kids. Good for them!

Relationship History: Having co-starred in Daredevil , romance blossomed between Affleck and Garner back in 2004, before the couple were married the following year. As yet, the pair have yet to make a music video together, which surely bodes well…

Onscreen Chemistry: To be honest, both were fairly wooden in Daredevil , which just goes to show onscreen spark is never the best barometer of a happy relationship.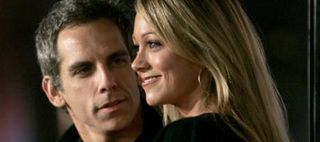 Ben Stiller & Christine Taylor
The Couple: Moderately spotlight-shy by traditional Hollywood standards, comedy couple Stiller and Taylor appear to lead a pretty normal life, wholly lacking in tabloid intrigue. They seem the sort of couple you'd like to be mates with, which makes them cool in our book.

Relationship History: Having dated a string of actresses including Jeanne Tripplehorn, Calista Flockhart and Amanda Peet, Stiller married Taylor back in 2000 before going on to star with her in Zoolander , Dodgeball and Tropic Thunder .

Onscreen Chemistry: They're comedic chemistry is excellent, which is just as well given that their films always play it for laughs.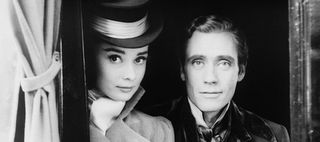 Mel Ferrer & Audrey Hepburn
The Couple: Having met at a party, Ferrer was duly bewitched by the enchanting Hepburn, and set about attempting to get himself cast opposite her in order that he might win her heart. The sly dog…

Relationship History: After the aforementioned party (hosted by Gregory Peck as it goes) Ferrer sent Hepburn a script to star opposite him in the play Ondine . She eventually got the role, and rehearsals began in January 1954. Eight months later they were married, a union that would last for 14 years. No slouch was old Mel…

Onscreen Chemistry: The pair smouldered together in War And Peace , proving that given the right chemistry, even dense Russian literature can be sexy.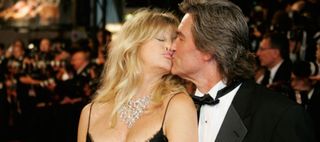 Kurt Russell & Goldie Hawn
The Couple: Ahh, Kurt and Goldie. A more affable pair of stars you're unlikely to meet, which might help to explain why theirs is one of the longest-running relationships in Hollywood today. They also remain unmarried…perhaps that's the key!

Relationship History: The pair got together on the set of Swing Shift and have been a couple ever since. Not every Hollywood relationship has to be a maelstrom of emotion you know…

Onscreen Chemistry: Their onscreen romance in Overboard successfully navigated the tricky narrative issue of Russell's character conning Hawn's amnesiac into believing they're in love…somehow they make it work with a minimum of creepiness.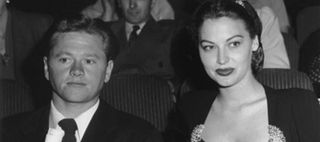 Mickey Rooney & Ava Gardner
The Couple: Nuptial enthusiast Rooney made a pre-megastardom Gardner (an MGM stablemate at the time) his first wife of eight, when the pair were 21 and 19 respectively. Ah, young love. Sweet while it lasts…

Relationship History: The pair divorced the following year, with markedly different accounts emerging from each party. Whilst Rooney bragged about the pair's sex life, Gardner retorted: "he might have enjoyed the sex, but goodness knows I didn't." Ouch.

Onscreen Chemistry: The pair never starred together before they were married, and after comments like the above, were never very likely to do so after they split.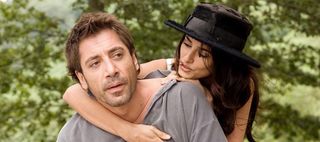 Javier Bardem & Penelope Cruz
The Couple: It would have been medically impossible for any man to endure Penelope Cruz's turn in Vicky Cristina Barcelona without falling in love with her, and so it was for co-star Javier Bardem. The lucky swine…

Relationship History: After three years of dating, the pair were married in 2010, before Cruz gave birth to a son in January of this year, just three days before Bardem bagged an Oscar nomination for Biutiful . Some blokes really do have all the luck, don't they?

Onscreen Chemistry: Their distinctly flammable relationship in Vicky Cristina Barcelona was frequently ignited by the presence of Scarlett Johansson. Let's hope she keeps her distance in real life, or Penelope might just go loco for real…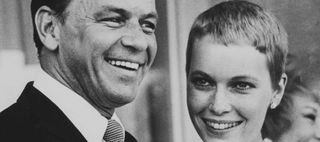 Frank Sinatra & Mia Farrow
The Couple: One of the more leftfield Hollywood unions, Sinatra and Farrow make the list by virtue of being such an odd match. He was a 50-year-old, old-school smoothie whilst she was a 21-year-old tearaway. As Dean Martin famously commented, "I have scotch at home older than Mia."

Relationship History: Alarm bells were ringing as early as the ceremony, with Farrow turning up to the church shorn of her flowing blonde hair. "I didn't realize I was marrying a little boy," Sinatra is reported to have snarled at her. Unsurprisingly, the marriage only lasted 2 years.

Onscreen Chemistry: The pair never collaborated. In fact, Sinatra served Farrow with divorce papers on the set of Rosemary's Baby after she had refused to scrap the project in favour of co-starring with him in The Detective .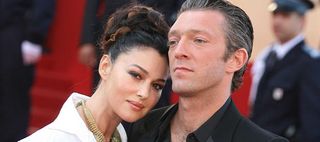 Vincent Cassel & Monica Bellucci
The Couple: Vincent Cassel and Monica Bellucci are the sort of ultra-chic, ultra-glamorous European couple that make all other Hollywood unions seem rather gauche and dowdy by comparison. Our advice? Don't try and compete. They're operating on a totally different level of cool.

Relationship History: The couple married back in 1999; since then they have given birth to a pair of daughters. "It was attraction and repulsion at the same time, for both of us,' Bellucci told The Mail. 'We didn't realise there was an attraction at first – we both thought it was more repulsion. But then we had the chance to get to know each other better, and it was just attraction." That's cleared that up then.

Onscreen Chemistry: The pair both starred in the controversial Irreversible , in which Bellucci banned Cassel from the set during the infamous rape scene, lest he should attempt to intervene!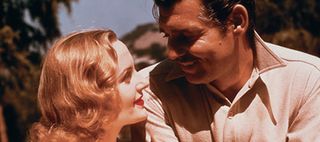 Clark Gable & Carole Lombard
The Couple: Classic Hollywood royalty, Gable and Lombard were successful stars in their own right, but their marriage propelled both into the stratosphere. Indeed, it was Lombard who reportedly persuaded her husband to take on his most famous role as Rhett Butler in Gone With The Wind , the star having initially been reluctant to do so.

Relationship History: Gable and Lombard shared a love story as tragic as any of the films they starred in, with Lombard dying in a plane crash just three years into their marriage.

Onscreen Chemistry: The pair starred as a married couple in No Man Of Her Own several years before their off-screen nuptials. Gable's usual slick charisma is present and correct, and the two make for a reliably charming couple.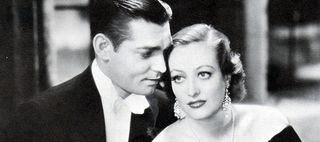 Clark Gable & Joan Crawford
The Couple: Gable and Crawford were a legendary on-screen partnership (Gable claimed that she was the actress he enjoyed working with the most), and their on-screen passion often spilled into their personal lives, much to the chagrin of studio bosses. The spoilsports…

Relationship History: The pair were extremely close and were reportedly on the brink of marriage at one stage, but no such union ever materialised. Instead their relationship flickered on and off throughout their early careers, whilst Crawford re-emerged as a loving friend in the wake of Carole Lombard's untimely death.

On-Screen Chemistry: Electric in every film they appeared in together, with Possessed serving as a particularly steamy example of their red-hot chemistry.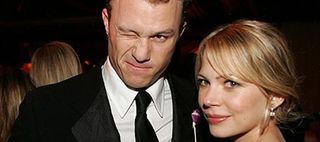 Heath Ledger & Michelle Williams
The Couple: The late Heath Ledger was involved in a string of celebrity affairs, but the one that carried the most weight was undoubtedly his relationship with Brokeback Mountain co-star Michelle Williams, with whom he fathered a daughter.

Relationship History: Having dated Heather Graham, Naomi Watts and Julia Stiles during his spell in Hollywood, Ledger and Williams met on the set of Brokeback Mountain and began dating in 2004. The pair were together for three years before the relationship broke down just months before his tragic death.

Onscreen Chemistry: There is a certain tenderness between the two, but as we know, Ennis Del Mar isn't much of a ladies' man…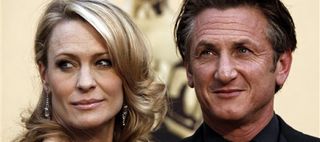 Sean Penn & Robin Wright
The Couple: Hollywood wild-man Sean Penn has often endured a rocky personal life, but through his marriage to Robin Wright he at least enjoyed a modicum of stability. For a while, anyway…

Relationship History: The pair began dating in the midst of Penn's sticky separation from former wife Madonna, and would eventually marry in 1996, three years after the birth of their first child. After a rocky period in the late noughties, the pair filed for divorce in 2007, before reconciling, and then finally going through with the separation in 2010.

Onscreen Chemistry: The pair both appeared in State Of Grace , with Wright playing one of Penn's old flames. The relationship is a troubled one, a portent of things to come for the couple off-screen.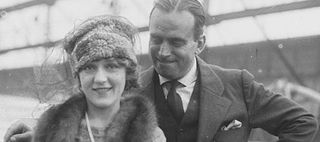 Douglas Fairbanks & Mary Pickford
The Couple: Oft referred to as Hollywood's first celebrity couple, Fairbanks and Pickford became known as the king and queen of Tinseltown. They even shared a snappily-named Beverly Hills estate dubbed "Pickfair". Eat your heart out Beckingham Palace….

Relationship History: The couple met at a party in 1916 and began an affair whilst Pickford was still married to actor Owen Moore. After an ultimatum from Fairbanks, Pickford divorced her husband in 1920, and the couple were married that same year. The marriage only lasted 13 years but was greatly celebrated by the general public, who loved the idea of "America's Sweetheart" marrying "Everybody's Hero". The pair were also the first to plant their hand-prints outside Grauman's Chinese Theatre, in the first ceremony of its kind. They were kind of a big deal, basically.

Onscreen Chemistry: The pair starred together in The Taming Of The Shrew , but the production was a box-office bomb, with little evidence of the famous spark that had made the couple such an international brand.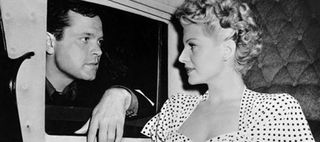 Orson Welles & Rita Hayworth
The Couple: Both Hayworth and Welles were Hollywood megastars at the time of their wedding, but their union was less showy than you might expect. In fact, the pair returned to work just hours after the ceremony. How romantic.

Relationship History: Beginning in 1943, the marriage lasted just five years, allegedly on account of Welles' dislike of commitment. "During the entire period of our marriage, he showed no interest in establishing a home," claimed Hayworth. "When I suggested purchasing a home, he told me he didn't want the responsibility. Mr. Welles told me he never should have married in the first place; that it interfered with his freedom in his way of life." What a bounder.

Onscreen Chemistry: Welles directed and starred alongside Hayworth in The Lady Of Shanghai , although his decision to chop off her famous red locks was blamed for its lukewarm reception at the box-office. Despite that error, there is definitely a certain heat between the gorgeous Hayworth and her brooding leading man.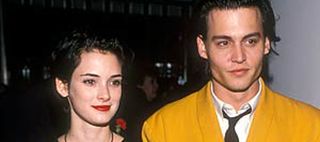 Johnny Depp & Winona Ryder
The Couple: How much kooky, indie cool can you cram into one relationship? Quite a bit, it would seem, if the pairing of Winona Ryder and Johnny Depp is anything to go by. It didn't last of course, but for a while, they were the hottest couple in Hollywood.

Relationship History: Depp and Ryder first met at the premiere for Great Balls Of Fire in 1989, and eventually became engaged during the course of their three-year relationship. Depp famously had "Winona Forever" tattooed on his arm, a stamp he would alter to "Wino Forever" when the relationship eventually foundered.

Onscreen Chemistry: They are very sweet together in Edward Scissorhands , although sadly, real life can't be relied upon to generate the same magic as a Tim Burton fairytale.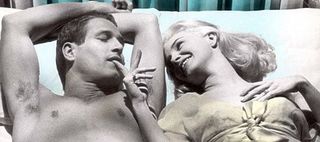 Paul Newman & Joanne Woodward
The Couple: One of the great success stories of Hollywood marriage, it was in reference to Woodward that Newman famously quipped, "why go out for a hamburger when you have steak at home?" Nice one Paul…

Relationship History: Having met Woodward on the set of The Long, Hot Summer in 1957, Newman divorced his first wife and remarried as soon as the film finished shooting. Newman and Woodward would remain married for fifty years until his eventual death in 2008. That's how you do it!

Onscreen Chemistry: There is a clear and apparent intimacy between the pair in The Long, Hot Summer , whilst they shared a sparky banter in A New Kind Of Love , to mention just two of the ten films they made together.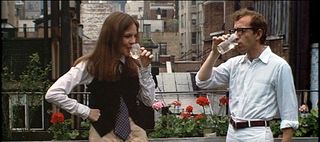 Woody Allen & Diane Keaton
The Couple: As one of Allen's earliest muses, Diane Keaton comes across as one of the few women to truly have the measure of him. And if their relationship was moderately short-lived, their creative pairing was truly memorable.

Relationship History: The pair began dating in 1970 when Allen cast Keaton in his successful Broadway production Play It Again, Sam . The relationship would last just one year, but the pair remained lifelong friends, with Keaton going on to star in a number of Allen's films.

Onscreen Chemistry: The part of Annie Hall was written specifically for Keaton (whose given name was Diane Hall) and the film is said to draw heavily on the couple's brief relationship. The sparky chemistry on display between the two suggests this isn't hard to believe…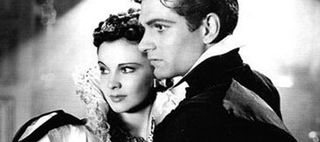 Laurence Olivier & Vivien Leigh
The Couple: Friends, co-stars and eventually husband and wife, the long-running relationship between Laurence Olivier and Vivien Leigh was as integral to the celebrity of both stars as any of their acting roles, whether it was conducted in secret or finally legitimised in marriage.

Relationship History: Upon meeting, Olivier and Leigh were both married to other people, but an affair soon ignited after the pair played lovers in Fire Over England . Estranged from their respective spouses, the pair began living together in secret before marrying in 1940, with Katherine Hepburn among the witnesses. The relationship lasted 18 years before collapsing in 1958. The couple would finally divorce two years later.

Onscreen Chemistry: The longing and passion evident in Fire Over England serves as a handy signpost as to the way the couple's relationship was headed…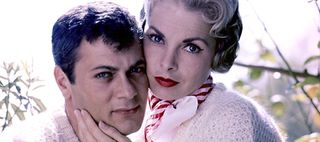 Tony Curtis & Janet Leigh
The Couple: A classically photogenic Hollywood couple, Curtis and Leigh were Tinseltown royalty during their eleven year marriage. In terms of combined star-power, they certainly take some beating.

Relationship History: Curtis and Leigh were married from 1951 to 1962, and had a pair of kids together, one of whom was Jamie Lee Curtis. "For a while, we were Hollywood's golden couple," he said. "I was very dedicated and devoted to Janet, and on top of my trade, but in her eyes that goldenness started to wear off. I realized that whatever I was, I wasn't enough for Janet. That hurt me a lot and broke my heart." Don't feel too sorry for him before you read the next entry on this list…

Onscreen Chemistry: The pair co-starred in five films together, including the pleasingly overblown The Vikings . Curtis was never forced to fight his half-brother to win Leigh's affections, but we like to think some of the same passion was involved.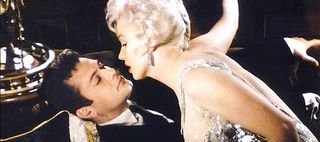 Tony Curtis & Marilyn Monroe
The Couple: You couldn't really describe Curtis and Monroe as a "couple" per se, but according to the former, they did indulge in one particularly scandalous liaison which led to the latter falling pregnant…

Relationship History: According to Curtis' recent autobiography, the pair enjoyed a secret affair during the making of Some Like It Hot , at which point he was still married to Janet Leigh and she was shacked up with Arthur Miller. The aforementioned pregnancy ended in miscarriage, which is why the scandal never came to light.

Onscreen Chemistry: There's plenty of sizzle in Some Like It Hot , although the laugh-out-loud chemistry between Curtis and Jack Lemmon is probably more likely to stand the test of time.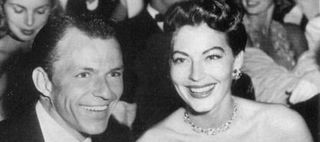 Frank Sinatra & Ava Gardner
The Couple: A famously tumultuous relationship, Sinatra and Gardner's partnership was frequently stormy, although both admitted the other was the love of their lives. He would become her third and final husband, whilst she was the woman who finally curbed his womanising ways. Well, for the duration of the marriage at least…

Relationship History: Sinatra and Gardner were married in 1951, and their six-year union was blighted by a mutual insecurity borne out of the knowledge of each others' philandering pasts. Still, the pair remained amicable after the inevitable split, and upon her death in 1986, Sinatra was reportedly found by his daughter, weeping and unable to speak.

Onscreen Chemistry: The pair never starred together, presumably because no director wanted to land themselves with the on-set aggro.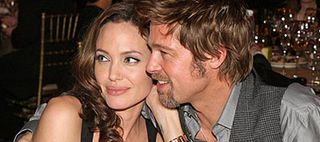 Brad Pitt & Angelina Jolie
The Couple: Love them or hate them, there's no denying that Brangelina represent the biggest Hollywood union since the golden days of Hepburn and Tracy, Bogie and Bacall et al. Just don't tell Jennifer Aniston we said so…

Relationship History: Having met Jolie on the set of Mr. & Mrs. Smith , Pitt's five-year marriage to Jennifer Aniston soon broke down, and just one month after the latter filed for divorce, the new couple were papped on the beach together. The pair have had three children together and have adopted a further two, but in a typically right-on stance, they have said they will only marry when all couples in the US are afforded the same right.

Onscreen Chemistry: Anyone who had watched Mr. & Mrs. Smith wouldn't have needed a crystal ball to work out Brad and Jen's marriage wasn't long for this world.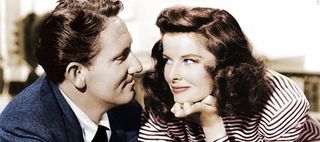 Spencer Tracy & Katherine Hepburn
The Couple: Arguably the most romantic pairing on this list, Hepburn and Tracy starred in no less than nine feature films together, and enjoyed an off-on relationship that lasted from their first collaboration ( Woman Of The Year ) until Tracy's death in 1967.

Relationship History: Never marrying (on account of Tracy's Catholic unwillingness to divorce his estranged wife), the couple rarely discussed their off-screen relationship, but Hepburn was so distressed by Tracy's eventual death that she was famously unable to watch their final film together, Guess Who's Coming To Dinne r. That should tell you something of the depth of feeling that existed between them.

Onscreen Chemistry: In Woman Of The Year they play a pair of dynamic rival reporters who eventually fall in love with each other, as happened off-screen during the film's production.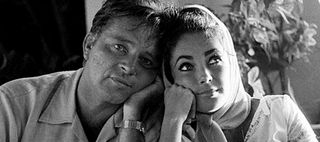 Richard Burton & Elizabeth Taylor
The Couple: Burton and Taylor's combustible relationship scandalized Hollywood back in 1963, and remained a reliable headline maker throughout the ensuing decade. Perhaps their chemistry stemmed from Burton's ability to keep Taylor's feet on the ground. "(Calling her) the most beautiful woman in the world is absolute nonsense," he famously sneered. "She has wonderful eyes, but she has a double chin and an overdeveloped chest, and she's rather short in the leg." Nice.

Relationship History: Both were married when they began their affair in 1963 (leading the Vatican to condemn the relationship as "erotic vagrancy") but it wasn't long before Burton became Taylor's fifth husband the following year. That marriage lasted ten years before divorce in 1974, and then remarriage the following year. Nine months later the relationship was over for good. As Taylor remarked, "You can't keep clapping a couple of sticks (of dynamite) together without expecting them to blow up." Indeed.
Onscreen Chemistry: The pair met on the set of Cleopatra , their evident passion for each other firing the relationship between Anthony and Cleopatra. However, it was the explosive union portrayed in Who's Afraid Of Virginia Woolf ? that is thought best to represent the couple's relationship…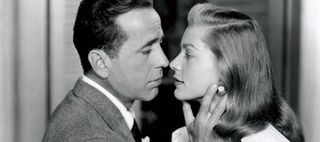 Humphrey Bogart & Lauren Bacall
The Couple: Bogart was the Hollywood leading man who had graduated from playing hard-boiled gangsters to hard-boiled heroes, whilst Bacall was the fresh-faced ingénue with the husky voice to top all husky voices…together, they represented old-school Hollywood glamour at its finest.

Relationship History: The pair met on the set of To Have And Have Not , when Bacall was 19 years of age and Bogart 45. Whilst they were clearly attracted to each other from the off, Bogart remained unhappily married for a year until eventually he and Bacall were hitched in 1945. The pair remained married until Bogart's death in 1957, and would go down as one of the most celebrated couples in Hollywood history.

Onscreen Chemistry: The double-act's on-screen chemistry hit a high point in The Big Sleep , in which Howard Hawks' innuendo-heavy script encapsulated their sexual tension perfectly.