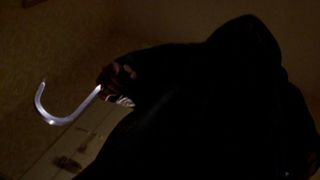 Fisherman I Know What You Did Last Summer (1997)
The Cruel Villain: A menacing killer in a black rain slicker, the Fisherman takes revenge on the teens who (supposedly) killed a man during a drunken night out.

Oh, and he carries out a giant hook to get the dirty work done.

On the 'really cruel' side of things, he likes to toy with his victims first – he sends Julie (Jennifer Love Hewitt) that titular note, just to let him know that he's coming for her, then makes her think she's going crazy by hiding dead bodies in the boot of her car, and making them disappear again…

Nastiest Moment: The Fisherman stalks Helen (Sarah Michelle Gellar) through her sister's store, offing anybody who gets in his way – and finally killing Helen herself.

The worst part? He deep freezes her body on his boat so friend Julie can find her later…

Killer Quote: "The next time you leave a man for dead, check he's really dead!"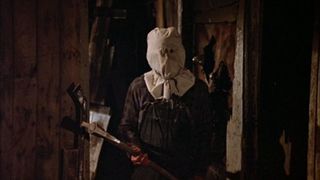 Jason Voorhees Friday The 13th Part 2 (1981)
The Cruel Villain: Now that mommie dearest is dead, Jason Voorhees has free reign to bludgeon, bash and bloody the counsellors at a training centre near Crystal Lake.

And he does so while wearing a creepy sack over his head.

(This is before he nabbed the iconic hockey mask.)

Nastiest Moment: Jason proves nobody's safe when he kills wheelchair-bound teen Mark by burying a machete in his face – and then sending him tumbling down a huge flight of steps. In the rain.

Really, does it get any worse?

Killer Quote: "Ki-ki-ki ha-ha-ha…"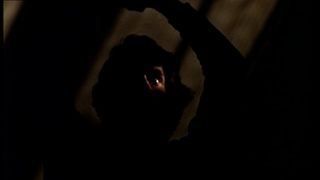 Billy Black Christmas (1974)
The Cruel Villain: This guy's particularly creepy, mostly because we never actually discover his real identity. All we know about 'Billy' is that he's living in the attic of a Canadian sorority house – and one by one, he's picking off the sisters.

You want cruel? Just listen in on his rambling, insane phone calls…

Nastiest Moment: Billy's first victim is Claire Harrison (Lynne Griffin), whom he suffocates using a plastic bag.

Then he pops her in a rocking chair in the attic, where she's basically in full view of the street and spends the rest of the film taunting the sisters as they try to track her down.

Killer Quote: [ singing down the phone ] "Little baby bunting/Daddy's went a-hunting/Gonna fetch a rabbit skin to wrap his baby Agnes in."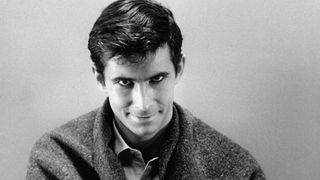 Norman Bates Psycho (1960)
The Cruel Villain: The proprietor of the Bates Motel, Norman (Anthony Perkins) loves stuffed animals – and spying on his female guests.

Not only that, in his fractured psyche, Norman is also his dead mother, dressing up in her clothes and murdering the women her naughty son ogles.
And Mama Bates is awfully mean to her poor boy.

Nastiest Moment: Clearly, cornering Marion Crane (Janet Leigh) in the shower and then stabbing her repeatedly with a butcher's knife.

Killer Quote: "We all go a little mad sometimes."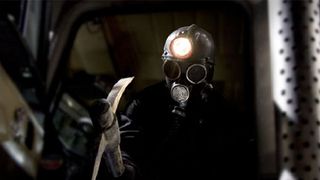 The Miner My Bloody Valentine (2009)
The Cruel Villain: A slasher killer who targets people on Valentine's Day (now that IS cruel), the Miner goes around in, yup, a miner's outfit, wielding a massive pickaxe as his (or her) weapon. Could it be the vengeful spirit of a dead miner?

Nastiest Moment: The Miner kills a prostitute – and the owner of the motel where she's been entertaining a customer.

It's one of the craziest scenes we've ever seen in a horror movie (and we've seen a lot of horror movies).

Killer Quote: "Be Mine 4 Ever…"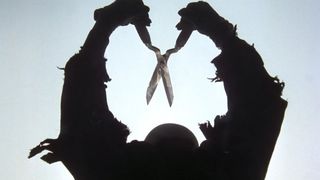 Cropsy The Burning (1981)
The Cruel Villain: Originally the caretaker at Camp Blackfoot, Cropsy falls prey to a prank gone wrong and is left severely burned.

Five years later, he heads back to camp to get revenge on the campers while wielding a massive pair of garden shears.

Nastiest Moment: Having just been released from hospital, Cropsy takes out his rage on a prostitute, strangling her and then stabbing her with a pair of scissors.

Killer Quote: [ Counselor on Cropsy ] "They never found his body, but they say his spirit lives in the forest. This forest. A maniac, a thing no longer human. They say he lives on whatever he can catch…"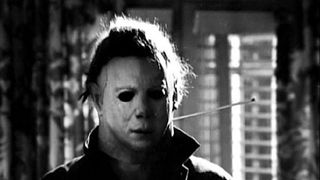 Michael Myers Halloween (1978)
The Cruel Villain: Otherwise known as The Shape, Michael Myers butchered his sister when he was a kid.

Now it's Halloween again, and he's got his beady black eyes on a trio of babysitters in Haddonfield, among them Laurie Strode (Jamie Lee Curtis).

Nastiest Moment: Myers got nastier as the franchise went on, but his meanest moment in John Carpenter's haunting original is strangling poor old Annie (Nancy Kyes) in the car. She came so close to escaping…

Killer Quote: [ in lieu of speaking, Myers likes to stab, stab, stab ]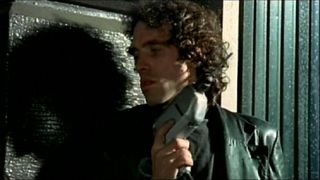 Reno The Driller Killer (1979)
The Cruel Villain: A psychopath who suffers from hallucinations, Reno also has an obsession with drills, which he uses to take down anybody who pisses him off.

That includes any guy who puts a wedge between himself and lover Carol. The thing about drilling somebody to death? It takes a while…

Nastiest Moment: Reno discovers a homeless person sleeping in an abandoned diner and kills him by putting a drill to his chest.

Killer Quote: "I'll tell you when it's going to be done..."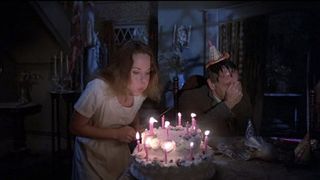 Ann Happy Birthday To Me (1981)
The Cruel Villain: A psychopath with a giant grudge, Ann's jealousy of her step-sister Ginny prompts her to kill all of Ginny's friends in slash-happy ways.

Even worse, she attempts to pin the crimes on Ginny…

Nastiest Moment: Assembling the most horrific birthday party you could ever imagine, seating all 10 of her victims around a table in anticipation of the arrival of birthday girl Ginny.

Killer Quote: "Happy birthday to me. Happy birthday to me. Happy birthday dear Ginny. Happy birthday to me."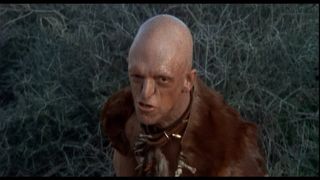 Cannibals The Hills Have Eyes (1977)
The Cruel Villains: A deformed family of flesh-munchers living in the Nevada desert, these murderous loons prey on travellers who come through the desert.

Among them are Papa Jupiter (James Whitworth) and his kids Mars (Lance Gordon), Pluto (Michael Berryman) and Mercury (Arthur King).

Nastiest Moment: Jupiter kidnaps Bob and ties him to a stake before setting him on fire…

Killer Quote: "Baby's fat. You fat... fat and juicy."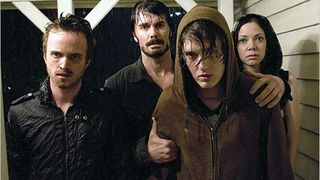 The Family The Last House On The Left (2009)
The Cruel Villains: Consisting of Krug (Garret Dillahunt), Francis (Aaron Paul), Sadie (Riki Lindhome) and Justin (Spencer Treat Clark), this family have no qualms about killing to get what they want.

And seeing as Krug has just escaped police custody, the killing should commence right about… now…

Nastiest Moment: Having kidnapped Mari (Sara Paxton) and Paige (Martha MacIsaac), the family kill Paige in the woods while Krug rapes Mari.

Killer Quote: "Did I do good? Tell me I did good!"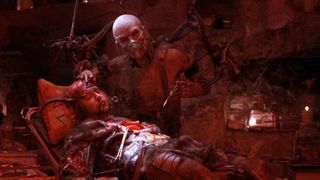 Dr Satan House Of 1,000 Corpses (2003)
The Cruel Villain: A creature of legend, Dr Satan was apparently hanged for his crimes, but is actually living out his days in a warren of underground tunnels, where he enjoys keeping his victims alive while he vivisects them.

Nastiest Moment: See above. Shudder.

Killer Quote: [ cough splutter cough ]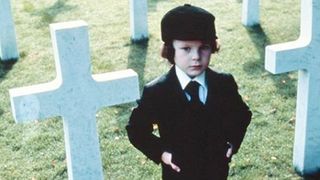 Damien The Omen (1976)
The Cruel Villain: The adopted son of Robert (Gregory Peck) and Katherine (Lee Remick).

Except Damien's anything but a bundle of joy. Scary things keep happening to the people around him, and it seems he's somehow involved…

Nastiest Moment: Being the Antichrist.

Killer Quote: [ Young nanny to Damien ] "Look at me, Damien! It's all for you."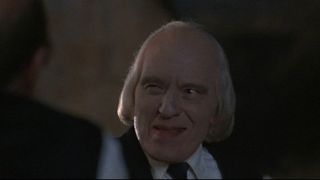 The Tall Man Phantasm (1979)
The Cruel Villain: An undertaker with an overtone of menace, The Tall Man likes yelling "BOOOOOY!" as loudly as possible.

Cruelty comes naturally – he transforms his dead charges into enslaved zombie dwarves (yes, really) to help him accomplish his goal of ruling the world.

Nastiest Moment: Unleashing his shiny, bladed, flying ball. Easily one of the coolest horror weapons ever.

Killer Quote: "You think when you die, you go to heaven. You come to us!"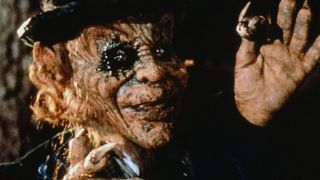 Lubin Leprechaun (1993)
The Cruel Villain: As the title of the film suggests, this guy's an evil Leprechaun who'll do anything to get his greasy little mitts on his pot of gold, which was stolen by a greedy American.

Basically, anybody who gets in the way will find themselves variously sliced and diced.

Nastiest Moment: The leprechaun kills a pawn shop owner using a pogo stick…

Killer Quote: "Try as they will, and try as they might, who steals me gold won't live through the night."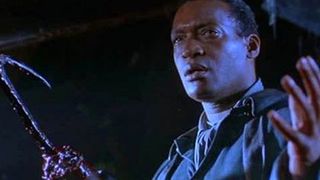 Candyman Candyman (1992)
The Cruel Villain: A former slave who was killed for falling in love with a white woman, the Candyman has become a legend in his own right, and appears to anybody who says his name five times in the mirror.

And when we say 'appears', we really mean 'hacks apart'. Delightful.

Nastiest Moment: The bit where he opens his coat to reveal that his chest is fleshless and covered with bees. That'll put anybody off their dinner.

Killer Quote: "I am the writing on the wall, the whisper in the classroom! Without these things, I am nothing. So now, I must shed innocent blood."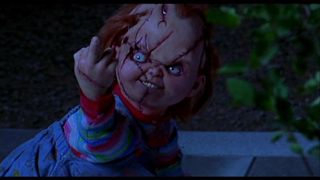 Chucky Childs Play (1988)
The Cruel Villain: Serial killer Charles Lee Ray evades death by using voodoo to transfer his dying soul into a Good-Guy doll called Chucky. Now all he has to do is find a new body to possess…

Nastiest Moment: Aside from running around gleefully killing people and then pinning his bad deeds on nipper Andy (Alex Vincent)?

Well, there's that bit where he uses a voodoo doll to kill his former mentor John (Raymond Oliver)…

Killer Quote: "Hi, I'm Chucky. Wanna play?"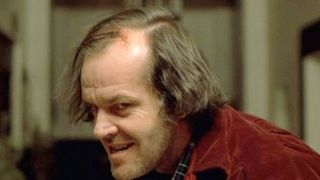 Jack Torrance The Shining (1980)
The Cruel Villain: Jack (Jack Nicholson) isn't exactly the best husband and father, but by the end of Stanley Kubrick's chilling horror, he's easily the worst.

Taking the caretaker job at an isolated hotel during the winter off-season, Jack slowly loses his mind and takes it upon himself to kill his family.

Nastiest Moment: Obviously, the bit where Jack bludgeons the bathroom door with an axe in an attempt to get at his wife.

Killer Quote: "Wendy? Darling? Light, of my life. I'm not gonna hurt ya. You didn't let me finish my sentence. I said, I'm not gonna hurt ya. I'm just going to bash your brains in."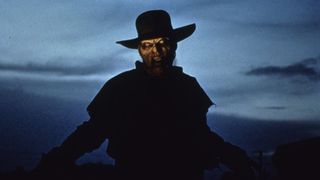 The Creeper Jeepers Creepers (2001)
The Cruel Villain: The Creeper is an immortal demon that awakens every 23rd spring in order to spend 23 days hunting and killing people for their body parts. See, the Creeper needs those part in order to replenish his own body.

Nastiest Moment: We discover the film's upbeat theme tune is entirely fitting, as the Creeper has killed Darry (Justin Long) and stolen his eyes.

Killer Quote: [ The Cat Lady on The Creeper ] "That's not my scarecrow…"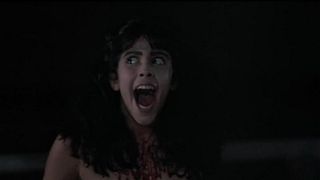 Angela Sleepaway Camp (1983)
The Cruel Villain: Angela's both victim and villain. As we discover at the end of this low-budget slasher, she's actually a boy who was raised a girl by her mother.

Which, crack psychology alert, sent her a little bit crazy and leads to her murder spree at Camp Arawak.
And that's where the cruelty kicks in, Angela's victims go in some pretty darn gruesome ways.

Bees, boiling oil, and...

Nastiest Moment: Camp bitch Judy gets her come-uppance (and then some) when Angela takes a hot pair of hair straighteners and shoves 'em where the sun don't shine. Burrrrrrn.

Killer Quote: "Meet me at the waterfront after the social…"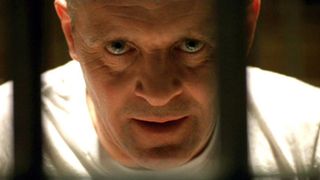 Hannibal Lecter The Silence Of The Lambs (1991)
The Cruel Villain: The great thing about Hannibal 'The Cannibal' Lecter (Anthony Hopkins) is that he's fully aware of just how messed up he is because he's as a super-smart psychiatrist.

He's also super dangerous, having been banged up in a maximum security prison because, as his nickname suggests, he likes to eat people…

Nastiest Moment: Hannibal punishes fellow prisoner Miggs for doing something nasty to Clarice (Jodie Foster) – off-screen, he taunts Miggs into swallowing his own tongue. Naturally, he dies…

Killer Quote: "A census taker once tried to test me. I ate his liver with some fava beans and a nice chianti."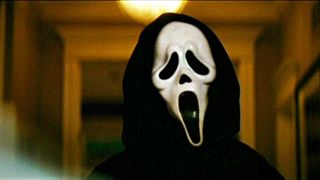 Ghostface Scream (1996)
The Cruel Villain: A masked menace who revels in horror movie trivia, Ghostface terrorises the small community of Woodsboro, where every teenager (and even a few non-teenagers) is fodder fit for killing (in imaginative and violent ways).

The worst part? He gives his victims false hope by playing horror trivia that the victim can't possibly win…

Nastiest Moment: Gutting poor Casey (Drew Barrymore) and stringing her up in a tree for her parents to discover.

Killer Quote: "What's your favourite scary movie?"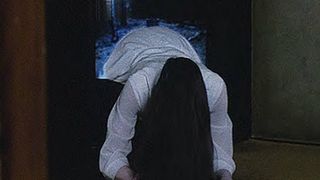 Sadako Ringu (1998)
The Cruel Villain: When Sadako was alive, she possessed strange supernatural powers.

When she was murdered and dumped in a well, her vengeful spirit possessed a VHS tape. If you watch the tape, she comes and gets you after seven days…

Nastiest Moment: Crawling out of the television set and scaring her victim to death. If that doesn't do it, nothing will.

Killer Quote: [ creepy creepy creep ]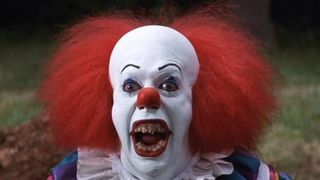 Pennywise It (1990)
The Cruel Villain: An ancient evil residing in Derry, Maine, this despicable villain takes the form of Pennywise the Clown in order to terrorise a group of young teenagers.

He's particularly adept at taunting people with their own fears.

Nastiest Moment: Pennywise's first kill is pretty horrific – he lures a six-year-old boy into a storm drain when the kid's paper boat falls in. Nightmares all round…

Killer Quote: "They ALL float down here. When you're down here with us, you'll float too!"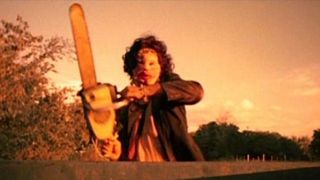 Leatherface The Texas Chain Saw Massacre (1974)
The Cruel Villain: Likes wearing other peoples' faces, which just about says it all about Leatherface, who belongs to a family of flesh-eating cannibals.

Though the rest of his brood's pretty messed up, it's Leatherface who does most of the killing on screen.

Nastiest Moment: Leaving one of his victims to dangle on a meat hook while she's still alive. You don't see any gore, but when things are this nasty, you don't need to.

Killer Quote: [ vroom vroooooooooom ]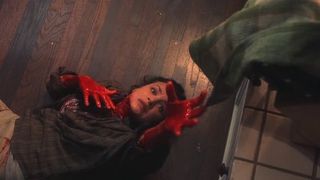 Death Final Destination (2000)
The Cruel Villain: Alright, Death can be seen as both a villain and a necessity, but the gory demises that claim the grave-dodging characters in Final Destination are so horrific that you can't help thinking Death's enjoying himself a little bit too much.

Nastiest Moment: Take your pick, though the bus smoosh is a great jump scare.

Killer Quote: [Bludworth on Death ] "In death there are no accidents, no coincidences, no mishaps, and no escapes."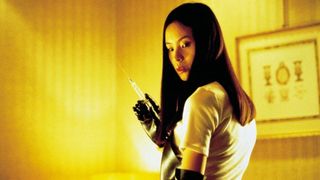 Asami Yamazaki Audition (1999)
The Cruel Villain: A woman with a mysterious past, Asami begins dating widower Aoyama. Growing jealous of his dead wife, though, she uses a paralysing agent to subdue him, and then gets to work humiliating and torturing him.

Nastiest Moment: Two words – piano wire. Nope, we're definitely never dating again.

Killer Quote: "This wire can cut through meat and bone easily."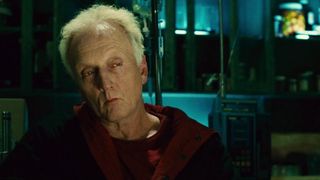 Jigsaw Saw (2004)
The Cruel Villain: The Jigsaw Killer (real name John Kramer) uses murder to test the moral fibre of ordinary people.

He does that by selecting individuals he deems to be wasting their lives and putting them into literal death traps that they have to fight to escape.

Nastiest Moment: Though the rest of the Saw films get progressively nastier, in the excellent first film, Jigsaw's plan is deviously simple – chain a guy up and let him decide if he wants to saw off his own foot to get free and save his family…

Killer Quote: "I want to play a game."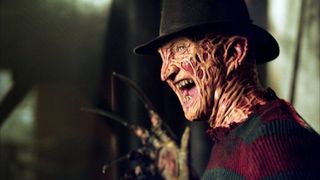 Freddy Krueger A Nightmare On Elm Street (1984)
The Cruel Villain: Burned, scarred and equipped with his very own handy torture device, serial killer Freddy Krueger only became more powerful when he was murdered by vengeful Elm Street parents – he transformed into a hack-n-slash dream stalker.

How's this for cruel – Freddy brings peoples' nightmares to life and uses them to kill them. We'll never sleep again…

Nastiest Moment: Freddy commits his nastiest moment off-screen. Having killed most of Nancy's friends, he targets her boyfriend (Johnny Depp), dragging him into a hole in his bed and unleashing a torrent of the red stuff.

Killer Quote: "Come to Freddy…"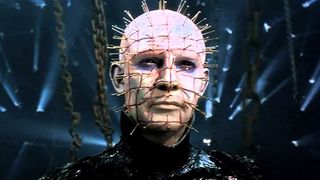 Pinhead Hellraiser (1987)
The Cruel Villain: The leader of the cenobites. Pinhead is so-called because, well, just look at him.

An "explorer" of experience, he/it takes pleasure in other peoples' pain, appearing to anybody who solves the Chinese puzzle box…

Nastiest Moment: Frank (Sean Chapman) is strung up in the attic, hook-ended chains attached to his body. Then he's literally ripped apart. Bloody mess if you ask us.

Killer Quote: "We'll tear your soul apart!"