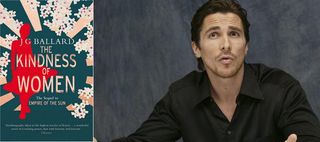 The Kindness Of Women
The Book: British author J.G. Ballard's follow-up to his earlier novel Empire Of The Sun (adapted by Steven Spielberg back in 1987) continues the story of young Jim Graham as he leaves China for a voyage of discovery around England, mainland-Europe and the United States.

A fictionalised account of the author's own experiences, the book dwells on its twin themes of sex and death as Jim progresses from youthful lustfulness through morbid early-manhood and finally out the other side to a kind of middle-aged contentment.

The Movie: We'd love to see Christian Bale pick up where he left off with this one, although he might be a little too old now to document Graham's earlier years. In terms of director, Spielberg was initially criticised for failing to adapt a character that audiences could connect with. Perhaps a more contemplative helmer (Ang Lee perhaps) might fare better this time around?

Sample Dialogue: "In Shanghai, from 1937 to the dropping of the atom bombs, we had been neither combatants nor victims but spectators roped in to watch an execution. Those who had drawn too close had been touched by the blood on the guns."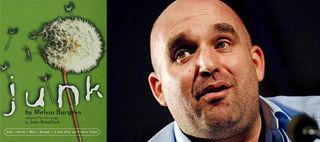 Junk
The Book: Melvin Burgess's unflinching children's novel tells the story of a group of Bristol-based teenagers who fall into the physical grip of heroin addiction and the mental brainwashing of an anarchist movement.

Encompassing such thorny issues as hard drug use, domestic violence and prostitution, it reads like a teenage version of Trainspotting , as Burgess refuses to water down his subject matter for his young audience.

The Movie: The lead characters are all in their early teens (one of the reason's the novel is so shocking) so you'd need to cast a set of relative unknowns for this one to work.
It's already been made as a little-seen TV movie, but we'd like to see Shane Meadows get his hands on it, not least because he'd be unlikely to sanitise any of the story's grittier elements.
This isn't a children's movie, even if it's a movie about children.

Sample Dialogue: "Try it. You don't have to do it ever again if you don't want to. But try it once. Try everything once…"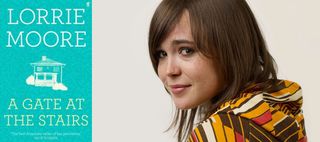 A Gate At The Stairs
The Book: Lorrie Moore's Costa Prize-winning novel is the story of one young woman's coming of age, as narrator Tassie Keltjin reminisces about her stint as a twentysomething babysitter for a middle-aged white couple and their adopted, mixed-race baby.
Set shortly after the events of 9/11, it's an unsettling yarn about the secrets and prejudices bubbling under the surface of a small, Midwestern community.

The Movie: A brooding, mysterious character piece, A Gate At The Stairs would work well as a low-key family melodrama in the vein of Todd Field's superlative In The Bedroom .
Ellen Page would be a good fit for the precocious but vulnerable Tassie, whilst casting real-life former-item Susan Sarandon and Tim Robbins as the Brinks (the troubled couple at the heart of the novel) would be an inspired piece of stunt casting.

Sample Dialogue: (On post 9/11 America) "Though the movie theatres closed for two nights, and for a week even our yoga teacher put up an American flag and sat in front of it, in a lotus position, eyes closed, saying 'let us now breathe deeply in honour of our great country.'
I looked around frantically, never getting the breathing right) mostly our conversations slid back shockingly, resiliently, to other topics: back-up singers for Aretha Franklin, or which Korean-owned restaurant had the best Chinese food."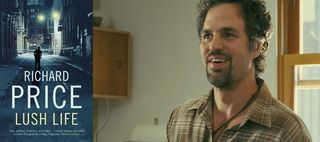 Lush Life
The Book: Penned by Richard Price (author of Clockers and an occasional writer on The Wire ), Lush Life is a pulse-quickening inner-city thriller in which a seemingly open-and-shut murder case stemming from a botched mugging soon expands into a web of complications and suspicion for luckless copper Matty Clark to try and untangle.

Packed with authentically crackling dialogue and boasting an intriguingly twisty-turny narrative, it's a compelling read throughout.
So much so that even Barack Obama made room for it in his luggage during a 2009 summer holiday.

The Movie: Price's work has oft been adapted for film and TV, and this would make for a superior big-screen crime thriller. We like Mark Ruffalo for exasperated but decent cop Clark, whilst Sharlto Copley would make for a shifty Eric Cash, the failed actor at the heart of the mystery.

Sample Dialogue: "As a rule he is soft-spoken, leaning in to the driver's window to conversate, to explain, his expression baggy with patience, going eye to eye as if to make sure what he's explicating here is being digested, seemingly deaf to the obligatory sputtering, the misdemeanours of verbal abuse, but ... if the driver says that one thing, goes one word over some invisible line, then without any change of expression, without any warning signs except maybe a slow straightening up, a sad/disgusted looking off, he steps back, reaches for the door handle, and the world as they knew it, is no more."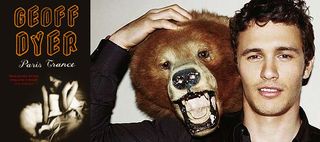 Paris Trance
The Book: A dreamy, twentysomething story of love, sex and lounging about from British author Geoff Dyer, as protagonist Luke heads to Paris to write a novel, only to find himself waylaid by beautiful women and mind-altering drugs. It's a hard life, eh Luke?

The Movie: This one is ripe for a hip, slacker-movie makeover, what with its gleefully geeky dissections of Blade Runner dialogue and bouts of elaborately adventurous sex.
In the novel the lead character is English, although that needn't be set in stone.
James Franco would be our pick for the role, as he's got the sort of languid, insouciant charm, not to mention the literary pretensions, of Dyer's hero.

Sample Dialogue: "When Luke came to Paris with the intention of writing a book based on his experiences of living — as he grandly and naively conceived it — `in exile', he was twenty-six years old (`a fine age for a man,' according to Scott Fitzgerald).
As far as I know, he made absolutely no progress with this book, abandoning it — except in moments of sudden, drunken enthusiasm — in the instant that he began leading the life intended to serve as its research, its first draft."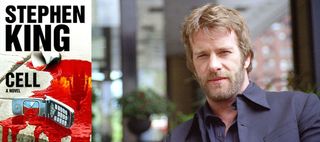 Cell
The Book: Stephen King's later novels may not hit the high notes with as much regularity as those from his late-70's heyday, but in terms of sheer imagination, he's still head and shoulders above the majority of his peers.
This 2006 chiller is a novel update on the classic zombie story, with struggling artist Clayton Ridell desperately trying to get him home to his family, after a mysterious signal known as "The Pulse" turns everyone using a mobile phone into bloodthirsty killers.

The Movie: We're surprised this one hasn't been snapped up already, seeing as practically every other one of King's novels has made its way onto the big screen.
Eli Roth was initially thought to be heading up a project back in 2007, but as that came to naught, we'll have Zack Snyder behind the camera, with Thomas Jane (an excellent lead in underrated King-adap The Mist ) starring as the increasingly desperate Ridell.

Sample Dialogue: "The event that came to be known as The Pulse began at 3:03 p.m., eastern standard time, on the afternoon of October 1. The term was a misnomer, of course, but within ten hours of the event, most of the scientists capable of pointing this out were either dead or insane. The name hardly mattered, in any case. What mattered was the effect."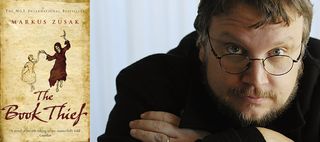 The Book Thief
The Book: Aussie author Marcus Zusak's phenomenally popular (it has been listed on the New York Times' Children's Bestseller list for over a hundred weeks) WW2 fable follows the exploits of young Liesel Memminger in Nazi Germany, as she has three fateful meetings with Death (who doubles up as the book's narrator). Profoundly moving, and frequently hilarious, its one of the best wartime novels of recent years.

The Movie: The trickiest aspect of the adaptation would be the treatment of Death, a wry, humorous presence throughout the novel, without rendering him ridiculous. Guillermo Del Toro could be just the man for the job, having successfully married the fantastical with the shockingly real in Pan's Labyrinth .

Sample Dialogue: "Here is a small fact. You are going to die. I am in all truthfulness attempting to be cheerful about this whole topic, though most people find themselves hindered in believing me, no matter my protestations.
Please, trust me. I most definitely can be cheerful. I can be amiable. Agreeable. Affable. And that's only the A's. Just don't ask me to be nice. Nice has nothing to do with me."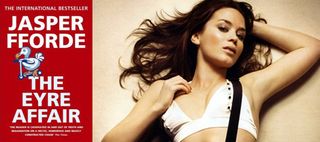 The Eyre Affair
The Book: Jasper Fforde's imaginative novel takes place in a parallel universe in 1985 where resourceful literary detective Thursday Next (a tough-as-old-boots member of the literary crimes division of Special Branch) must rescue Jane Eyre, who has been kidnapped from the pages of her novel by a fiendish criminal. Whimsical, funny, and crucially, a gripping page-turner.

The Movie: As TV show Lost In Austen proved, there's a real market for this sort of metaphysical fantasy, and we'd love to see the ever-inventive Charlie Kaufman turn his attentions to directing duties.
As for who should play Thursday Next, we think Emily Blunt has the requisite combination of balls and beauty to pull it off.

Sample Dialogue: "My pager had delivered a disconcerting message; the unstealable had just been stolen. It was not the first time the Martin Chuzzlewit manuscript had been purloined.
Two years before it had been removed from its case by a security man who wanted nothing more than to read the book in its pure and unsullied state. Unable to live with himself or decipher Dickens's handwriting past the third page, he eventually confessed and the manuscript was recovered. He spent five years sweating over lime kilns on the edge of Dartmoor."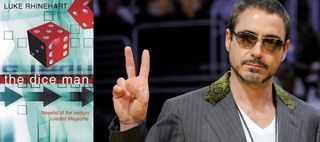 The Dice Man
The Book: Luke Rinehart's (the pen name of author George Cockcroft) cult novel tells the story of a disillusioned psychiatrist who decides to leave all of his life decisions down to the roll of a dice. Naturally, carnage ensues.

The Movie: A movie adaptation has long been mooted, but as yet, none has been forthcoming. It would surely be a dream of a role to play, but would require a healthy dose of counter-culture cool from whomsoever should step up to the plate. Our vote would go to Robert Downey Junior.
As for the director, this one requires a mixture of darkness and humour only Fincher could deliver.

Sample Dialogue: "A fog-horn blast groaned into the room from the East River and terror tore the arteries out of my heart and tied them in knots in my belly: if that die has a one face up, I thought, I'm going downstairs and rape Arlene. 'If it's a one, I'll rape Arlene,' kept blinking on and off in my mind like a huge neon light and my terror increased.
But when I thought if it's not a one I'll go to bed, the terror was boiled away by a pleasant excitement and my mouth swelled into a gargantuan grin: a one means rape, the other numbers mean bed, the die is cast. Who am I to question the die?"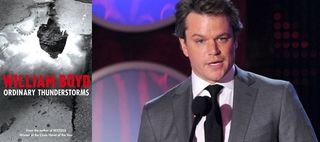 Ordinary Thunderstorms
The Book: A taut little thriller from feted author William Boyd, in which climatologist Adam Kindred finds himself incriminated in a murder case and goes to ground amongst London's seedy underbelly, living the life of a homeless man as he desperately tries to clear his name.
As he begins to discover that he is part of a massive corporate conspiracy, things become a little far-fetched, although when has that ever been a problem for Hollywood?

The Movie: Boyd's lead character is cut from the same cloth as the classic Hitchcockian protagonist: an increasingly desperate everyman caught in the midst of events he doesn't fully understand.
Being that this would likely be transposed to an American city, (New York perhaps) Matt Damon is probably the best suited of the current Hollywood crop to this sort of role, perhaps with Christopher Nolan behind the camera.
If it's staying in London (as it ideally would), then Rufus Sewell might be a good pick.

Sample Dialogue: "He should NEVER have obeyed Wang's instruction, he now realised. He should never have pulled the knife out, never – he should have simply gone to the telephone and dialled 911 – 999, rather.
Now he had traces of Wang's blood on his hands and under his fingernails and, even worse, his fingerprints were on the fucking knife itself."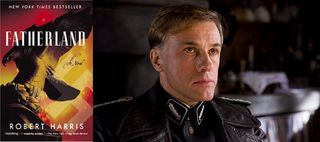 Fatherland
The Book: Robert Harris' bestselling thriller presents an alternative timeline in which Germany won the Second World War, and Hitler's Nazi regime presides over mainland Europe and beyond.
Within this nightmare scenario, Kripo detective Xavier March finds himself caught up in a political scandal involving senior party members that threatens to reveal the details of the Holocaust to Hitler's unsuspecting public…

The Movie: Harris' story has already been made into an acclaimed TV movie (with Rutger Hauer taking the role of March and Miranda Richardson bagging an Emmy for her turn as US reporter Charlie Maguire), but it's a mystery how such a compelling story has yet to make it onto the big screen.
Christoph Waltz would make an excellent March (giving him the chance to turn his Inglourious Basterds persona on its head) whilst Rachel McAdams could play the intrepid McGuire. Make it happen Hollywood!

Sample Dialogue: "Xavier March, homicide investigator with the Berlin Kriminalpolizei - the Kripo - climbed out of his Volkswagen and tilted his face to the rain. He was a connoisseur of this particular rain.
He knew the taste of it, the smell of it. It was Baltic rain from the north, cold and seascented, tangy with salt. For an instant he was back twenty years, in the conning tower of a U-boat, slipping out of Wilhelmshaven, lights doused, into the darkness."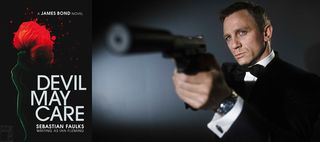 Devil May Care
The Book: Acclaimed author Sebastian Faulks takes up the baton from the late Ian Fleming to deliver a new James Bond adventure, with all the classic noir trappings of his predecessor.
This sixties-set romp follows Bond on an adventure from Paris to the Middle East as he hunts down a vicious drug baron with terrorist pretensions. You know the sort.

The Movie: Obviously the novel's '60s setting wouldn't fit with the Daniel Craig timeline, although there's no reason why the story couldn't be tweaked slightly to bring it up to date.
However, we think MGM should hold this one back for when the time comes to reboot the franchise once more. We'd love to see a period Bond film once Craig hangs up the bow tie…

Sample Dialogue: "It took Bond almost ten minutes to get the "Locomotive", the Bentley Continental he'd had rebuilt to his own specification, as far as Sloane Square. London seemed to have gone slightly off its head in the time he'd been away.
Every zebra crossing on the King's Road was packed with long-haired young people, ambling across, standing and talking or, in one remarkable case, sitting cross-legged in the road.
With the convertible hood down, Bond could smell the bonfire whiff of marijuana he'd previously associated only with souks in the grubbier Moroccan towns. He blipped the throttle and heard the rumble of the twin two-inch exhausts."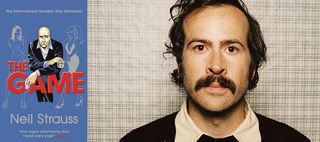 The Game
The Book: Rolling Stone journo Neil Strauss's dating memoir / how-to-guide makes for a surprisingly compelling read, as the writer documents his journey from painfully shy wallflower to vaguely sinister pick-up artist.
Stuffed with a surfeit of bewildering terminology (do you know how to perform a "neg"? Can you identify an "amog"?) and responsible for arming hordes of sweaty-palmed misogynists with the tools to ambush an unsuspecting female populace, it is nonetheless a fascinating story!

The Movie: This one has been in development hell for a while now, with Chris Weitz initially signing on to direct for Columbia before the project fell through.
The story remains ripe for re-telling however, and preferably played for laughs, because some of these characters really need to be pointed and laughed at.
It seems like an Apatow production to us, perhaps with Jason Lee drafted in to play Strauss, and the usual suspects (Seth Rogan, Jason Segel, Jonah Hill et al) playing the gallery of grotesques he begins to associate with.

Sample Dialogue: " 'But remember," Mystery said sternly. 'You are no longer Neil Strauss. When I see you in there I want you to be someone else. You need a seduction name.'
He paused and reflected: 'Styles?' 'How about Style?' That was the one thing I prided myself on: I may never have been socially comfortable, but at least I knew how to dress better than those who were. 'Style it is. Mystery and Style.'"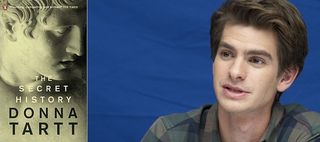 The Secret History
The Book: Donna Tartt's bestselling debut novel infiltrates a close-knit group of friends at an elite Vermont college, bound together by privilege, a love of Classics and the eventual murder of one of their number.
A cracking mystery, with more than a hint of Greek Tragedy about it, brought to life by a cast of glamorous, narcissistic young characters.

The Movie: A college-set murder mystery with brains, there are obvious comparisons to be drawn with Bret Easton Ellis's The Rules Of Attraction (indeed the two authors frequently reference each other's work), and as with that film, a cast of fresh-faced but credible actors would be required.
Andrew Garfield would be our first choice for narrator Richard Papen with Nicholas Hoult co-starring as bon viveur-in-training Bunny Corcoran.

Sample Dialogue: "Bunny had an uncanny ability to ferret out topics of conversation that made his listener uneasy and to dwell upon them with ferocity once he had.
In all the months I'd known him he'd never ceased to tease me, for instance, about that jacket I'd worn to lunch with him that first day, and about what he saw as my flimsy and tasteless Californian style of dress.
To an impartial eye, my clothes were in fact not at all dissimilar from his own but his snide remarks upon the subject were so inexhaustible and tireless, I think, because in spite of my good-natured laughter he must have been dimly aware that he was touching a nerve."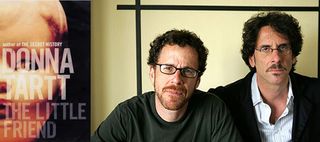 The Little Friend
The Book: Donna Tartt's follow-up to The Secret History (and sadly, her only other novel to date) is a Southern Gothic mystery following precocious schoolgirl Harriet as she digs at the unexplained death of her brother Robin, who died by hanging some years earlier.
As Harriet pursues with her quest, she collides with the adult world in a thrilling, often terrifying fashion.

The Movie: Harriet is a thrusting protagonist in the vein of True Grit 's Mattie Ross (although Harriet is both younger and less preternaturally savvy), and thus would require a newcomer of similar talent to Haillee Steinfeld to do her justice.
Come to think of it the Coen brothers would have a ball with this one, with its colourful Southern characters and off-beam humour, not to mention the mysterious death at the heart of the matter.

Sample Dialogue: "I realized that the childish impression I had always had of my father, as Just Lawgiver, was entirely wrong. We were utterly dependent on this man, who was not only deluded and ignorant, but incompetent in every way.
What was more, I knew that my mother was incapable of standing up to him. It was like walking into the cockpit of an airplane and finding the pilot and co-pilot passed out drunk in their seats."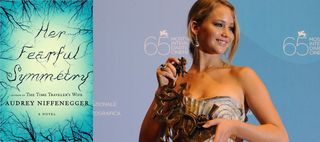 Her Fearful Symmetry
The Book: Audrey Niffenegger (author of The Time Traveller's Wife ) dips into the realms of fantasy once more to present this ghostly tale in which a pair of beautiful twins arrive to stay in the house haunted by their recently deceased aunt Elspeth.
As one of the pair becomes gradually drawn to Elspeth's bereaved lover, the spirit's presence becomes known, things get complicated, and a series of shocking revelations turn matters conclusively on their head…

The Movie: Given that one of the main protagonists is a ghost, this would be a real challenge to adapt, although given the box-office success of The Time Traveller's wife, somebody will probably have a go.
Perhaps the best way would be to present Elspeth as a narrative voiceover rather than a tangible spook?
Casting the twins shouldn't be such a problem with the use of The Social Network 's CGI trickery, and we'd like to see Jennifer Lawrence given the dual-role.

Sample Dialogue: "Listen, sometimes when you finally find out, you realize that you were much better off not knowing..."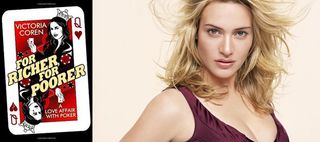 For Richer For Poorer
The Book: Part-time journalist / part-time poker player Victoria Coren's memoir is a thoroughly compelling tale, interweaving her unusual career move (in general, most top-level poker players aren't middle-class British women!) with a blow-by-blow account of her triumph at the 2006 London EPT at which she won a quarter of a million dollars.
Funny, moving and gripping…what more can you ask for?

The Movie: It might not seem the most likely of adaptations, but there's a natural narrative arc to Coren's story, with plenty of heartbreak present along the way to counterbalance the inevitable crowd-pleasing finale. In terms of casting, Kate Winslet would be a good pick, mirroring Coren's quick wit and eye-catching looks.

Sample Dialogue: Today, I might win a quarter of a million dollars. There are only eleven opponents to beat. Unfortunately, they are the eleven toughest poker players in the world.
According to the title of this televised battle, we are The Premier League. Phil 'The Brat' Hellmuth is playing: he's won eleven world titles. Dave 'Devilsh' Ulliott is there: the most feared and celebrated player in Britain. Marcel Lüske, 'The Flying Dutchman', is in the line-up: he's such a big star now, he is releasing albums of himself singing poker songs.
Between them, my opponents have won fty million dollars playing cards. So I'm a little nervous."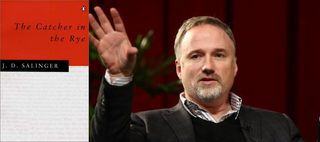 The Catcher In The Rye
The Book: The late JD Salinger's tale of adolescent angst and teenage rebellion is widely regarded as a modern classic, with protagonist Holden Caulfield taking his place as one of the most iconic characters of 20th Century literature.
It's a coming-of-age tale in which Caulfield struggles to find his place in a world that to his eyes, is full of hypocrisy and phonies. We've all been there…

The Movie: Salinger was long resistant to selling the rights to his most famous novel, although he had expressed an openness to the idea of something being made after his death.
David Fincher's work on The Social Network has got us convinced he could provide the framework for Salinger's crackling dialogue, whilst the role of Caulfield should probably go to a newcomer. What a career-maker that would be…

Sample Dialogue: "If you really want to hear about it, the first thing you'll probably want to know is where I was born, and what my lousy childhood was like, and how my parents were occupied and all before they had me, and all that David Copperfield kind of crap, but I don't feel like going into it, if you want to know the truth.
In the first place, that stuff bores me, and in the second place, my parents would have about two haemorrhages apiece if I told anything pretty personal about them."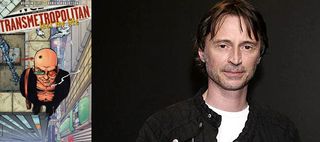 Transmetropolitan
The Book: Warren Ellis' cyberpunk series charts the adventures of renegade journalist Spider Jerusalem, who spends his days fighting corruption in a dystopian vision of the United States. Who's to blame? A succession of corrupt Presidents, that's who…

The Movie: The quirky humour and political satire of Transmetropolitan would make for a refreshing change from the usual crash-bang-wallop comic-book movies.
Robert Carlyle would make a brilliant Spider, and his attempts to bring down corrupt presidential candidate Gary Callahan, aka The Smiler, would be a good story arc to adapt. As for the Smiler, we'll have Aaron Eckhart turning his white knight routine from Batman on its head.

Sample Dialogue: "Journalism is just a gun. It's only got one bullet in it, but if you aim right, that's all you need. Aim it right, and you can blow a kneecap off the world."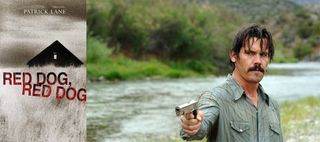 Red Dog, Red Dog
The Book: The debut novel from Canadian author Patrick Lane, Red Dog, Red Dog tells the story of two brothers in '50s British Columbia, and the violence that has marked their troubled domestic life.
When a family party goes hideously wrong, a spiral of chaotic events are set in motion, pushing both men to the brink.

The Movie: The novel is played out against a foreboding rural landscape that is already deeply cinematic in feel, whilst the violent, tragic story seems a good fit for John Hillcoat, director of similarly stark films like The Road and The Proposition .
As for the cast, Jeremy Renner and Josh Brolin would make for a compelling big-screen double-act.

Sample Dialogue: "Sergeant Stanley arrested Eddy, Harry having slipped away into the crowd. Richard Smythe, the town's judge, sent him down to Boyco, the boy's correctional school in Vancouver, despite Eddy being a year too young. Stanley wanted to teach Eddy a lesson.
So did Father. Eddy never forgot Sergeant Stanley arresting him or the year that followed in that prison. There was something dead in Eddy's head when he came back from the coast.
The boy he'd been was no longer there, and in his place was someone gone past feeling, who thought nothing of pain, his own or anyone else's. Even Father stepped sideways when Eddy walked behind him."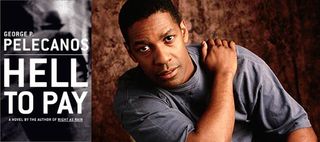 Hell To Pay
The Book: Crime author George Pelecanos was an occasional writer on The Wire , and this story of the DC drug industry (and the repercussions that occur within it after a botched murder) is distinctly reminiscent of the superb TV drama.
Private Detective Derek Strange is the man charged with cutting through the mayhem to bring the killers to justice.

The Film: The book is actually the second Derek Strange story, but this one feels the most ripe for big-screen translation, what with its well-drawn characters (both amongst the authorities and the criminals) and rich central plotline.
As for who should play Derek Strange…well, we defy you to read the novel and not think of Denzel Washington throughout!

Sample Dialogue: "What you plan to do, then, be some kind of professional victim? Give up 'cause of all this white oppression you always going on about? So what, all these race-hatin' motherfuckers out here can point to a shiftless nigger like you and say they were right?"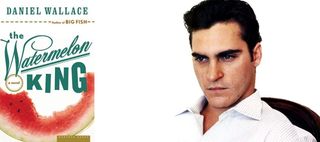 The Watermelon King
The Book: Another quirky oddity from the pen of Daniel Wallace, The Watermelon King is set in a small town in Alabama, where the watermelon was once set to revive the locals' fortunes until the intervention of Lucy Rider ruined their crops, and by proxy, their dreams.
When Thomas Rider returns to town many years later to explore his past, he learns that people aren't quick to forget things in small-town America…

The Film: Wallace's most famous work Big Fish was adapted for the big screen by Tim Burton, and Hollywood's favourite oddball would probably be a sound choice to helm this bizarre story.
And sticking with the theme of oddballs, what better movie for Joaquin Phoenix to make his return to acting? He'd make a suitably bemused Thomas Rider, and fit right in with the general off-beam tone.

Sample Dialogue: "'So,' I said, 'tell me again?' 'Tell you what?' 'Why I'm doing this?' My mouth was dry and inside my head I could hear my heart beating. 'Because it's what a man does,' she said.
'He goes on a journey.' 'And why does he do that?' 'To find himself," she said. 'And I'm a man,' I said. 'That's right,' she said, 'you're a man.'"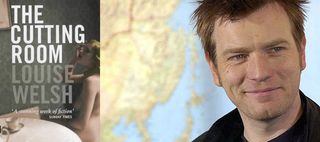 The Cutting Room
The Book: Louise Welsh pens a bizarre little tale in which an unlikely hero in the form of Glaswegian auctioneer Rilke stumbles upon a collection of bizarre (and depraved) pornography when sorting out a dead man's possessions.
In amongst the images is one of an underaged girl, who appears to be drugged or worse.
However, when Rilke starts poking around into the source of the images, he finds that the people involved aren't too keen on their business being brought to light…

The Film: As thrillers go, this one is about as dark as they come, and it'd be nice to see Danny Boyle return to the kind of gritty subject matter with which he launched his career.
As for Rilke, he's not exactly your average hero, being that he's a dissolute, promiscuous homosexual. Could Ewan McGregor stretch to that? It'd be the perfect shot-in-the-arm for his career if so…

Sample Dialogue: "I'm twenty-five years at the auction house, forty-three years of age. They call me Rilke to my face, behind my back the Cadaver, Corpse, Walking Dead. Aye, well, I may be gaunt of face and long of limb but I don't smell and I never expect anything."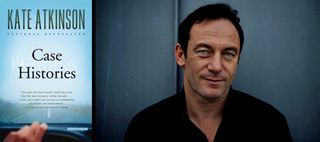 Case Histories
The Book: The first in Yorkshire author Kate Atkinson's excellent series of detective novels featuring gruff private investigator Jackson Brodie.
Atkinson's wry prose charts the investigation of three seemingly unconnected tragedies: a three-year-old's disappearance, a husband's axe-murder and the seemingly motiveless slaying of a solicitor's daughter.
However, when Jackson starts to dig deeper, it turns out that the trio aren't so unconnected after all…

The Film: The BBC are in the process of adapting Case Histories into a serial drama, but without intending any disrespect, BBC dramas tend to be a bit safe in general. Brodie is such a well-drawn, likeable character, we'd love to see him get a crack at a big-screen franchise.
Our pick for the role? Well, the Beeb have gone for Jason Isaacs, and we can't really argue with that. Team him up with J. Blakeson (who did such a good job on The Disappearance Of Alice Creed ) and we could be onto a winner…

Sample Dialogue: "When you chopped logs with the axe and they split open they smelled beautiful, like Christmas.
But when you split someone's head open it smelled like abattoir and quite overpowered the scent of the wild lilacs you'd cut and brought into the house only this morning, which was already another life."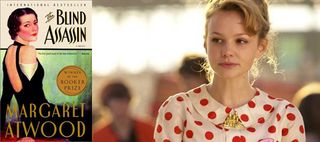 The Blind Assassin
The Book: Margaret Atwood scooped the Booker Prize back in 2000 for this excellent family saga which begins with the suicide of novelist Laura Chase, and then uncovers her manifold motivations through the recollections of her sister Iris, and Laura's novel-within-a-novel, also entitled The Blind Assassin . Do try to keep up…

The Film: The book-within-a-book framework might be challenging, but the story itself is the kind of sweeping tragedy that truly great screen epics are made of.
If Anthony Minghella were alive, he would be the perfect candidate to direct, but in his absence we'll nominate Sam Mendes, with Carey Mulligan starring as the fragile, emotionally scarred character of Iris.

Sample Dialogue: "Ten days after the war ended, my sister Laura drove a car off a bridge.
The bridge was being repaired: she went right through the Danger sign. The car fell a hundred feet into the ravine, smashing through the treetops feathery with new leaves, then burst into flames and rolled down into the shallow creek at the bottom. Chunks of the bridge fell on top of it. Nothing much was left of her but charred smithereens."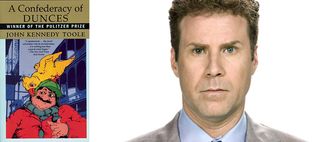 A Confederacy Of Dunces
The Book : John Kennedy Toole's comic classic tells the story of Ignatius J. Reilly, a vastly intelligent but deeply lazy man, who lives at home with his mother until an enforced search for employment leads him into various comic episodes with a cast of weird and wonderful characters.

The Film: We don't really need to speculate over the casting for this one as there was also a full production ready to go back in 2005.
With Steven Soderbergh having adapted the script, Will Ferrell was set to star as Ignatius, with Paul Rudd, Mos Def and Jesse Eisenberg pencilled in for the supporting cast.
However, Paramount stalled on the project to such an extent that the whole thing collapsed. You idiots! With that lineup, it could have been perfect…

Sample Dialogue: "'You must begin a reading program immediately so that you may understand the crises of our age,' Ignatius said solemnly. 'Begin with the late Romans, including Boethius, of course.
Then you should dip rather extensively into early Medieval. You may skip the Renaissance and the Enlightenment. That is mostly dangerous propaganda. Now that I think of it, you had better skip the Romantics and the Victorians, too.
For the contemporary period, you should study some selected comic books.... I recommend Batman especially, for he tends to transcend the abysmal society in which he's found himself. His morality is rather rigid, also. I rather respect Batman.'"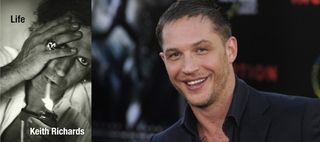 Life
The Book: Celebrity autobiographies are generally self-congratulatory snooze-fests, but Keith Richards' colourful tome is the exception to the rule. Crammed full of anecdotes of the sex, drugs and rock and roll variety, it's a fascinating document of life inside one of the world's biggest bands.

The Movie: Do we need to wait until Keef finally snuffs it to get this one in motion? Not necessarily. And if they do it now, the man himself could even snaffle himself a cameo.
Casting-wise, Johnny Depp would have been the obvious choice, if people hadn't started to tire of his Captain Keef routine years ago. Instead we'd give a slim-line Tom Hardy a go. He's certainly cool enough…

Sample Dialogue: "Post-acid was the prevailing mood at Redlands on a cold February morning in 1967. Post-acid: everybody arrives back with their feet on the ground, so to speak, and you've been with them all day, doing all kinds of nuts things and laughing your head off; you've gone for walks on the beach and you're freezing cold and you're not wearing any shoes and you're wondering why you've got frostbite.
The comedown hits everybody in a different way. Some people are going, 'let's do it again,' and others are going, 'enough already.' And you can flash back into full acid drive at any moment."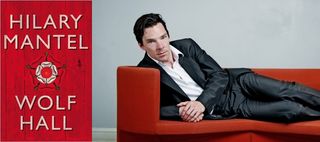 Wolf Hall
The Book: Set around the court of Henry VIII, Hilary Mantel's work of historical fiction tells the tale of Thomas Cromwell's rise to power in the early 1500s.
The Booker Prize winner for 2009, the novel won a great deal of praise for its unconventional presentation of the oft-maligned Cromwell as a talented pragmatist.

The Movie: We haven't had a really good costume drama in a while, and this could be just the story to remedy that. Shekhar Kapur showed an admirable flair for the genre with the two Elizabeth films, whilst in front of the camera, Benedict Cumberbatch would make an excellent Cromwell.

Sample Dialogue: "We know (Thomas More's) reasons. All Europe knows them. He is against the divorce. He does not believe the King can be head of the Church. But will he say that? Not he. I know him.
Do you know what I hate? I hate to be part of this play, which is entirely devised by him. I hate the time it will take that could be better spent, I hate it that minds could be better employed, I hate to see our lives going by, because depend upon it, we will all be feeling our age before this pageant is played out."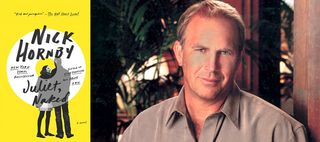 Juliet, Naked
The Book: Nick Hornby returns to some of his favourite topics in this story of reclusive singer/songwriter Tucker Crowe, who returns to England from a spell in America, only to find himself laid low by a heart attack and subsequently confronted by his five children and assorted ex-wives.

The Movie: Hornby's novels always make for fairly engaging films, and we can't see any reason why this one should be any different. Hornby's collaboration with director Lone Scherfig was a big success on An Education , so we'll have her in to direct again, with a rumpled Kevin Costner starring as Crowe.
Sample Dialogue: "He was now beginning to wonder whether the jigsaw was the correct metaphor for relationships between men and women after all. It didn't take account of the sheer stubbornness of human beings, their determination to affix themselves to another even if they didn't fit."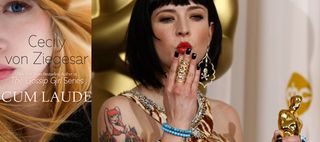 Cum Laude
The Book: Less sniggering at the back please. This is the much-hyped "adult novel" from Gossip Girl author Cecily von Ziegesar, and tells the story of a group of friends during their first year of college, covering all the coming-of-age milestones that come bundled in with higher education.

The Movie: If this one doesn't get made, we will eat our collective hat. Sexy, angsty and vicariously thrilling, this teen coming-of-age saga would be a guaranteed smash at the box-office, even it if it were only watched by Gossip Girl regulars.
Rope in Diablo Cody to up the hip-factor and cast some fresh-faced newcomers in the lead roles and what do you have? A license to print money!

Sample Dialogue: "'Want some help?' Two boys appeared at her sides, flashing eager, helpful smiles. 'I'm Sebastian.'
The taller of the two reached for the duffel bag and then ducked into the car for another. 'Everyone calls me Sea Bass.' He tossed the second bag at his friend, whose dense thicket of hair could only be described as a Greek afro. 'That's Damascus.'"