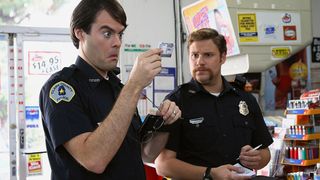 Officer Michaels and Officer Slater (Superbad)
The Cops: Michaels and Slater are both two bumbling cops who aren't so much corrupt as just utterly irresponsible in the line of duty.
The Partnership: All comic relief and no efficiency. They can't even take a witness account down without getting everything wrong (after being told that a suspect looks like Eminem, Slater responds "M&M... so he was circular?"
Best Moment: So many great quotes, but the famous one wins it: confronting the fake ID-ed McLovin' with "Great name... sounds like a sexy hamburger!"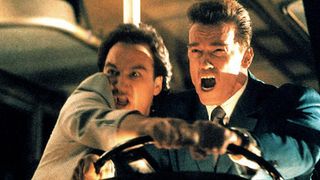 Art Ridzik and Ivan Danko (Red Heat)
The Cops: The tagline says it all: "Moscow's toughest detective. Chicago's craziest sop". Guess which is which.
The Partnership: Danko is the stern, taciturn Russian captain of the Moscow Militia, who finds Ridzik's down-to-earth, fast-talking American ways to be rather unorthodox. It's fair to say the feeling is mutual.
Best Moment: Danko's cutting observation to Ridzik: "This Chicago is very strange city. Your crime is organised, but your police is not."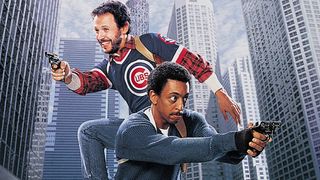 Danny Costanzo and Ray Hughes (Running Scared)
The Cops: The pair are immature detectives who decide they aren't cut out for police work after all and plan to retire and open a bar in Florida together... after ONE LAST JOB.
The Partnership: Together, the duo are street-wise quippers, using inappropriate means to solve their cases. Best of friends who are pretty much just as bad as each other.
Best Moment: As Danny lies after having been shot, he makes Ray promise that, if he doesn't survive, he will go to Florida by himself. After Ray promises, Danny is outraged: "Without me? You son of a bitch! Where's my gun? I'll kill you first!"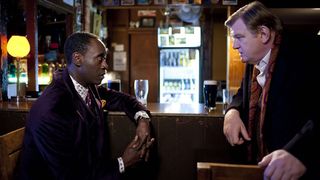 Gerry Boyle and Wendell Everett (The Guard)
The Cops: Boyle is a crude Irish police officer who regularly drinks and takes drugs while on duty. Everett is a FBI agent sent to Ireland to track down four Irish drug traffickers.
The Partnership: Everett may be an efficient agent, but there's a language barrier and culture shock to contend with. Meanwhile, Boyle knows his way around, but is too busy sleeping with prostitutes to make any immediate headway.
Best Moment: Boyle messes with Everett's presentation when they first meet, openly making 'innocent' racist accusations just to cause a stir.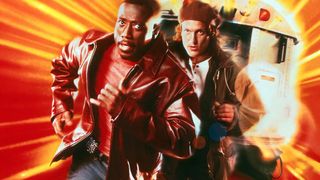 John and Charlie (Money Train)
The Cops: John is the tough, martial artist cop, forced to look out for his foster brother Charlie, a loser cop with huge gambling debts.
The Partnership: The pair work as New York transit cops who get in trouble when Charlie's debts catch up with him. When he vows to pay back the money he owes by robbing the 'money train', John feels no choice but to go along with him, out of brotherly love rather than professional respect.
Best Moment: In defence of his brother, John goes to the stip club owned by the gangsters to whom Charlie owes $15000 and – in true Wesley Snipes fashion – beats them all up, ending on a classic roundhouse kick.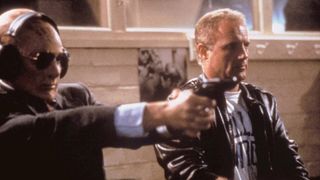 Matt Sykes and Sam 'George' Francisco (Alien Nation)
The Cops: Sykes is the bitter LAPD detective on the hunt for his former partner's killer. George is an alien.
The Partnership: Sykes is prejudiced against the alien race known as the Newcomers, so their partnership is on shaky ground to begin with, but he eventually learns to look past George's heritage and the two bond.
Best Moment: When Sykes makes fun of George's real name for sounding too much like 'San Francisco', George replies with "It is like your name... Sykes. I'm sure it doesn't bother you at all that it sounds like 'ss'ai k'ss' - two words in my language which mean 'excrement' and 'cranium'", pausing before adding "... Shithead".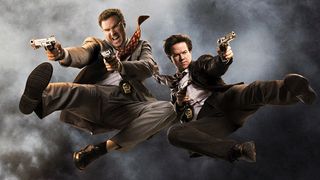 Allen Gamble and Terry Hoitz (The Other Guys)
The Cops: Allen Gamble is a dull, bookish police desk jockey with an unfeasibly attractive wife, while Terry Hoitz is a bored, frustrated detective dreaming of action and adventure.
The Partnership: Allen is the reserved, cautious type, scared that his past pimp personality Gator will make a reappearance if things get too dangerous. Meanwhile Terry is the hot-tempered cop pushing his partner to help him follow up on an exciting lead.
Best Moment: Angered by his partner, Terry lays down some smack talk about how he dislikes Allen so much, he would attack him in the wild even if he wasn't part of the right food chain. There proceeds a lengthy argument as to which would win between a lion and a school of tuna.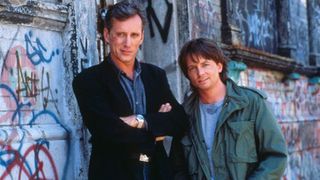 Nick Lang and John Moss (The Hard Way)
The Cops: Moss is the hardened, embittered cop. Lang is the spoilt movie star undergoing undercover 'research'.
The Partnership: It's mostly unfriendly, with Lang studying Moss for his own film role, while not appreciating the true gravity of their police investigations. Meanwhile Moss gets easily fed up with having to pander to the star. Of course, they eventually grow to like each other.
Best Moment: In a rage-fuelled rant, Moss shouts at Lang for not understanding the seriousness of facing daily horrors on the street and having to take lives while he is busy living his rich, Hollywood life. Lang's response? Asking him to say it all again into a tape recorder so he can later use it for his character.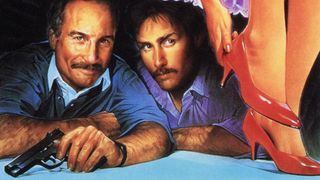 Chris Lecce and Bill Reimers (Stakeout)
The Cops: Bill is the younger straight man detective partner to Chris' older cop who gets in over his head when he falls for their girl they are both staking out.
The Partnership: It's mainly a disapproving, scolding one on Bill's part, while Chris is the farcical hero who gets in – and out – of scrapes. Great chemistry between them though.
Best Moment: Whenever they fall foul of a prank by rival cops Pismo and Coldshank. Ink rings on the binoculars is a particular classic.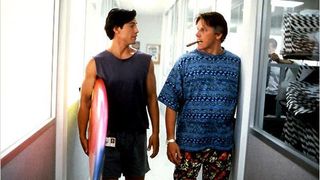 Johnny Utah and Angelo Pappas (Point Break)
The Cops: Utah is the wet-behind-the-ears, athletic FBI rookie partnered with the ostracised veteran Pappas.
The Partnership: Pappas has a 'crazy' theory that a famous gang of bank robbers known as the Ex-Presidents are actually surfers. That's all the reasoning Utah needs to suddenly take to the waves under his partner's guidance.
Best Moment: The pair bicker, on a stakeout, chat momentarily about getting a sandwich (Pappas wants TWO meatball sandwiches because he is so hungry he can "eat the ass end out of a rhino"). Unfortunately, this leads to them almost completely missing the Ex-Presidents' latest heist.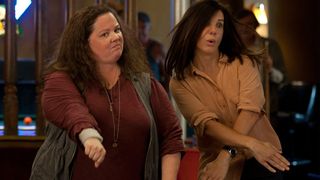 Sarah Ashburn and Shannon Mullins (The Heat)
The Cops: Ashburn is an officious, prim and proper FBI agent with an excellent track record. Mullins is the tough, crude detective who bullies her suspects, colleagues and boss.
The Partnership: Ashburn learns to stop being an anti-social prude when it comes to police work, letting her hair down the more time she spends in Mullins' company. Mullins learns that she could maybe look after herself a little better and clean out the fridge more regularly.
Best Moment: A drunken night out, which sees the pair bond spectacularly in a dingy bar while throwing some incredibly dubious dance moves.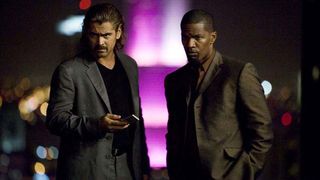 Sonny Crockett and Ricardo Tubbs (Miami Vice)
The Cops: Crockett is the charismatic ladies man to Tubbs' intelligent, by-the-book partner.
The Partnership: Pushed into a dangerous undercover situation, the partners may seem like an unlikely match but they make for a super-effective team.
Best Moment: When it looks like Crockett has got in too deep into his undercover role, he argues with Tubbs, who looks at him sternly – almost warning him – "I will never doubt you."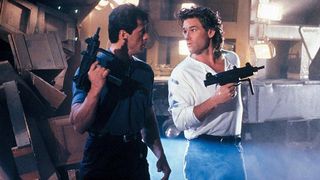 Ray Tango and Gabriel Cash (Tango & Cash)
The Cops: Tango is the rich Beverly Hills cop who takes a brutally hard line when it comes to catching criminals. Cash is the scruffy downtown LA cop who... um... takes a brutally hard line when it comes to catching criminals.
The Partnership: The pair, initially at odds with each other, become good friends and an effective working team via an appreciation for each other's skills and a LOT of homoerotic subtext.
Best Moment: The shared shower scene in which they make fun of each other's genitals is particularly noteworthy...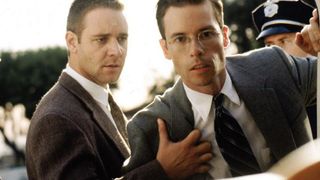 Wendell 'Bud' White and Edmund J. Exley (L.A. Confidential)
The Cops: Exley is the son of a legendary detective and wants to live up to his reputation, isolating himself from the rest of the force by actively trying to stamp out police corruption. Bud is a brutish plainsclothes police officer with rage issues who takes particular issue with woman-beaters.
The Partnership: There's a lot of animosity between them at first – no thanks to Exley sleeping with Bud's prostitute girlfriend – but they reluctantly put their differences aside in order to uncover a clear conspiracy within the LAPD.
Best Moment: Bud, enraged at finding pictures of Exley and his girlfriend together, starts beating him to a pulp, all while Exley tries to get him to "think" – it soon dawns on Bud that whoever sent the photos to him is clearly pulling some very corrupt strings.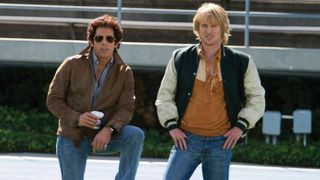 David Starsky and Ken Hutchinson (Starsky & Hutch)
The Cops: From the trailer: "Detective David Starsky did everything by the book. Detective Ken Hutchinson never even read it."
The Partnership: The exact same partnership that you imagine Ben Stiller and Owen Wilson to have in real-life, complete with occasional mime make-believe.
Best Moment: Interrogating Will Ferrell's prison convict Big Earl who insists on only giving up information if he can see Hutch's belly button.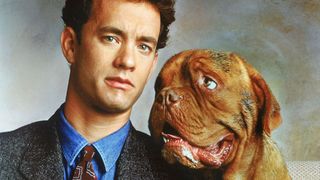 Scott Turner and Hooch (Turner & Hooch)
The Cops: One is a neat-freak police investigator. The other is a large, slobbery French Mastiff.
The Partnership: Turner takes in Hooch as the only witness to his friend's murder, and the dog proceeds to wreck the house and make Turner's life a misery. They work it out though and Turner soon comes to love the unsightly animal.
Best Moment: Turner lays down the rules to his new canine partner ("No barking, no growling, you will not lift your leg to anything in this house..." etc). Hooch pays no attention.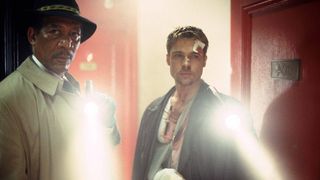 David Mills and William R. Somerset (Se7en)
The Cops: Mills is the headstrong cop assigned to homicide for the first time and excited about doing some down-and-dirty investigating. Somerset is the calm, jaded detective who has lost all hope in his city after the horrors he has seen.
The Partnership: Mills rushes headfirst into dangerous situations, too impatient to put the groundwork in first, while Somerset is the brains – using extensive experience and reasoning to get inside the serial killer's head.
Best Moment: It has to be that final box surprise. The tension, the cold calculation of it all, Mills' wrestling with his own grief and rage, and Somerset realising too late what it all means...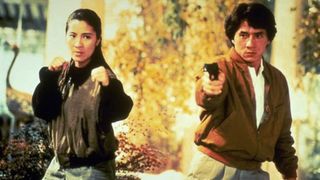 'Kevin' Chan Ka-Kui and Jessica Yang (Police Story 3: Super Cop)
The Cops: Ka-Kui is a Hong Kong cop prone to acrobatic feats of action. Yang is the Chinese Interpol officer who gives him an assignment to infiltrate a drug ring.
The Partnership: Yang acts the perfect officious foil to Ka-Kui's earnest, wide-eyed cop who seems to get himself into trouble almost as many times as he gets out of it. Obviously, both are formidable fighters.
Best Moment: A climactic double-team action sequence that sees the pair chasing down and fighting bad guys atop a speeding train.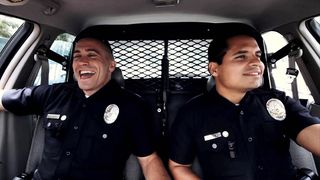 Brian Taylor and Mike Zavala (End Of Watch)
The Cops: Taylor is a former Marine who is filming their police patrols for a project. Zavala is his Mexican partner, unimpressed with the whole idea.
The Partnership: The pair are already close friends, whiling away hours by shooting the shit in their patrol car, in between shooting the shit out of criminals.
Best Moment: Any time the two pass time with beat-cop banter, but particularly Taylor bemoans his luck with finding a meaningful relationship that isn't just based on sex, while Zavala joking complains that he met his soulmate at prom and married her a week later. A personal conversation laced with brotherly teasing.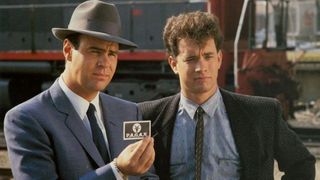 Joe Friday and Pep Streebeck (Dragnet)
The Cops: Joe Friday is the stern, by-the-book, section code-spouting cop assigned smart-mouthed, wise-cracking partner Streebeck.
The Partnership: Streebeck mocks while Friday disapproves, but the pair soon bond during their investigations.
Best Moment: Streebeck tests his partner's patience with him by crashing the birthday dinner of Friday's grandmother.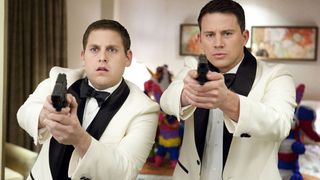 Morton Schmidt and Greg Jenko (21 Jump Street)
The Cops: Former classmates, Schmidt is the overweight nerd who gets his first taste of high school popularity during their undercover assignment, while Jenko is the failing jock who learns the importance of hard work.
The Partnership: The two become best friends as they initially help each other during police training - Schmidt tutoring Jenko throughout his studies and Jenko helping to get Schmidt physically fit. Together, they make up for each other's weaknesses to form a bumbling, sometimes-catastrophic - but effective - partnership.
Best Moment: After their friendship is threatened by their distancing roles at school, the pair fall out with each other. All is forgiven though when the big bad shoots Schmidt and Jenko takes the bullet for him. Of course Schmidt then responds by shooting off the bad guy's penis.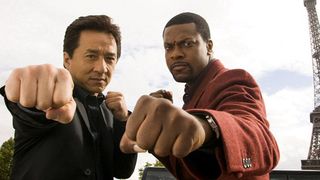 Lee and Carter (Rush Hour)
The Cops: Initially, Lee is an efficient Hong Kong Police Force inspector, while Carter is a rude, irritating LAPD detective with aspirations of joining the FBI.
The Partnership: Carter's frantic fast-talking is offset against Lee's more physical comedy, providing a bubbly balance of action-packed silliness.
Best Moment: Lee and Carter argue over which of their fathers was the better cop: "My daddy once saved five crackheads from a burning building, all by himself", "My daddy once caught a bullet with his bare hand..."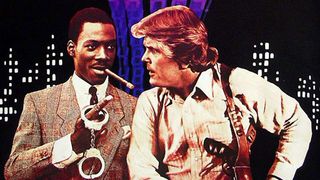 Jack Cates and Reggie Hammond (48 hours)
The Cops: Jack is the veteran San Francisco cop out to find the prison escapee that killed his friend, while Reggie is the convict's quick-witted former partner, released from prison for 48 hours to help Jack track the man down.
The Partnership: Jack's grizzled determination to catch the killer is tested by Reggie's super-confidence and brash humour, but the pair gradually bond.
Best Moment: Arriving at redneck bar Torchy's to chase up a lead, Reggie stands up to the prejudiced crowd waving his newfound deputised status: "There's a new sheriff in town and his name is Reggie Hammond!"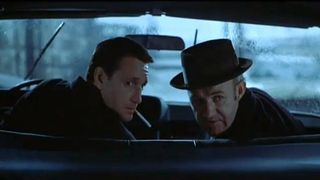 Jimmy 'Popeye' Doyle and Buddy 'Cloudy' Russo (French Connection)
The Cops: Popeye is the streetwise detective who's only too happy to break the rules if it means catching criminals. Cloudy is the partner who follows his lead, getting in over his head along the way.
The Partnership: Popeye is headstrong, relying on gut instinct and blind determination, often pushing Cloudy to join him in his questionable police work.
Best Moment: The Poughkeepsie shakedown: a classic good cop/bad cop routine in which Cloudy interrogates a drug dealer while Popeye butts in with unusual, threatening questions.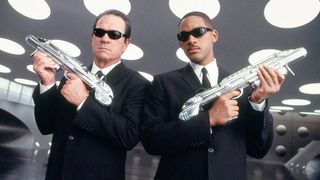 Agent J and Agent K (Men In Black)
The Cops: Agent J is a fish-out-of-water, smart-mouthed rookie. Agent K is his jaded, stoical partner.
The Partnership: There's much mentoring as Kay opens Jay's eyes to the inner - and outerspace - workings of intergalactic law enforcement, but Jay sees it as an opportunity to update some of the MIB practices in the process.
Best Moment: Kay erases a witness' memory and comes up with a cover story, which Jay proceeds to call "weak-ass" and instead plants some ideas into her subconscious to help her improve her life, including going shopping and hiring a decorator.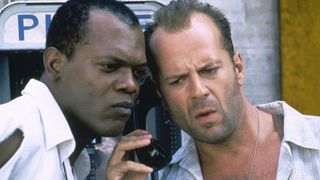 John McClane and Zeus Carver (Die Hard With A Vengeance)
The Cops: McClane is the burnt-out but resourceful LA cop with a nonsensical catchphrase. Zeus is the unwillingly deputised citizen with a racism chip on his shoulder.
The Partnership: Zeus is the out-of-his-depth, streetwise brains to McClane's no-nonsense tough guy brawn.
Best Moment: In a race to complete one of Simon's games, McClane and Zeus take a taxicab shortcut through Central Park. "Are you aiming for these people?" cries Zeus. "No! Well, maybe that mime" comes the reply.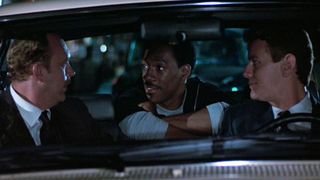 Axel Foley, Billy Rosewood and John Taggart (Beverley Hills Cop)
The Cops: Foley is the fast-talking streetwise Detroit cop, Rosewood is the idealistic, often bumbling detective and Taggart is his disapproving, by-the-book partner.
The Partnership: Foley's charismatic recklessness leads Rosewood astray, and he ultimately wins over Taggart too once he proves that his dynamic approach to law enforcement is WHAT GETS RESULTS.
Best Moment: Foley establishes himself as the alpha male of the group by getting one up on his soon-to-be-buddies in the most ingenious and masterful way possible. Um... bananas in the tailpipe.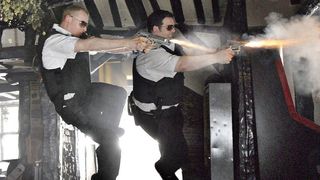 Nicholas Angel and Danny Butterman (Hot Fuzz)
The Cops: Angel is the hard-lined, by-the-book super-policeman, while Danny is essentially one of many village idiots who just so happens to wear a police uniform.
The Partnership: Angel acts as Danny's mentor at first, tutoring him in how to be an effective copper, while Danny helps to soften his partner up.
Best Moment: A night out drinking and then back to Danny's for a viewing of both Point Break and Bad Boys II. Talking of which...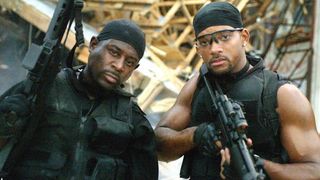 Marcus Burnett and Mike Lowrey (Bad Boys)
The Cops: Mike Lowrey is the flash, slick cop who is a hit with the ladies. Marcus is his less-smooth family man partner.
The Partnership: Marcus is the butt of many jokes, and the two bicker like old ladies with an ancient family feud, but they are, for all intents and purposes like brothers at heart.
Best Moment: An argument over Marcus dropping food in Mike's flash car gets out of hand in front of two carjackers, only for it to turn out to be an intuitive distraction that helps them get the better of the thieves. Classic cop-buddying, right there.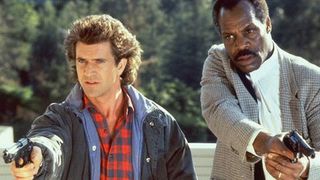 Martin Riggs and Roger Murtaugh (Lethal Weapon)
The Cops: Riggs is the initially-suicidal, often-reckless, always-resourceful crazy-eyed partner of Murtaugh, who is frankly too old for his sh…enanigans.
The Partnership: Despite Murtaugh's stuffy early reservations, the pair soon become very close, with the Murtaugh family semi-adopting Riggs as one of their own. As a partnership, Riggs does most of the legwork, while Murtaugh still does most of the worrying.
Best Moment: In Lethal Weapon 2, Riggs finds Murtaugh sitting on a bomb-rigged toilet seat. With Riggs refusing to leave his side as the bomb squad arrive, the pair manage to escape certain death by leaping into the bathtub as the bomb explodes.