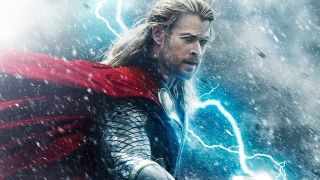 Praise be to Zod!
Geez, this list is a wee bit tough to write. For one thing, not everyone who reads it will actually believe it exists. Sure, the theist crowd will get a kick out of skimming through, but what about those 'article Atheists', or the 'list-based Agonistics'? Will the Wiccans make it all the way to the end? How about the Buddhist crowd? Pah, to hell with it; let's just agree that the idea of all-powerful beings is a pretty interesting one, and that the cinema certainly has its fair share.
This list looks at some of the most entertaining deities in the history of the medium. From the all wise to the all powerful, and the utterly serene to super-smitey, these are the 25 best Gods on screen.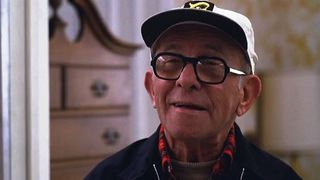 25. God - Oh, God! (1977)
The Movie God: Arrives on Earth in the body of George Burns with hopes of enlisting a modern day Moses to spread his word. Tends to dress like a retired fisherman and behave like a grouch.
Most Bad-Ass Moment: Totally destroying Jerrys clutch by bringing down a torrent of rain inside his car.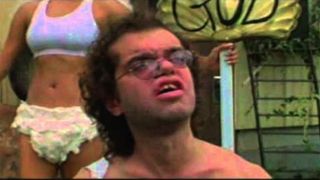 24. God - Citizen Toxie: Toxic Avenger IV (2001)
The Movie God: Played by Hank The Angry Drunken Dwarf (known for his recurring stint on The Howard Stern Show), Tromas version of Jesuss Dad is an irreverent slob.
Most Bad-Ass Moment: His confession that hes only allowed sixteen people entry into Heaven.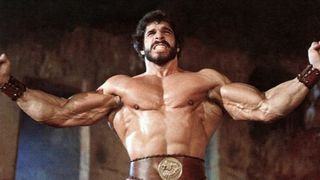 23. Hercules - Hercules (1983)
The Movie God: A half-mortal, half-God Grecian hero, an updated Hercules appears in this rebooted eighties version of this classic myth.
Most Bad-Ass Moment: Fighting a horde of stop-motion animation robots brought to life by his half-brother Minos, who in this iteration is an ethically-shoddy scientist.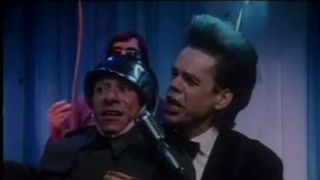 22. God - God Is On Their Side (2002)
The Movie God: Summoned by the American Army to bring good luck to their war efforts, God (David Johansen) wasnt quite what they anticipated. A boozing, cigar-chomping misogynist, his most inspired attribute is his plug-in neon halo.
Most Bad-Ass Moment: His rendition of Hes Got The Whole World (In His Hands) while getting soused at a jazz club.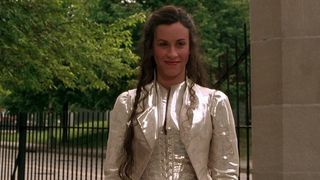 21. God - Dogma (1999)
The Movie God: A whimsical hippie deity, God (Alanis Morissette)s zen-like demeanour is complemented by a long, flowing dress and flowers woven into her hair that no doubt whiff of patchouli.
Most Bad-Ass Moment: Destroying the fallen angel Bartleby (Ben Affleck) with a single scream, causing his head to explode.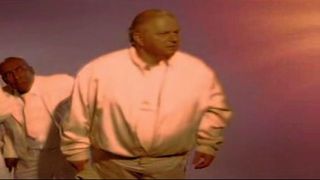 20. God - Two Of a Kind (1983)
The Movie God: An antagonistic God (voiced by Gene Hackman) who only appears to the angels as a hazy yellow light, he has a short fuse and is terrible at delegating his godly duties.
Most Bad-Ass Moment: Setting into motion events that will wipe out the entire planet.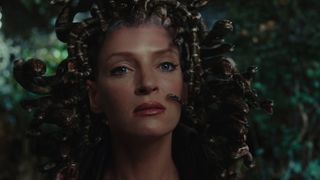 19. Medusa - Percy Jackson & The Lightning Thief (2010)
The Movie God: Medusa (Uma Thurman) is the daughter of sea Gods Keto and Phorcys, who were probably rather embarrassed when their offspring was turned into a cursed gorgon. Shes easily spotted in a crowd by her head of roving snakes.
Most Bad-Ass Moment: Turning an abandoned garden centre into a cemetery for all of her stony victims--which come in handy when clobbering teenage demigods.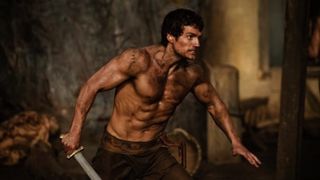 18. Theseus - Immortals (2011)
The Movie God: A demigod, Theseus (Henry Cavill) is the son of Poseidon who seeks revenge on Hyperion for destroying his village, enslaving him and murdering his mother.
Most Bad-Ass Moment: Armed with the Epirus Bow, Theseus battles the Minotaur sent by Hyperion, taking several blows before chopping off his head.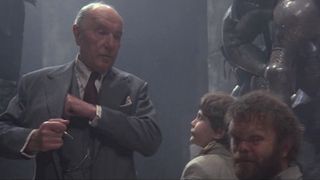 17. Supreme Being - Time Bandits (1981)
The Movie God: A bureaucratic stickler for rules, Supreme Being (Ralph Richardson) swans about in a grey suit, lone waifs of his white hair clinging to his bald head while attempting to keep a grasp on his own staggering incompetency.
Most Bad-Ass Moment: Cutting corners during the creation of the world led to a series of time warp loopholes popping up. Sort of accidental badassery, this.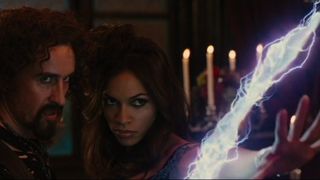 16. Persephone - Percy Jackson & The Lightning Thief (2010)
The Movie God: The imprisoned wife of Hades, Persephone (Rosario Dawson) might bear the distinctly un-badass title, Goddess of Springtime and Flowers, she is the bodice-wearing Queen of the Underworld.
Most Bad-Ass Moment: Seizing an opportunity for freedom, she blasts Hades with the lightning bolt as punishment for her years of incarceration.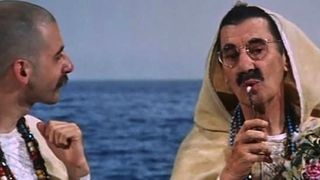 15. God - Skidoo (1968)
The Movie God: A habitual stoner, God (Groucho Marx) is often found chewing on a cigar and interfering with his mob connections on Earth. Wears a fashionable marker pen moustache.
Most Bad-Ass Moment: This ones a tie between his heavy weed-smokin habit and his lack of remorse over dealing pot to kids.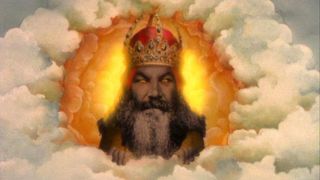 14. God - Monty Python And The Holy Grail (1975)
The Movie God: An animated photo of cricketer W.G. Fields, complete with a jewelled crown, two glowing orbs for eyes and the droll voice of Python alum, Graham Chapman.
Most Bad-Ass Moment: The revelation that hes not hugely keen on prayers, dishing out this particularly scathing admission:
One thing I cant stand is groveling. And dont apologise. Every time I try to talk to someone, its sorry this and forgive me that and Im not worthy.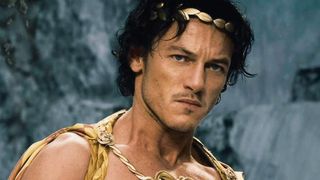 13. Zeus - Immortals (2011)
The Movie God: The King of the Gods, Zeus (Luke Evans), is an unforgiving, tough love sort of chap whose chiselled torso suggests he regularly attends Fitness First.
Most Bad-Ass Moment: In a column of flame he dramatically descends to Earth. As the mortals quiver on their knees for forgiveness, he unleashes his wrath on Ares, killing him with one powerful flick of a flame-kissed whip. Ouch.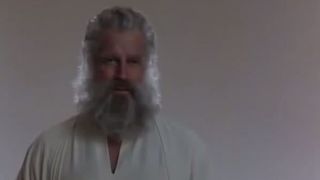 12. God - Almost An Angel (1990)
The Movie God: For this God (Charlton Heston), the flowing robes and snaggled white beard complete the ensemble, offset by a biting sense of humour.
Most Bad-Ass Moment: Saving good samaritan Terry (Paul Hogan) from a fatal car crash seconds, he returns him to Earth with the back-handed compliment, youre the first scumbag weve sent back.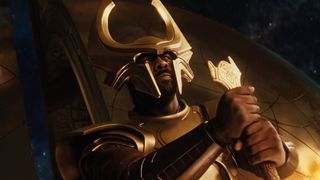 11. Heimdall - Thor (2011)
The Movie God: Heimdall (Idris Elba), a loyal Asgardian warrior god who protects the Bifrost--the bridge between the realms.
Most Bad-Ass Moment: Breaking free of the icy block Loki imprisoned him inside, he busts out of the chilly cell and slays a couple of Jotun guards.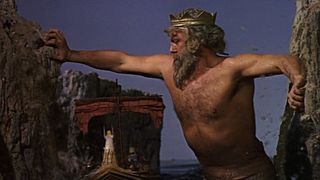 10. Triton - Jason And The Argonauts (1963)
The Movie God: Son of Poseidon and Amphitrite, the sea gods, Triton physically manifests like a Kaiju-sized merman, brandishing a trident.
Most Bad-Ass Moment: Called up by Jason whose ship the Argus is in great peril, Triton rises from the sea and holds back the tumbling rocks and foamy brine to allow the Argus safe passage.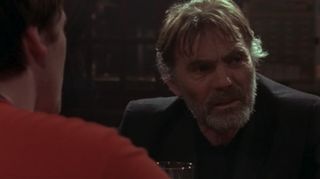 9. God - The Acid House (1998)
The Movie God: Often found down the local filling up his empty pint from the drip tray, this God (Maurice Roeves) is a bedraggled, cursing drunk with a gnarled beard.
Most Bad-Ass Moment: Referring to himself as lazy, apathetic and slovenly, amongst other four-letter words that are too twisted to include here.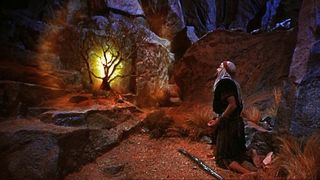 8. God - The Ten Commandments (1956)
The Movie God: This depiction of the Almighty is limited to a big, deep, booming voice from heaven above that gives Moses an earful of grief. When the occasion calls for it, hell also appear as a flaming pillar.
Most Bad-Ass Moment: Setting fire to a cluster of bushes. Rather an inconsiderate, almost devilish act seeing as forest fires are on the rise.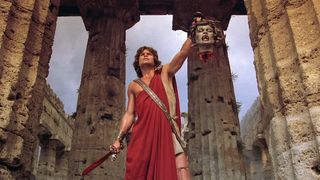 7. Perseus - Clash Of The Titans (1981)
The Movie God: The brawny offspring of Zeus and Danae, Perseus is the demigod equivalent of an angsty teen. Thankfully, the muscle-bound warrior takes out his wrath on a load of Kraken.
Most Bad-Ass Moment: The decapitation of Medusa. A brilliant masterstroke, he confuses the stony goddess with the blinding light of his trusty shield, giving him the upper hand.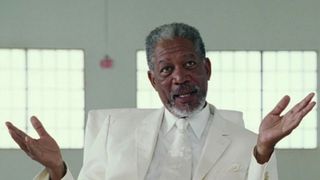 6. God - Bruce Almighty (2003)
The Movie God: With a minimalist approach to deity fashion, Morgan Freemans zen God prefers to keep it simple. You still wouldnt want to cross him though.
Most Bad-Ass Moment: Bestowing one of his biggest critics with all of his power. Just to prove a point.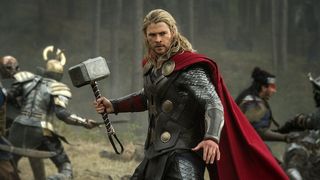 5. Thor - The Marvel Cinematic Universe (2011-)
The Movie God: The rippling muscles, the golden locks... no, not Dolph Lundgren in Masters Of The Universe. The son of Asgards throne-warmer, Thor.
Most Bad-Ass Moment: When he recalls his noble qualities, strengths and all-around smashing blokeness to retrieves his trusty axe, Mjolnir from the crater.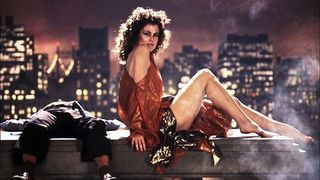 4. Zuul - Ghostbusters (1984)
The Movie God: Aka the Gatekeeper of Gozer, Zuul is a demigod capable of bodysnatching delectable humans (the classical musician, Dana Barrett) before shapeshifting into a slobbering, red-eyed hell hound.
Most Bad-Ass Moment: To the amusement of Peter Venkman, Zuul (in Danas body) levitates above the bed, growling and snapping like a dog tethered to a balloon.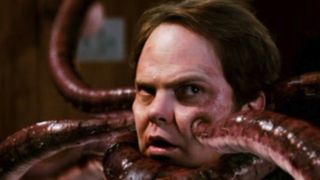 3. God - Super (2010)
The Movie God: A nerdy-yet-serious deity, this God (voiced by Rob Zombie) did his homework before appearing in James Gunns superhero caper. The white beard is ditched in favour of a clutch of tentacles any B-movie monster would be proud to own.
Most Bad-Ass Moment: His powers unable to penetrate the bumbling Frank (Rainn Wilson) through mental persuasion, God treats the poor mans house like a can of tuna, tearing off the roof and plunging his purple wigglies into the mans brain.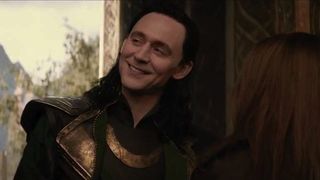 2. Loki - The Marvel Cinematic Universe (2011-)
The Movie God: The charming, exotic Asgardian god of mischief, Loki. Adopted by Odin as his son and brother to Thor, Lokis alliances are never what they seem.
Most Bad-Ass Moment: Thor returns to Asgard at the end of Thor: The Dark World to inform his father, Odin, of Lokis selfless death and his own refusal to sit on the throne.
As Thor turns to leave, the figure on the throne transforms into a grinning, wicked Loki.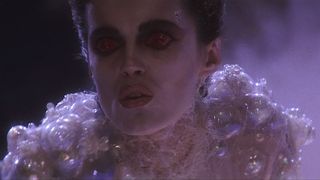 1. Gozer - Ghostbusters (1984)
The Movie God: An androgynous deity, Gozer the Destructor possesses more sobriquets than Daenerys Targeryean. But well stick to Gozer the Destructor.
Worshipped by a cult of Mesapotamian and Sumerian followers in 6000 BC, Gozer is brought to Earth after two minions, the Gatekeeper and the Keymaster, successfully unite and complete the summoning ritual The fresh-off-the-hell-boat Gozer appears to the Ghostbusters as a nimble, little minx.
Most Bad-Ass Moment: In a fight to the death, Gozer tricks the Ghostbusters into selecting the form of their chosen fighter--the menacing Stay Puft marshmallow man.