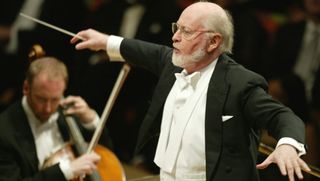 Earworms galore
Music can make or break a movie. If your horror movies score isnt hitting the right notes, even the cleverest scare can fall flat; if your emotional epic has a soundtrack that sounds like it belongs to a slapstick comedy, no-ones going to cry at the end.
But get the right combo of mood music and moving pictures and something magical happens, and over the years there have been a number of film scores that are so iconic you start humming them whenever someone so much as mentions the film title. These 20 movie themes are the unforgettable kind, but beware theyll get stuck in your head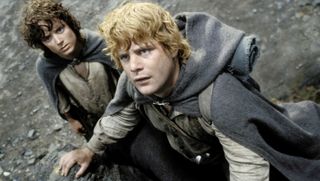 The Road Goes Ever On And On from The Lord Of The Rings trilogy
The theme: Howard Shores scores for the Lord Of The Rings movies comprise more than 10 hours worth of music, packed with themes and leitmotifs that crop up over and over again in different variations. But the one you hear in your head when you picture the rolling green hills of The Shire is probably The Road Goes Ever On, its sweeping strings evoking both grandeur and a kind of melancholy.
Listen to it when: Youre about to embark on an epic journey. Like a cross-country train ride, or a road trip to the seaside.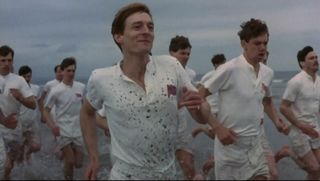 Chariots Of Fire from Chariots Of Fire (1981)
The theme: You cant hear the theme from Chariots Of Fire (1981) without thinking of running. Even if you havent seen the movie which is a story about the rivalry between two runners theres something sweepingly epic about Vangeliss theme that just evokes movement. Plus, yknow, it gets played a lot at sporting events, particularly at the Olympics.
Listen to it when: You need to be inspired to move a bit faster.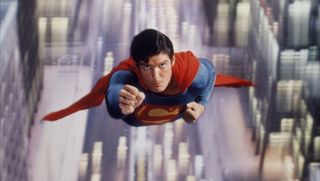 Superman Theme from Superman (1978)
The theme: A big hero needs a big theme, and composer John Williams gave the intergalactic strongman an unforgettable theme for his 1978 cinematic opening. Its the music of effortless flight and a billowing red cape and, at one point, the melody even seems to yell Superman!. Stirring stuff.
Listen to it when: You need to be inspired to do great things. This isnt a theme you can ignore.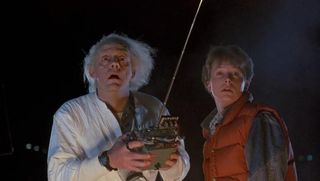 Back To The Future Theme from the Back To The Future trilogy
The theme: The first piece of music you associate with Back To The Future (1985) is probably Johnny B. Goode, or maybe Earth Angel. But Alan Silvestris theme is just as memorable in its own way. Its used in all three of the movies, and often played during action sequences its definitely got a sense of drama to it.
Listen to it when: Youre off on an adventure as long as youre not driving. Going at 88mph will almost certainly bag you a speeding ticket.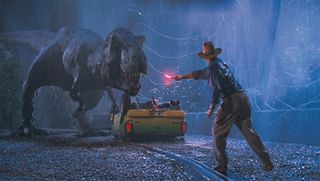 Theme From Jurassic Park (1993)
The theme: The theme from Jurassic Park (1993) sounds a bit like it belongs to another film one where the theme park is meticulously run, all the visitors have a lovely time looking at dinosaurs, and absolutely no-one gets eaten. John Williams wrote a gentle, soft theme thats perfect for admiring gentle, majestic animals, but totally inappropriate for running away from a T. rex thats scented its dinner.
Listen to it when: Youre at the zoo, looking at the penguins.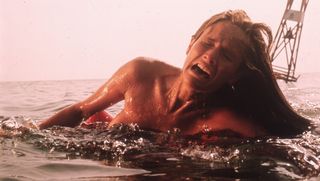 Theme From Jaws (1975)
The theme: Another John Williams theme that manages to comprehensively sum up a character, the theme from Jaws (1975) is simple but undeniably effective. At heart, its just two notes, repeated over and over again, but the menace comes from the way the music speeds up and becomes increasingly insistent as the shark approaches. If youve heard it once, youll never look at a large body of water without hearing its distant echoes in some sadistic part of your brain.
Listen to it when: Youre sure you're safely on dry land.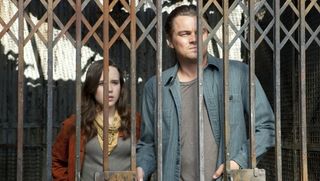 Time from Inception (2010)
The theme: Edith Piafs Je Ne Regrette Rien is used in Inception (2010) as part of the plot; its the kick that moves the characters between levels of consciousness. Composer Hans Zimmer took his cue from that song for the rest of the score, too, borrowing a slowed down variation on the songs instrumentation and turning it into a haunting, booming refrain of his own.
Listen to it when: You need to force yourself to focus.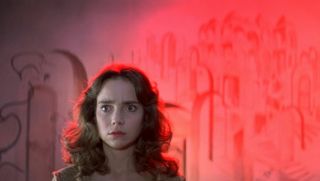 Suspiria from Suspiria (1977)
The theme: For the score to his weird and wonderful 1977 supernatural horror Suspiria, director Dario Argento called on Italian prog rock band Goblin. And what they delivered was a deeply eerie piece of music which starts out gently before descending into a cacophony of noise and whispers. Witch! indeed.
Listen to it when: Youre alone, at night, and feel like being terrified out of your wits.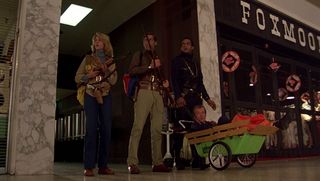 Zombi from Dawn Of The Dead (1978)
The theme: Dawn Of The Dead (1978) was originally released with a mishmash of stock music playing over its scenes of zombie carnage, but the version of the score thats best known today is another Goblin one. Again, weve got Dario Argento to thank for that, and his International Cut of the movie features Goblins creepy-as-all-get-out synth score in all its glory.
Listen to it when: The dead have risen, and theres nothing you can do about it.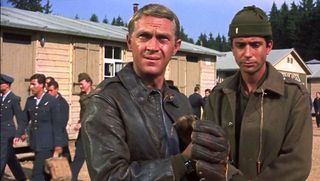 Main Title from The Great Escape (1963)
The theme: Another theme thats more commonly associated today with sports than the movie it was written for, Elmer Bernsteins main title theme for The Great Escape (1963) sounds deceptively upbeat. Its downright jaunty, and you could imagine it being used in jingoistic celebration, a tribute to the Allied victory in World War 2. Problem is, the film doesnt end happily, as most of the escaped prisoners are killed or recaptured. Maybe its only fitting its started to be used as a theme song for our national football team, then.
Listen to it when: You really want to believe everything will be alright in the end, even when it probably wont.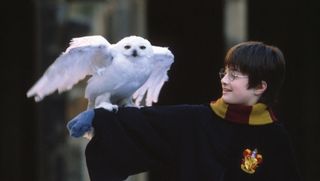 Hedwigs Theme from Harry Potter And The Philosophers Stone (2001)
The theme: Named for Harrys pet owl, John Williamss theme gets reused throughout the entire Harry Potter franchise, and again seems like a perfect distillation of the themes and ideas of the movie. Its exciting, sweeping, verging on epic, but being in a minor key, theres also something sinister about it. The world of magic isnt a safe one, after all.
Listen to it when: Your letter from Hogwarts arrives.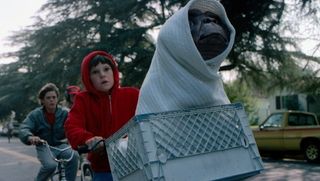 Flying Theme from E.T. The Extra Terrestrial (1982)
The theme: All wide-eyed wonder and childish adventure, theres something innocent and guileless about John Williamss score for E.T. The Extra Terrestrial (1982). (Theres something weirdly Spielbergian about it, too; its hard to imagine anyone else using this music in a movie.) The main refrain is reused and remixed throughout the film, but its the Flying Theme version thats most memorable.
Listen to it when: Youre cycling, or even just on an exercise bike.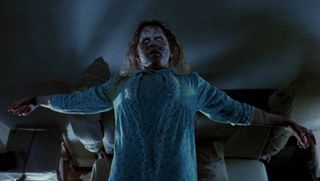 Tubular Bells from The Exorcist (1973)
The theme: Its impossible to hear Mike Oldfields Tubular Bells without thinking of little girls spewing expletives and pea soup, but it actually wasnt written for the film or any film. Which seems odd, because its such perfect horror movie fodder, but apparently it wasnt intended to be creepy at all. Itll still give you goosebumps, though.
Listen to it when: Well, only if youve got nerves of steel.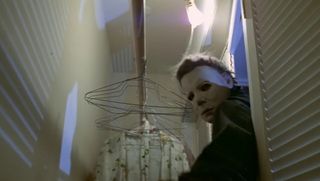 Halloween Theme from Halloween (1978)
The theme: Director John Carpenter composed and performed the theme to his iconic slasher himself, despite claiming not to be able to read a note of music. Even without that particular skill, he managed to create a theme thats idea for ratcheting up the tension as his masked madman stalks his victims. Brrrr.
Listen to it when: Youre safe at home with all the doors locked.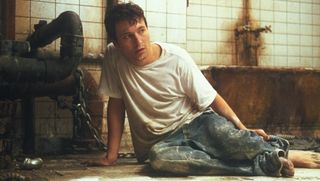 Hello Zepp from Saw (2004)
The theme: Written by Charlie Clouser for the first Saw movie, this creepy piece of music played onscreen as the films final twist was revealed. As the franchise progressed, it got remixed and reused over and over again over the course of seven films, there are 31 versions of this tune. The original is the best and most striking, though. If youre a character in a Saw movie and you hear that music, youre pretty much doomed.
Listen to it when: Never, ideally.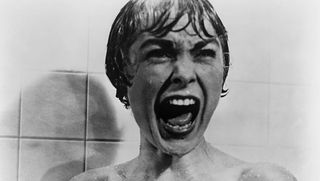 Psycho Theme from Psycho (1960)
The theme: Probably the most recognisable of all horror movie music, theres actually more to Bernard Herrmanns Psycho theme than just the shrieking strings bit that everyone knows, but even if there wasnt thatd be enough, wouldnt it? Its eerie, almost violent in its tempo; you can almost see the knife descending as the music gets faster.
Listen to it when: Any time, as long as youre not in a motel bathroom.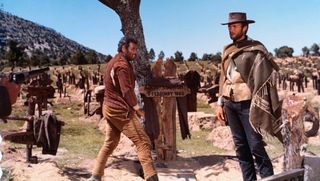 Theme from The Good, The Bad, And The Ugly (1966)
The theme: Ennio Morricones theme for Sergio Leones classic Western is so familiar now its hard to even hear it properly. But listen. Its a simple melody, but incredibly evocative; its meant to sound like a coyotes howl, and its got that distinctive yodelling quality no matter what instrument its been played on.
Listen to it when: Youre looking down the wrong end of a barrel.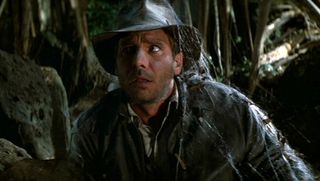 The Raiders March from Raiders Of The Lost Ark (1981)
The theme: There have been a lot of John Williams songs on this list, though not by deliberate design. Its just that Williams seems to have a particular talent for writing music that slots so perfectly into a given film that its impossible to imagine the film without that music. The theme from the Indiana Jones movies, written originally as The Raiders March, is another example of that. Its just right, no?
Listen to it when: Youre searching for long-lost treasure (or youve just lost your keys down the back of the sofa).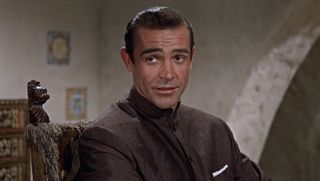 James Bond Theme from Dr No (1962)
The theme: Composed by Monty Norman and arranged for Dr No (1962) by John Barry, this theme has appeared in every James Bond film since. But though its inextricably linked with the master spy nowadays, the melody was originally part of a song called Bad Sign, Good Sign, which Norman wrote as part of a musical called A House For Mr Biswas. So technically, it has lyrics theyre just nothing to do with James Bond. The version we know now, though, is all spy.
Listen to it when: You want to feel extra suave.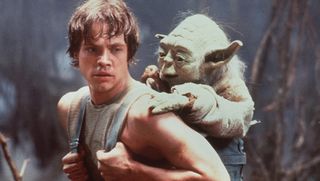 Star Wars Main Theme
The theme: There are several themes from the Star Wars franchise that arguably deserve to be included here who doesn't hum The Imperial March to themselves on occasion? but the Main Theme just pips it to the post. Think Star Wars and you see those scrolling credits in your mind, with John Williamss flawless theme playing over the top. Star Wars just wouldn't be Star Wars without it.
Listen to it when: The galaxys in peril, and only you can save it.