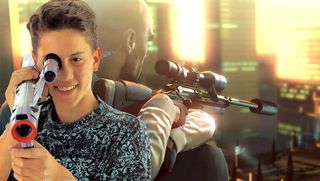 Thinking outside the controller
If youve been around the Internet block, you heard tell of a magnificent video that showcases an alternative use for an undoubtedly strange controller. Said video depicts the triumphs of an inventive gamer completing Soulcaliber on Ultra Hard, with nothing but the casting mechanism of a Sega Fishing Rod to control his onscreen sword slashing. That kind of ingenuity is something we need more of, breathing new life into controllers which were seemingly designed for a single purpose--or worse, are only compatible with a single game.
To get the ball rolling, weve concocted some tantalizing new uses for those bizarre controllers and peripherals that are either gathering dust in your closet or fetching absurd prices on eBay. Some of these game-to-controller combinations are actually possible. Some of them arent (at least, not yet). But all of them--all of them--are necessary.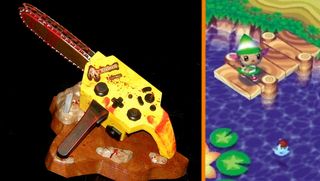 Resident Evil chainsaw - Animal Crossing
Psychology studies have shown that, when theyre holding their guns, police officers are more likely to think others are also packing heat. If a mere pistol can create such a mind-bending effect, then what does tightly gripping a miniature blood-stained chainsaw do to the psyche? We wonder if, given enough time, playing Animal Crossing while you clutch your unwieldy weapon of neck-severing murder will make you think everyone in the adorable world is out to get you. Tom Nook must die. You must kill Tom Nook before he kills you.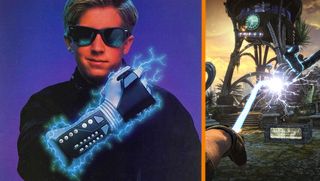 Power Glove - Bulletstorm
The Wizard's Lucas Barton (not pictured) and Bulletstorm's Grayson Hunt are bad boys cut from the same cloth, using their skills to bowl over dudes and impress the ladies (or not). But Barton has a leg-up on the hardened space soldier thanks to the pure-badness might of Nintendos gray plastic gauntlet. Were thinking itd make the perfect stand-in for Graysons neon blue Instinct Leash. Simply yank back your Power-Gloved left hand (yes, we know its right-handed--just cut off the thumb) in real life, and Grayson will rope in another unfortunate soul for some lead administration to the crotch. For increased immersion, combine the Power Glove with the unwieldy-looking Novint Falcon mouse.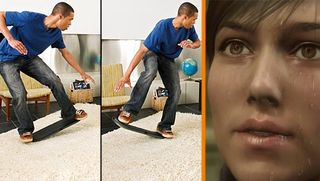 Tony Hawk: Ride skateboard - Heavy Rain
The worst motion game in existence. One of the most moving video games of this generation. With their powers combined, you will unlock the secrets to the most immersive gaming experience imaginable. Leaning back on the plastic board makes Ethan Mars blurt out his trademark line during the search for his missing offspring. Spinning 180 degrees on the board activates plot twists, and crouching allows you to question what kind of horrible monster could commit such loathsome crimes. Waking up makes you realize that it was all just a wonderful dream, where this miserable peripheral actually had a modicum of merit.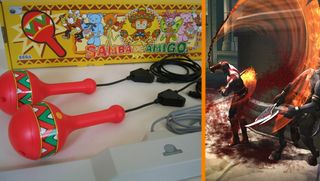 Samba de Amigo maracas - God of War
Step 1: Wrap the cords of the classic Dreamcast maracas around your forearms. Step 2: Scream out in anguish at the curse Ares has placed upon you. Step 3: Play Sonys gloriously gory franchise in a whole new way, swinging your maracas with the same vengeful fury as Kratos and his Blades of Chaos. Youll feel the rush of whipping deadly weapons through the air, slicing through enemies like a blowtorch through butter. The only downside: Youll probably need to play this in a completely empty room, dozens of feet from the TV. And you thought the Kinect was bad.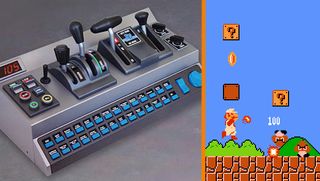 Raildriver - Super Mario Bros.
For the low, low price of $200, you too can simulate the riveting lifestyle of a train conductor. Hey, to each their own--but wed rather see this controller used to train hardened speedrunners. The throttle lever will propel Mario to the right at blazing, A-button-held down speeds; all other buttons are there to make him jump. When youre forced to move forward without room for skittish hesitation before particularly large leaps, youre bound to become a better Mario player--or die trying.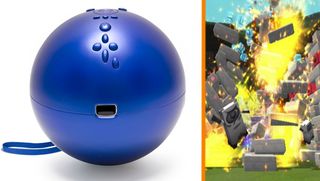 Wii bowling ball - Boom Blox
Theres always been such an unfortunate disconnect between your grip on a rectangular Wii-mote and the act of hurling oversized orbs at onscreen blocksuntil now. Rather than handling the hefty sphere like some old fogey playing ten frames, using an overhead toss will perfectly simulate every last blasting ball you chuck at the games adorable block-people. You might need a backup TV or ten to prepare for the inevitable screen smashing. But itll be worth it to enjoy Steven Spielbergs first big foray into gaming the way he explicitly intended.*
*Steven Spielberg did not intend for the game to be played this way.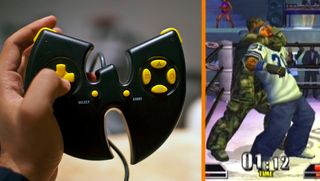 Wu-Tang controller - Def Jam Vendetta
Word to the wise: Telling Method Man that you enjoyed his appearance in the Def Jam wrestling games (as well as his hit Fox sitcom Method & Red) will prevent him from slamming your nuts in a dresser drawer. That may come in handy at some point in your life. Anyway, it only seems fitting that we play AKI Corporations legitimately good grappler as Wu-Tang protgs Method Man and Ghostface Killah, whilst holding a bone-structure-distorting controller in the shape of an emblematic W.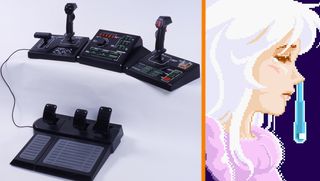 Steel Battalion control sticks - WarioWare
The Steel Battalion controller has 40--yes, four-zero--buttons, three pedals, and two joysticks. WarioWare is a game where you have precious seconds to figure out what button press will solve the onscreen insanity thats unfolding before your eyes. Double the directional possibilities and quadragintuple the button count, and youve got a recipe for guaranteed fun. If you look up the meaning of the phrase living large, youll likely find being able to afford a $350 controller to help a virtual girl snork up a snot bubble as the widely accepted definition. We think.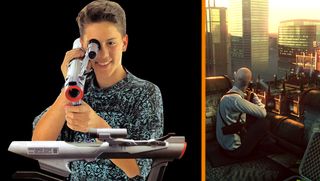 Super Scope 6 - Hitman: Sniper Challenge
Pro: Making a bootleg converter for the Super Scope to interact with Agent 47s bolt-action minigame would effectively create a home version of Silent Scope. Con: It might train dedicated players to attempt their own long-range assassinations. Pro: It would give the Super Scope a purpose after almost twenty years of worthlessness. Con: No sniper rifle we know of is fired via a top-mounted button instead of a trigger. Pro: It would look awesome. Con: It devours AA batteries faster than a malnourished robot.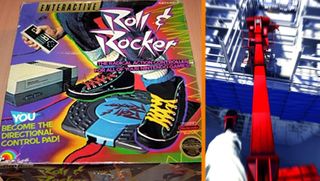 Roll 'n Rocker - Mirrors Edge
Remember those balance segments in Mirrors Edge that completely broke the flow of your parkour, forcing Faith to slowly inch along narrow beams without plummeting to her death? We think weve got a way to make it more exciting. By utilizing this abysmal NES controller that replaced the d-pad with a foot-milling balance board, your tense balancing acts over twenty-story falls will certainly feel that much more tangible. For literally everything else, theres the regular analog stick.
Donkey Konga bongos - King of Fighters XIII
Until they (whoever they are) make a slam poetry video game, we think the Gamecubes Bongo peripherals would make an excellent addition to SNK Playmores King of Fighters XIII. Before you leave a comment cursing us for our ignorance, hear us out: Plugging in the Bongos would activate Baby Mode, reducing the games absurdly complex, need-an-elephants-memory-and-the-steady-hands-of-a-surgeon combos to the simple act of smashing a pair of plastic bongos like a gamer possessed. Its the only hope we have for competing at a professional level.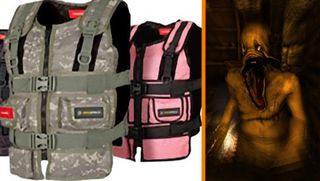 3RD Space - Amnesia: The Dark Descent
Haptic jackets like this one are designed for force feedback in first-person shooters, with the hopes that compressed-air bursts to your chest and back will immerse you into every bullet-spraying exchange. But wouldnt this effect crank up terrifying survival horror games to a level that could literally induce heart attacks in its players? Of note is the fact that the 3RD Space simulates knife wounds with a prolonged jab of air into your tender flesh. Now imagine that those are the claws of a Gatherer suddenly plunging into your liver area. Dear God, the horror.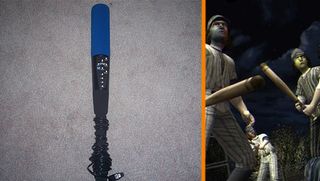 BatterUp - The Warriors
Compatibility with Ken Griffey Jr.s 16-bit sports games is a plus, but this foam bat was destined for so much more. So don your uniform, break out the lime green and black facepaint, and get ready to be inducted into the Baseball Furies gang in Rockstars criminally underappreciated brawler. Gameplay from their perspective involves smashing everything in sight, and engaging in amazing, late-70s action sequences that feel like the modern mans swordfight. Rockstar is not responsible for inevitable property damages as a result, or the propagation of baseball-based gang violence.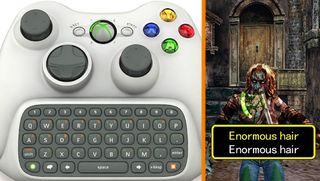 Xbox 360 QWERTY Text-Input Keyboard - The Typing of the Dead
Think youre a keystroke wizard? Try putting your words-per-minute to the testwith just your thumbs! Watching an axe-wielding Johnny lurch toward you while your thumbs desperately fumble for the right letters would probably be scarier than a real-life zombie outbreak. Then again, our texting-obsessed generation would probably be right at home using their thumbs in place of two entire hands. We also insist that James, Gary, Amy, and Harry continue to lug around battery-powered Dreamcasts on their back, yet hold Xbox 360 controllers in place of their shoulder-strapped keyboards. Because why not?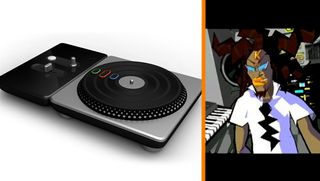 DJ Hero - Jet Set Radio
Step into the funk-filled shoes of Professor K, owner and operator of Tokyos premier pirate radio station: Jet Set RADIOOOOOOOOOOO! Using two DJ Hero controllers stitched Frankenstein-Monster-style onto the same mixer, youll be able to feel the power of musical influence at your fingertips. Spin records with space-age techno or chest-hammering beats--just dont forget to narrate the trials and tribulations of local rollerblade gangs and their competitive vandalism in between tracks. The inclusion of Dragula in your setlist is optional.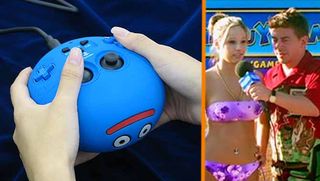 Dragon Quest Blue Slime - The Guy Game
As you play this pitiful, mildly pornographic quiz game, glancing downward would provide an instant reminder that you are being watched. With its wide-eyed, unflinching gaze transfixed on you at all times, and its ever-so-slightly sinister smile, you wouldnt dare do anything naughty under the Blue Slimes ice-cold stare. Even after youve turned off the game, ashamed of your attempts to catch a glimpse of some uncensored PS2 nudity, the Blue Slime still watches. It knows what youve done. And its judging you for it.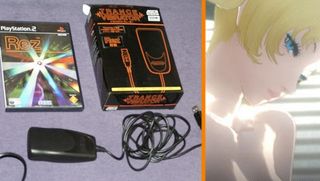 Rez Trance Vibrator - Catherine
Sorry, what were you saying? Our minds were miles away. Oh, the possibilitiesthe sweet, supple possibilities.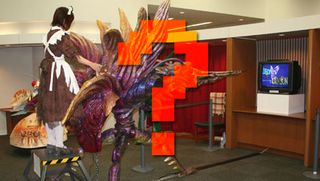 The way its meant to be played
Know of any other wacky controllers that would find great use in unlikely games? Think youve got what it takes to tackle these challenges (and maybe make a video out of it so we can join in the enjoyment)? Let us know in the comments below--and be thankful for the comfort and simplistic elegance of your favorite console controller.
For more askew gaming views, check out the console games that had no right to be on handhelds and 13 video game alternatives to boring summer activities.