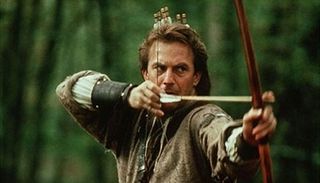 Ye olde list of films
"Everything I do... I do it for you." So the well-known medieval saying goes. Wait: it's not medieval? Bryan who? Oh, right. Anyway, in a seamless segue, we've done a list of 16 epic medieval films. We did it for you. These are the cinematic treats that made bows'n'arrows, and men in tights sexy BEFORE Game Of Thrones.
So grab a flagon of mead (which you can actually buy in some trendy, London drinking establishments), have a random wench ready your stuffed goose, and check out this list of great medieval movies.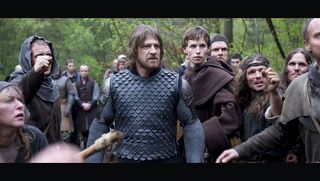 Black Death (2010)
Following The Lord of the Rings trilogy, Sean Bean has lacked a mega-hit, despite making some interesting choices amidst the more pedestrian fare he's since turned out.
It's a shame that more people didn't catch Black Death, as is it played up to Bean's strengths by casting him as grizzled Knight Ulrich. The atmosphere is suitably pustulant and grimy, and there's an interesting supernatural twist to Ulrich's mission.
Dark Ages? You betcha. The plague that's ravishing the land seems to be bringing out the worst in everyone.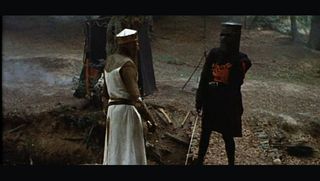 Monty Python and the Holy Grail (1975)
The Holy Grail was followed by Life of Brian, which stole a lot of the attention away from this equally hilarious effort. But Holy Grail did at least get a renewed boost of interest when it was adapted into stage-musical Spamalot.
Absurd comedy highlights include the knights that say 'Ni!', the French insults ("I fart in your general direction"), the optimistic Black Knight ("It's just a flesh wound"), and, of course, the killer bunny.
Dark Ages? Some of the humour may be on the darker side, but this is one of the funniest medieval movies you'll ever see.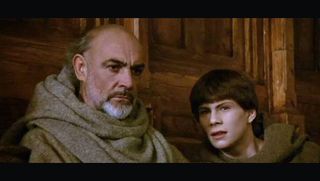 The Name of the Rose (1986)
Jean-Jacques Annaud adapted Umberto Eco's ultra-postmodern novel about medieval monks into this Sean Connery-starrer.
Connery is monk William of Baskerville, whose forward-thinking ways are called upon to solve a series of murders that are occuring in the monastery. The studio weren't keen on Connery, but there's great pleasure to be had from his medieval 'tec.
Dark Ages? The monastery is suitably shadowy, and Annaud evokes a compelling period setting (apparently he tried to cast as many ugly actors as possible to add to the effect.)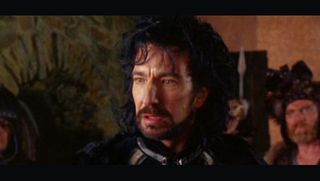 Robin Hood: Prince of Thieves (1991)
You could pretty much insert your favourite Robin Hood movie (and there are quite a few to chose from) into this entry, depending on your preferred man-in-tights, be it Errol Flynn, Russell Crowe or Disney's fox.
Costner may not be everyone's favourite Hood, but there's no disagreement when it comes to the supremacy of Alan Rickman's Sheriff. Prince of Thieves is perfect Sunday afternoon entertainment with relentless swashbuckling, an implausibly impressive treehouse community, and, of course, the showboating Rickman on top form.
Dark Ages? There were a few darker hints that made this just a little edgier than a lot of family fare.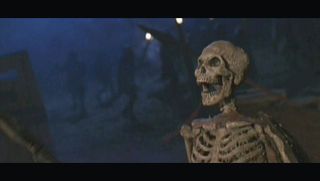 Army of Darkness (1992)
If Sam Raimi made a bit of a tonal shift between the first two installments of the Evil Dead series, it was nothing compared to the leap he took for the third movie.
Army takes its cue from the bizarre ending of Evil Dead II (a shotgun-wielding Ash is transported to medieval England and hailed as a hero) and runs with it, having gleeful fun homaging Harryhausen with legions of stop-motion deadites.
Dark Ages? The clue's in the title, though this one was more of an adventure than an all-out horror.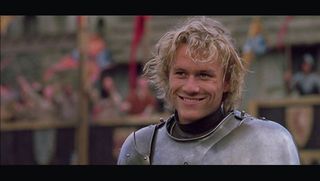 A Knight's Tale (2001)
This was the first big movie that Heath Ledger carried as the lead, having impressed in 10 Things I Hate About You, Two Hands and The Patriot.
Director Brian Helgeland threw any notion of historical accuracy out of the window for this tale of a peasant who dreams of becoming a jousting champion knight. The laddish camaraderie is more convincing than the romance, but this is still bags of fun.
Dark Ages? Nah, this is a riot, exemplified by the crowds chants of 'We Will Rock You', and Paul Bettany's ace turn as Geoffrey Chaucer.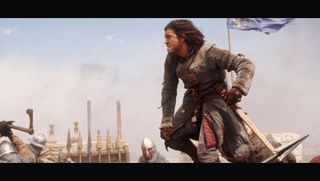 Kingdom of Heaven (2005)
Ridley Scott's Crusades epic delivered exactly as you would expect in terms of epic visuals and large scale battles, despite a misfiring lead in the form of Orlando Bloom as a blacksmith-turned-knight.
The disappointment of Bloom's casting is repaired by the impressive quality of support stars. Eva Green is beguiling as the love-interest princess, Brendan Gleeson and Liam Neeson bring gravitas and Ed Norton is as compelling as ever, even beneath a mask. Those disappointed in the cinema should check out the extended cut on DVD.
Dark Ages? The superb cinematography makes even the harshest battles look beautiful on screen.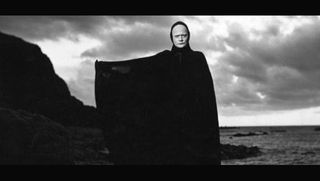 The Seventh Seal (1957)
Don't let the academic-adoration and high-brow reverance of Ingmar Bergman's black-and-white epic put you off watching it.
Describing The Seventh Seal as a lofty meditation on life, death and religion is probably equally likely to scare away any newcomers, but the film is anything but pretentious or exclusive. The journey of Max von Sydow's knight across Sweden, as he plays a game of chess with Death to postpone his fate, is powerful (and accessible) on a number of levels.
Dark Ages? Don't be fooled by the PG certificate, there's some grim underlying hints here. And on a literal level, the black and white camera work is striking.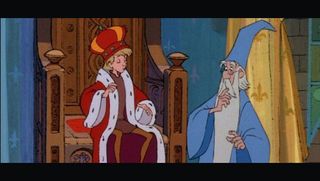 The Sword in the Stone (1963)
Wolfgang Reitherman may not be a household name, but he directed some enduring Disney classics in the 60s and 70s, including One Hundred and One Dalmations, The Jungle Book and Robin Hood.
The Sword in a Stone was another boy-friendly adventure from the Disney canon, telling the story of the young King Arthur before he claimed his rightful throne. Bonus points are earned for one of the greatest screen Merlins, and the terrifying Madame Mim (why don't more movies have Wizard's Duels?).
Dark Ages? This is as colourful as they come, but there's a few creepy moments for the under-10s.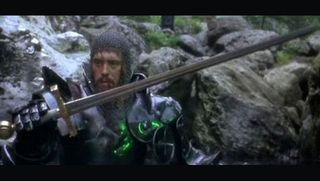 Excalibur (1981)
An alternative take on the King Arthur legend. This version from director John Boorman plays up the magical aspects of the story that were left out of the revisionist Clive Owen-starrer.
Unlike some other adaptations of the story, Excalibur covers Arthur's whole life, from his birth and guardianship by Merlin, to his withdrawal of the sword from the stone, right through to his marital problems with Guinevere and his eventually death. Campy for sure, but Boorman's ambition is rewarded in the best live-action movie of the legend.
Dark Ages? There is an shorter, PG-edited version if you want a bit less sex and violence...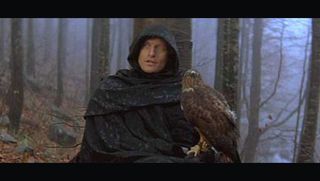 Ladyhawke (1985)
The perfect example of an 80s fantasy movie, Ladyhawke has a perfectly daft premise, and an era-defining cast. Matthew Broderick is Phillipe Gaston, a thief on the run who bumps into Etienne of Navarre (Rutger Hauer) and his mysterious hawk.
Turns out that Navarre and his hawk are lovers who have been cursed, so that she's a hawk during the day, while he becomes a wolf at night when she turns into Michelle Pfeiffer. The trio team up in an attempt to beat the curse of the evil Bishop. Superman director Richard Donner has experience turning a silly-sounding idea into ludicrously good fun.
Dark Ages? This isn't exactly the grittiest on-screen portrayal of the era.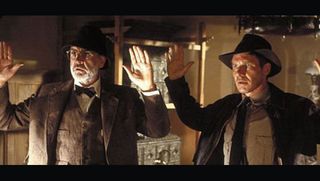 Indiana Jones and the Last Crusade (1989)
OK, not a medieval epic strictly speaking, but the plot does revolve around the quest for the Holy Grail, and the film effectively blends the Middle Ages stuff into the pulp adventuring (the Grail is a much better fit for Indy than the Saucer-men from Mars).
Jones Sr. and Jr's quest for the challis leads them into a race against the Nazis, in a story that's thankfully similar to the old-school adventuring of Raiders, with added Sean Connery. Indy also gets to meet the ethereal knight who's been guarding the mythical cup for millennia, after traversing a Crystal Maze-like series of traps.
Dark Ages? This is an Indiana Jones movie so there has to be at least one moment to truly terrify kids: here it's when Walter Donovan takes a sip from the wrong challis...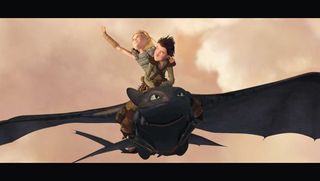 How to Train Your Dragon (2010)
Set in an indistinct (geographically and temporally) Viking village, this Dreamworks animation became something of a sleeper hit last year. It earned some extremely glowing reviews, and has been widely praised for shrinking the quality gap between the studio and rival Pixar.
The story of how weedy Viking Hiccup learns to tame the dragons (believed to be Viking enemies) is surprisingly touching, and thankfully there's also plenty of aerial action to keep things exciting. Unsurprisingly, Dreamworks have hurried a sequel into production.
Dark Ages? No, the deadly dragons are unbelievably cute.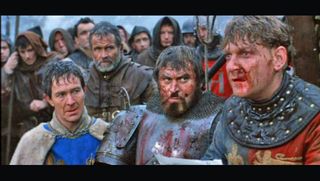 Henry V (1989)
Kenneth Branagh proved what an assured filmmaker he was (as well as being a talented thespian) with this gritty Shakespeare adaptation, which is, astonishingly, his directorial debut.
Favouring a harsh, realistic depiction of battle, in contrast with Laurence Olivier's stylised take on the same material, Branagh also does well by surrounding himself with a bunch of convincingly medieval character actors: Brian Blessed, Ian Holm, and Cadfael himself Derek Jacobi.
Dark Ages? The Shakespearean dialogue doesn't detract from the muddy violence.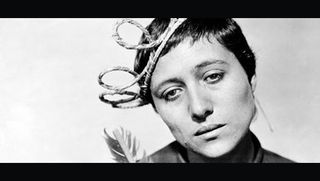 The Passion of Joan of Arc (1928)
The French saint who lead a decent battle or two in her time is another medieval figure who has been subjected to an overwhelming number of adaptations, with varying degrees of quality.
Carl Theodor Dreyer's silent, black-and-white movie is the undisputed champ though, as it focuses on her trial for heresy. Overwhelmingly affecting, it is a magnificent achievement in silent film that deserves to be enjoyed by a wider audiece than film historians.
Dark Ages? The turmoil and anguish on display is pretty contagious...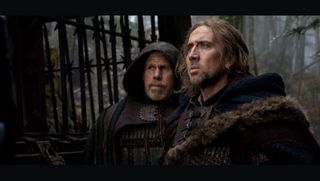 Season of the Witch (2010)
If you're hungry for more medieval action, Nicolas Cage is back in cinemas this week in Season of the Witch. The star has reteamed with Gone in 60 Seconds director Dominic Sena for the movie, which has a remarkably similar synopsis to Black Death.
Cage play Behmen, a knight who returns from the Crusades to find his homeland in the grip of the plague. He is tasked with transporting a girl accused of witchcraft to a monastery, where she'll be dealt with.
Dark Ages?Ron Perlman is on hand to provide extra brawn, while Christopher Lee dons some gruesome make-up as the hideously disfigured Cardinal D'Ambroise.