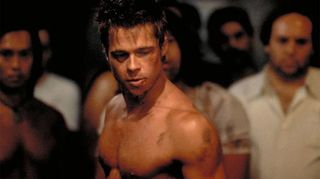 Brad Pitt Fight Club
Pitt's Tyler Durden is – spoiler alert – Ed Norton's masculine wish fulfilment fantasy made flesh. So it makes sense that he looks good without a shirt on.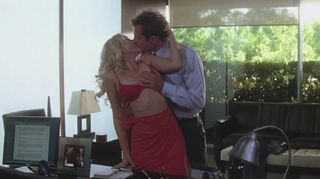 Scarlett Johansson Hes Just Not That Into You
As a general rule, if you see Scarlett without a shirt, you're in for a rubbish film. This one comes from He's Just Not That Into You , but we had several to pick from.

Let's hope that the upcoming Under The Skin bucks that trend.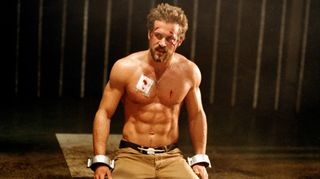 Ryan Reynolds Blade Trinity
Just like his former missus, Reynolds seems to prefer to spend his time unhampered by the sort of heavy cotton that's used in the creation of shirts.

In this shot from Blade Trinity the on-set doctor has done his best to cover up Ryan's pecs with a patch, but it's not really doing enough.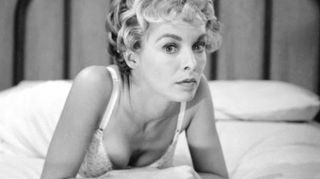 Janet Leigh Psycho
Possibly the only shirtless scene on this list that has thematic significance – Hitchcock showed Janet Leigh in a white bra to show her as "angelic."

The following scene, after she'd committed the crime that kick-starts her journey to the Bates Motel, shows her in black bra, to signify evil. At least, that's what the continuity editor claims.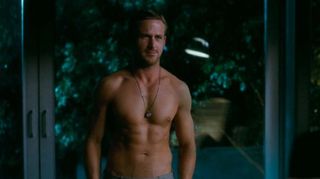 Ryan Gosling Crazy Stupid Love
Instantly inspiring a million tumblr gifs, Gosling's Crazy topless moment has become iconic to social media fans around the world.

Put it this way, Emma Stone wasn't the only one to experience the phenomenon known as the jaw-drop following this scene.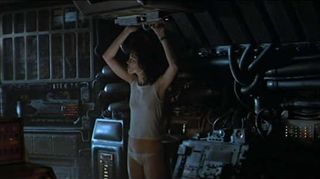 Sigourney Weaver Alien
We not sure if we'd strip down to our smalls if we were facing off against a drooling Xenomorph, but it sure looks good. Go Sigourney!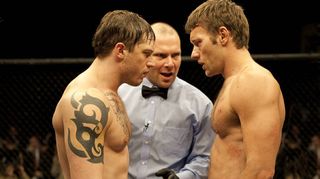 Tom Hardy & Joel Edgerton - Warrior
Two for the price of one here, as Tom and Joel face-off against each other in the ring. Go on, lads – kiss!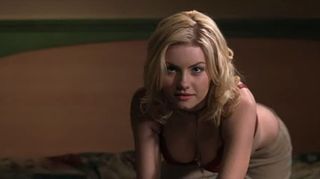 Elisha Cuthbert The Girl Next Door
Elisha Cuthbert might just be the only actress to have played a porn star without actually taking her clothes off, but sometimes losing the shirt can be sexy enough.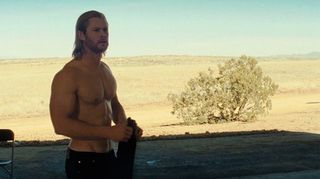 Chris Hemsworth - Thor
Thor arrives on earth and his other-worldly torso is enough to convince Natalie Portman and Kat Dennings that he should probably stick around.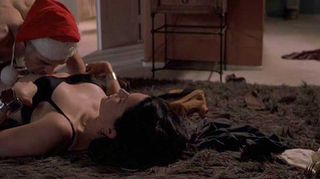 Lauren Graham Bad Santa
We can't repeat the dialogue in this Bad Santa scene, mainly because it'll get us put on the naughty list and we want presents this year.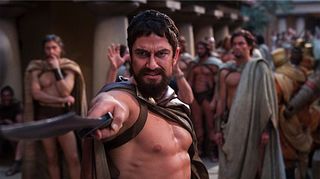 Gerard Butler - 300
Essentially Citizen Kane for fans of blokes with their shirt off, 300 contains literally hundreds of topless men running around. We don't have an exact figure of how many… Oh, wait, yes we do. It's 300, isn't it?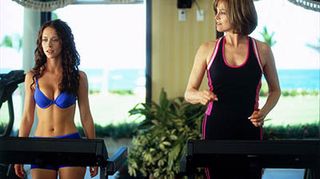 Jennifer Hewitt Heartbreakers
We're not entirely sure why Jennifer Love Hewitt is on a treadmill in her bra - as opposed to something more sensible and supportive - but teenage boys with their paws on the DVD pause button probably aren't complaining.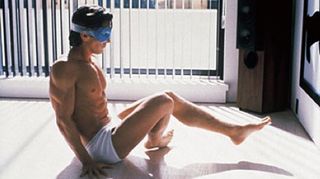 Christian Bale American Psycho
Bale's Bateman goes into ego-overdrive as he enjoys the spoils of his intensely detailed fitness regime.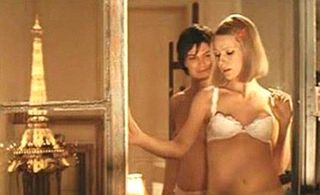 Gwyneth Paltrow The Royal Tenenbaums
The most eye-popping moment from Margot Tenenbaum's youthful transgression montage – her mate is also shirtless and braless, so this is the only image we can use.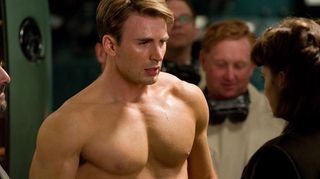 Chris Evans Captain America
Evans' Steve Rogers goes from skinny (and honourable) to superhunky (and honourable) and Hayley Atwell's Peggy Carter can barely keep her hands to herself.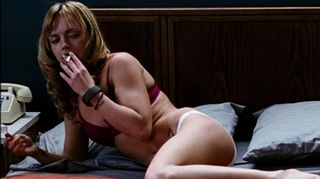 Black Snake Moan Christina Ricci
Ricci gets even more shirtless over the course of Moan , but – while it isn't really our thing – we're sure some of you will enjoy this shot of the scene in which she smokes a ciggy in her bra.
And, as it's the only shirtless scene from the film safe-for-work-enough to make it into our list, here it is!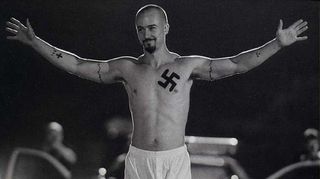 Ed Norton American History X
Okay, so this scene isn't exactly what we'd class as sexy – the massive Swastika pretty much completely ruins the mood – but we had to include it, if only because in a parallel universe, this is what Tyler Durden looks like. Without the Swastika though, obviously.

Ed Norton hasn't looked buffer, or sexier. Except for the Swastika. We really can't stress that enough.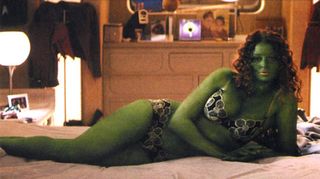 Rachel Nichols Star Trek
We're not sure if this neat nod to Captain Kirk's green slave-girl seducing past would be the same if Nichols was wearing a buttoned up regulation Starfleet uniform.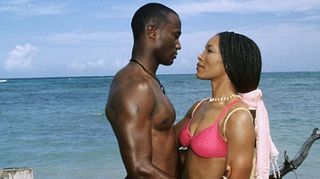 Taye Diggs & Angela Bassett - How Stella Got Her Groove Back
Another two for the price of one scene, with Diggs and Bassett ditching their clothes, so that Stella can get her groove back. Whatever that means.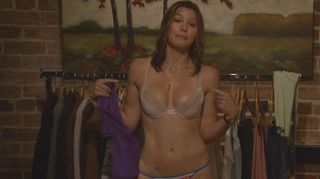 Jessica Biel I Now Pronounce You Chuck & Larry
This image comes from a scene in which Adam Sandler's Chuck watches Biel strip off, before fondling her breasts.

Weirdly, Sandler doesn't have a writing credit on Chuck & Larry . We can't help but wonder if he had input on the process.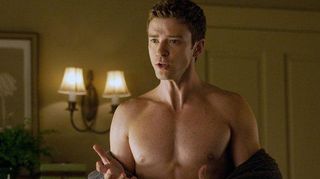 Justin Timberlake Friends With Benefits
Mr Timberlake moved away from his past as a teen heartthrob to become a serious actor.

But his fans still get the occasional torso treat, whether it's in The Love Guru , or here in Friends With Benefits . And what benefits they are.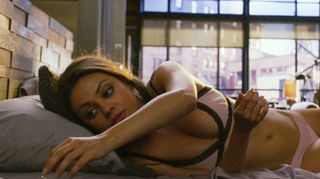 Mila Kunis - Friends With Benefits
And here we have the Justin's friend Mila, looking just as incredible. How these people ever thought they could be just good pals, we'll never know.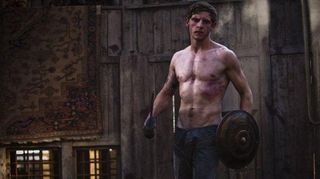 Jamie Bell The Eagle
A lifetime of Roman slavery does have its downsides, but there are positives – it does help keep a man trim. What would Snowy say?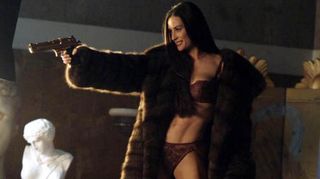 Demi Moore Charlies Angels
Demi Moore's baddie may be shirtless, but at least she has the good sense to stick on a fur coat, so she's protected against the elements. And enemies, as she's also packing a gun. That's the kind of forward-thinking we respect at Total Film .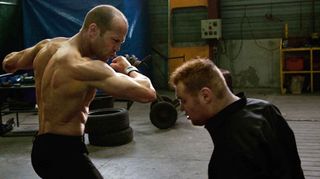 Jason Statham Transporter 3
Jason Statham's shirt seems to fall off more often than Taylor Lautner's – don't worry Twihards, we'll get to him – but when you've got an ex-Olympic swimmer's body, why the hell not?

We've gone for Transporter 3 for our sexiest shirtless Statham bit, because there's nothing hotter than the sight of a cockney beating up a henchman in garage.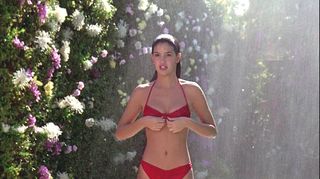 Phoebe Cates Fast Times At Ridgemont High
Cates' early career featured several shirtless scenes, but this one is probably the most iconic.

She hates clothes so much in High she's not even prepared to keep her bikini top on!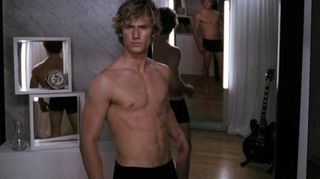 Alex Pettyfer Beastly
Poor old Pettyfer spends most of Beastly 's run-time trying to prove that beauty's only skin-deep. No wonder he looks so pleased to get his hot bod back!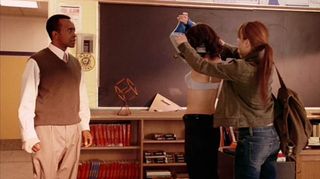 Mean Girls Tina Fey
Mean Girls isn't the sexiest film in the world, but anything that includes the sight of Tina Fey in her bra is okay by us.

What can we say? We find a good sense of humour incredibly attractive.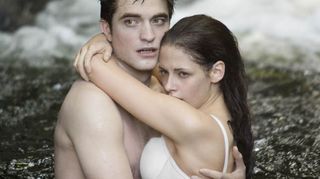 Robert Pattinson & Kristen Stewart
Another two for the price of one, here Robert Pattinson's Edward and Kristen Stewart's Bella celebrate the start of their honeymoon by jumping into a vast expanse of water with their tops off.

Because that's the sort of thing vampires are most known for.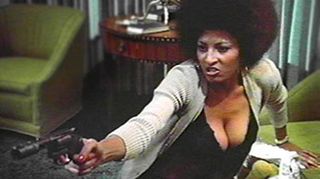 Pam Grier Coffy
Pam Grier, in her bra, wielding a gun. We're not entirely sure any more words are needed here.

Other than, like Demi Moore before her, Grier has sensibly popped something warm on. Even if it isn't a shirt.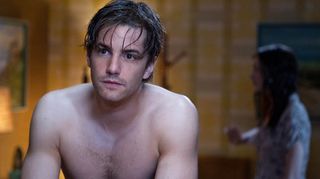 Jim Sturgess One Day
Whether you've read the novel or have just seen the film, you'll know that Dexter (Jim Sturgess) is an arrogant sod.

Still, when you're this buff, you can probably behave however you like.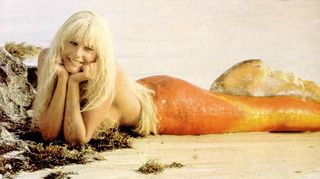 Daryl Hannah - Splash
Mermaids don't wear shirts, which is incredibly sensible as any garments would definitely make it more difficult to swim, tail or no tail.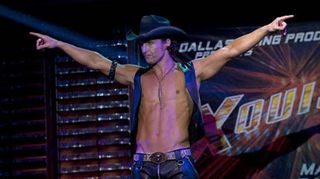 Matthew McConaughey - Magic Mike
Matthew McConaughey gets his pecs in pretty much every film he's in. Seriously, he loses his shirt more often than most male models.

We've gone with a shot from his latest topless escapade, Magic Mike . As you can see, he's still got it.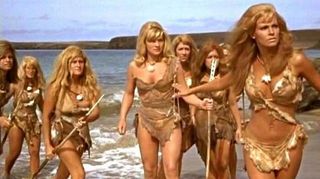 Raquel Welch One Million Years BC
Welch doesn't have much dialogue in BC , but when you look this good, who needs words? We'd like to thank the inventors of proper clothes for not getting around to designing the common shirt during this period of history.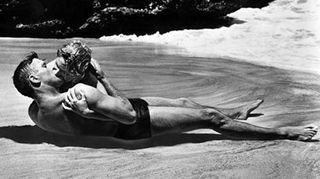 Burt Lancaster & Deborah Kerr From Here To Eternity
This classic scene has been parodied so many times that it's easy to forget it features one of the most charged kisses in cinema history. Probably wouldn't be the same if they were both wearing their Christmas jumpers.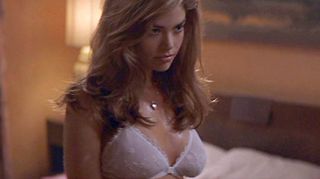 Denise Richards Wild Things
Richards spent most of Wild Things in a state of semi-undress. No wonder Matt Dillon seems so distracted for the majority of the movie.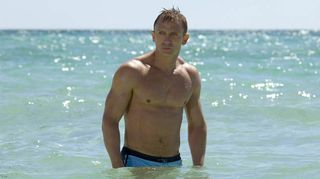 Daniel Craig Casino Royale
Casino Royale was a turning point in Bond history. Not just because it was the most realistic depiction of the spy story so far, but because Bond became as big of a lust-object as the Bond girls before him.
Nice work Daniel.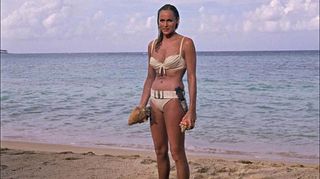 Ursula Andress Dr No
Speaking of which, here's Ursula Andress in Dr No . More like Dr YES, are we right? Anyone? No? Fair enough.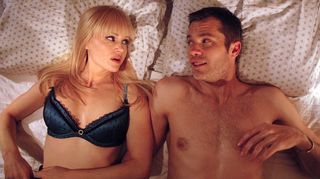 Timothy Olyphant & Carla Gugino Electra Luxx
Gugino ditches her Watchmen age make-up and her shirt in this tale of a porn actress who suddenly discovers she's pregnant.

Nice to see Olyphant being so supportive on the tops-off front.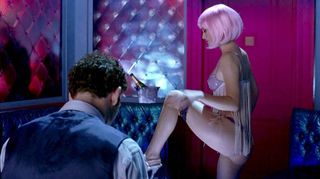 Natalie Portman - Closer
Portman doesn't shed her clothes very often, but when she does – Closer , Black Swan – it's usually fairly impressive. What can we say? We're massive fans of serious drama. And pink wigs.
Channing Tatum Dear John
Tatum is such a fan of taking his top off, he doesn't even make it through the opening credits of Dear John without showing us what God (and the gym) gave him.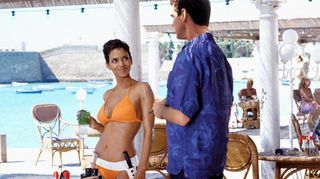 Halle Berry Die Another Day
Another Bond girl, another shirtless shot. To be fair, this is a deliberate reference to the iconic Andress introduction in Dr No .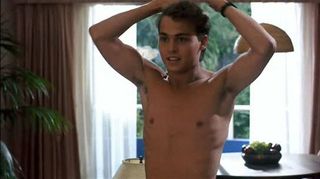 Johnny Depp Private Resort
Depp has spent his career escaping his early teen idol roles, and we're sure he'd like to forget this particular film (put it this way, you get to see more than just his chest), but his topless days aren't over, as anyone who's seen The Rum Diary poster will attest.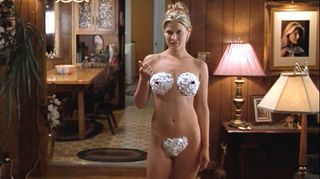 Ali Larter Varsity Blues
Larter's Darcy Sears is so committed to the shirtless cause that she's prepared to turn herself into a kind of human knickerbocker glory just to gain some social acceptance. Tasty!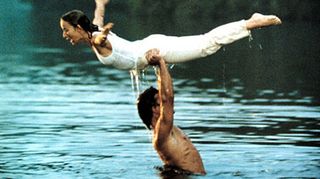 Patrick Swayze Dirty Dancing
Swayze's Johnny Castle here, proving that dance really is excellent exercise. Especially if you incorporate a few human lifts into your regime.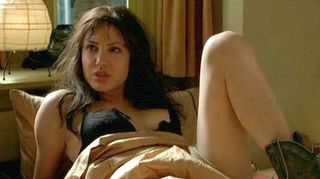 Angelina Jolie Pushing Tin
Jolie's moved out of the period in her career when you couldn't watch one of her films without seeing some flesh, probably because she was fed up with her co-stars falling in love with her.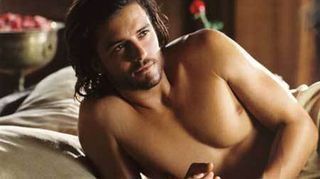 Orlando Bloom Troy
Bloom might not be as buff as some of his fellow shirtless stars, but that doesn't stop him from taking part in their topless antics.

And he's landed Miranda Kerr, so who are we to argue?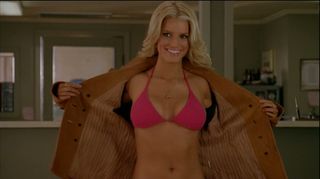 Jessica Simpson Dukes Of Hazzard
This is possibly the most gratuitous scene on this list, but it certainly plays to Jessica's strengths.

Or maybe we're wrong, and it really is a good idea to stroll into your local police station wearing a bright pink bikini, and it's about time this fact was brought to the attention of cinema-goers.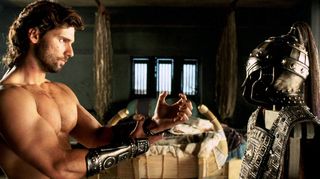 Eric Bana Troy
Here Eric's Hector struggles with his instinct to remain topless at all times with the fact it would probably be a good idea to wear armour in a battle.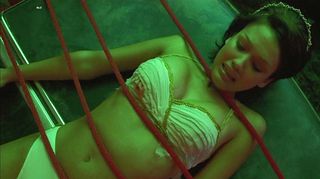 Jessica Alba Idle Hands
Alba looks down and realises that a large portion of her career is going to be spent in her pants.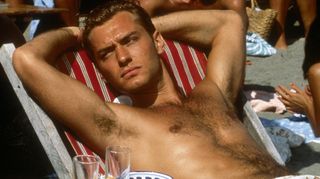 Jude Law The Talented Mr Ripley
No wonder Matt Damon's Ripley became obsessed with this bloke. Look at him, just look at him!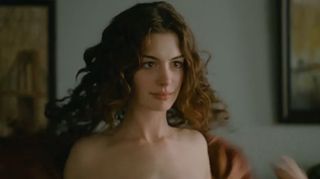 Anne Hathaway Love And Other Drugs
Some Batman fans had a negative reaction to Hathaway's casting as Catwoman because of her perceived squeaky-clean image. She's actually appeared in several edgy roles – and she's been shirtless for most of them.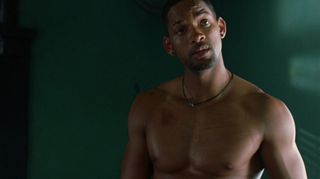 Will Smith I Robot
Smith's body in I Robot is so preposterously buff they had to include a scene of him working out, to show that to achieve a body like that, you can't go for 90 minutes without lifting some weights.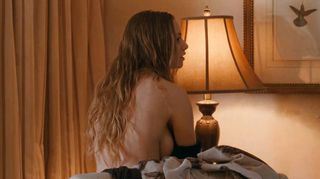 Amanda Seyfried Chloe
This screen-grab comes just before the moment Seyfried's character realises that she's spent most of the movie half-naked, and decides to stick a nice jumper on. Spoilsport.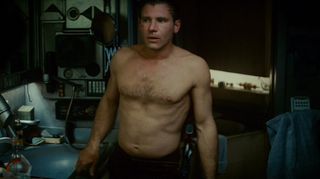 Harrison Ford Blade Runner
The iconic Blade Runner is remembered for a lot of things, the incredible script, the stunning performances, the masterpiece design of a fully-realised future world, and the bit where Harrison Ford appears topless.

Actually, we're not sure about that last one, but here he is anyway. See also What Lies Beneath , in which Ford proves that once you've got it, you never lose it.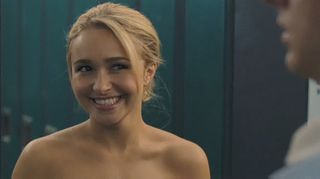 Hayden Panettiere I Love You Beth Cooper
Here we have a shot from a scene in which Panettiere's title character drops her towel and gives our lead geek an eyeful. The lucky devil.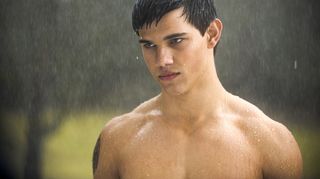 Taylor Lautner New Moon
Taylor's Jacob spends so much of New Moon without a shirt on, it's become a cliché of the series. Here he is looking a bit sad in some rain. But trust us when we say we had infinite pictures to choose from.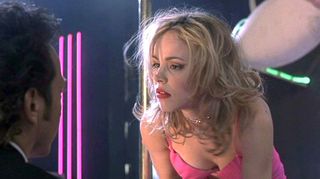 Rachel McAdams The Hot Chick
Believe it or not, the above picture is of Rob Schneider. Okay, technically it's Rachel McAdams playing a girl who is turned into Rob Schneider's criminal so she can learn a life lesson about treating people with respect, but still. I think we can all agree that the title is accurate at least.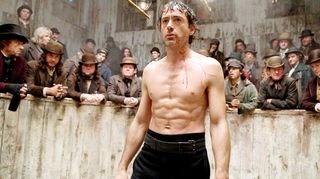 Robert Downey Jr Sherlock Holmes
We literally have no idea how Robert manages to look so good after the hard living he did early in his career, but we're certainly impressed. Iron man is a pretty accurate description of how he looks in this shot from Sherlock .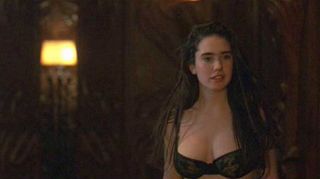 Jennifer Connelly Some Girls
Connelly's character's dad is a nudist in Some Girls , so it's probably no surprise that she feels fine wandering around in a black bra.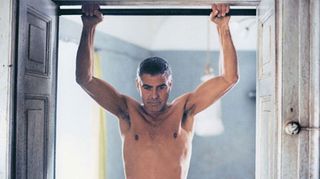 George Clooney The American
Considering he's consistently voted the sexiest man in the known universe, Clooney has done surprisingly few shirtless scenes in his career. Still, here he is on the set of The American , doing some pull-ups. You're welcome.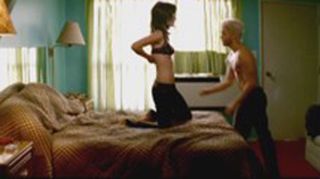 Olivia Wilde Alpha Dog
We managed to catch this Olivia Wilde screengrab just before the scene became extremely non-safe for work. Once again, you're welcome.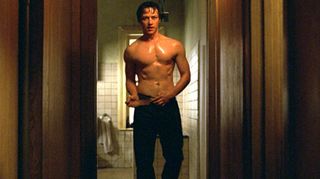 James McAvoy Wanted
Who knew when James was appearing in the likes of The Last King Of Scotland and Atonement that he had such buff potential?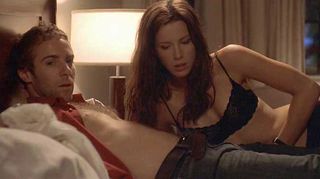 Kate Beckinsale & Alessandro Nivola Laurel Canyon
Yes, we know that technically Alessandro has a shirt on, but it's so loose that it might as well not be there.

Incidentally, this scene features Kate making out with Frances McDormand. Yep, that's happened.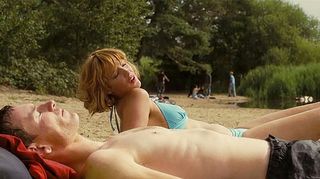 Michael Fassbender & Kelly Reilly Eden Lake
Fassbender enjoys the sun, in one of his earlier shirt-removing roles. It definitely wouldn't be his last.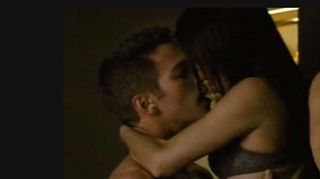 Rachel Bilson Jumper
Pretty much the only reason to watch the interminable Jumper is that it features Bilson rolling around in a black bra. Fans of the interminable teen soap The OC will certainly be pleased.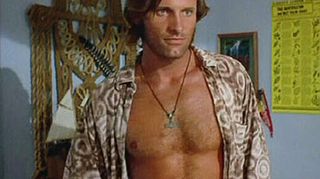 Viggo Mortensen Walk On The Moon
Viggo doesn't get his pecs out very often – even here he's not completely committed to being shirtless – but we're not entirely sure why, as it's pretty impressive!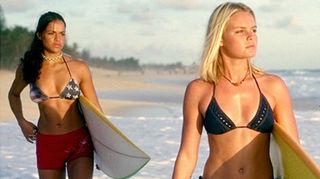 Kate Bosworth & Michelle Rodriguez
We wouldn't put surfing movies at the top of the list of our favourite genres, but anything that puts Kate Bosworth and Michelle Rodriguez in the ocean together is alright in our book.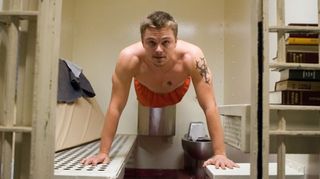 Leonardo DiCaprio The Departed
From Gangs Of New York and The Departed , it appears it wasn't just DiCaprio's reputation as a serious actor got bulked up through his work with Scorsese. Not that we're complaining.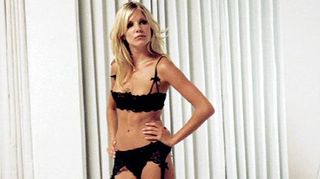 Sienna Miller Layer Cake
Layer Cake 's one of the best British gangster films of the last 20 years, not least because of Miller's considerable contribution.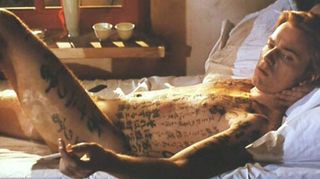 Ewan McGregor The Pillow Book
A lot of actors have a no-nudity clause in their contracts. For a period in his career, Ewan McGregor appeared to have a 'nude' clause – apparently refusing to be in a film unless he could get at least partially naked.

Of all of them, we like this shirtless shot the most, mainly because of the pretty markings.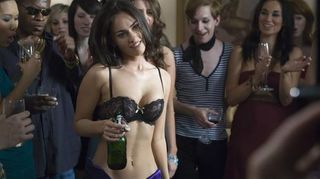 Megan Fox How To Make Friends And Alienate People
Megan most recently appeared sans shirt in The Dictator , but this is still our favourite top-less Megan moment.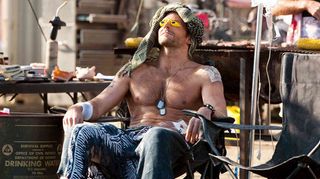 Bradley Cooper The A-Team
We like this one, because Cooper combines Fassbender's Eden Lake sun-worshipping with Ryan Reynolds' Blade 3 attempt to cover small areas of his torso with bandages.

But, as with so many others on this list, we had countless images of Bradley with his pecs out.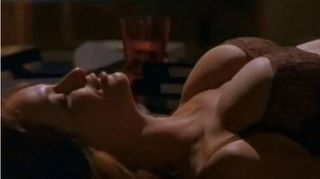 Christina Hendricks Beggars & Choosers
Mad Men maniacs will most definitely want to search out the relatively obscure Beggars . For fairly obvious reasons.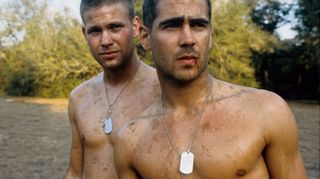 Colin Farrell & Matt Davis Tigerland
After celebrating the surfing movie genre for bringing together Bosworth and Rodriguez, it's probably remiss of us not to celebrate the war genre for pairing Farrell and Davis with their tops off.

But, having thought about it, it would probably be a little bit insensitive.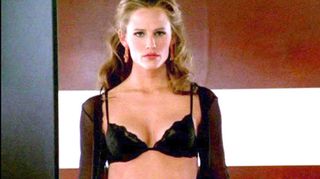 Jennifer Garner Alias
Although Alias isn't strictly a film. OK, it isn't a film at all, it was created by Star Trek and Super 8 director JJ Abrams and, most importantly, features film star Jennifer Garner without her shirt.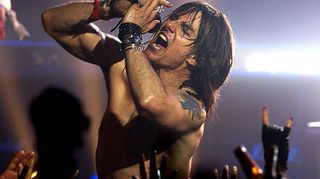 Tom Cruise Rock Of Ages
In Cruise's latest role, he manages to prove three things: He can sing, he can rock, and he looks just as good without a shirt as he did in the '80s. Mr Cruise, we salute you.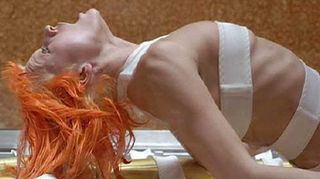 Milla Jovovich The Fifth Element
There's a very real chance that in the future world of The Fifth Element , this weird strappy thing is some kind of shirt. However, it looks like a bra to us, so it's making it in.

And you don't have to do the deepest search to uncover evidence that Milla is fairly open-minded about taking her shirt off. She is an ex-model, after all.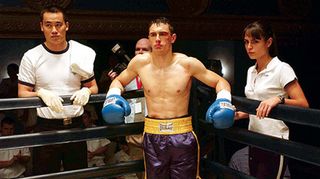 James Franco Annapolis
Renaissance man James Franco is an actor, a poet and an artist. He's also a major sex symbol, who's appeared in scenes without being hampered by buttons or collars in the likes of Sonny , Tristan And Isolde , Milk and the upcoming Spring Breakers .

Perhaps, like the sculptors he so admires, he realises that the human body is something to be admired, not covered up.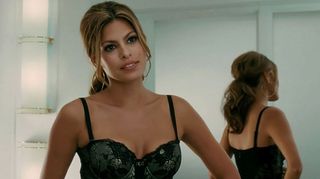 Eva Mendes The Women
Diane English attempted to create the ultimate chick-flick with The Women (definitely not to be confused with controversy magnet The Woman ), but unfortunately, the most memorable moment is the sight of Mendes in her smalls.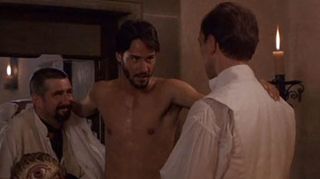 Keanu Reeves Much Ado About Nothing
We're pretty sure Shakespeare's original didn't include a scene in which an ex-surfer assures his mates that, with a little hard work, they can achieve a bod as bodacious as his, but that's exactly what appears to be going on here.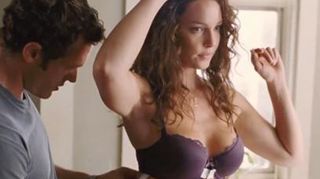 Katherine Heigl One For The Money
We're not sure if getting bra measurements is an every day occurrence for bail bondsmen, but we're glad director Julie Ann Robison thought fit to include it in her fluffy rom-com.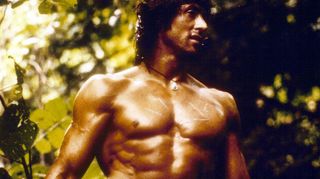 Sylvester Stallone Rambo 3
Stallone owns one of the most impressive sets of muscles in movie history. And as The Expendables proves, he's still keeping up his workout routine, the shirtless legend.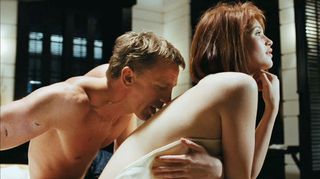 Gemma Arterton & Daniel Craig Quantum Of Solace
This is starting to be a bit of a recurring theme, but here's another Bond girl with her kit off. At least this time you get another look at Daniel Craig for good measure.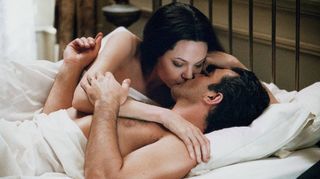 Antonio Banderas & Angelina Jolie Original Sin
Here's Antonio lying in bed, with some lovely sheets against his naked torso, smooching Angelina Jolie. It's a hard job sometimes.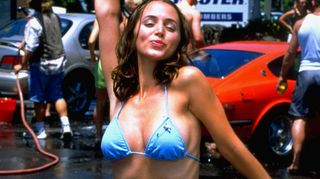 Eliza Dushku Bring It On
Not content with chucking in cheerleaders and a changing room scene, the makers of Bring It On decided that teenage boys didn't quite have enough impetus to buy a ticket to see Bring It On , so they included this car-wash scene. More power to them.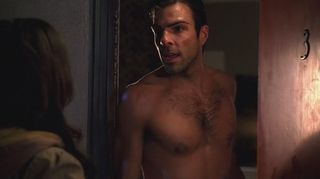 Zachary Quinto Heroes
Well, we got away with including Alias earlier, so here's another screen-grab from a telly show featuring a movie star in a state of undress.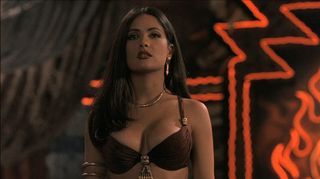 Salma Hayek From Dusk Till Dawn
Arguably the sexiest strip scene in horror history. Well, until Salma pours booze into Tarantino's mouth via her own foot. That's just gross.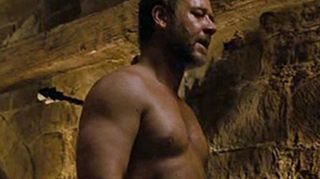 Russell Crowe Robin Hood
The accent might not have been particularly convincing, but we're sure the wood-dwelling thief Hood would be pleased as punch that Crowe's interpretation of his legend included several trips to the gym.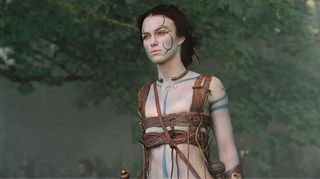 Keira Knightley King Arthur
We're not sure how Guinevere would feel about Keira Knightley's decision to go into battle wearing what appears to be little more than a few belts strung together. This one may not be that historically accurate.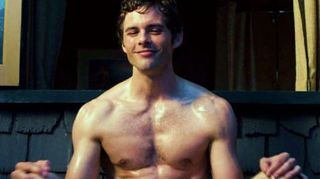 James Marsden Death At A Funeral
Whilst James has appeared without anything covering his top half in a few projects, we picked this one because he looks so damned happy.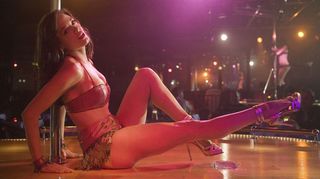 Rose McGowan Planet Terror
Rose McGowan as she appears in one of the greatest credit sequences of all time.

She manages to retain this level of sexiness, even when shooting a machine gun out of a bloody stump in her leg, which is fairly impressive.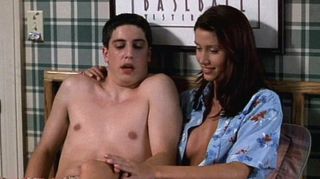 Jason Biggs American Pie
We're big fans of American Pie at Total Film , and this is arguably our favourite scene from the entire franchise.

And we know that Shannon Elizabeth also goes shirtless at one point too, but we can't show you that because this is a family website.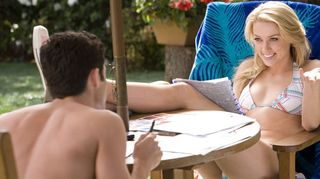 Amber Heard The Stepfather
We're not sure where The Stepfather was shot, but we'd hazard a guess it was somewhere very near to the surface of the sun, as Amber seems to spend almost the entire film in a wide range of bikinis and pants, so it must have been incredibly warm.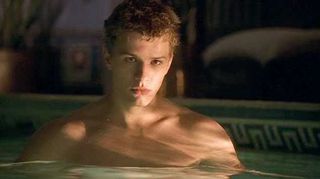 Ryan Philippe Cruel Intentions
This particular shirtless scene was absolutely integral to the plot, seeing as it took place in a swimming pool. We're not entirely sure if the subsequent bum flash was completely necessary.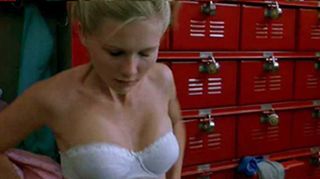 Kirsten Dunst Bring It On
Dunst lost all of her clothes for the first time in the stunning Melancholia , but she's been acting without her shirt for years now, with Bring It On just one of several scripts brilliant enough to convince her to appear in her bra.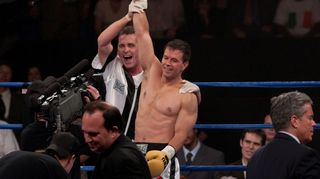 Mark Wahlberg The Fighter
In his Marky Mark days, Wahlberg built a career on showing off his abs. We're glad this trend has continued from the pop charts to the box office charts.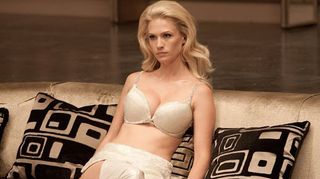 January Jones - X-Men: First Class
We love comics. This isn't January Jones' character Emma Frost unwinding after a hard day's supervillaining, this is her ACTUAL COSTUME. Clearly, stitching isn't high on many mutants' priority list.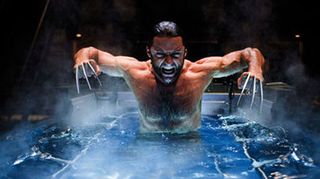 Hugh Jackman - X-Men Origins: Wolverine
Wolverine has a good excuse for not being properly dressed – he's just suffered some invasive surgery, by a government agency keen on covering his bones with some indestructible metal. No wonder he looks so cross.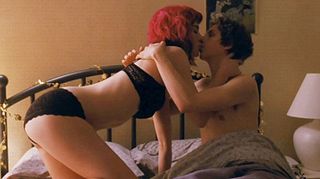 Mary Elizabeth Winstead & Michael Cera Scott Pilgrim Vs The World
Here, Michael proves that you don't have to have a body like every other bloke on this list to get the girl, giving hope to every single geek in the world, including us. Thanks Mike!