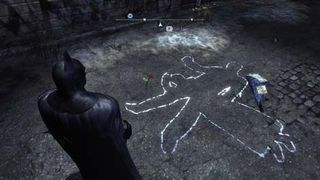 Crime Alley
The Moment: An Easter Egg in Batman: Arkham City , in which you discover a location known as "Crime Alley". There you will find a pair of chalk outlines, complete with a note and some flowers from Dr. Hugo Strange. The hidden achievement requires you to kneel for a minute in order to pay your respects.

Why It's Great: It's a beautifully melancholy call-back to Bruce's troubled past, the requirement to kneel being a particularly good flourish.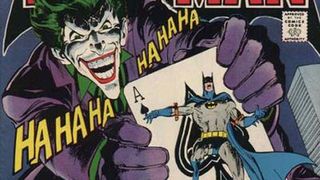 Give Me Five
The Moment: The Joker's Five-Way Revenge sees Mr. J on prime homicidal form, bumping off four former associates before making a bee-line for the Bat. Needless to say, his fiendish plan (involving a shark-filled tank, no less) is anything but straightforward.

Why It's Great: With the aforementioned Bond villain tactics coming after exploits involving poisoned water and exploding cigars, this is the Joker on his wackiest form. He's still on a killing spree, though!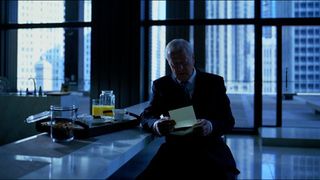 The Truth
The Moment: Batman's concluding monologue in The Dark Knight , in which he explains that sometimes the truth isn't good enough and sometimes people need to have their faith rewarded...

Why It's Great: The Bat's words are accompanied by the sight of Alfred burning Rachel's letter and Lucius looking relieved as the sonar-system's self-destruct procedure. All in all, it's an excellent little montage.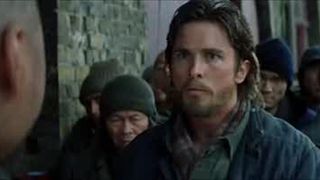 Prison Rumble
The Moment: Bruce Wayne shows off the skills that will serve him so well as Batman, by brawling with a host of inmates in a Bhutan prison. It isn't long before he's being dragged away by guards citing "protection". "I don't need protection," snaps Bruce. "Not you, them!" comes the reply.

Why It's Great: Straight off the bat, Nolan shows he knows his way around a fight scene, as bodies go flying left right and centre.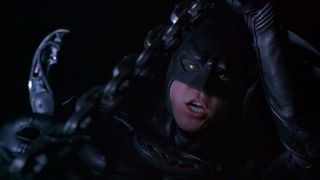 Chicks Love The Car
The Moment: Val Kilmer's Batman is hardly the seminal incarnation, but he does get the odd cool line. As Nicole Kidman's Dr. Chase Meridian begins to put the moves on the Bat, he responds in typically deadpan fashion. "It's the car, right? Chicks love the car."

Why It's Great: Batman might not crack many smiles, but he's allowed to fire off a zinger or two every once in a while.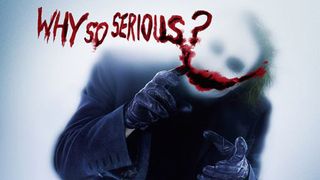 Poster Perfect
The Moment: Warner kicks its promotional campaign for The Dark Knight up a gear with the release of this excellent teaser poster, sporting the Joker's eerie catchphrase, "why so serious?"

Why It's Great: It's grisly, menacing, and crucially manages to keep an air of mystery around the Joker's appearance. Expertly done.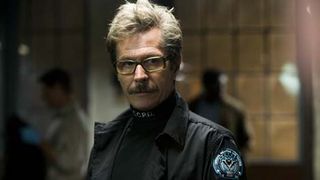 Nighty Night
The Moment: Jim Gordon returns from the dead, earning a slap from his wife for his troubles. Later, when he visits his dozing son, the little boy enquires, "did Batman save you?" "This time, I saved him," says Gordon, allowing himself just a hint of a smile.

Why It's Great: Gary Oldman is the unsung hero of Nolan's trilogy, investing Gordon with warmth, humour and steely determination.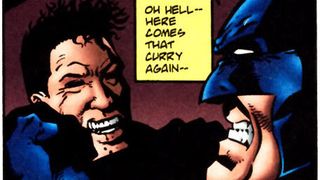 Vindaloo
The Moment: This chucklesome scene from Batman Chronicles has Bats punch Hitman so hard in the guts that the crumpled crim regurgitates a recently eaten curry all over the Dark Knight's boots. Needless to say, Bats is not impressed.

Why It's Great: It's quite amusing isn't it? Batman doesn't see the funny side though, and promptly punches him again. In the face, this time.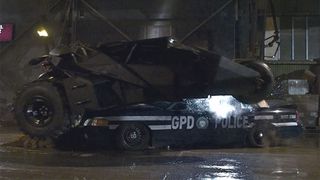 Tumbler Fun
The Moment: Batman puts the Tumbler through its paces in Batman Begins , demonstrating its wall-smashing capabilities before really styling things out by switching to stealth mode. Lucius Fox deserves one hell of a pat on the back.

Why It's Great: The Batmobile was always pretty cool, but this takes things to the next level. As Gordon puts it, "I gotta get me one of those!"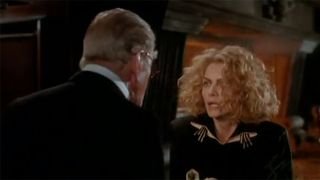 Excuses Excuses
The Moment: Selina attempts to excuse herself from her date with Bruce by leaving Alfred to pick up the pieces. "Could you just make up a sonnet or something?" she asks. "Or a dirty limerick?" "One has just sprung to mind," replies Alfred, with perfect deadpan timing.

Why It's Great: Nobody does the long-suffering gent routine like Michael Gough, who plays this scene with understated perfection.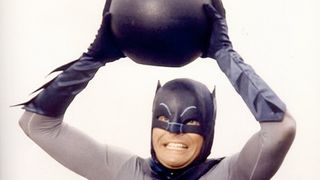 Bomb Disposal
The Moment: Classic Adam West clowning from the 1966 Batman movie, in which the Caped Crusader attempts to dispose of a bomb without harming any bystanders. Or indeed, any ducks.

Why It's Great: Okay, so we're not really suggesting the original Batman movie is a patch on any of Nolan's efforts, but we've still got a lot of love for a scene that involves the Bat lamenting, "some days, you just can't get rid of a bomb!"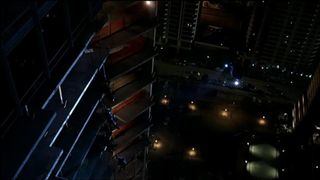 SWAT on Earth?
The Moment: Batman takes down an entire SWAT team in order to prevent a massacre engineered by the Joker's misdirection, in one of The Dark Knight 's most dizzying set-pieces. How he manages to execute it without any casualties is a mystery!

Why It's Great: It's an extremely tense set-up, with Batman forced to work against both good guys and bad guys to ensure that none of the wrong people get hurt.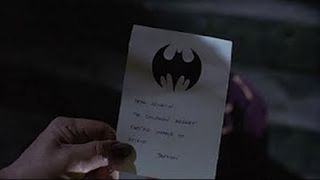 Kane Cameo
The Moment: Batman leaves the Penguin a hand-written note, explaining that the children of Gotham are safe from his clutches. The whole thing is neatly rounded off by a hand-drawn Bat-symbol. How polite!

Why It's Great: That Bat-symbol was sketched by none other than Bob Kane, creator of Batman. Beats a Stan Lee cameo any day!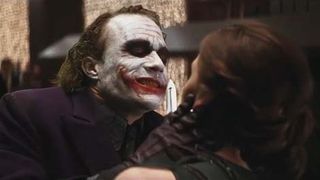 Uninvited Guests
The Moment: The Joker and his henchmen crash Bruce's penthouse benefit, intimidating various guests before homing in on Rachel. Cue another of the Joker's cock and bull stories about how he got his scars...

Why It's Great: You could cut the tension with the Joker's knife during this one. Bruce Wayne should have learned by now that every party he hosts ends in trouble.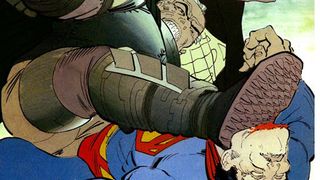 Batman vs. Superman
The Moment: The Dark Knight Returns comes to a head with an almighty smackdown between Superman and Batman. Remarkably, despite having no powers to speak of (save a nugget of synthesized Kryptonite), Bats comes out on top (for a bit). Result!

Why It's Great: It's the kind of "what would happen if..." scenario that fanboy dreams are made of.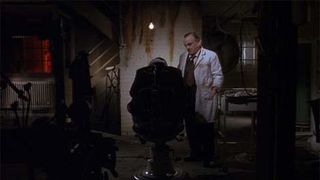 Napier Transformed
The Moment: As Jack Napier's plastic surgeon removes his bandages, the patient barks for a mirror. As the doctor recoils at the results, all Jacky boy can do is laugh. And laugh and laugh and laugh...

Why It's Great: By holding back the actual reveal, Tim Burton really cranks up the tension. And boy does Jack Nicholson sell it?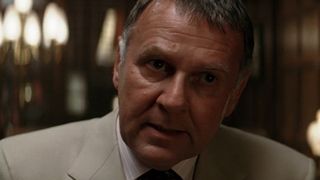 Mob Rule
The Moment: Carmine Falcone explains to a young Bruce Wayne why even the wealthiest philanthropist can never hope to threaten the mob's grip on Gotham. "Don't come down here with your anger," he snarls, "trying to prove something to yourself. This is a world you'll never understand. And you always fear what you don't understand."

Why It's Great: A hallmark of Nolan's Bat-series has been his willingness to put the focus on the "real-world" villains threatening Gotham, like Falcone and later, Sal Maroni. It represents something of a departure from Joel Schumacher's ice-skating henchmen.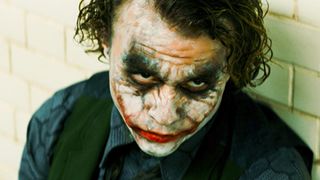 Death Toll
The Moment: The Joker aggravates his police guard to distraction, teasing him by enquiring how many of his friends he's killed, and then smirking about how he knows which of them were cowards. Cold and calculating to the core.

Why It's Great: The Joker is deliciously vindictive here, but there's still room for a little humour, as witnessed by the face he pulls when he learns he's responsible for offing six of the guard's friends.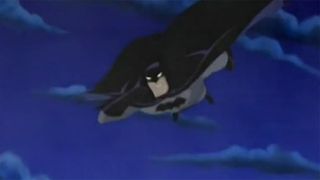 Know Your Limits
The Moment: Batman ejects from the Batwing in mid-air, before calling for some backup from his JLA team-mates. "I could use some air support," he reports, calmly. "Since I can't fly. At all. Now would be good."

Why It's Great: Batman steals the show in the Justice League Unlimited animation, showing off a bone dry wit in the face of the starkest danger.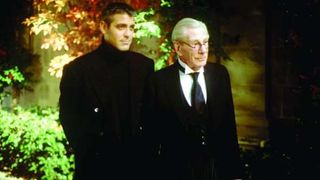 Family History
The Moment: Batman & Robin takes a break from the intolerable pun-slinging for this reflective moment between Alfred and Bruce, who discuss the impact of his parents' death, and how it has shaped the way he lives his life.

Why It's Great: Michael Gough comfortably steals the movie by dint of playing it as a drama rather than an end of the pier comedy. Fair play to him.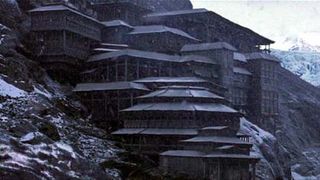 The Great Escape
The Moment: Bruce manages to make his escape from the League Of Shadows' mountainside HQ, blowing it to smithereens in the process. He partially makes amends by saving Ducard, a decision that will come back to haunt him later in the film.

Why It's Great: Nolan carries of Begins ' first big set-piece with some style, throwing a cliffhanger moment into the mix as Ducard very nearly makes an early exit.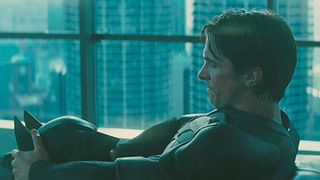 Darkest Before The Dawn
The Moment: Bruce sits slumped in his Batsuit, staring out over Gotham and mourning the loss of Rachel Dawes. Mulling over his guilt at how events have unfolded, he wonders whether Gotham can ever be saved by a man like him.

Why It's Great: Chris Nolan takes Batman to some dark, dark places indeed, and things are never bleaker than they are here.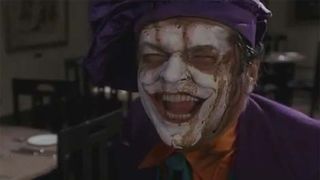 Mean Trick
The Moment: The Joker gets a pitcher of water in his face from Vicki Vale, screaming in faux agony as though his face were melting, only to reveal his grinning mug is utterly unscathed. Fooled ya!

Why It's Great: Sure it's hammy, but with Jack clearly having a ball, it's difficult not to find yourself swept along by the fun!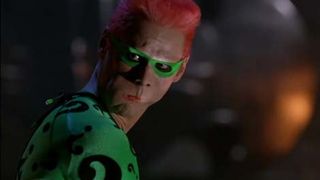 Bye Bye Batcave
The Moment: There's not much to recommend Joel Schumacher's cartoonish Batman Forever , but Jim Carrey certainly does his best to liven things up, his gleeful destruction of the Batcave being a particular highlight.

Why It's Great: While Tommy Lee Jones' gibbering Two-Face is trying, Carrey can at least boast an irrepressible charisma, even if it's a little too much for some tastes.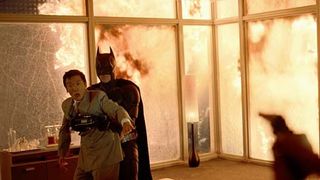 Airlift
The Moment: Batman extracts Lau from his Hong Kong hideout with remarkable bravado, flying through an upper story window, defeating a room full of guards and then staging a remarkable getaway via a passing plane. Brilliant stuff.

Why It's Great: Everything about this is designed to get the adrenaline pumping, from the IMAX assisted exterior shot of the building, via the fight scene within, all the way through to the jaw-dropping climax. Excellent work, Bats!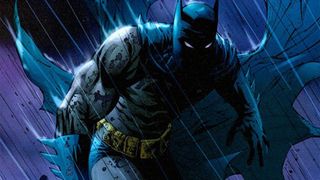 The Dark Knight Rises
The Moment: No, we're not talking about the film, rather Batman's resurrection in Batman R.I.P ., in which the Bat crawls his way out of a shallow grave having been buried alive by the Black Glove.

Why It's Great: He may not have super-powers per se, but there's no debating that Batman is the ultimate survivor. "I've escaped from every conceivable death trap," he boasts. "Ten times. A dozen times."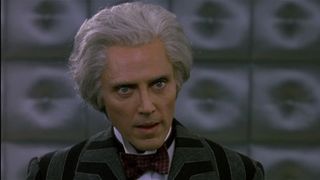 Horrible Boss
The Moment: Max Schreck advances on cowering employee Selina Kyle, edging here ever closer to the window before unceremoniously pitching her out of it. Take that man to a tribunal!

Why It's Great: While the Penguin is something of a monster, Shreck is the real villain of the piece and Christopher Walken plays him with chilling malice. Not a nice chap.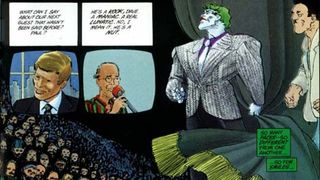 Ratings Killer
The Moment: Batman's return from retirement in The Dark Knight Returns prompts the Joker to awake from a coma and appear on a TV chat show. After thoroughly slagging off the Bat, the Joker shows he hasn't changed a bit by murdering the entire audience. He was always going to be a risky booking...

Why It's Great: Reviving Batman without bringing back his most fiendish foe would have been passing up a golden opportunity, and sure enough, the Joker returns in classic style.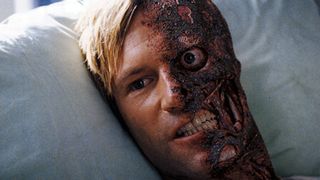 Enter Two-Face
The Moment: Commissioner Gordon goes to visit the recovering Harvey Dent in hospital, and is confronted by the DA's newly scarred visage. Horrifying stuff.

Why It's Great: Nolan teases the viewer expertly, cutting away from Dent several times before finally exposing his disfigurement in all its gory glory. Aaron Eckhart is excellent here as well, the fury and grief pouring off him in waves.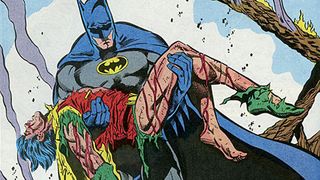 RIP Robin
The Moment: Robin is killed by The Joker in A Death In The Family , sending Batman into a spiral of guilt and gloom. As if he hasn't already been through enough.

Why It's Great: It was a gutsy move on the part of DC, even if Robin's popularity had been on the wane for some time. Like him or loath him, Robin was a major character, and his death is undeniably shocking.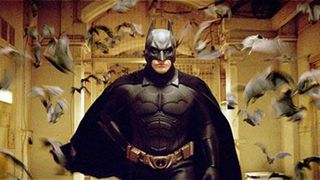 Bat Attack
The Moment: Batman sweeps out of Arkham unchallenged, thanks to a bat-centric distraction activated by a tiny sonar emitter lodged in his boot. Clever!

Why It's Great: Nolan lends great significance to the bat motif in this first film, and it's at this point that Bruce truly demonstrates the way he has mastered his fear as a weapon to be used against others.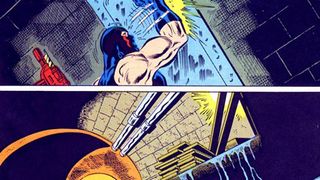 Lockup
The Moment: In Ten Nights Of The Beast , Batman goes toe to toe with the KGBeast in a Gotham sewer, pushing himself to his physical limits before managing to lock his foe in a subterranean prison. He then walks away, presumably never to return...

Why It's Great: Effectively, Batman has condemned his foe to death by starvation. "Sometimes you have to ignore the rules," he says, coldly. "Sometimes circumstances are such that the rules pervert justice."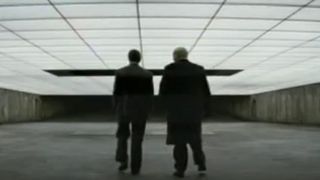 Cutting The Tension
The Moment: Alfred and Bruce chew over the latter's decision to reveal his secret identity, before deciding to make light of the situation. "I suppose they're going to lock me up as well," begins Alfred, "as your accomplice." "Accomplice?" responds Bruce. "I'm gonna tell them the whole thing was your idea."

Why It's Great: Just as things are beginning to get unbearably tense, Caine and Bale lighten the mood with this well-judged back and forth.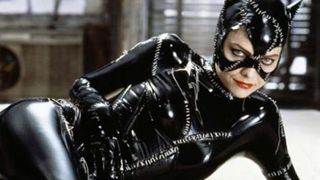 Becoming Catwoman
The Moment: Selina Kyle returns home after her fall, to find herself feeling a little differently about life. Quaffing a carton of milk and pursued by an entourage of moggies, she sets about defacing her old conservative wardrobe before fashioning herself a black latex catsuit. Wowsers!

Why It's Great: It's a wonderfully barmy sequence, topped off nicely by Michelle Pfeiffer's honeyed payoff line: "I don't know about you, Miss Kitty, but I feel so much yummier."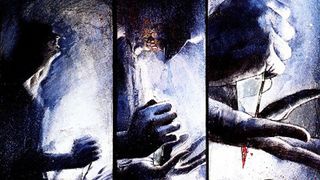 Pain Addiction
The Moment: Grant Morrison and Dave McKean's Arkham Asylum book presents a new take on the Batman, as seen by Bruce plunging shards of glass into his hands in order to keep his sanity. Such as it is...

Why It's Great: It might not be everyone's favourite Batman story, but given his traumatic childhood, this troubled version of the Dark Knight is one of his more plausible incarnations.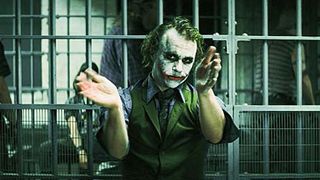 Evening, Commissioner
The Moment: With the Joker safely behind bars, Lieutenant Gordon is promoted to Commissioner by the Mayor of Gotham. However, the moment is soured somewhat by the sarcastic applause of the Joker, who appears to be rather relaxed for somebody who's just been imprisoned...

Why It's Great: It's a really off-beam moment, with Heath Ledger managing to cram a hell of a lot of menace into a simple hand-clap. It was improvised, as well!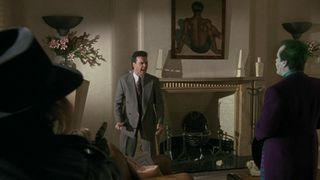 Let's Get Nuts
The Moment: Michael Keaton shows he can do aggressive, suddenly snapping at the Joker and his henchman in his Bruce Wayne persona. "You wanna get nuts?" he screams, smashing a nearby vase. "C'mon... let's get nuts!"

Why It's Great: So sudden is Wayne's outburst that even the Joker flinches a little. Yikes!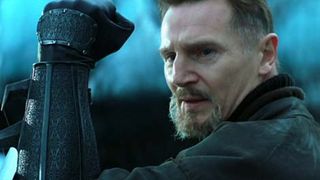 Training Day
The Moment: Bruce hones his skills at the hand of Ducard, who schools him in the ways of the League of Shadows. Rule number one? "Always mind your surroundings." It will come in handy later on...

Why It's Great: Liam Neeson turns in an imperious performance here, so much so that it's genuinely thrilling when Bruce eventually gets the better of him.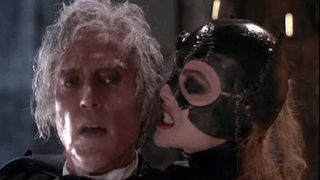 Selina's Revenge
The Moment: Selina Kyle finally squares things up with Max Schreck, having (seemingly) used up all but one of her nine lives absorbing his bullets, she produces a taser and gives him a big wet kiss, electrocuting the pair of them in the process.

Why It's Great: Tim Burton encourages Michelle Pfeiffer to go all out, cranking the melodrama up to eleven as she advances on her shell-shocked prey.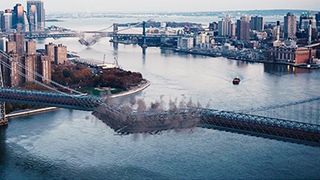 Fire Rises
The Moment: The second full-length trailer lands for The Dark Knight Rises , building on the menace of the first trailer, by showing even more of the havoc wreaked by Bane upon Gotham. The collapsing bridges sick particularly firmly in the memory.

Why It's Great: It's just a brilliant trailer, not giving too much away in the way of plot details, but creating a wonderfully evocative atmosphere, with aural callbacks to the first two films provided by Hans Zimmer's accompanying score.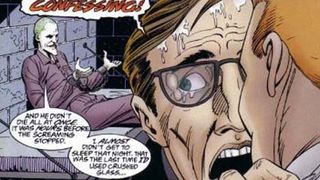 A Confession
The Moment: The Joker reduces a priest to a gibbering wreck in The Joker: Devil's Advocate , simply by confessing to several of his darkest deeds. The story of how he murdered his father appears to be the straw that breaks the camel's back.

Why It's Great: A man of God is clearly no match for a man of chaos. The Joker loves to build his own hype, doesn't he?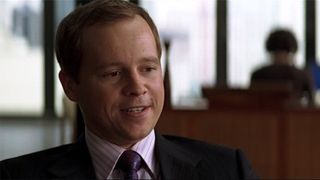 Thinking It Through
The Moment: Coleman Reese presents his blackmail plan to Lucius Fox, who reacts with admirable restraint. ""Let me get this straight," begins Fox. "You think that your client, one of the wealthiest, most powerful men in the world, is secretly a vigilante who spends his nights beating criminals to a pulp with his bare hands. And your plan is to blackmail this person? Good luck."

Why It's Great: Morgan Freeman's delivery really makes this one, ably abetted by Joshua Harto's squirming.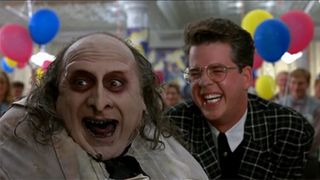 Pick Up A Penguin
The Moment: The Penguin finds himself being patronised by a yuppie from the Mayor's office. Naturally, he doesn't take kindly to this, and reacts by clamping his jaws around the poor sap's nose. Hard.

Why It's Great: De Vito's Penguin is superbly grotesque, but in this case, we can't help siding with him. The bloke definitely had it coming.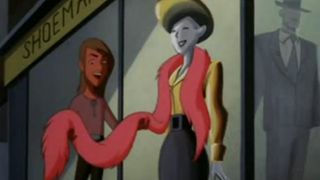 Sly Dig
The Moment: In an episode of The New Batman Adventures , a flamboyant-looking kid waxes lyrical about the Bat. "I love Batman," he begins. "All those muscles, the tight rubber armour and that flashy car? I heard it can drive up walls!" "Yeah, sure Joel," comes his friend's weary response.

Why It's Great: It's a fairly transparent dig at Joel Schumacher's ultra-camp take on the Batman franchise. Very funny, though.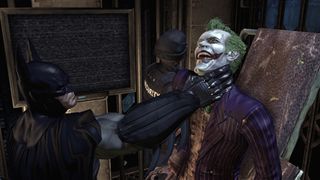 Ready To Play?
The Moment: The cut-scene with which Arkham Asylum begins is an excellent scene-setter, as Batman heads to the titular institution where the Joker has allowed himself to be taken. Bats is suspicious, and rightly so as it turns out...

Why It's Great: Right from the off, it becomes clear that Arkham Asylum is going to tell a proper Batman story, as opposed to offering up a wafer-thin excuse for lots of running, jumping and punching. Meanwhile, the voice work from Kevin Conroy and Mark Hamill is top notch.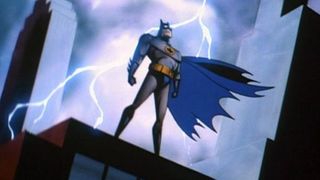 Opening Credits
The Moment: The opening credits for Batman: The Animated Series , in which a watchful Batman knocks out a couple of crims before taking his usual post atop a Gotham skyscraper, cape billowing in the wind, eyes narrowed, jaw clenched...

Why It's Great: Greatest opening credits in cartoon history? Certainly a strong contender.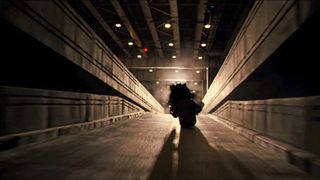 A Silent Guardian
The Moment: As Batman heads off on the run, Commissioner Gordon explains to his young son why Batman must become the victim. "Because he's the hero Gotham deserves, but not the one it needs right now. So we'll hunt him. Because he can take it. Because he's not our hero. He's a silent guardian, a watchful protector. A dark knight."

Why It's Great: As last lines go, this one is a guaranteed goosebump deliverer, thanks in no small part to Hans Zimmer's soaring score. Marvellous stuff.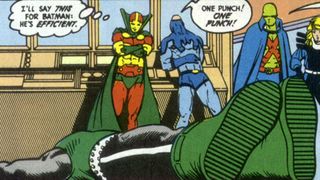 One Punch
The Moment: Batman lands a punch on Guy Gardner in Justice League #5 , leaving him flat on his back, much to the shock and awe of their teammates.

Why It's Great: It's the reactions that really make this one. "One punch. One punch !"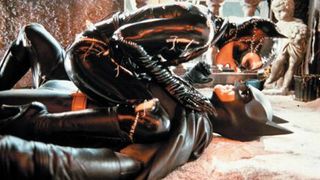 Here Kitty Kitty
The Moment: Batman is dumped on his back by Catwoman who lowers herself over him in triumph, before licking his face under the mistletoe. "You're the second man who killed me this week," she purrs threateningly...

Why It's Great: Feisty, kinky and more than a little bit unhinged, Michelle Pfeiffer's Catwoman is the stuff fanboy fantasies are made of.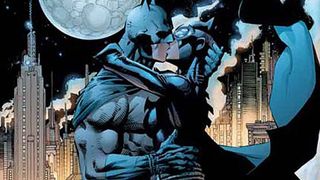 True Love
The Moment: Another excellent bit of Bat on Cat action, as Bruce and Selina share a kiss after the latter's rescue from Poison Ivy. Batman even reveals his identity as well!

Why It's Great: It sets up a great relationship between the pair throughout the rest of the Hush comic-books.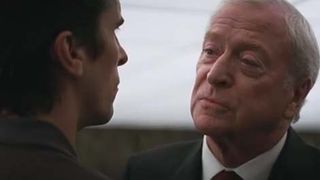 Some Men
The Moment: Alfred attempts to explain to Bruce that he hasn't yet got the measure of the Joker. "Some men aren't looking for anything logical, like money" he begins. "They can't be bought, bullied, reasoned or negotiated with. Some men just want to watch the world burn."

Why It's Great: These lines contribute greatly to the stature of Ledger's Joker, while Alfred also hints at a badass past of his own. Adventures in Burma, eh? Who'd have guessed?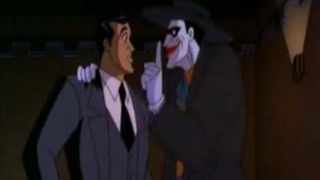 Office Party
The Moment: The Joker confronts crooked councillor Arthur Reeves in his office, lounging in the frame of the door before steadily intimidating the puffed-up politician.

Why It's Great: Mark Hamill is on great form again in Mask Of The Phantasm , and he's at his flamboyantly menacing best in this scene. Die laughing indeed...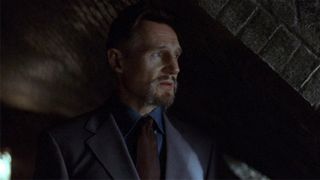 A Legend Is Born
The Moment: Ducard plants the seed of what Batman can become into Bruce Wayne's mind with the following speech: "If you make yourself more than just a man, if you devote yourself to an ideal, and if they can't stop you, then you become something else entirely… a legend, Mr. Wayne."

Why It's Great: It's a brilliantly written bit of dialogue, and one that Nolan uses as the corner-stone of his origin story.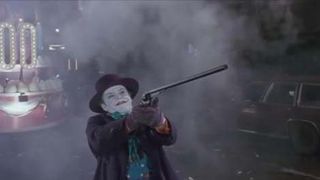 Anti-Aircraft
The Moment: Having watched Batman showing off in the Batwing, Joker reaches into his trousers for an improbably large gun and brings his airborne nemesis crashing to the ground. Easy when you know how.

Why It's Great: The Joker isn't about to be outdone by some fancy flying, although how he walks with that thing tucked down there is beyond us.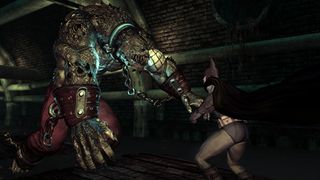 Killer Croc
The Moment: The sewer-set level in Arkham Asylum sees Batman pursued by the monstrous Killer Croc, who chases the player through a network of tunnels, rearing his ugly head out of the water with alarming speed.

Why It's Great: Killer Croc might be a fairly OTT creation, but this sequence is undoubtedly one of the tensest sections of the game. Nerve-shredding doesn't even begin to cover it.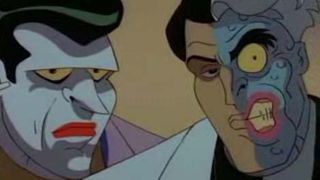 I Threw A Rock
The Moment: A piece of comedy gold from The Animated Series , where assorted supervillains have gathered for a good old chat about Batman. When Joker invites the room to tell their best "I nearly killed Batman" story, Killer Croc's tale of how he threw a rock at him is met with widespread disdain...

Why It's Great: Poor old Croc doesn't command much respect from the rest of the criminal fraternity. The Joker looks particularly unimpressed.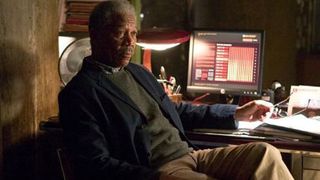 Meet Lucius
The Moment: Lucius Fox receives the first of many odd requests from Bruce Wayne, who asks whether he can borrow a bullet-proof suit for a caving expedition. "Expecting to run into much gunfire in these caves?" asks Lucius, with mild amusement.

Why It's Great: Morgan Freeman plays Fox with one eyebrow cocked throughout, supplying some much needed comic relief amid Gotham's bleak landscape.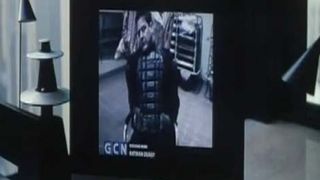 Starting Tonight
The Moment: The Joker issues his public service announcement to the press, showing a video of himself taunting and torturing a Batman impersonator, roaring and raving like a fully paid-up loon. No wonder Bruce and Alfred look shocked.

Why It's Great: Ledger is utterly terrifying in this scene. Interestingly, this was the first time Michael Caine had seen him in character. The discomfort on his face was his genuine reaction to the footage!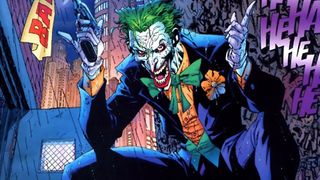 Temper Temper
The Moment: The Hush comic-books see Batman finally lose his cool with the Joker, when the villainous clown allows him to believe he has killed childhood friend Tommy Elliot. It takes Jim Gordon's intervention to stop the Bat breaking his one rule there and then.

Why It's Great: It's a perfect microcosm of Batman's ongoing battle to draw a line between his vigilantism and the violence of the men he's trying to thwart.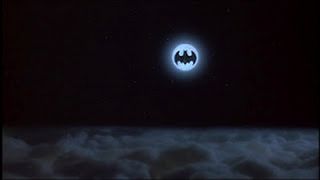 Full Moon
The Moment: A bit of tongue-in-cheek silliness from Tim Burton's debut Batman outing, with the Batwing flying up in the air to form a silhouetted Bat-symbol against the glow of the full moon.

Why It's Great: As if the Batwing weren't already cool enough, having it form an impromptu Bat-symbol before scooping down to strafe the Joker is the icing on the cake.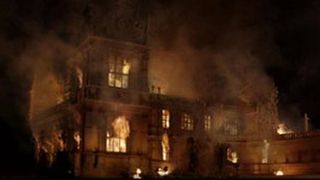 Let It Burn
The Moment: The League Of Shadows rudely crash the party at Wayne Manor, burning it to the ground and leaving poor Bruce inside. Fortunately, Alfred is on hand to see that Master Wayne's birthday isn't completely ruined, hauling him from the wreckage in the nick of time.

Why It's Great: Wayne Manor was a staple of Burton and Schumacher's Batman films, so it's perhaps to be expected that Nolan would burn it to the ground, first time out! Nice Ra's reveal, as well...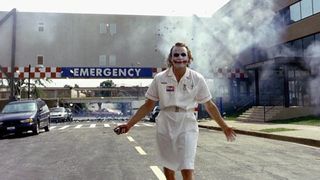 Delayed Reaction
The Moment: The Joker strolls away from one of Gotham's major hospitals, casually detonating a bomb that begins to destroy the structure behind him. Seemingly disappointed by the level of destruction, he clicks at his detonator a few more times before the whole lot goes up in smoke.

Why It's Great: Ledger's comical gestures, coupled with the fact that he's still in drag, lend the whole thing an air of macabre humour. Until you remember that's a hospital he's just destroyed.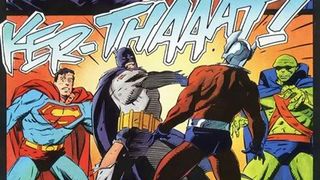 God? Pfft...
The Moment: An emotionally charged scene from Cosmic Odyssey in which Batman, enraged by Orion's callous disinterest towards the death of New Gods teammate Forager, balls up his fist and lands one on the stunned deity. Balls. Of. Steel.

Why It's Great: Batman will chin anybody, be they man, beast or even a God. Great "Ker-Thaaat" sound effect as well.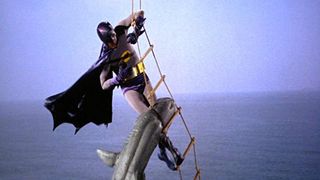 Jumping The Shark
The Moment: Batman: The Movie hits previously uncharted levels of silliness as Bats finds himself forced to fend off a particularly athletic shark as he dangles from a helicopter above the ocean.

Why It's Great: Without this scene, we would never have had the opportunity to see Batman use his patented "shark-repellent bat spray". Thank goodness he had some handy, eh?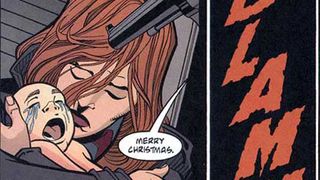 Child Catcher
The Moment: Having abducted a host of Gotham's infants in No Man's Land , the Joker finds himself confronted by Sarah Essen-Gordon. Reacting swiftly, he throws a nearby child at her, forcing her to drop her weapon. Diversion duly created, he coldly shoots her in the head, leaving her to bleed out, surrounded by crying children.

Why It's Great: One of the Joker's most heinous crimes? It certainly has to be up there.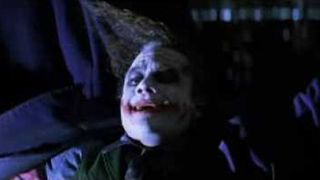 Inseparable
The Moment: As the Joker hangs from Batman's grappling line, he spells out the unbreakable bond that binds them through so many comic book, animation and motion picture outings: "This is what happens when an unstoppable force meets an immovable object... I think you and I are destined to do this forever." Amen.

Why It's Great: It's a scene that cuts to the core of the bizarre relationship between hero and villain. As Joker says in an earlier scene, "I don't want to kill you! What would I do without you?"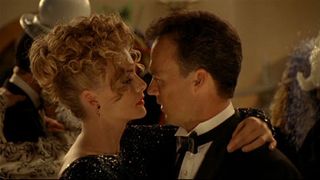 Dance With Me
The Moment: Bruce and Selina share a dance at Max Schreck's masquerade ball, inadvertently revealing their secret identities to each other. The kiss beneath the mistletoe is what does it. "Does this mean we have to start fighting?" asks Selina, entirely reasonably!

Why It's Great: Once again, Pfeifer finds the perfect middle ground between sexy and deranged.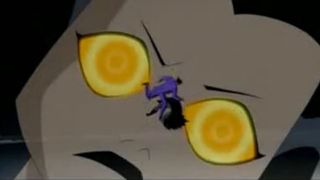 Musical Number
The Moment: Having used a creepy little hypnotist, Ace, to immobilise Batman, the Joker puts the boot in, singing his own accompanying theme tune as he does so. Utterly, utterly mad.

Why It's Great: The glee with which Joker doles out the beating (coming hot on the heels of him slapping down his girlfriend Harley Quinn) is pretty sadistic for a mainstream cartoon like Justice League . This was Mark Hamill's last outing as the Joker until Arkham Asylum , and he certainly makes it count.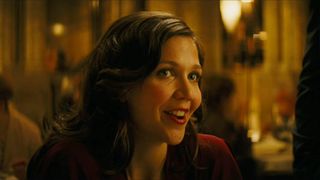 Love Interest
The Moment: Batman follows the Joker's instructions, intending to rescue Rachel from a fiery end. Unfortunately, he's been misled, as he realises with the discovery of Harvey Dent. Horrified, the pair listen as Rachel goes up in smoke...

Why It's Great: Nobody but nobody saw that one coming. Five minutes earlier, the Joker was safely locked up and everything appeared to be winding down. Let it never be said that Chris Nolan doesn't keep his audiences on their toes.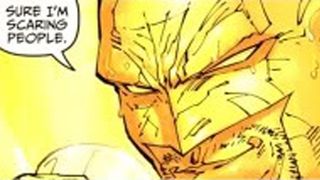 Batman vs. Green Lantern
The Moment: A scene from Frank Miller's All-Star Comics, in which Hal Jordan approaches Batman on behalf of the Justice League, who are angered by the Dark Knight's unconventional methods. "Lower your profile," he pleads. "Do a little community service here and there. The fact is , you're scaring people." "Sure I'm scaring people," growls Bats with a smirk. Owned.

Why It's Great: Bats doesn't give a solitary fuck for the Justice League and their right-on philosophy, and watching him put the Lantern in his place is supremely satisfying.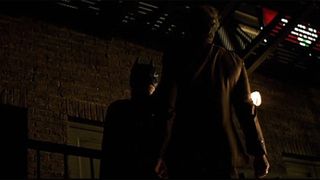 Head For Heights
The Moment: Batman dangles Sal Maroni over the side of a fire escape, only for the mobster to smirk, "if you're trying to scare somebody, pick a better spot – from this height? Fall wouldn't kill me." "I'm counting on it," snarls Batman, dropping Maroni with a leg-shattering crunch.

Why It's Great: Batman might have his one rule, but he's not afraid to do some heavy duty maiming. Not so smug now, eh Sal?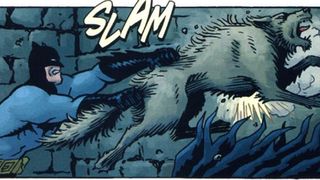 Bat vs. Wolf
The Moment: Matt Wagner's Batman And The Masked Monk serves up an excellent fight scene between Batman and a pair of ravenous wolves. Employing pepper spray, tear gas and his bare hands, the Dark Knight eventually comes out on top after a gruellingly physical battle.

Why It's Great: If you thought Liam Neeson was cool in The Grey , he's got nothing on Batman here. He manages to take out one of the wolves by smashing it into a wall until he breaks its spine! Not a man to be messed with...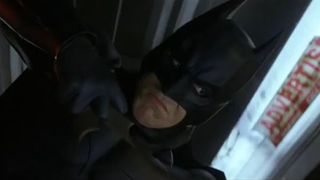 Collision Course
The Moment: Batman and Ra's al Ghul battle in the carriage of a monorail headed on a collision course with Wayne Tower. As Ra's reprimands Bats for not minding his surroundings, the tables are suddenly turned, as the track begins to give way. Hoisted by his own petard!

Why It's Great: Batman even manages to maintain his only rule in defeating Ra's. "I won't kill you," he says, "but I don't have to save you!" Is he really dead though?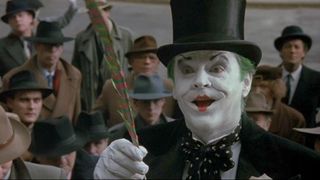 A View To A Quill
The Moment: The Joker takes out mobster Vinnie Ricorso by plunging a razor-sharp quill through the poor blighter's throat. "The pen is truly mightier than the sword," he snarfs, gleefully.

Why It's Great: Nicholson's Joker is the consummate showman, balancing his penchant for wince-inducing violence with a dizzying array of quips and gags. They don't call him the Clown Prince of Crime for nothing...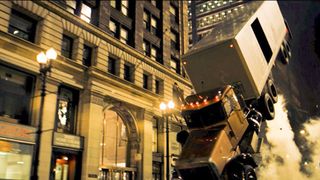 Keep On Trucking
The Moment: Chris Nolan sends jaws crashing to the floor with The Dark Knight 's most spectacular set piece, the flipping of the Joker's eighteen-wheeler. They did it for real, as well!

Why It's Great: With this unbelievable finale, Nolan takes something as hoary and old-fashioned as a car chase and does something completely new with it. Even after repeat viewings, it still manages to amaze.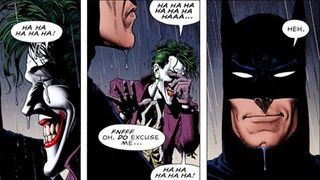 The Killing Joke
The Moment: The Joker tells Bats yet another gag at the end of The Killing Joke , and finally, after years of trying, he manages to get a smile out of the dour old so and so. Check out the winning punchline here ...

Why It's Great: It's fitting that this momentous occasion should come at the close of one of the pair's finest ever duels.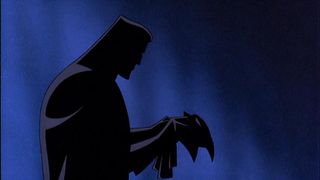 Costume Change
The Moment: Bruce Wayne changes into his full Batman regalia for the first time in animated film Mask Of The Phantasm . The shock on Alfred's face says it all... the Bat cuts a menacing figure.

Why It's Great: Batman's main weapon is fear, as exemplified by the fact even Bruce Wayne's closest friend and confidante is startled by his appearance.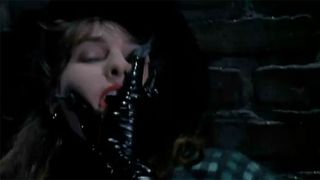 Hear Me Roar
The Moment: Catwoman interrupts a rapist in a Gotham back alley, inviting him forward with a, "be gentle, it's my first time," before ripping his face to shreds with her claws. Miaow!

Why It's Great: As if that first bit wasn't full-on enough, she then proceeds to terrorise the crook's potential victim. "You make it so easy, don't you," she breathes into her face, with more than a hint of a sexual overtone.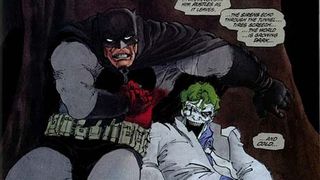 Twist Ending
The Moment: Lieing paralysed at Batman's feet after the Dark Knight has broken his neck, the Joker decides to exact his revenge by finishing the job himself, thus framing his nemesis for murder.

Why It's Great: Maniacally committing suicide by hyper-extending his already broken neck, has the Joker ever seemed more terrifying?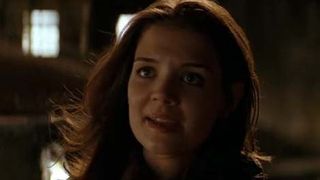 The Reveal
The Moment: Batman reveals his identity to Rachel Dawes towards the close of Batman Begins . "You could die," she begins, "at least tell me your name." "It's not who I am underneath, but what I do that defines me," he replies.

Why It's Great: Romantic, clever and thrilling all at the same time, it's a very satisfying way for Bruce to let Rachel in on his secret.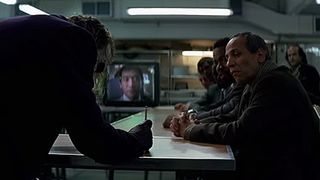 Magic
The Moment: Heath Ledger's Joker introduces himself to Gotham's top mobsters in fine style, serving up a "magic trick" that involves making a pencil disappear into a henchman's face. Ta-daaa!

Why It's Great: Shocking and humorous in equal measure, it's as a wonderfully apposite introduction to a thoroughly unhinged villain. How The Dark Knight got away with a 12a certificate, we'll never know...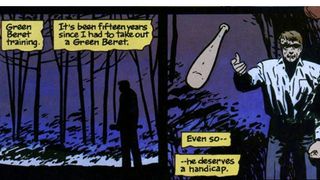 Jim Gordon: Badass
The Moment: Jim Gordon gets his badass moment in Frank Miller's Batman: Year One when he faces down corrupt cop Arnold Flass. "He's big," remarks Gordon. "Green Beret training. It's been years since i had to take out a Green Beret. Even so... he deserves a handicap." And with that, he throws his opponent a baseball bat...

Why It's Great: So confident is he in his own abilities, Gordon gives Flass a baseball bat, just to even things up a little. Now that's what we call tough...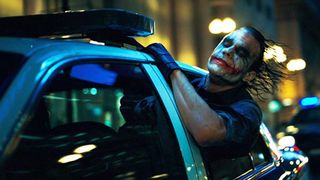 Getaway Car
The Moment: Having used his phone call to good effect, the Joker makes his escape in a stolen police car, leaning out of the window to savour the fresh air of freedom as he does so.

Why It's Great: The camerawork becomes decidedly woozy, and Hans Zimmer's score pares down to a single straining note. The combined effect is most unsettling.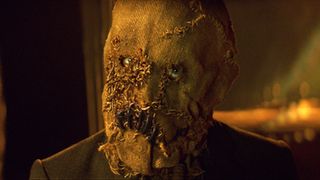 Dr. Crane
The Moment: Jonathan Crane patiently listens to Falcone's boasts of being untouchable before giving him a dose of his special compound and slipping into his Scarecrow mask. Cue a rather rapid degeneration of Falcone's mental health...

Why It's Great: The Scarecrow mask is really creepy, as is Crane's icy demeanour as he steps out of character again. "He's not faking," he purrs to an alarmed nurse. "Not that one."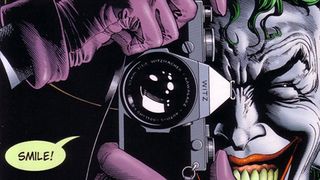 House Call
The Moment: The Joker shows off his sadistic side in Alan Moore's The Killing Joke , arriving at the house of Jim Gordon's daughter Barbara and shooting her through the stomach. Later on, Joker goes on to taunt the commissioner with photographs of his now paralysed daughter in various states of undress. Jesus...

Why It's Great: Moore really goes to town with the Joker, painting him as a villain far more sadistic than other more playful incarnations. This scene is a particularly shocking moment in a must-read book for any self-respecting Joker fan.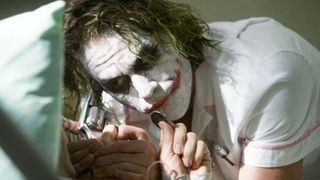 Agent Of Chaos
The Moment: The Joker explains his worldview to a bedridden Harvey Dent, urging him to introduce a little chaos into his life. The scarring may have happened a few scenes back, but this is the moment when Two-Face really comes into existence.

Why It's Great: Nolan really lets Ledger take his character to the outer-reaches of sane behaviour, having him deliver this entire speech in a nurse's outfit and a ginger wig. Very creepy indeed.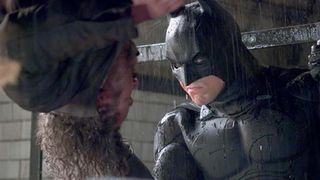 Intimidation
The Moment: Batman hoists Flass high in the air, lets him drop to within an inch of the pavement, then drags him back up again. When Flass "swears to God" he doesn't know anything, the response is a primal roar: "SWEAR TO ME!"

Why It's Great: Batman is done playing around by this point and it's thrilling to see. Tell him what you know, Flass!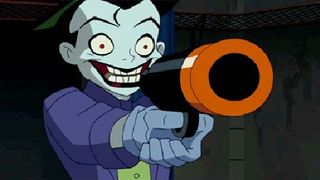 Shocking End
The Moment: The Joker meets his maker in Batman Beyond: Return Of The Joker , when young Timmy Drake finally snaps, sending Mr. J crashing through a tank of water, where he inadvertently electrocutes himself.

Why It's Great: For an animated film, its a startling violent conclusion. Timmy's deranged laughter only adds to the scene's eerie vibe.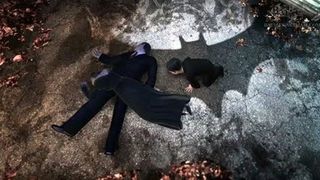 Living Nightmare
The Moment: Batman: Arkham Asylum takes a turn for the macabre after Scarecrow's fear gas sends the player spiralling into a nightmarish hallucination in which Bruce is a small boy again, living through the pain and confusion of his parents' death.
Why It's Great: This grim interlude demonstrates perfectly the degree to which Arkham Asylum is steeped in Batman lore. It's this level of authenticity that takes it far beyond any tie-in game that had gone before.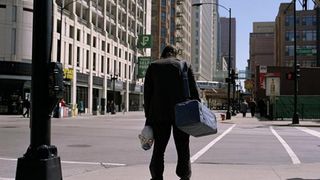 The Heist
The Moment: The Dark Knight kicks off in spectacular style with the Joker pulling off a daring heist on a mob bank, dispatching his henchman as he does so. Best of all, he's only doing it for sport!

Why It's Great: Filmed with IMAX cameras in dazzling morning sunshine, it's a dramatic change of pace from the gloomy, shadow-laden events of Batman Begins , and announces a completely new threat to Gotham.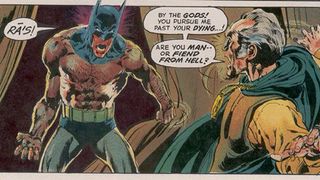 Back From The Dead
The Moment: Taken from The Demon Lives Again by Denny O'Neill and Neal Adams, this scene shows Bats surprising Ra's al Ghul by seemingly returning from the dead, having been laid low by a poisonous scorpion. Thankfully, Talia al Ghul was swiftly on hand with an antidote...

Why It's Great: Given that Ra's has made a career out of cheating death, seeing him genuinely caught out by his own trick (and more than a little terrified) makes Batman appear a total badass!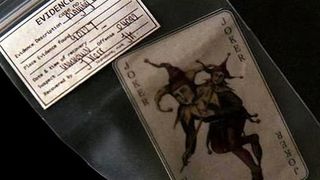 Teaser Time
The Moment: Batman Begins draws to a close with Gordon briefing Batman on a new villain wreaking havoc in Gotham. "Armed robbery, double homicide," he begins. "Got a taste for the theatrical like you. Leaves a calling card…"

Why It's Great: We'd struggle to come up with a more delicious in-joke, particularly as this one also serves the purpose of setting up the plot for the next film. The fact that the officer who recovered the card is called "J. Kerr" is another lovely detail.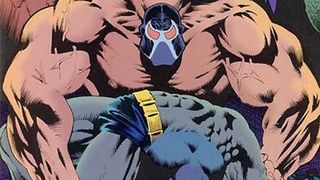 Breaking The Bat
The Moment: Batman meets his physical match in the form of the monstrous Bane, who snaps the Bat's spine like a twig in the seminal Knightfall story arc. Will history repeat itself in The Dark Knight Rises ?

Why It's Great: After so many pows and ker-thwacks, it comes as a real shock when Batman is physically overpowered by an opponent. And in such savage style, as well...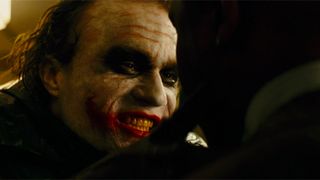 Why So Serious?
The Moment: The Joker fills Gambol in on the story of how he got his scars, enquiring "why so serious?" to one of the gangster's henchmen, before opening him up with his blade. Ouch.

Why It's Great: Not only is it shockingly brutal, but the relish with which the Joker toys with his prey is even more unsettling. The way he goes on to change his story later only adds to the character's slippery nature.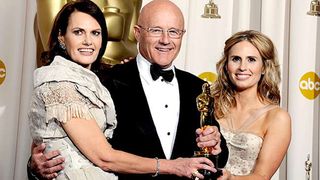 Oscar Glory
The Moment: Heath Ledger is posthumously awarded the Best Supporting Actor Oscar for his spine-tingling turn as the Joker in The Dark Knight . Richly deserved, if you ask us.

Why It's Great: Ledger's death loomed large over the film when it was released back in 2008, but there can be no doubt that his Oscar win was fully deserved on the merits of his performance alone. Having his family accept the award was a heartwarming touch.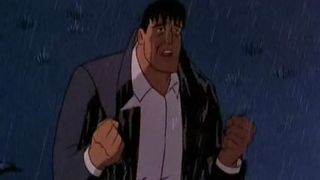 Graveside Lament
The Moment: Mask Of The Phantasm 's most touching scene has Bruce Wayne visiting his parents grave, wracked with guilt over the fact that his grief has begun to fade and his newfound love conflicts with his promise to dedicate himself to crime-fighting. "I didn't count on being happy," he sighs, miserably.

Why It's Great: It's a great bit of drama that really lifts the lid on Bruce's conflicted persona. Whatever he decides to do, will he ever be able to escape the associated feelings of guilt? It seems unlikely...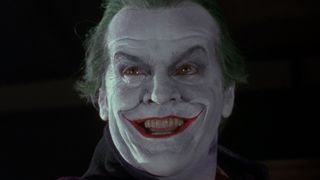 Heres Johnny
The Moment: Jack Napier pays a visit to a gangland rival (played by Jack Palance), stepping out of the shadows to reveal his hideous new appearance. "You can call me Joker," he grins, before filling his adversary full of lead.

Why It's Great: Scary and cool in equal measure, with an extra dose of hysteria added by the accompanying fairground music, it's a great introduction to Nicholson's Joker.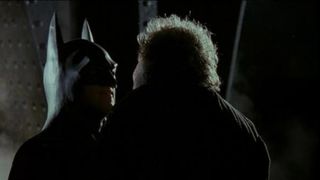 I'm Batman
The Moment: Michael Keaton's Batman dangles a helpless crook over the side of a building before encouraging him to tell his friends all about him. "What are you?" whimpers the stricken goon. "I'm Batman" comes the reply.

Why It's Great: Keaton's Batman is cool, calm and collected, rarely raising his voice, rarely seeming flustered. Its a different approach from Christian Bale's, but one that works well on its own merits.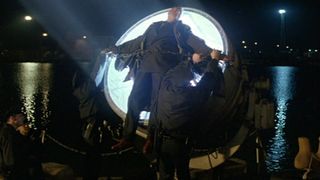 No, Im Batman
The Moment: Bale's Batman makes his grand bow on-screen, terrorising Falcone's goons before hauling the big man out of his car, growling "I'm Batman" in his face and knocking him unconscious. It's quite the entrance.

Why It's Great: Nolan takes his sweet time bringing the Bat into the spotlight in Batman Begins , but the big moment is all the more rewarding for the wait. For the first time in a long time, Batman seems genuinely intimidating.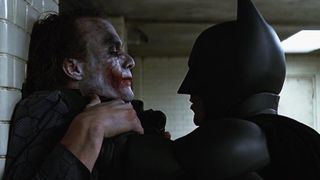 The Interrogation
The Moment: The Dark Knight reaches fever pitch as Batman interrogates the Joker in a GPD interview room, becoming increasingly aggressive as the Joker taunts his impotence in the face of chaos.

Why It's Great: The chemistry between Bale and Ledger is absolutely electric here, as Batman's strength and honour is ruthlessly turned into a weakness by the gleeful Joker. "You have nothing," he breathes, raggedly. "Nothing to threaten me with. Nothing to do with all of your strength." Awesome.